Pecute Product Hands On and Reviews
Taking a walk or jogging with your dog can be difficult when you use a conventional leash. Some leashes are heavy and get caught around your legs, or your furry friend's paws. Lighter leashes can be easier to handle, but may not have the strength to hold your dog if it lunges after a rabbit or stray cat. And if your dog tries to chase another animal, the pull may cause you to lose your balance or fall. This is dangerous for you and your dog may get away from you causing a dangerous situation.
This leash is a great choice for an afternoon stroll, a mountainside hike, or a run along the lakeside trail. Typically your arms swing when you run or even walk your dog, making it irritating for your furry friend when using a regular leash. And it only leaves you with one hand free. With its adjustable waist belt and sturdy design, this well-made and well-designed hands free dog leash makes walking or running with your dog relaxing, safe, and carefree.
The Pecute Hands Free Dog Leash Running Leash with Extra Foam Handle allows you to have both hands free, so you can carry a flashlight for safety, pepper spray for defensive actions, or to have your hands free to enjoy an ice cream cone on a summer walk around town. The belt is made with two D rings; one attached to the belt that is adjusted from 28″ to 48″ for around your waist and one to attach the leash. You can also clip on any accessories to the D ring such as a flashlight, doggy poop bag, or a portable water jug for you or your dog.
The strap and leash are made from high quality nylon material stitched up with a durable reflective thread for night time visibility. The two handle grips give you the ability to hold your dog close to you in a dangerous situation like walking along a roadway with traffic or other walkers. The quick grip handle keeps your dog close to you when you need to control them. All in all, this is a great leash for an enjoyable walk, jog, or outdoor adventure with your furry friend!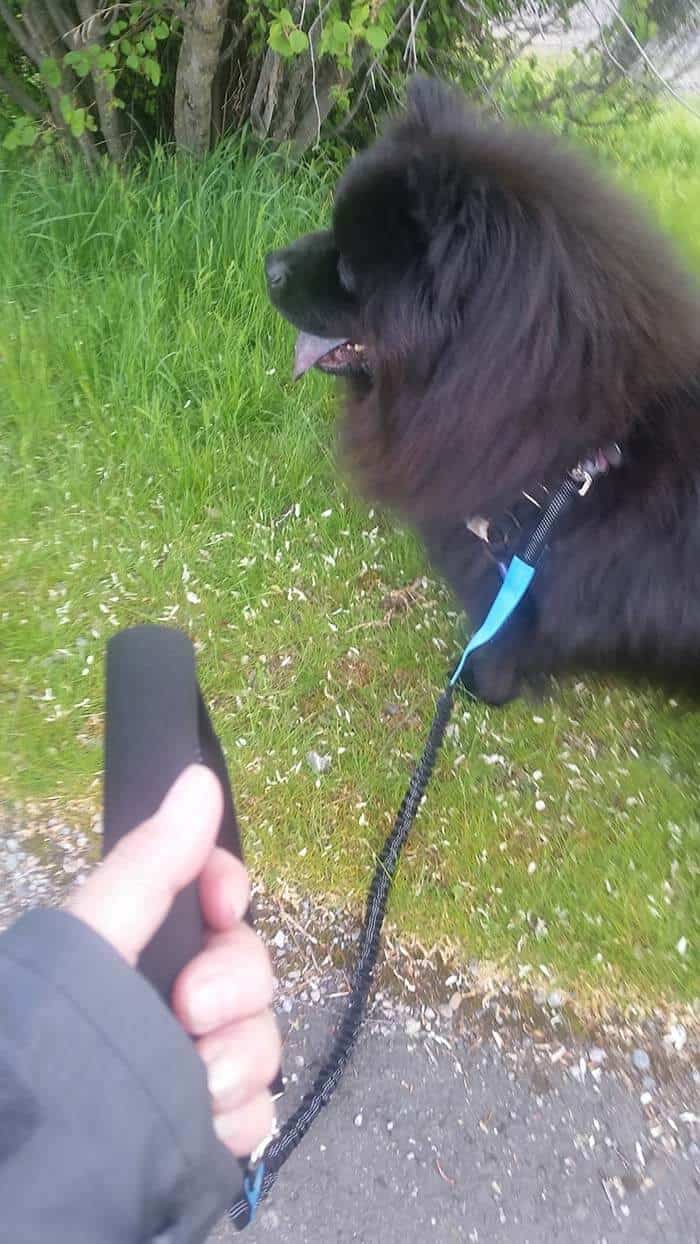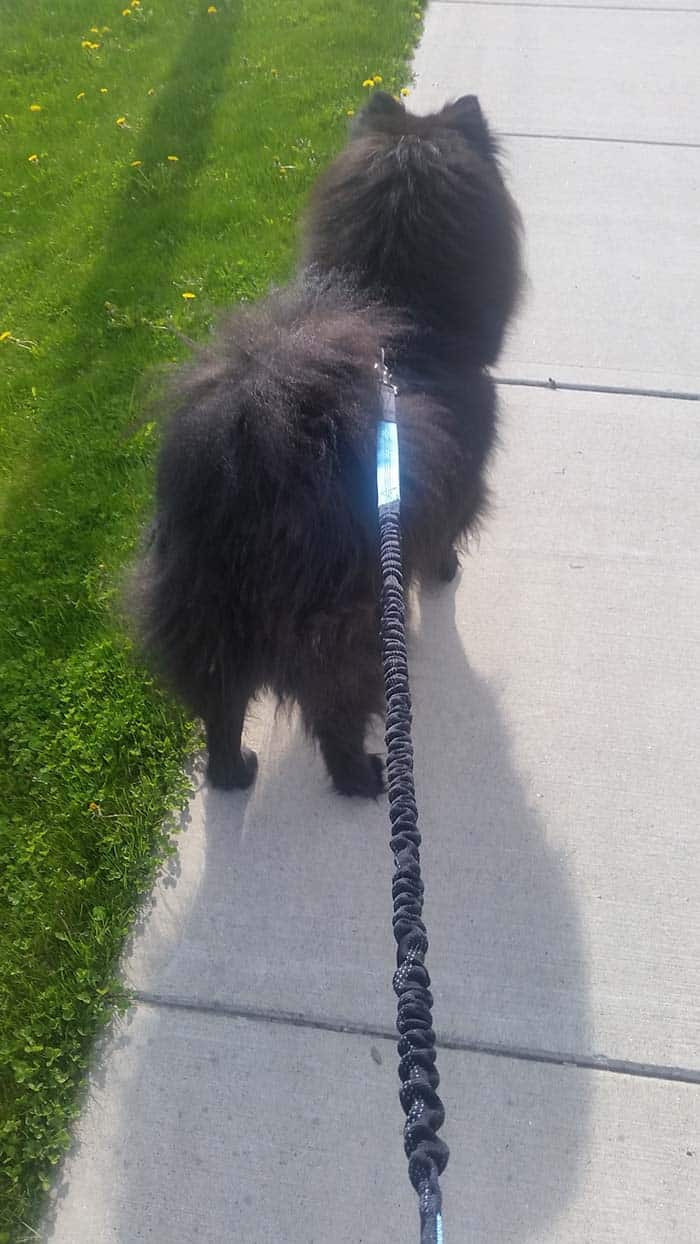 Taking a long Trek with your dog through the valleys and countryside is safer and easier with this Pecute Hands Free Dog Leash. An easy to adjust waist strap and zippered accessory pouch allow you to walk, hike, or run hands free by attaching the leash to the included belt. The convenient zip-up pouch is perfect for holding keys, pepper spray, your cell phone, or a doggy poop bag!
This hands free leash is made from superior nylon material with machined finishing stitches running along all the seams. The heavy duty stitches are made from a reflective thread that lights up at night helping with visibility. The leash is also fitted with a center region made with a thick, elastic bungee cord to keep a perfect tightness on your dog while protecting you from powerful lunges. If a rabbit or cat runs by, and your dog tries to chase it, the bungee absorbs the pull, preventing you from being yanked down. But it won't pull your dog's collar, choking him, and gives you time to get your furry friend's attention.
The waist strap is adjustable and fits waists from 28″ to 48″. It makes a perfect piece of hiking or running gear for the dog lover. Conventional, lighter-weight leashes will tangle, get twisted between your legs, get caught around your dog's legs, and make a walk or run frustrating. But this Pecute Hands Free leash is the perfect answer for outings with your furry friend! It allows for more walking freedom for you and your dog.
Take longer walks and hikes and make bringing water and other supplies a breeze with not only the zippered pouch, but use the D rings to attach other items such as a portable water bottle for yourself and our dog, your keys, or your cell phone. The Pecute leash is also a perfect way to keep your dog safe and happy. The heavy duty hardware will last for years and the durable nylon and elastic materials the leash is made with are weather-resistant and keep their shape for years of use.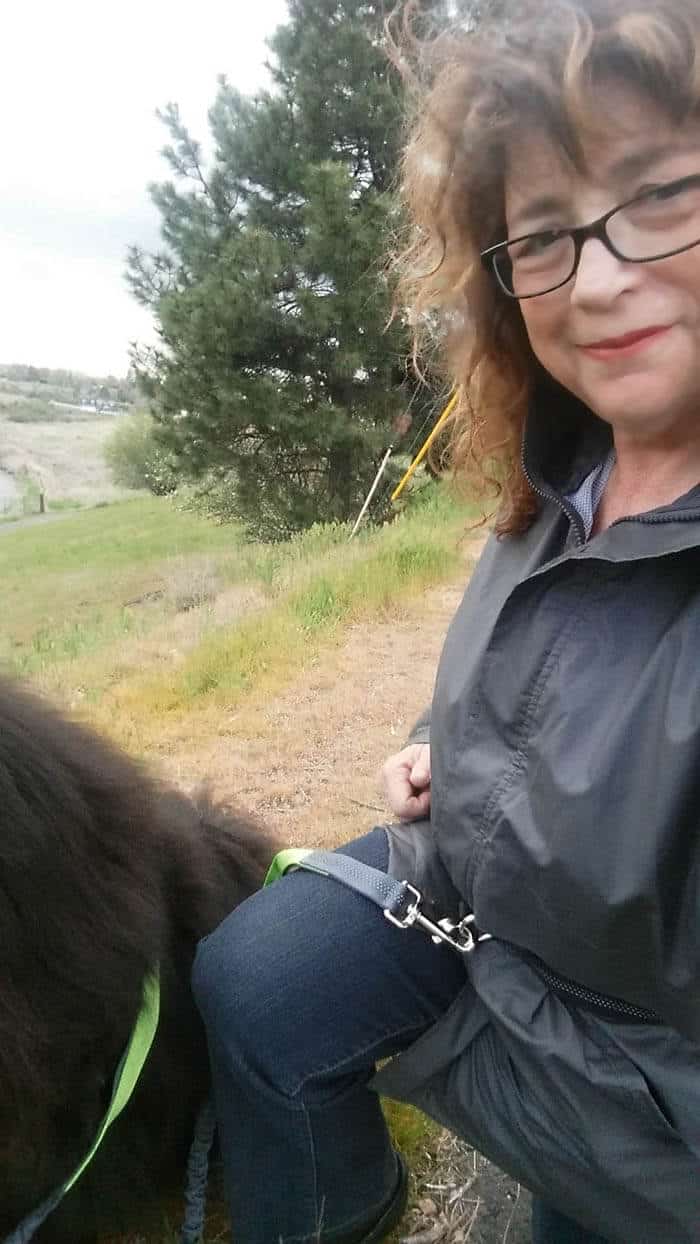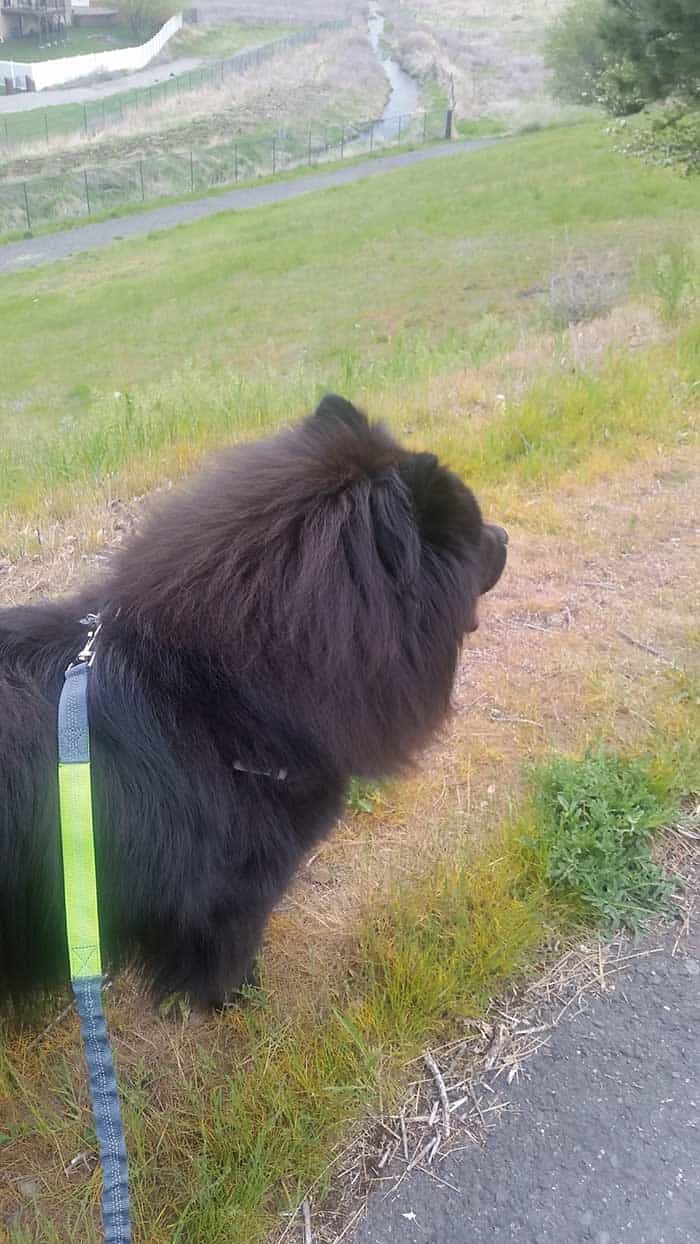 This Pecute Double Dog Leash is a perfect solution for owners with two dogs. You can walk both your furry friends with one easy to control leash giving each dog plenty of room so they feel like they're walking by themselves. The leash is attached with a heavy duty metal swivel connector, so the leashes don't get tangled. No more worrying about switching hands as the dogs walk; they won't cross each other back and forth and get stuck in the leash.
Each leash is made with superior black nylon material that is water-resistant and has heavy duty stitching made with reflective thread for visibility. The middle of each leash is made with a thick elastic bungee cord that absorbs the yanking of your dog or dogs in case they see something that makes them want to run. Even a strong-pulling dog will not be able to throw you off balance as the bungee has enough tensile pull to hold your dog back.
The upper part of the dog leash can be used alone and has a soft, cushioned handle for a tight but comfortable grip. Most handles are plastic which gets cold in the winter and wears on your hand because of the hard surface. Even walking two large German Shepherds was easy, safe, and a pleasure with this Pecute Double Dog Leash. And both dogs have plenty of room to walk without bumping into each other or becoming territorial. It's also a great tool for training your dogs to walk together.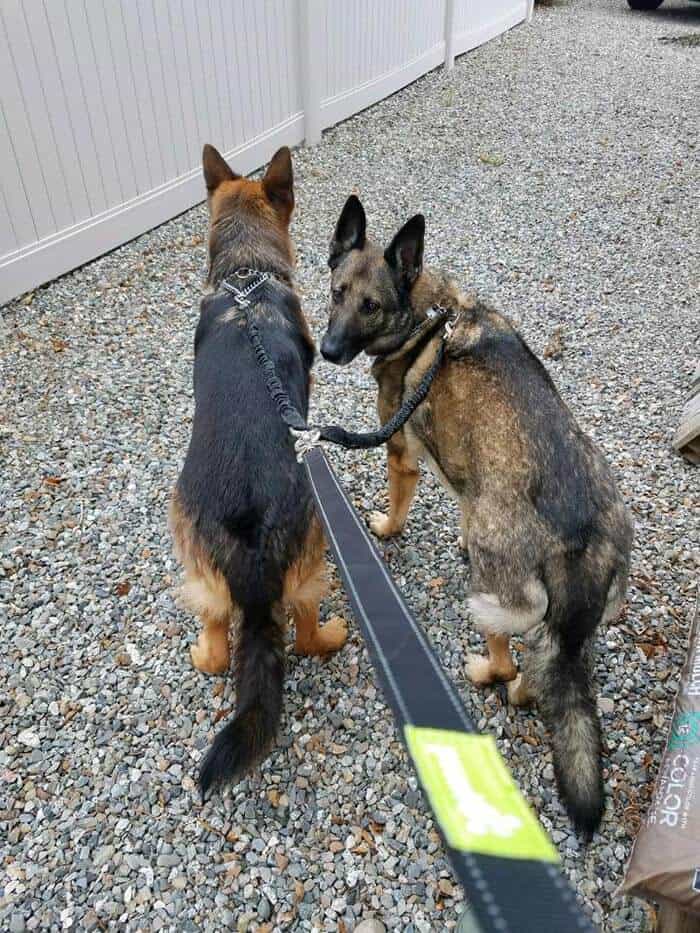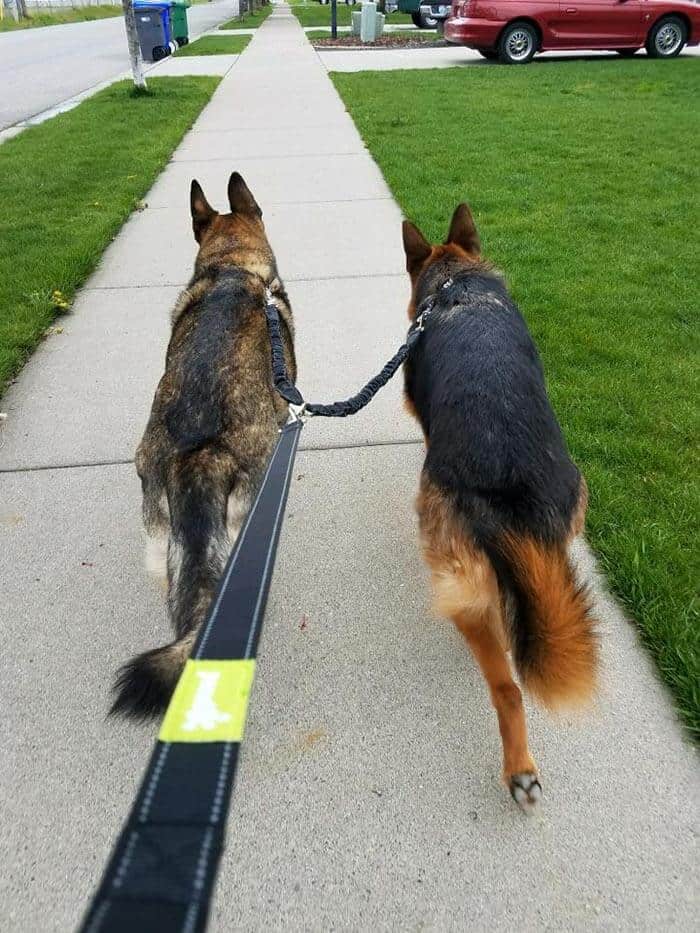 Don't forget to use COUPON for 20% discount : GP89ICJM