Recently I stumbled across the Badlands Ranch Superfood Complete dog food, and I must say, my three dogs absolutely love this food! In this article, find out the 5 things we love about this dog food.
About Badlands Ranch
Badlands Ranch is a brand founded by actress Katherine Heigl. Badlands Ranch Superfood Complete is a premium dog food product that provides high-quality nutrition to ensure optimum health.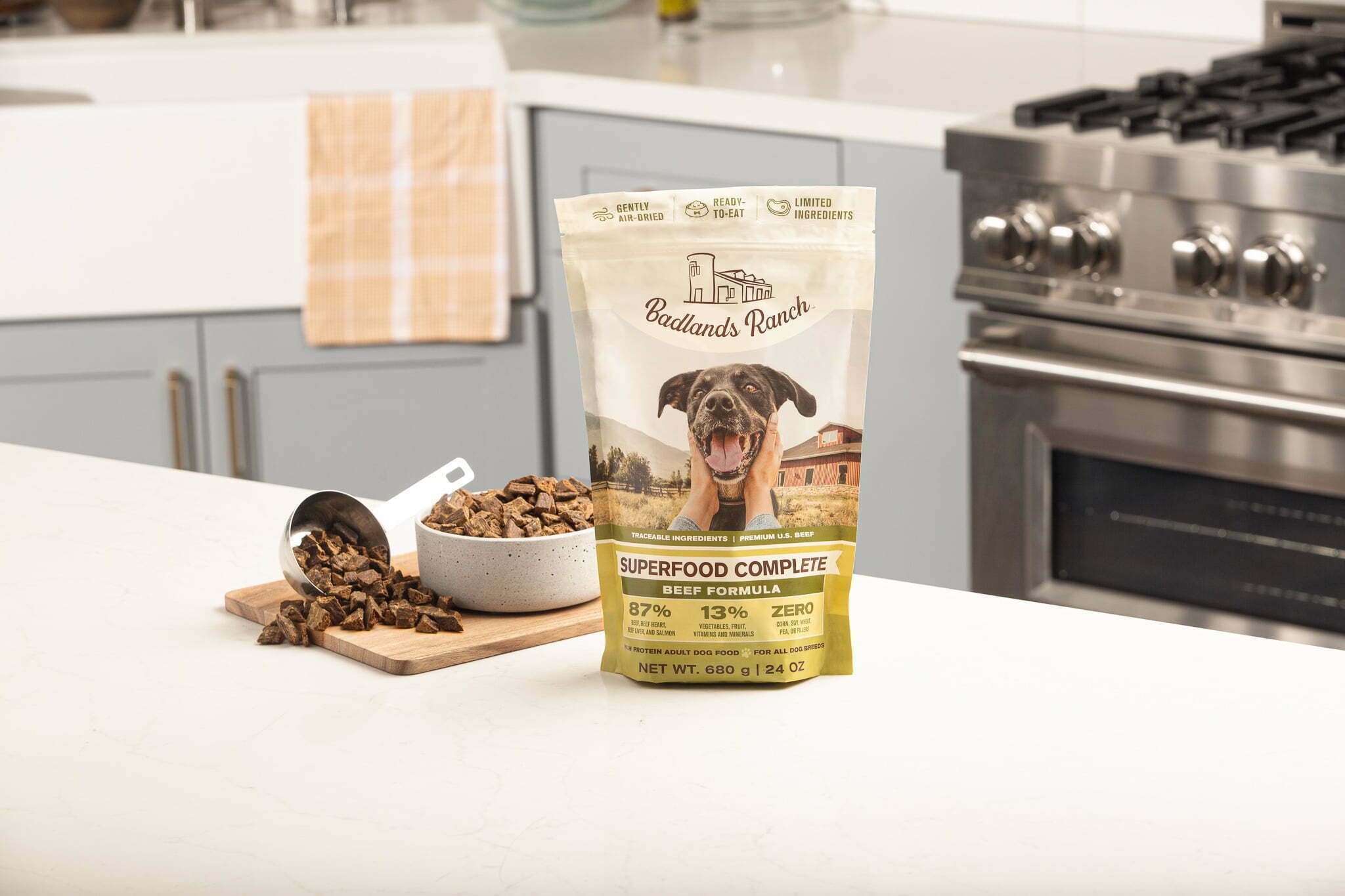 The brand is named after Heigl's family ranch in Utah, where her family shared their love of rescuing animals. Heigl has seen firsthand how impactful proper nutrition is for dogs of all ages.
Badlands Ranch has partnered with Jason Debus Heigl Foundation, an amazing dog and cat charity that raises money to end animal cruelty. The Badlands Ranch brand truly understands what is most important to every dog lover: keeping them healthy and happy.
Nutrition & Ingredients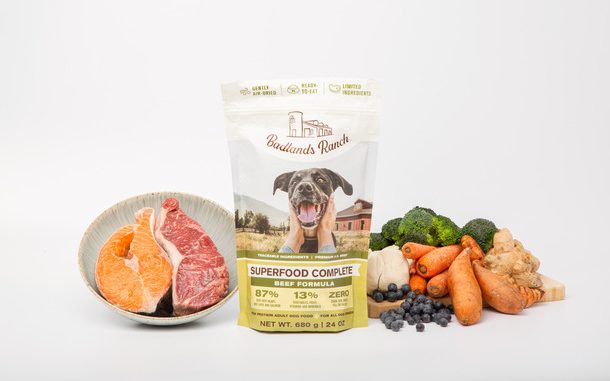 This dog food is artfully crafted to provide the very best nutritional benefits, with premium proteins and vital vitamins.
We tend to think that dogs should not eat human food and should stick to their bland, boring kibbles. Well, Badlands Ranch will make you think again.
There are plenty of "people foods" that are great for dogs. Badlands Ranch realized through research what a healthy and diverse doggy diet should include. They innovatively added turmeric, lion's mane mushrooms, flax seed, and more to the Superfood Complete recipe.
Along with high-quality beef, omega-packed salmon, and gut-healthy fruits and vegetables. Below are some of the health benefits that these ingredients provide.
Skin & Coat

Flax seed can help support a shiny coat and healthy skin.

Heart & Muscles

Protein-rich beef supports muscles to help your dog stay healthy, lean, and happy.

Immunity Support

Multiple antioxidants are included to support your dog's immune system and keep them healthy year-round.

Vision

Beta carotene from sweet potatoes supports clear eyes and healthy vision in older dogs.

Organ Health

Beef liver and beef heart are nutrient-rich and can help support your dog's organ health.

Digestion

Prebiotics from powerful Lion's Mane mushrooms can help support a healthy gut.
5 Things We Love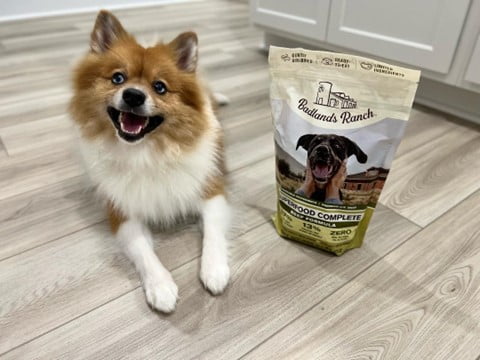 This dog food is crafted with ingredients that have been researched and proven to improve a dog's skin, coat, digestion, immune function, and energy.
I love the versatility of Superfood Complete. It can be served in two different ways. Either completely dry, or if your dog prefers wet food, you can rehydrate the morsels with warm water.
All food sourced is from suppliers who ensure the humane treatment of animals.
The food is freeze-dried, keeping all the nutritional benefits without the need for refrigeration or preservatives.
Dogs love it! My three dogs can't wait to chow down on Superfood Complete, turning dinner time into treat time.
How to Serve Superfood Complete
Check the bag for the correct serving size based on your dog's weight (Superfood Complete is dense, so a little goes a long way).
You can also mix it in with your old food 50/50 to enhance the dog food. You can serve dry or with warm water to make wet dog food.
Our dogs enjoy dry food, so we did not mix it with water. We also chose to slowly transition to Superfood Complete using the recommended schedule from Badlands Ranch shown below.

How to Purchase Badlands Ranch Superfood Complete
You can purchase the Badlands Ranch Superfood Complete as a monthly subscription or as a one-time purchase. You get the best bang for your buck if you subscribe monthly or purchase a multi-pack.
Badlands Ranch offers free shipping on all US orders and a 90-day money-back guarantee.
Our Pick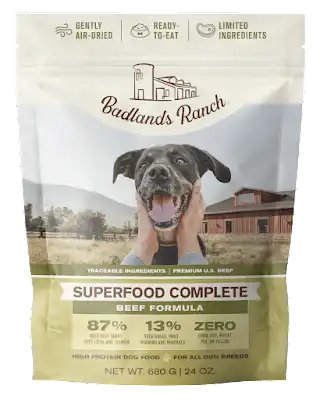 Badlands Ranch Superfood Complete
Superfood Complete is a carefully-crafted dog food formulated with responsibly-raised beef, nutrient-dense organ meat, omega-packed salmon, and gut-healthy vegetables.
See Deal
Use the button above to get a special discount on Superfood Complete. We chose to order three bags to receive additional savings.
Summary
Saying my three dogs loved the Badlands Ranch Superfood Complete dog food would be an understatement.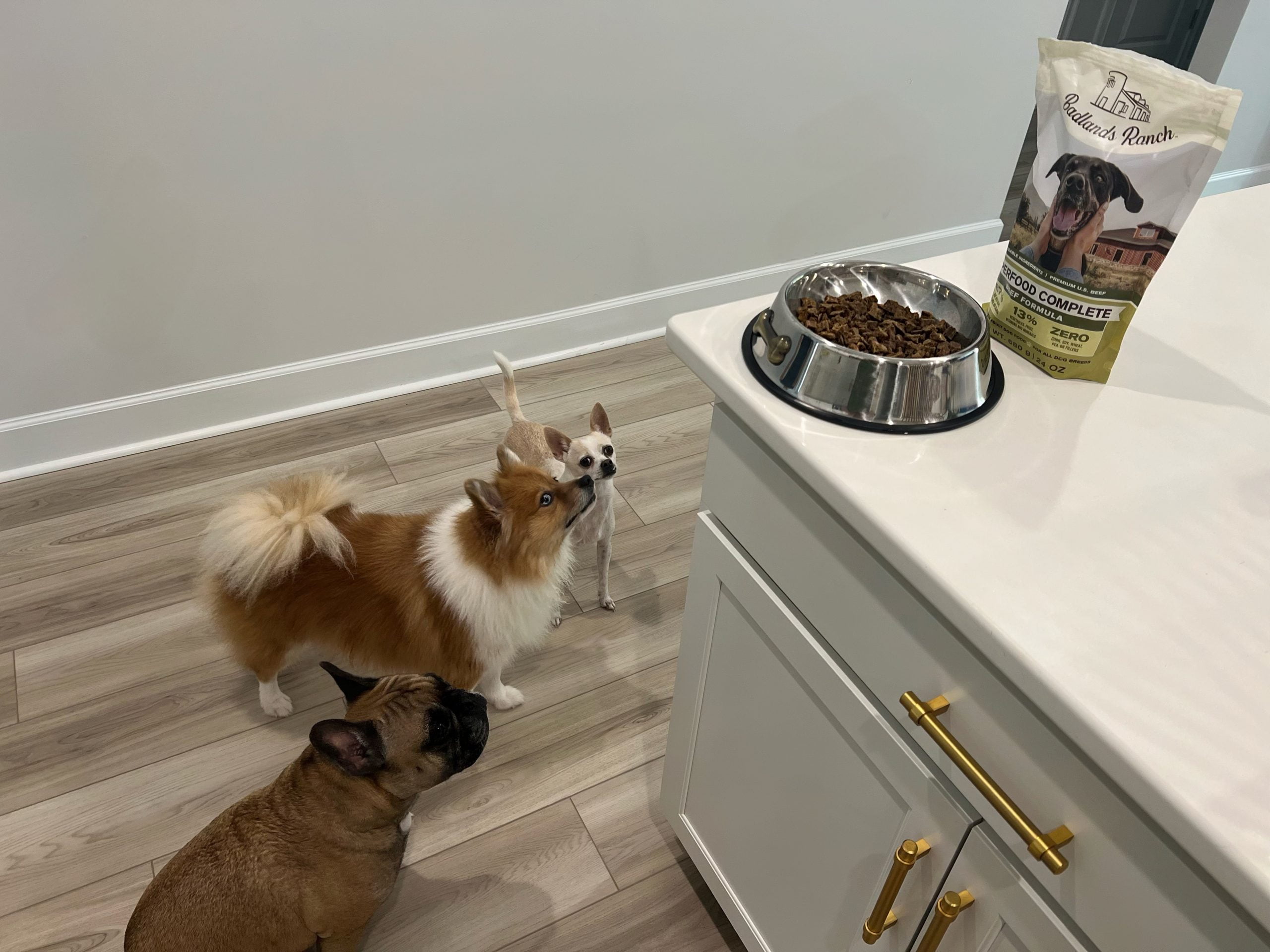 They have never been so excited to eat dog food before. It feels so refreshing to know my dogs enjoy what they are eating and that it is keeping them healthy.
I know firsthand how a delicious meal can bring so much joy, and I want that same enjoyment out of life for my dogs while still providing a natural whole diet.