Does your dog have really long nails?
Well, you need to invest in the best dog nail grinder for your best friend!
Cutting your dog's nails can be a really tricky thing. After all, you can end up hurting your dog and making the process painful and traumatic.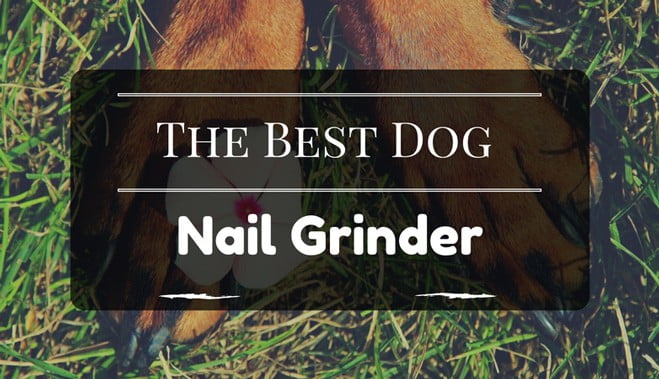 So, today we'll cover the best dog nail grinder reviews, why even choose nail grinders, and how to cut your dog's nails correctly!
Let's begin, shall we!? Below are the top 5 dog nail grinders we will cover in this article.
So What Are Dog Nail Grinders? How Are They Different From Dog Nail Clippers?
Are you a new dog parent?
Well, then, this is something you should know.
Manual tools have been around for a long time, but they aren't the safest and most convenient option out there. They also become less effective with time as the blade gets dull.
Did you know that a weak clipper could crack a tough nail and even cause pinching!? That isn't very good for your dog!
After that comes the problem of choosing the right product for your dog's little paws.
It's like Cinderella's glass shoe!
It'll hurt your dog if it's too big or too small.

And, finally, there's the issue of you cutting up the nail too high and ending up hurting your little dog.
So? What's the alternative?
Well, that's where nail clippers come in handy.
In fact, most professionals, like the vet or groomers, seem to agree on the fact that electric nail grinders are better for your dog than traditional nail clippers.
But why?
Well, the grinding of the nails using these nail grinders is simply more precise.
This also reduces the chances of pressure, breakage, or cracks on your dog's nails.
There's more!
Some nail grinders also come with a tool that polishes the nails to help prevent rough edges. This means that there won't be any scratching or snagging.
I feel that a dog nail grinder is the best alternative to nail clippers.
What Are The Common Problems Faced When Using Nail Clippers?
Now that I've introduced you to nail grinders let's talk more about them.
There are numerous reasons why dog parents (and groomers!) have been switching to nail grinders in the past few years.
I'll review them so that you understand why investing in the best nail grinder is important for your dog's sake.
Let's begin!
The Ugly Side of Using Nail Clippers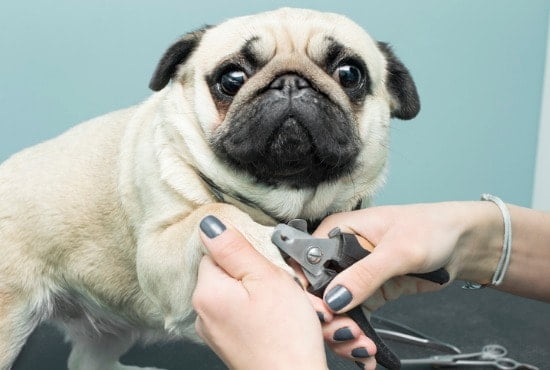 I'll cover two major points in this.
Shall we begin?
Problem 1: The Painful and Traumatic Process
I'll say one thing, and you can quote me on this:
Every dog who's gotten his nails chopped using a trimmer has had at least one painful and traumatic incident with them.
In fact, most dog parents really don't like getting their dog's nails trimmed because something like this has happened to their furry friend.
Regardless of the groomer's experience, nail trimming is a traumatic experience for the dog. It can even cause your dog some amount of pain.
So, guess what most dog owners like to do?
Yes, you got it!
They like to postpone trimming their dog's nails.
But this causes more problems!
That's because the more you postpone trimming, the harder it gets for the groomer to bring the nails back to their original shape. This, in turn, becomes more painful for the dog.
And if you're a dog parent, you know how your dog hates every second of nail clipping.
Problem 2: It's All About The Money (Money, Money!)
Did you just mentally sing the Jessie J. song 'Price Tag'?
I did!
First of all, to get your dog's nails trimmed, you'd want to go to an expert groomer.
And they don't come free of cost!
The more experienced the groomer, the more expensive they are.
And, even with all that experience (and money!), you can't guarantee they won't hurt your baby!
And going to some rookie groomer isn't a good idea, either.
Yes, the costs may be low, but they may come with some free bleeders and a whining dog.
Option two is trimming your dog's nails yourself.
But, first off, you aren't an expert! And you'll feel far too worse if you're the one who hurt your dog.
Secondly, nail clippers have the tendency to get blunt awfully fast.
So, you'll have to keep throwing your money to buy new ones!
Is Dog Nail Grinder The Best Alternative?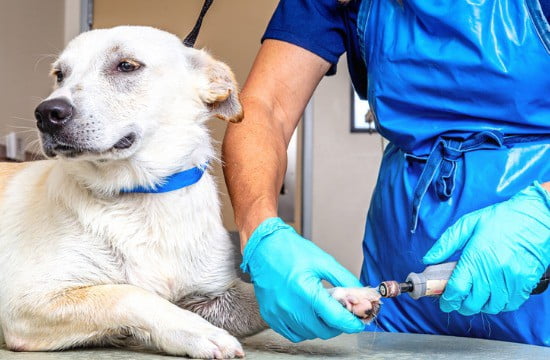 Well, so far, yes.
This is, to date, an easier and more efficient method to trim your dog's nails.
Apart from that, this is more practical for both the dog and the owner.
In fact, this is probably a painless (and mess-less) alternative.
With nail clipping, the problem can lead to psychological problems in the dog, which can turn into behavioral issues down the line.
These can be avoided by using nail grinders.
Why Do People Switch To Dog Nail Grinders?
I hope that I was able to highlight the problems with nail trimming and nail clipping for you.
Now, I'll quickly discuss the reasons for the switch before moving on to the best dog nail grinder.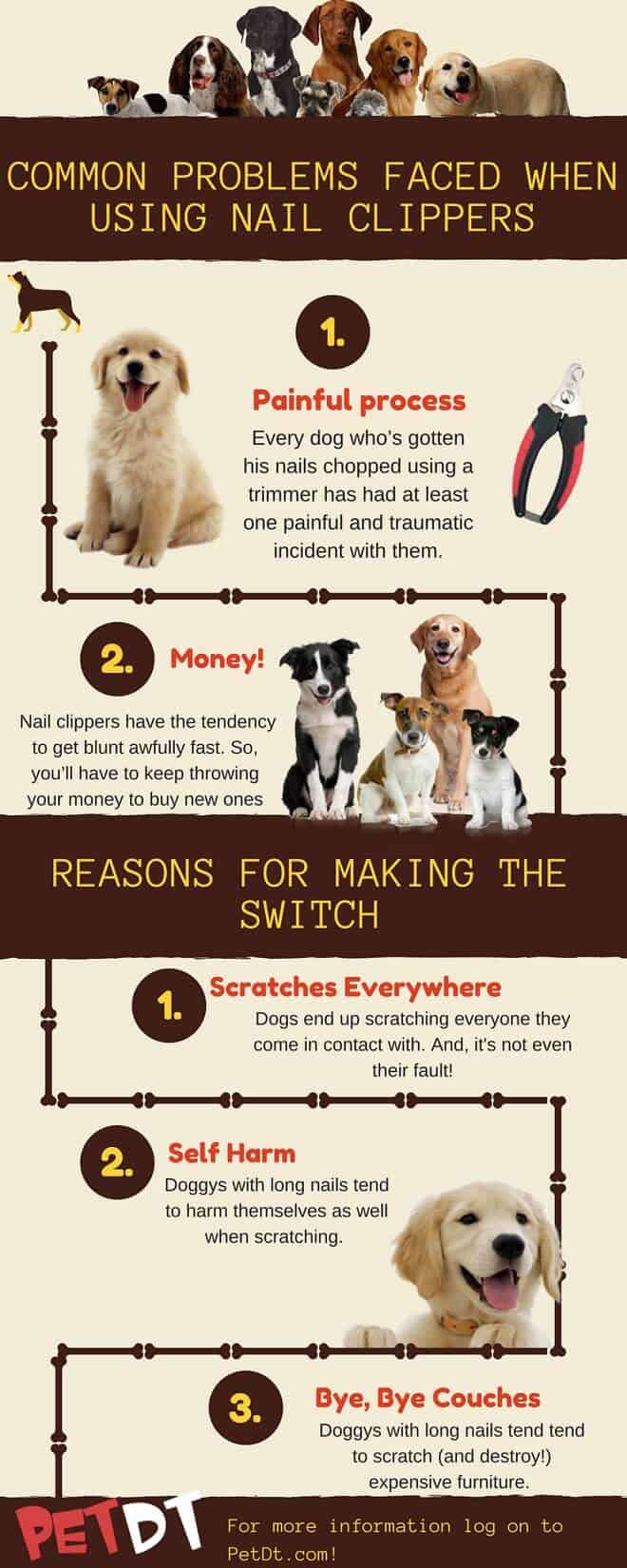 Reasons For Making the Switch
Scratches Everywhere
I've got a dog of my own who tends to grow long nails. And he's playful in nature.
You can guess what happens!
He ends up scratching everyone and everything he comes in contact with. And it's not even his fault because he's being playful. But those nails hurt us all really badly.
And he hates nail trimming.
So, we switched to grinding those nails, and everyone was happy.
Self Harm
Dogs with long nails tend to harm themselves as well when scratching.
I remember how my dog used to bleed after having scratched himself in the same spot!
He was so sad…
Bye, Bye Couches
Another reason for making the switch is the furniture!
You have no idea how often my dog has ripped our leather lounger! And that thing is so expensive!
Best Dog Nail Grinder Reviews: Simple and Safe
Let's finally get to the review, shall we?
I've hunted down the five best dog nail grinders available in the market, so you don't have to.
Bonve Pet Dog Nail Grinder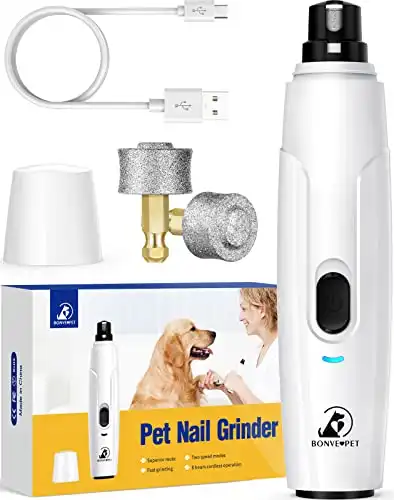 2. INNOPAW Dog Nail Grinder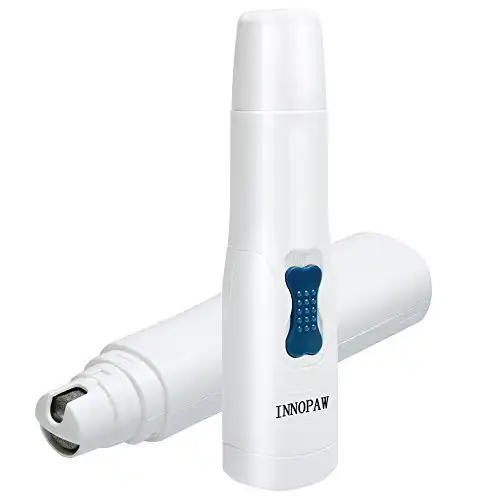 3. Dremel Pet Nail Grooming Tool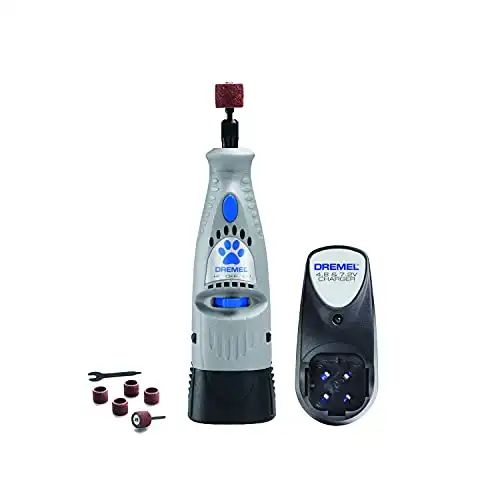 Dremel 7300-PT 4.8V Cordless Pet Dog Nail Grooming & Grinding Tool, Easy to Use, Rechargeable, Safely Trim Pet & Dog Nails , Grey , Medium
The Dremel nail grinder is one of the best available in the market.
It has the following key features:
It consumes 4.8 volts of power and is very light
It has two different speeds
It is quick, easy, and painless
It has a removable battery pack
I feel that this is well worth the money as it works really smoothly in a way that makes sure that there's no nail splitting or breaking.
The higher speed is better for a quick trim, while the lower one is better for a 'deeper' trim.
Pros:
Easy to use

Reliable

Compact
Cons:
Only spins in one direction
Buy Now
We earn a commission if you make a purchase, at no additional cost to you.
4. Wnoke Dog Nail Grinder
5. FURminator Nail Grinder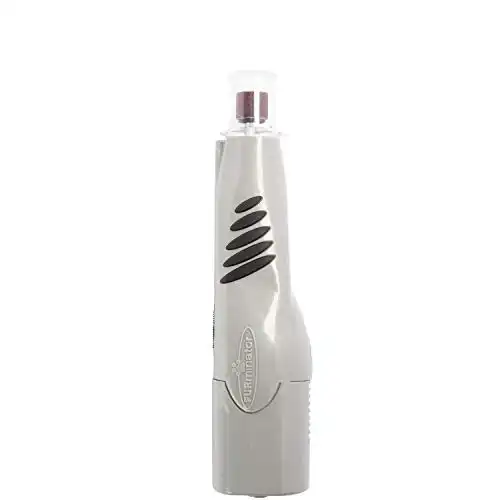 Furminator Nail Grinder Professional Grooming Tool for Pets, 8" L
The Furminator nail grinder is also a great option to go with!
It has the following key features:
High-performance and lightweight
Designed to deliver safe, efficient, and painless trimming
Automatic LED light
Replaceable grinding bands and 4 AA-alkaline batteries
Don't judge it by looks!
This nail grinder works very well and is surprisingly very powerful for its size! It can even trim the hardest of nails and has extra grinding belts!
Pros:
Includes 2 replaceable grinding bands

Lightweight
Buy Now
We earn a commission if you make a purchase, at no additional cost to you.
09/22/2023 05:35 am GMT
How To Use A Nail Grinder?
Using a nail grinder isn't rocket science!
It's very easy to learn and to do! I'll help you with that as well!
Watch this video tutorial:
Easy, wasn't it?
The Bottom Line
I hope I was able to help you find the best dog nail grinder for your pooch!
Nail grinders are better than nail clippers every day. They are easy, quick, and painless ways to chop those nails and keep your dog happy.
I've picked out the top five best dog nail grinders available on the market today and told you a bit about them to make things easier for you.
I hope that I have cleared all of your concerns.
Please, do leave comments if you have any questions! I'd love to clear anything you've got in your mind up!
And don't forget to share this post with your friends!