Dog urine stains are a stinky and unsightly business.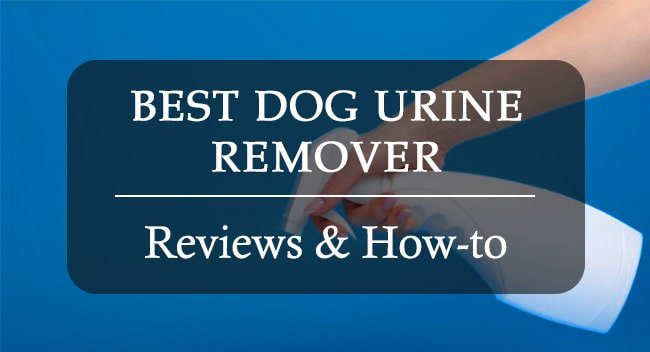 Not removing them from flooring, clothes, or furniture entirely can make for an unending battle with lingering smells and stains.
What is the best option for banishing urine stains for good?
The general consensus is that enzyme cleaner is the most efficient way of removing urine from various places in your home.
Even DIY options might not do the trick on old, stubborn stains.
The best dog urine stain removers contain enzymes in their ingredients. More on this below…
Enzymes are the most powerful substance against urine because they eliminate those nasty particles at the source.
That means no masking odor and no involvement of harsh chemicals.
It's still not easy:
Narrowing down the most effective urine removers can be puzzling, especially for new puppy parents.
In this article, we'll take a little guesswork out of which enzyme cleaners are well worth your time and money.
Best Dog Urine Odor and Stain Remover: Top 5 Products
How Does Enzyme Cleaner Work on Dog Urine?
Simply put, whether your dog's urine is fresh and wet, in a crystal form, dried out, or even pre-washed (but still giving off an odor), enzymes will eat it up…literally.
Enzymes, in this case, are nothing more than microscopic bacteria that subsist on a diet of organic matter.
They are living and extremely tough life forms that naturally eat up organic, odor-causing molecules like those found in pet urine.
They break it down chemically when they come into contact with urine in any state.
They aren't chemicals themselves but rather chemical destroyers, as they chew up other compounds.
What's left behind?
A molecular-altered substance that is not harmful to humans like urine can be and can either be left alone or washed away, wiped, or vacuumed up.
The result that you can actually detect is a visibly stain-free area with no more odor!
Yeah, these little guys are the way to go versus any other type of dog urine remover or cleaner.
The other methods may partially wash away or cover up some of the odor-causing components. Still, they can never fully remove the stubborn and penetrating elements like uric acid, which gives urine its unwelcome scent.
In the case of dog urine clean-up, you want to destroy, not clean!
Enzyme Cleaner Types
Some of these enzyme cleaners come in a concentrated form, a spray bottle, and/or in a large-size bottle.
Which one is best?
We recommend investing in a concentrate or a large, gallon-size bottle if you have a broad area to treat.
Perhaps the housewarming gift from the former owners of your new dwelling came in the form of old pet stains.
The challenge?
In this case, you will more than likely go through quite a bit of enzyme cleaner in your efforts to restore flooring.
Another scenario where you might use liberal amounts of enzyme cleaner is if you plan to treat your yard, grass, or turf with it.
For occasional accidents or small areas, a spray bottle is usually sufficient to keep on hand.
A word of advice:
If you did purchase a large bottle, it would work in your favor to use it via a spray bottle either way.
Spray bottles help ensure an even, thorough application without pouring out too much.
In the grand scheme of things, concentrated formulas, and ready-to-use spray bottles work equally well to remove urine.
Your specific situation will help narrow down which is the best product to purchase.
Our Top Picks
1. Angry Orange Enzyme Stain Cleaner and Pet Odor Remover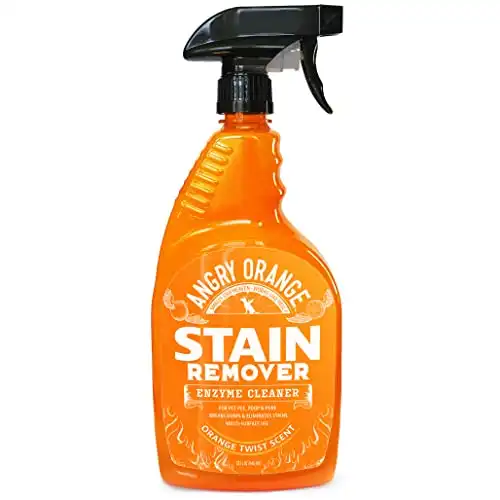 Natural orange oils meet enzymes for a cleaning duo that packs a serious punch.
The scent is light and natural without attempting to cover any leftover urine smells – the enzymes do the job of eradicating all particles responsible for the strong ammonia scent in urine.
The included orange oil is an extra layer of stain-removing power – orange oil is an essential oil known for its quality to help lift difficult stains. It's a natural degreaser and disinfectant.
The formula comes in orange and "fresh" scents.
Although not currently available in a gallon size (see products below for larger sizes), the potency of this spray makes it enough to last for seasoned pet parents and puppy moms and dads alike.
It's safe for various surfaces, including any flooring you can imagine.
Aside from being safe on your floors, it's non-toxic and safe for pets and children.
Best of all, even the nastiest of urine odors (does your dog's urine smell fishy?) are neutralized with this cleaner.
Pros
Safe, non-toxic formula
Comes in other scent varieties
Appropriate for a variety of surfaces and materials
Cons
Only comes in a 32 oz bottle
---
2. Rocco and Roxie Professional Strength Stain and Odor Eliminator
This highly concentrated formula can rescue carpets, furniture, pet bedding, and everything in between.
Organic materials, including ammonia crystals responsible for strong urine smells, are broken down at the molecular level and eliminated for good.
The Carpet and Rug Institute has given their seal of approval to this odor remover – meaning it's both a safe and effective stain remover for a wide variety of carpeting.
No chlorine or any other substances are present in this enzyme cleaner, making it color-safe and among the best choices for cleaning fabrics and textiles with urine stains.
Pros
Safe on most surfaces, including kennels and litter boxes
Eliminates odors without chlorine or bleach
Works well on many organic stains besides urine
Cons
Not currently available in a large size
---
3. Nature's Miracle Stain and Odor Remover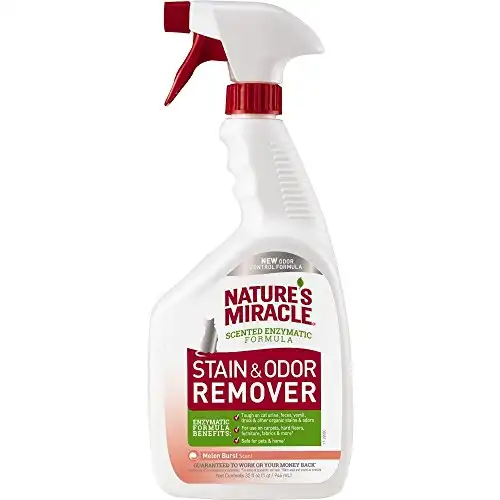 This is another powerful, efficient formula in a convenient spray bottle.
It's both fast-acting and safe, thanks to the natural enzymes used to break down organic stains.
Nature's Miracle is highly recommended and top-rated for both soft and hard surfaces.
It's lightly scented without intending to cover or mask urine smells.
Pros
Does not require waiting overnight to work
Comes in 24 and 32-oz bottles
Includes a disinfectant
Cons
Chlorine dioxide may limit use on certain surfaces and colors
Requires a larger volume to work compared to similar products
---
4. Trinova Pet Stain and Odor Remover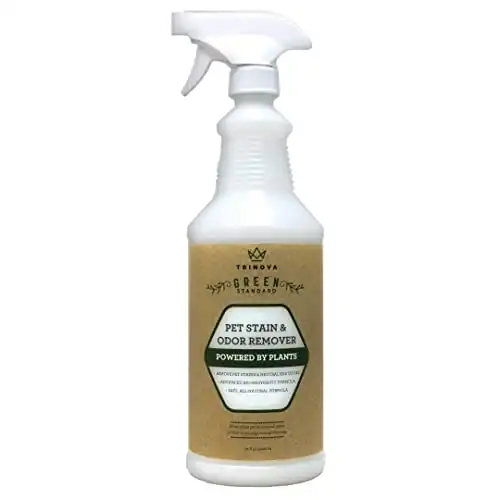 If you're searching for the best dog urine odor remover that is 100% natural, TriNova has you covered.
They set the "Green Standard" and offer full transparency regarding ingredients used in this tough-to-beat formula.
It works:
Stains are removed, and odors are neutralized without a single toxic, unsafe chemical added to the equation.
This cleaner is an excellent option if you're concerned about what products you use around pets or kids.
Use it on almost any surface for most types of stains – from urine to drool. Mint and bamboo extracts leave a light, natural scent behind.
Pros
No toxic substances; 100% natural
Available in a 32 oz spray bottle or 1-gallon bottle
Fast-acting
Cons
The sprayer is reportedly too short for the bottle – decanting to a new bottle might be necessary.
---
5. Bubbas Super Strength Commercial Enzyme Cleaner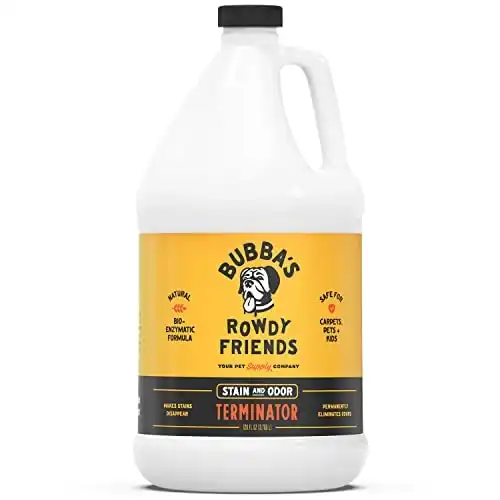 This cleaner is perfect for keeping around for pet stains, but you can use it for just about anything.
Try it on sweaty shoes, smelly refrigerators, or even grass-stained clothing.
In addition to dark urine, it'll remove blood, sweat, and tears from most materials – without you having to sacrifice any of your own.
However, its versatility shouldn't make you shy away from its pet stain-eliminating qualities.
Urine and other organic matter are no match for the potent enzyme formula, which is more effective over time than competitors.
Pros
Safe for most materials
Non-toxic and suitable for use around pets and kids
Comes in a gallon-size or 32 oz sprayer bottle
Cons
The smell might be too strong for sensitive individuals
Oh, we should note while this odor remover is super versatile, you don't want to use it on your dog if they smell like urine! There's another way to go about that…
Factors to Consider
Expiration Dates
Enzyme cleaners do have a lifespan because of the "live" bacteria that destroy the odors.
Buying a large-sized container is wise if you know you'll use it before the expiry date on the bottle.
Otherwise, it can become ineffective over time, and you'd be better off sticking with a smaller one.
Storage
Enzyme cleaners should not be stored in overly hot environments, or the bacteria can be "killed," rendering it as ineffective as it can become once expired.
Before investing in enzyme cleaner, make sure you have a cool place to store it.
Scent
Any scents in enzyme cleaners are designed to be pleasant but not to mask or cover up the smell of urine.
Some of the added smells in the cleaners are barely perceptible but use caution if you are sensitive to certain scents.
Concentrates and Large Bottles
Applying enzyme cleaner through a spray bottle is generally easier and more effective.
This will give you an even coating and cover the stain adequately.
If you are prepared to buy a gallon size or a bottle of concentrate, it will be worth spending a little extra on an empty sprayer bottle.
If you have a spare one lying around the house, even better.
Don't try pouring directly from a bottle onto a stain – unless you have a very steady hand.
You're risking over-saturating whatever surface you're treating. A coating with a sprayer is sufficient.
Spot Tests
Most enzymes are labeled as safe for most surfaces. When it comes to fabrics, wood, and carpeting, it is always beneficial to do a small spot test first.
It's better to be safe than sorry!
Do so in an inconspicuous area before treating the stain – it will save a lot of headaches if a particular surface does indeed react poorly.
Best Dog Urine Remover: Background and How-To
How you will treat a stain with enzyme cleaner depends primarily on where the stain has occurred.
If your dog pees on your bed, that's one thing. If your dog is leaking urine on your hardwood floor, that's another…
Carpet, fabrics, and hard flooring all require slightly different approaches.
We'll cover three common scenarios and go over the general instructions for each one when using enzyme cleaners.
Urine Stains on the Carpet – How to Remove It
For our in-depth guide, check out: How to Get Dog Urine Smell out of Carpet.
Here are the basics:
Step 1: Soak up the urine
Using absorbent cloths or towels helps enzyme cleaners get a leg up on battling stains.
Wick as much of the urine out of the rug or carpet before treating it.
Step 2: Apply the enzyme cleaner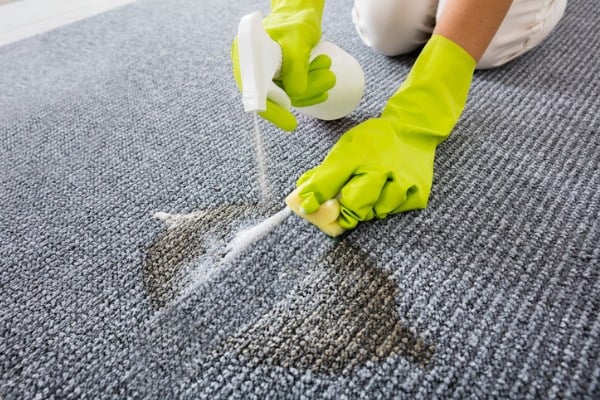 Coat the spot with an even layer of enzyme cleaner. This is where the spray bottle comes in handy.
Step 3: Let it set
Some enzyme cleaners recommend leaving it to soak in for as little as 5-10 minutes; others advise leaving it overnight or with some sort of weight over the spot.
Keep this in mind:
Whether the stain is fresh or old can dictate how long you'll need to leave the enzyme cleaner to work on carpeting.
Step 4: Allow the spot to dry
Once the affected area has dried thoroughly, all signs of urine should be gone.
For old and set-in stains, it might be necessary to repeat the process if there is still a smell after the spot has dried.
Urine Stains on Hard Surfaces
Step 1: Clean the puddle
This is important whether you have wood, tile, concrete, or laminate flooring. For in-depth guides on these surfaces and others, check out:
Since these are considered "hard" flooring, there is less worry about the floor absorbing urine.
However, urine can soak through your subfloor through wood, grout, or cracks in the flooring.
Cleaning up the puddle right away helps lower the risk substantially.
Step 2: Apply enzyme cleaner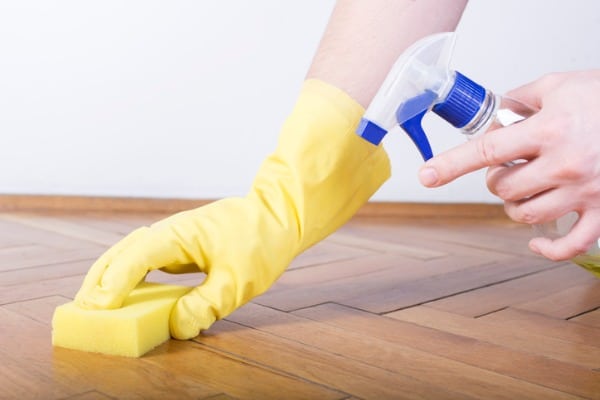 Once no visible urine is left on the floor, apply the enzyme cleaner in the same way you would on carpeting – evenly and over the entire spot.
Step 3: Let it set
Hard surfaces typically don't require overnight treatments where fresh stains are concerned.
Older stains can take longer to be removed by the enzyme cleaner.
Step 4: Wipe up the residue
There will be some enzyme residue left on the floor unless you leave it overnight – and even then, there can be traces of the spray left over.
Once the spot has been treated for the recommended time, wiping it up with a mop, damp cloth, or other similar cleaning supplies is sufficient.
Urine Stains on Clothes
Although much easier than other materials, dog urine removers can also be used on clothing. For the full instructions, see: How to Get Dog Urine out of Clothes.
Step 1: Blot or wring out the urine
Like with carpet, it's best to get rid of excess urine before treating the spot.
This can be achieved by blotting the spot with a cloth or wringing it out.
Step 2: Spray enzyme cleaner on the stain
It takes less enzyme cleaner to saturate something as thin as a shirt or even jeans.
However, you should still make sure the whole stain is covered by the enzyme cleaner.
Step 3: Let it set
Setting times for enzyme cleaner on clothes will be similar to carpet and depend on the severity of the stain.
In general, you can expect to let it work for at least 10 minutes before moving on to the next step.
Step 4: Put the clothing in the washing machine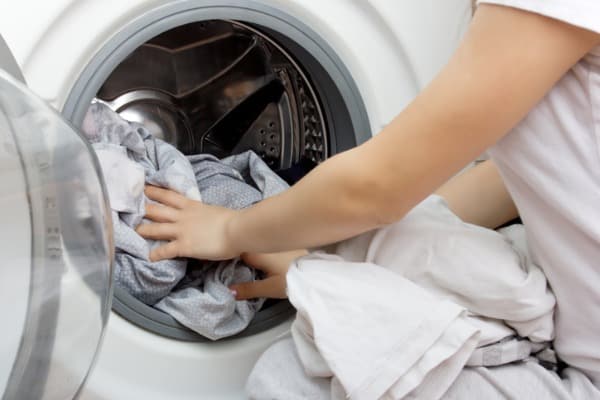 Washing urine from clothing works a little differently than cleaning urine from carpet – clothing fits in the machine and can benefit greatly from this extra step.
A cup (8 oz) of distilled white vinegar added to the water and detergent puts the finishing touches on restoring your stained clothing.
Step 5: Hang dry
Stick to the drying rack or clothesline and skip the dryer for now.
The high heat of a dryer can cause urine smells and stains to become locked deeper into the fabric.
It's better to let the clothing air dry and give it a sniff test. If you missed any spots with urine, you can repeat the process.
Steer clear of the dryer until you're confident the garment is completely clean.
Dog Urine Cleaners for Other Surfaces
Turf, grass, litter boxes, kennels, sidewalks, decks, and pet bedding are just some of the many places you can use the best dog urine remover: Again, enzyme cleaners.
As always, the directions for the specific brand you've chosen is the best user guide.
See the following guides for your specific clean-up project:
These other surfaces are as easily treated with enzyme cleaner as flooring or clothes.
Best Dog Urine Remover Brands
For overall performance, we've narrowed down the tried-and-true brands of enzyme cleaners.
Both novice pet parents and seasoned pack leaders can find favor with these brands in a variety of situations.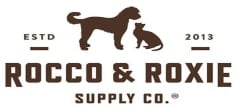 Rocco and Roxie Super Strength Stain and Odor Eliminator
The benefit of being chlorine-free makes this one of the best options to use on fabrics.
The danger of color leeching or bleaching effects is low, and the effectiveness on stains and smells is high.
This is helpful, say, if you're trying to get dog urine out of wood furniture, which may be extra important to you!
Is it expensive?
It's among the more budget-friendly options and comes in both spray bottles and gallon sizes.
Both options are economical since a little goes a long way with this potent formula.
There's more!
If you're not convinced, you can try it risk-free.
A full refund is available if it doesn't work for you, but we doubt you'll need one.
A high volume of the best dog urine odor remover reviews belongs to Rocco and Roxie.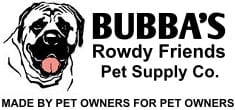 Bubbas Super Strength Commercial Enzyme Cleaner
BUBBAS offers an affordable, reliable enzyme cleaner, which has been the saving grace of many pet parents.
Billions of enzymes lend their superpowers to the spray, which also comes in a gallon bottle.
It lasts much longer:
This brand also holds up better in storage – little to no potency is lost compared to competitors.
As an added bonus, BUBBAS products are cruelty-free and guaranteed never to be tested on animals.
Frequently Asked Questions
Can Enzyme Cleaners Be Safely Used Around Pets and Children?
Enzyme cleaners are, by and large, much safer than heavy-duty cleaning products such as bleach.
While all cleaning products warn against ingestion or prolonged contact with the skin and eyes, enzyme cleaner has a low chance of causing irritant effects.
It is recommended to keep off the area being treated until dry, such as the floor or couch.
However, this is largely because leaving the area undisturbed will allow the enzymes to do their work – stepping or sitting on a treated spot can mean you'll need to respray it.
Unlike bleach, accidentally stepping in enzyme cleaner isn't going to ruin your clothes or burn your skin.
Since no harsh chemicals are involved in enzyme cleaning formulas, breathing fumes are unlikely to cause any issues.
Is Enzyme Cleaner Safe for Upholstery?
Colored fabrics require some caution when treated with any product.
For example, if you plan to use an enzyme cleaner on a red couch, you'll want to avoid formulas with chlorine dioxide.
This ingredient carries some risk of lifting color from certain types of fabrics.
Don't rush into it:
Always read the labels for specific guidelines regarding using enzyme cleaners on fabrics – especially those with color.
A "blot test" can help determine whether or not the enzyme cleaner you're using will affect your fabric.
Spray a small amount in an obscure area, and let it sit for at least 10 minutes.
Using a white cloth or a white paper towel, blot the sprayed area.
If you notice color transfer on the cloth, the cleaner is unsafe for that particular fabric.
Check the label:
Brands without chlorine in the ingredients, such as Rocco and Roxie, are less likely to cause issues with colored upholstery.
Does Enzyme Cleaner Have Any Other Uses Besides Getting Rid of Urine?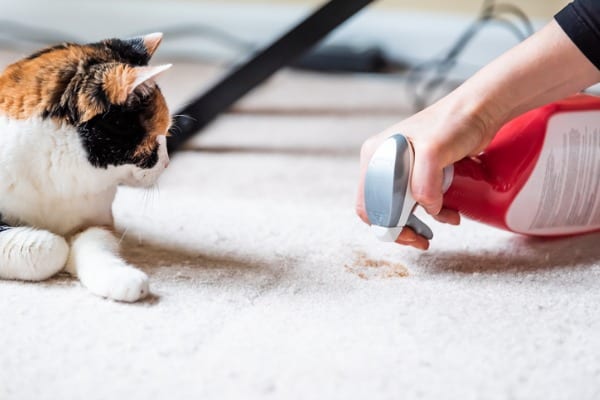 Yes, you can treat both dog and cat urine – and accidents from various creatures that may share your home.
It doesn't stop at urine, either. Pet parents of all species know that other organic accidents – like fecal matter, vomit, and saliva – can create some difficulties when it comes to cleaning.
These cleaners have you covered.
Enzyme cleaners work wonders on all of the above and are equally effective on other organic messes as they are on urine accidents.
Pet accidents aren't the only thing that might have you reaching for the enzyme cleaner.
Nasty smells in the fridge, sweaty sports gear, and stinky garbage cans can all be cleaned by enzymes.
Do DIY Methods Work With Enzyme Cleaners?
Other natural cleaning products, such as baking soda, white vinegar, or essential oils, can work in conjunction with enzyme cleaners in several situations.
For example, putting baking soda over a urine spot on the floor can be well worth the effort before treating it with enzymes.
Doing so will help soak up the excess moisture. Be sure to vacuum it up before moving on to the enzyme cleaner.
As mentioned earlier, white vinegar is also a good addition to laundry that has been treated with an enzyme cleaner.
Many dog parents find that enzyme cleaner is more than enough to eliminate stains throughout the house, but using them in conjunction with other "life hacks" can be helpful.
We only recommend avoiding mixing enzyme cleaners with commercial cleaners or harsh detergents.
There is a good chance the chemicals in such cleaners can negate the effects of enzyme cleaners.
The Best Products for Removing Dog Urine
Enzymes on the ingredient label are a crucial qualifier when searching for the best dog urine odor remover.
They are a powerful and effective method for removing urine and are also natural and safe.
They are the best option:
The cleaners listed in this review are good at their job – odors and unwanted spots don't stand a chance against them.
The best enzyme cleaners can save even old stains and surfaces that need to be restored on the market.
No one wants to ruin their carpet, furniture, or clothing while trying to remove stains.
We've also listed these brands of enzyme cleaners based on their overall safety for fabrics, flooring, and even grass.
This group of products is the best dog urine stain remover you can buy.
What is the most important safety measure?
Your family – including the four-legged members, is why we recommend the brands in this review.
Aside from being more efficient in lifting odors than chemicals, they carry much less risk to everyone in the house.