It can be very frustrating when your furry friend is desperate to eat their way through everything. Spending your time and hard-earned money attempting to stop their chewing addiction will really start to add up the longer it goes on.
That's why it's better to stop chewing in its tracks by buying a bed that literally cannot be chewed. Sure, they don't look as soft and comfortable, but your dog won't care about that. They'll be too busy mourning the loss of their favorite habit!
Check out the following five best indestructible dog beds and crate inserts that are chew-proof or as close to indestructible as can be. In a variety of shapes and sizes and at different price points, there's bound to be one that suits your situation.
Indestructible Beds Or Crate Pads for Determined Dogs Who Won't Stop Chewing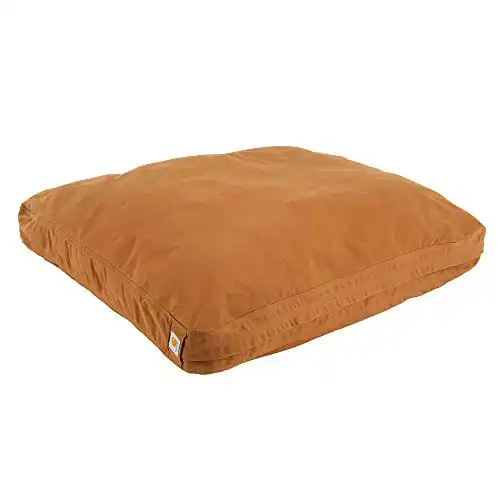 Thanks to its patented water-repellent coating, the firm-hand cotton duck canvas shell of this Carharrt premium dog bed is pretty much unchewable. Available in six different neutral colors, its sure to dissuade your determined dog.
A soft and snuggly interior cushion is baffle constructed: this alternative design prevents the polyester filling from being torn out and holds it in place at all times. Even if a dog does pierce the cover, that filling is not coming out!
The shell itself is fully machine washable: simply remove the internal fiber-filled cushion and give the fabric exterior a more thorough clean. It slips back over the pillow with ease, so there's no stress when putting it back together.
And, although the bed opens up, the extra wide YKK zipper can be discretely concealed beneath the flap. This means it's not going to catch your naughty pup's eye and encourage them to bite it off!
Pros:
Made from the same durable materials as all Carharrt jackets
Durable and comfortable, it can be used indoors or outdoors
Choose between medium and large to suit your situation
Machine washable removable cover
Cons:
On the pricey side for a dog bed, but it is a designer label
---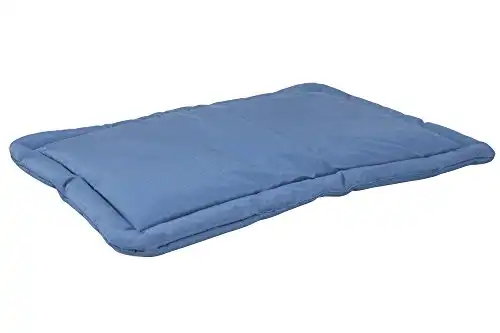 Choose exactly the right size for your dog's crate when you opt for a K9 Ballistics Touch edition: they've got you covered from Small to Giant, and even an extra-tiny model for your toy-sized dogs to snooze upon.
The durable ripstop ballistic cover is not just chew-proof; it resists digging and scratching, as well as being waterproof. This comfortable crate mat design is machine washable but can also be spot cleaned with ease.
Stuffed with K9-certified clean and recycled Polyfill to offer 1.5 inches of cushiony thickness, it has been stitched securely to offer optimal durability. Unlike hazardous alternatives, there are no hidden zips or Velcro straps to hide from curious canines.
Offering a full piece of mind, the K9 Chew Proof Promise means that if your dog manages to do damage to this pad within the first 120 days of purchase, you'll receive a store credit to replace the broken bed ASAP.
Pros:
Easily secured to a crate with zip ties
Fits all standard crate sizes
Entirely machine washable
Rip-stop weave stops any successful tears from spreading
Cons:
Not as tough as their chew-proof dog bed (see below!)
---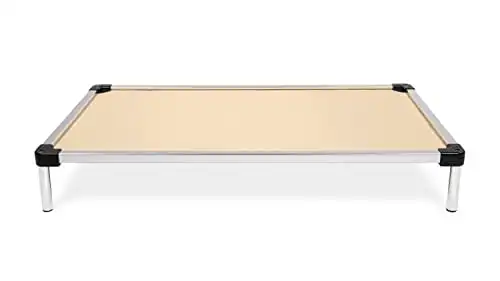 The second in our picks from K9 Ballistics is their elevated ChewProof bed, ideal for pups who persistently chew up beds and reduce them to rags and stuffing. It's so tough that they actually declare it to be indestructible.
An all-aluminum design paired with ripstop ballistic fabric means this bed is resistant to any and all destructive habits, including chewing, scratching, nesting, digging, and biting. Sick of replacing beds? This is the last one you need to buy.
Need to travel? No problem! The elevated design is created to fit snugly in any standard-sized dog crate, not leaving any gaps. Your dog will be safe, and any attempts to chew at the sides are automatically foiled!
They are so confident your dog shouldn't be able to destroy this bed the manufacturers offer a 180-day Chew Proof warranty. Should they succeed in chewing through or damaging any bit, they will replace it once free of charge.
Pros:
Multiple sizes and colors to choose from
Covered edges with no loose material to chew
100% aluminum frame is supportive and water resistant
Arrived pre-assembled and ready to go
Cons:
Very costly… but a worthwhile investment
---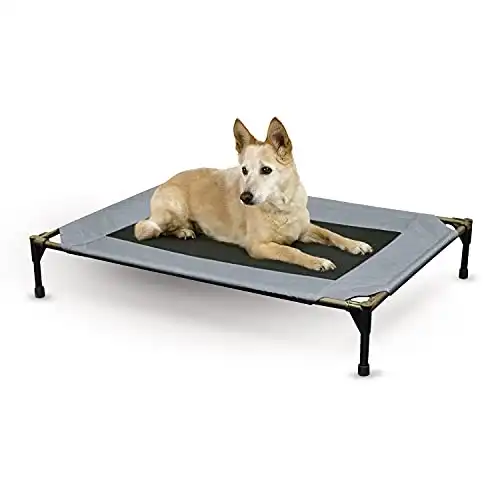 Another option for those seeking a more affordable elevated dog bed is these from K&H Pet Products. You can choose between several sizes and colorways to suit your home and the size of your dog!
Suitable for use indoors and outside, the slip-resistant rubber feet ensure your flooring is protected. At the same time, a mesh center is water resistant and repels all mold, moisture, mildew, and any strong unpleasant odors.
Despite being strong and sturdy enough to hold dogs up to 200 pounds, the heavy dernier cover and metal frame are lightweight and easy for humans to move around. They've also been strength tested to ensure your pups are safe at all times!
A removable cover is machine washable, but you can even hose the entire bed off in the yard if you'd prefer; though this one arrives unassembled, it's super simple to put together, and because no tools are necessary, even a child could do it!
Pros:
Recommended by vets and experts alive
Durable breathable mesh center that keeps your pup cool and holds up to 200lb
Multiple sizes and colors to select from with easy assembly
Far cheaper than the K9 Ballistic design
Cons:
Some pups might not like lying on this without an additional blanket
---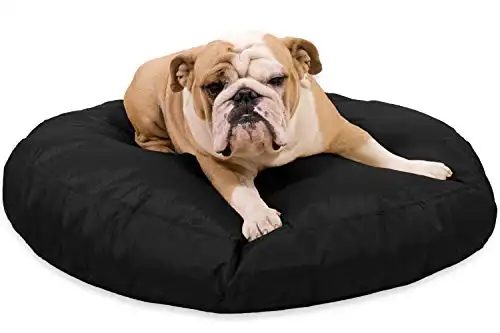 Last but by no means least, we have one final offering from K9 Ballistics. This round edition of their chew-resistant bed is dubbed nearly indestructible; it makes a good soft alternative for dogs who dislike elevated metal beds.
Small, medium, and large versions of this circular bed are available in your choice of five neutral tones. A durable, ripstop ballistic woven cover is waterproof, scratch resistant, and won't succumb to digging. You can also remove and machine wash it.
Made in the USA using non-toxic, shredded CetriPUR-US foam mattress stuffing, the facility where these beds are produced ensures each one offers optimal comfort and support for dogs of just about any size.
Every purchase comes with the K9 Chew Proof Promise, so if your pup successfully damages this extra tough bed within the first 120 days of purchase, you can get a replacement absolutely free. That's how confident they are in these products!
Pros:
High-quality, machine washable indestructible dog bed
Water, scratch, and dig-resistant design
Soft mattress inside that won't clump or shift over time
Offers proper support and balanced weight distribution
Cons:
Feels expensive for what it is
Buyer's Guide
When it comes to choosing the right dog bed, there's more to it than just "will my chewing canine be able to tear their way through it"! You should also consider the following important factors:
Size
The size you choose doesn't just matter in terms of how big (or small) your pup is, but also for the space you envision the bed will go – or for crate pads, if it will fit properly without leaving any overhang.
That said, if you fail to get a bed large enough, your dog might not use it; too small, and it could break easily or encourage their chewing even more because of all the excess space they're not taking up.
Material
When making an "indestructible" dog bed, the material the manufacturer uses is crucial. Most of them are made with canvas exteriors, as the tough woven material is very tear resistant and should stand up to even the sharpest of teeth.
You'll notice most of the above options are raised with metal legs, offering a safe and steady platform for your dog to rest on without the unnecessary cushioning and easily chewed-up fabrics.
Don't worry – although they look a little bit like prison beds, these are actually way more comfortable than they look. If you want to add a (chew resistant!) cushion or a blanket over the top, you can, but it's probable your dog won't mind either way.
Construction
If there are sewn sections, these should be strong and well-stitched with good-quality thread. It should not feel like it would be easy to rip through: most manufacturers will argue their chew-proof beds are strong, so check reviews to confirm this one.
Likewise, any metal or plastic should be sturdy and inflexible, as well as rust and scratch resistant, with protective bottoms to prevent any damage to your floors. Zips or buttons should be easily tucked away or removed to avoid choking hazards.
Comfort
Just because it's chew-resistant doesn't mean it has to be flat and rough! That isn't to say that any beds without soft stuffing or cushioning aren't appropriate; it just means you should make sure that the fabric used is gentle on their paws and fur.
Likewise, there should be a section of the bed that can take the dog's weight for comfortable sleeping. Most chew-proof beds are on metal legs with a more flexible middle fabric- they work like a tiny trampoline without the bounciness.
Durability
Besides being strong enough to stand up to serious chewing attempts, you also want the bed to be water-resistant and difficult to stain. Even the most well-trained of pups can have an accident now and again, so it's worth getting that protection.
Even better are beds with removable exteriors that can be thrown in the washer for a more thorough cleaning. Some can be put in a machine directly, but only those on the smaller side, and you should always follow manufacturer guidelines!
Frequently Asked Questions
How do I stop my dog from tearing up their bed?
Do your best to distract them! During the day you should play with them using toys that are appropriate for chewing, biting, ripping, and throwing. Not only will this teach them what is safe to chew, but it also contribute to tiring them out!
If your dog is too sleepy from a big long walk and a couple of hours of playtime, they won't have the energy to spend time chewing when you've gone to bed and aren't there to deter them from negative behaviors.
Try to avoid negative reinforcement like yelling, and definitely don't resort to violence. Dogs respond better to praise and positivity, so instead, be sure to really enthusiastically treat and encourage your dog when they chew toys and not beds!
Do dogs need a bed?
Well, yes, unless they're going to share yours or sleep on the couch! Given that they snooze for a good twelve hours or more of the day and more as they get older, your pup should have a comfy spot to curl up on that they can call their own.
It doesn't have to be giant and fluffy – a flatbed with a layer of fabric and a thin sheet of foam is more than sufficient. Why do you think they're happy enough to snooze on the floor when presented with the chance? They find it comfy to sleep anywhere!
That being said… how would you like to sleep on the hard ground all the time?
Just because they can sleep without a cozy bed doesn't mean your canine companion wouldn't love one of their own.
Why do dogs destroy their beds?
There are several reasons why, depending on the context, your dog might be trying to destroy their bed. Perhaps they are bored and frustrated – do you walk them for long enough and make sure they have plenty of toys to play with and chomp on too?
Some dogs just like to chew. In the wild, they would have grasped their prey between their legs and bitten down on it in order to get to the edible meat. Chewing their bed is a way of mimicking this behavior from their ancestors.
It could also be some lingering anxiety. Have you recently moved or moved their bed into a new spot? Did you buy the bed recently, and is it different from the one they are used to? Much like humans, dogs can hate being subjected to change.