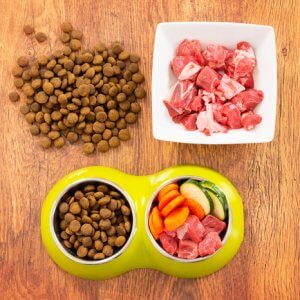 What kind of food is your pet pooch eating? If you want to provide nutritious meals for your canine then make sure you know what is the best organic dog food. This super-natural food is widely considered as the safest type for your pet dog or puppy.
That's because these dog foods are sourced from places like farms that don't use any ingredients that are artificially synthesized. Such dog food would typically be made without synthetic fertilizers and pesticides, while the meats are raised hormone-free.
The problem is little regulation exists regarding the use of terms like all-natural and organic on pet food. Let's look at some of the best organic dog food brands on the market.
---
Top 5 Best Organic Dog Foods in the Market
This product founded by Hollywood actor Paul Newman is made from high-quality organic ingredients. Premium Canned Formulas are now available in varying flavors including:
chicken
turkey & brown rice
turkey & chicken
More flavors means more options for your dog, and less boredom from eating the same food every day. Features of Newman's Own dog food include 78% moisture with 1% crude fiber profile. This product isn't 100% organic but it's chock-full of nutrients like vitamins and minerals.
Features/Benefits:
Several flavors to pick from
No wheat or corn
No artificial colors, flavors, or preservatives
Low fiber content
What We Liked:
Good taste and scent
Good for old and recovering dogs
Dogs won't get bored eating
This is a good option if you don't want to feed your canine dry kibble, especially if your dog has not been drinking a lot of water. This product contains a maximum 78% moisture as well as a good balance of protein and fat. The crude fiber is a maximum 1.5% versus dry kibbles that are normally at 4% crude fiber. Another plus is the cooked chicken added to this dog food is certified organic, a healthier option for your pup.
Features/Benefits
100% organic chicken
No preservatives
< 1.5% crude fiber
Good flavor
78% maximum moisture content
What We Liked
Good for mixing with dry kibble
Few ingredients
Pate consistency
Although the Adult Formula dog food packaging looks basic, it's a good option. The labels also target adult dogs but being made with high protein from free range chicken, this a great choice for growing puppies. The mix contains quality organic ingredients including chicken, veggies, grains, and fruits. This provides your dog with key ingredients it needs. Since the dog food is organic you won't have to worry about synthetic ingredients.
Features/Benefits
Dry food
Natural organic ingredients
Meets AAFCO standards
All canine stages
What We Liked
Good for puppies
Free range chicken
Mostly organic
This product is the best organic dog food for senior dogs, with high-protein/meat-based options available. It includes free range chicken, whole eggs, and farm-grown vegetables. This provides a well-balanced formula for man's best friend. If your dog has food allergies then you should consider the lamb or salmon flavors.
The Halo dog food is a dry kibble with no artificial ingredients. It also offers tons of nutrients for your canine. That includes 10% moisture and 6.5% crude fiber. The whole eggs are easy to digest and the omega-3 fatty acids help to keep your dog's skin and coat healthy.
Features/Benefits
Well-balanced formulation and ingredients
Good moisture content
Fortified with vitamins and minerals
Available in chicken, lamb, and salmon flavors
100% organic
What We Liked
Good for old dogs
Dogs like it better than other brands
Good for dog's digestion
PetGuard Vegetarian Dry Dog Food is a good option for vegan pet owners. The dry kibble contains organic ingredients that provide nutrients like omega-3/6 fatty acids. This product is also USDA-certified organic. It's important to note the fatty acids are in the form of alpha-Linoleic acid (ALA) rather than docosahexaenoic acid (DHA) or eicosapentaenoic acid (EPA).
It's worth noting that dogs are omnivores, but they don't need a large amount of veggies. PetGuard is considered by many pet owners as one of the best organic dog foods since it provides a well-balanced nutrition from a wide variety of different food sources.
Features/Benefits
Formula contains only grains
USDA-certified organic
Omega-3/6
No artificial ingredients
100% organic
What We Liked
Good for dogs with food allergies
Makes coat shiny and healthy
Works with homemade dog food
---
What is Organic Dog Food?
When shopping for dog food whether it's at a brick & mortar supermarket or e-commerce site like Amazon it can be tough to sort out different terms like "all-natural," "organic," and "certified organic." We'll try to clear up as many of these terms as possible.
All-Natural
Natural or all-natural dog food is more about what's not in the food. This dog chow must be free of artificial colors, flavoring, and preservatives. All the ingredients must originate from animals, plants, or minerals that exist in the natural world. The only exception is vitamins.
Grain or Byproduct-Free
Some natural dog foods are also grain-free. Fun Fact: Corn, wheat, and rice are among the most important crops in the world. Grain-free natural dog foods don't contain any grains including corn, rice, oats, and wheat. These are natural foods but can cause allergic reactions in some animals.
Some natural brands of dog foods are also byproduct-free. So, they don't contain any connective tissue, skeletal meats, or organs. There's a caveat here. There's no scientific evidence that these ingredients are actually unhealthy for dogs, but many pet owners would feel uneasy feeding these parts to Fido, Max, or Bella.
Organic Dog Food
So what exactly is organic dog food? Such products like dog food must be free of synthetic hormones, antibiotics, and toxic preservatives and pesticides. They also can't be grown in chemical fertilizers or contain genetically modified organisms (GMOs) or be exposed to radiation.
Organic Food Labels
It's important to note that not all organic dog food is 100% organic. For example, you can find products that are fully or partially organic. Here are some of the main terms you'll find on labels:
100% organic

: Each and every ingredient is organic

Organic

: 95%+ ingredients are organic and the other ingredients are required to be approved substances
Made With Organic: 70%+ ingredients are organic
---
Benefits of Organic Dog Food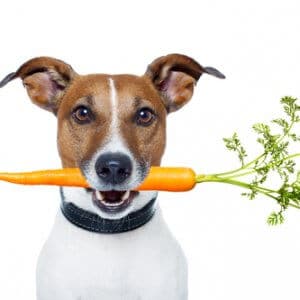 You might be wondering whether or not the benefits of organic dog food products make them worthwhile for your best friend. Here are some of the main benefits you should consider:
Fewer digestion problems
When dog food is made from high-quality and natural sources of proteins and grains this makes the food more digestible. That's because no artificial ingredients and chemicals make it much easier for your dog to digest.
It's important to note your dog might have other health-related issues that are causing digestion problems. However, if the main ones are food allergies and a weak stomach then picking the best organic dog food is a good first step. In fact, many pet owners have reported their dogs with weak stomachs are able to digest certain brands of organic food.
This is largely due to the foods having natural and organic ingredients, easy for the digestive tract to process. This includes real meat like turkey or lamb, and whole grains like oats and rice. This is a better option than standard commercial dog foods that contain fillers instead of "real food."
Longer life
If you want to boost your dog's lifespan and quality of life you should truly consider organic dog food. It will help to improve not only how your pet feels, but also how it looks and acts.
Pet owners obviously want their beloved animals to live a long and healthy life. While there are several ways to achieve that goal one of the easiest and most practical ones is by feeding them healthy food like organic products. That in turn can improve your dog's coat, skin, teeth, nails, and overall health.
Fewer food allergies
If your dog has food allergies or sensitive skin, then the old saying "prevention is better than cure" certainly applies. While you can find several treatments for these conditions, one of the best ways to minimize them is by picking organic food for your pet.
Here's why. Organic food is free of additives like artificial colors, flavors, and preservatives. They're also made of plants that are free of synthetic pesticides and fertilizers and animals that are free of synthetic hormones. This helps to support your doggy's immune system so it will be less vulnerable to food that affects your dog's digestion or skin.
Better health and immunity
A diet of organic dog food can benefit your canine if it doesn't suffer from digestion or skin conditions. You probably won't find too many dog food manufacturers that claim their products are unhealthy. However, experts tend to recommend premium and organic options over standard products found in grocery stores.
There are various reasons why your dog's general health and immune system can benefit from organic food. They're more nutrient rich so your dog is getting all the vitamins, minerals, and enzymes it needs without additives it doesn't need.
In much the same way organic food benefits humans, organic food can help to sustain your dog's healthy immune system. Boosting this system can help to prevent illnesses, which in turn can reduce costs for medicine and veterinary care down the road.
---
Buying Tips for the Best Organic Dog Food
When purchasing other products for your pet pooch it's important to know which issues to take up in order to choose wisely. Here are some of the most important ones:
Organic Certification
When considering organic certification make sure to pick one that's well-established and recognized in the industry. These include:
The bad news is not all organizations that certify products as "organic" are established or even legitimate. In fact, a company might even certify its products as US or EU-certified to seemingly pass off as a notable product so make sure to learn more about a company's labeling tactics.
Natural and Organic
All organic ingredients are natural but not all-natural ingredients are organic. For example, beef and grains are natural. However, if the cow was injected with synthetic hormones or the rice was grown in synthetic fertilizers those ingredients aren't 100% organic.
Unfortunately not all companies are completely transparent when using such terms. So make sure to look at details like the ingredients list or organic certifications. This will help to determine whether an organic dog food is what they claim to be.
Dog's Age, Stage, and Breed
When picking an organic dog food you should consider the stage and life stage of your dog. Like non-organic commercial dog food it's important to pick an organic one that's designed for your canine's age and life stage. Your dog's breed should also be a factor whether it's a small, mid-size or large breed.
In terms of the dog's life stage some of the main ones are:
Puppies
Adults
Pregnant
Lactating
Senior
When dogs are in one of these life stages they'll have certain nutrient requirements. For example, the early and late stages comprised of puppies and seniors all need more calcium.
Natural Preservatives
The term preservative often has negative connotations but it depends whether it's a natural one or not. Fun Fact: The oldest honey is believed to be 5,500 years old. Products like dog foods need preservatives to extend their shelf life.
The main issue is the type of preservative. Make sure to look for products with natural preservatives like Vitamin C or Vitamin E-like substances. The main drawback of natural preservatives is they have shorter shelf life vs. artificial preservatives. But if it means your dog will be healthier then that's ok!
Watch out for dog foods that contain artificial preservatives. In fact, many of them are being banned due to the side-effects they can cause. For example, scientists have connected ethoxyquin to various side-effects including digestion, skin, and behavior problems, as well as organ failure, and in some cases, cancer.
Studies are still being conducted to determine the effects of these artificial preservatives. However, there's mounting evidence that they're bad choices for your pet due to the negative effects they can have on your canine's health.
Ingredients' Sources
As with the terms "natural" and "organic" manufacturers of organic dog foods often are ambiguous about the source of their products' ingredients. For example, "meat sources" could be chicken, beef, duck, alligator, or eel. You should know the exact source of the meats.
Another term you might see on an ingredients label is "wholesome" whole grain. In general whole grains are healthy. However, you should be informed about which types of whole grains are added to the dog food.
Food Allergies
Make sure to learn if your dog has food allergies. Some common ones include peanuts, tree nuts, fish, and shellfish. If you observe your dog might have food allergies make sure to get it checked it out. This will make it easier to pick the right organic food for your canine.
Organic Meat and Grain Sources
It's important to research how certain ingredients are classified as organic. For example, what makes fish organic. It should be caught in certain areas of the world that are free of various human-made factors including pollution. This differs from salmon that's raised in farms due to stuff like hormones, growth enhancers, and antibiotics. It's important for other animal sources to also be raised in natural environments.
Make sure to also research the sources of non-protein ingredients as well. That includes grains like oats and rice, and root crops like carrots and potatoes. If all the product's ingredients are organic than the whole product is also organic.
Macronutrient Formulation
Scientific studies show that proteins and fats are especially important for dogs. They need carbs like veggies and grains for energy but not too much. You'll find more carbs in today's dog foods but that's because it's cheaper for companies to add compared to the pricier lean meats.
---
Takeaways
If you want your dog's food to be delicious and nutritious then try to find the best organic dog food. These are products that contain healthy ingredients without unhealthy additives found in most grocery store products on the market.
Organic dog food is one of the most effective ways to improve the digestion, skin and coat, happiness, and longevity of your canine. It's the best food for man's best friend!