In this day and age, you don't see too many people who are passionate about anything because everything is handed to them… technology has created that.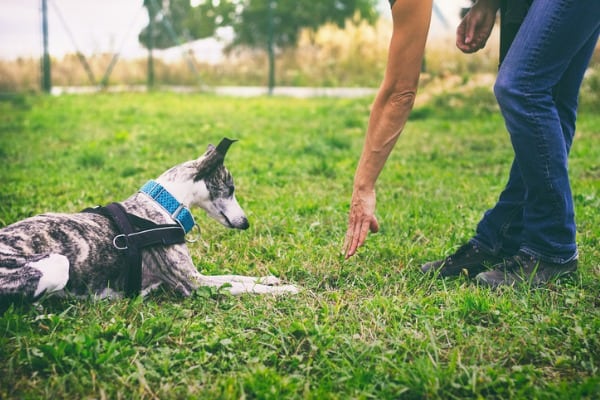 But there are certain people who do still have the power of passion running through their veins.
Things like food, art, and fashion are some of the few things that still hold a place in people's hearts… But do you know the one thing that people all over the world have hearts for? Dogs.
If you haven't noticed, people tend to treat dogs better than humans! It may sound a little crazy to say that, but it's true!
Dogs just have a way of making their way into anyone's heart, whether they own a dog or like them or not.
Dog owners, especially, are very passionate about their dogs! Some people don't get how a human being can make such a connection with an animal… and it's simple.
Dogs are living, breathing beings that feel emotion just like humans. They learn behaviors just like humans. And they have a mind just like humans do.
According to insider.com, the bond and companionship between humans and dogs date all the way back to when nomadic hunters had their first interactions with wolves.
Why else do you think dogs get so excited to see you when you walk in the door?
Why else do you think dogs are so protective of their owners and over babies? It's because they feel just like we do.
In fact, Insider's article further states that the reason why dogs are so excited to see their owners come home (hyper-sociability) could potentially be linked to the same gene that makes people with the developmental disorder Williams-Beuren syndrome so friendly.
It's a dog owner's passion for them that makes them provide their dogs with the best care. Maybe you're a fellow dog owner that's passionate about your dog as well…
If you are, have you ever thought about turning your passion for your dog into a profitable online business?
It's not necessarily you putting your dog to work for you but more so using the love and passion you have for your own dog to help other dog owners in expressing their love for their dogs as well.
It's not a decision you have to make right now, but it's definitely something to think about…
If you're still on the fence about starting an online dog business, take a look at some of the fun and profitable things you can do with your dog to generate income.
Ways to Profit From Your Passion for Your Dog
In order for you and your dog to profit from the online business you create, you first have to build your online store first. Shopify's e-commerce platform is a great resource to use to build your website.
It's not only reputable, but it also has a blogging platform that will allow you to provide useful information to your fellow dog lovers.
Once you've built your website, you can then start implementing these online business ideas that cater strictly to dogs and dog owners.
Dog Clothing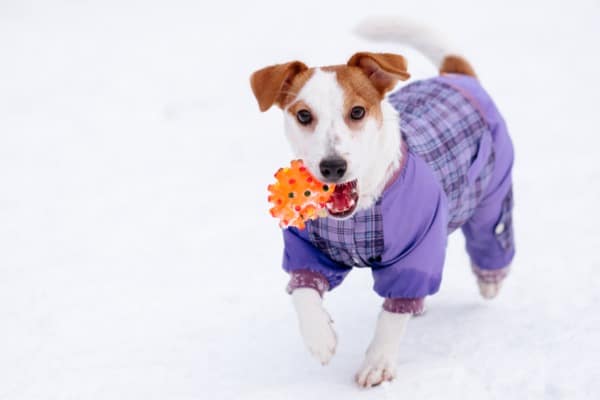 How many times have you either bought your own dog cute dog clothes or seen other dogs wearing cute doggie clothes?
All the time! You now have the opportunity to be a customer of dog clothing no longer… you now have the opportunity to sell them yourself!
You can actually become a seller of retail dog clothing and apparel!
If you're pretty nifty with a sewing machine or great at knitting and embroidery, creating your own line of doggie clothes is the perfect business to get started with.
Why?
Because there is a huge demand and market for it! For one, dog owners LOVE custom-made apparel with their dog's name on it.
Secondly, your dog can help you sell your clothes by being the model!
Dog Photography
Dog photography is also a business idea that you and your dog partner can work together on… your dog, of course, being the model.
With you being so passionate about your own dog, you probably have a ton of photos.
You'll post them on social media or print them out and put them into frames without stopping to actually look at just how great your photos are.
With photography, in general, you have to have a special eye to be able to capture great images, especially if you're trying to profit from it.
In order to be a great pet photographer, you're going to need the right equipment and know how to work with dogs to not only capture a great photo but to also capture their personality.
Dog photography can go in the direction of you offering your photography services through your website, and you can also make your photos downloadable as stock photos… You have the power to do both because it's your store!
Dog Training
Maybe you got your dog when he was a puppy, and now he is the most well-behaved dog you've ever run across…
You even feel it's safe to call yourself one of the many "dog whisperers" of the world…
If you have skills like that, you should consider becoming a dog trainer. There are certifications you can get to be a dog trainer, but it's not required by law.
There are lots of books on how to train your dog, but maybe your method is different but still very effective…
Dog owners all over the world would love to hear your take on that! With dog training books, of course, come in chapters… but you can offer your dog training in downloadable stages through your online store.
Your customers can either pay for the entire stage training course or just pay for it stage by stage as their dog learns and advances.
This is, again, a great way to incorporate your dog business partner to show how your dog training methods have worked.
For your actual videos, see if you can find friends with an untrained dog and use their dog for your videos actually to showcase your training methods in action.
You can make videos on everything from how to train your dog to behave when you're not home to how dog owners benefit from puppy training.
Your training options are limitless; you just have to make the decision to do it!