Have you ever pet your dog and noticed a weird bump somewhere on them?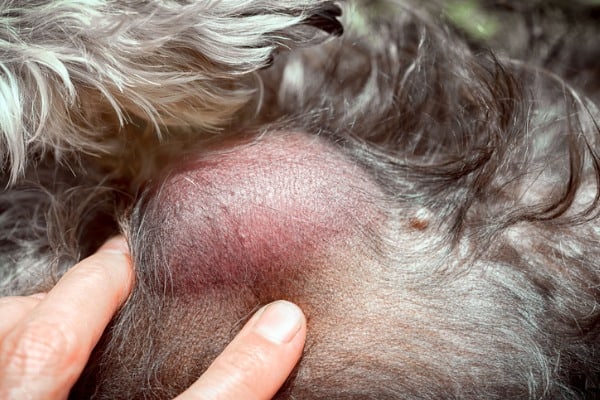 That unusual lump could be an abscess or a cyst.
It's worrying:
They might be hard to spot due to that furry coat, but your dog can suffer from a sebaceous cyst or abscess just about anywhere on their body – including inside their mouths.
It gets worse:
You might not notice evidence of any problem until after your dog's abscess popped, which can be a nasty business. There are several things you need to know about treating your dog when they have a cyst or abscess, including when a health problem warrants taking your dog to the vet.
Online Veterinary 24/7
Chat With A Veterinarian Online
Connect with a verified veterinarian in minutes. No waiting for appointments or office hours. No high fees. Your pet's health made convenient and worry-free.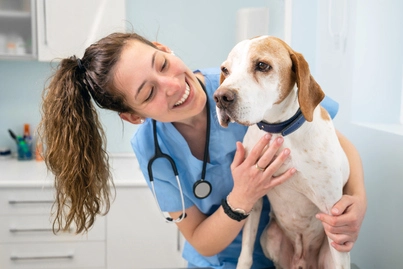 It's also useful to know the difference between an abscess and a cyst. We'll talk about how to identify each skin issue and answer some questions you have about how to handle the problem. We will also go through how to clean a ruptured abscess on a dog and a cyst.
Abscess or Cyst?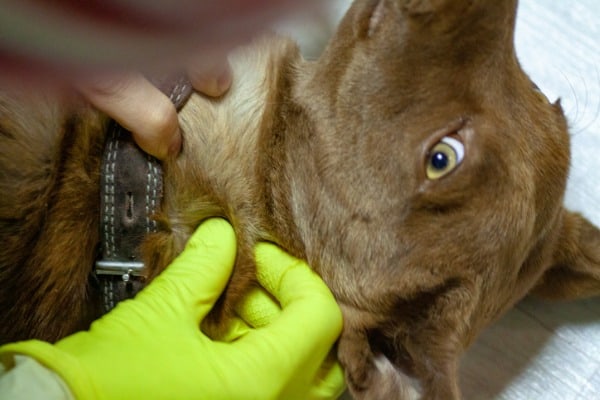 If you've located an unusual bump, lump, or knot on your dog's body, there are a few ways you can discern which ailment your dog has.
The characteristics of abscesses and cysts might seem similar at first glance, but a few clues can hint to which one you're dealing with.
An abscess doesn't discriminate when it comes to location.
Paws, legs, and neck are common areas for one to pop up.
Abscess
An abscess will feel warm or hot to the touch.
It might not seem large when you first notice it, but it can seem to grow in a short amount of time.
If an abscess is present under the skin where there is little to no hair – such as the gums, belly, or ears – you might be able to see redness around the area.
Abscesses can feel hard, or you might be able to feel the fluid inside of them.
Be aware:
It's not advisable to press on it or handle it excessively, as this can cause your dog pain or cause the abscess to rupture.
If the abscess has ruptured on its own, the discharge will smell foul and can contain blood.
Most dogs with an abscess will have a fever.
The fever can cause them to act lethargic or disinterested in usual activities.
Cysts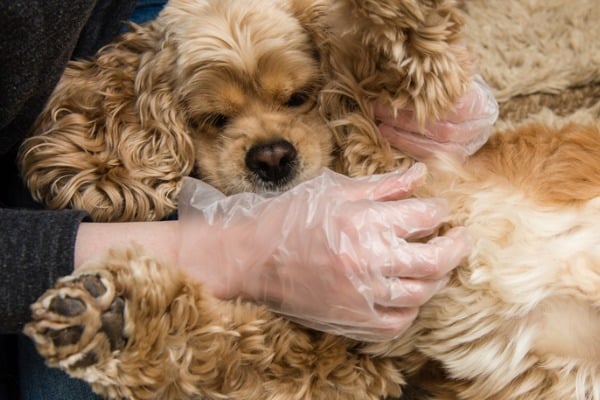 Sebaceous cysts in dogs are typically smaller than an abscess. Think of a sebaceous cyst like a large pimple – sometimes, they can grow into visible, prominent bumps on your dog's skin.
If you touch them, they're unlikely to cause your dog any discomfort and should not feel hot or warm.
A cyst will typically feel like a firm bump.
If they rupture, the discharge can look white, grey, or yellow. The discharge can be runny or more solid in texture.
Follicular cysts are similar to sebaceous cysts and can contain fluid or a thick, cottage cheese-like substance.
A follicular cyst is similar to a blackhead and is more prone to getting infected.
Your dog can have a cyst anywhere on their body. Sebaceous cysts are common in the mouth and chin area of dogs.
How to Take Care of an Abscess on a Dog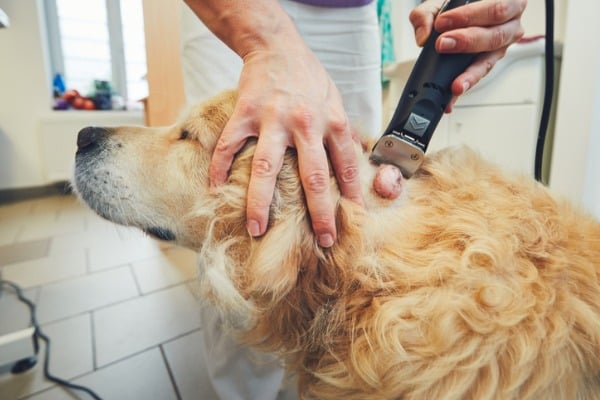 Rule number 1: as soon as you suspect an abscess anywhere on your dog, contact your vet.
Dog abscess home treatment is not advisable.
Why?
An abscess is a pocket of pus that has developed as the result of an infection.
Antibiotics are needed to treat an abscess, and the underlying cause for the abscess needs to be evaluated.
If the abscess occurs in the mouth, it can lead to your dog losing a tooth or multiple teeth.
You could make it worse.
Even if it was advisable to pop an abscess on a dog, it's not the best idea to reach into your dog's mouth and do something that will be painful.
An abscess, no matter where on the body, is best dealt with at the vet's office.
In some cases, your vet might advise trying antibiotics without draining.
This is, however, something your vet will only recommend if it is a small or minor abscess and they're confident it's not due to a foreign object.
Draining an abscess requires sterile medical equipment and a trained vet or veterinary technician.
A vet will sometimes need to take a sample of the pus in the abscess to determine the nature of the infection.
Evaluating the bacteria involved will help them decide which antibiotic is best for treating your dog.
The vet will also need to check for foreign objects – the catalyst for an abscess can be something lodged under your dog's skin.
If it is not safely removed, the abscess will recur.
When draining and diagnosing the reason for an abscess, your vet will sedate or anesthetize your dog to ensure their comfort.
Your dog will also need pain pills after this procedure – abscesses are a painful business.
Attempting to drain a dog's abscess at home not only subjects them to unnecessary pain but also puts you at risk for a bite injury.
Trust us:
Even the best-behaved dogs can lash out instinctively when something causes them pain.
You'd also be raising the risk for further infection to occur while doing nothing to treat the existing infection.
So for everyone's sake, please don't squeeze – or poke, or lance your dog's abscess.
How to Clean a Ruptured Abscess on a Dog
Sometimes an abscess will accidentally rupture before you even know it's there or before you are able to get your dog to a vet.
Or, maybe:
You already saw the vet, and your dog is on a round of antibiotics and pain meds – but the cyst ruptured anyway.
In any case:
You should contact your vet to let them know about the latest development.
If your dog is already on antibiotics, your vet might give you instructions to take care of the issue at home, as well as what to look out for.
If your dog has an abscess and hasn't seen the vet yet, it's time for them to get checked out.
Fluid from an abscess is usually very smelly, and you will undoubtedly want to clean up your dog before loading them in your car.
You can wipe up excess fluid from your dog's fur using old rags or paper towels.
Do not wash the wound unless the vet has given the go-ahead, and be sure to use whatever cleaning solution they recommend.
Keep your dog from licking the area.
This might mean bringing out the cone of shame, but it's important not to allow your dog to introduce more bacteria into the open wound.
If your dog allows it, you can keep gauze over the wound to catch any extra discharge that might still be leaking out of the abscess.
If the abscess is on a paw or leg, as revealed by redness between the toes, do not wrap the area unless the vet has cleared you to do so.
More sensitive areas?
A ruptured abscess on a dog's face or mouth can be difficult to take care of.
Try to keep the fluid from draining into their eyes, nose, and mouth.
Don't let them paw at their face or scratch at the abscess.
Again, the cone is your best bet in keeping them from disturbing the wound.
These are all things you can do to keep the situation under control until you get to the vet – they're not a substitute for vet care.
How to Treat Cysts on Dogs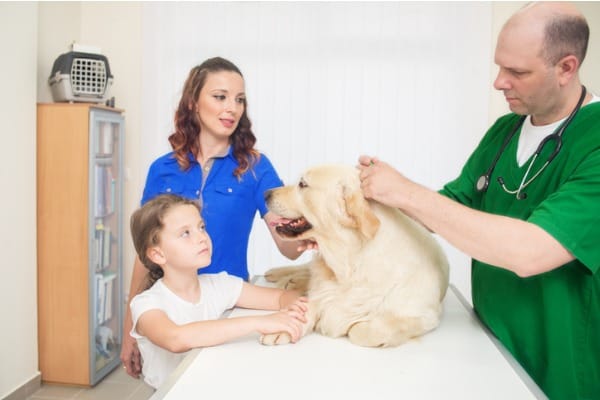 Any kind of unusual bump on your dog should be evaluated by a vet.
Cancer can be sneaky, and it can disguise itself as something like a sebaceous cyst.
A vet can tell you what you're dealing with and even offer you some treatment for cysts.
Follicular and sebaceous cysts can be managed with topical treatments.
Your vet might prescribe something with benzoyl peroxide to treat any recurring issues with sebaceous cysts.
Don't Pop
It can do more harm than good to squeeze a dog's cyst, even if you know it's a sebaceous cyst and basically the dog's form of acne.
Why shouldn't you?
While it can cause the area to heal and dry up quickly if the cyst is popped, it poses a risk for infection.
A cyst is a much more complicated issue to deal with if it becomes infected.
You also run the risk of causing the cyst to implode under the surface of your dog's skin, which can also lead to infections.
It's best to keep your hands off and let the medications prescribed by your vet do their work.
Like an abscess, a cyst can pop on its own and cause a mess.
It's not as big of a deal to have a cyst rupture, but you should still look out for symptoms that indicate an infection or a deeper issue.
Swelling, red, inflamed skin, and foul smells indicate a cyst is infected or not healing properly.
What about caring for a cyst that has ruptured?
Clean the area gently – warm water and mild antibacterial soap are sufficient. We advise this antibacterial shampoo (which can also be used for cats).
Stay away from harsh disinfectants like iodine and rubbing alcohol, which can irritate the skin.
You'll need to keep your dog from bothering the area, so be prepared to bust out that cone of shame.
It is also acceptable to put an antibacterial ointment on your dog's cyst while it heals – just don't let them lick it off.
You don't need to bandage or cover the area constantly. Doing so can give bacteria a prime environment in which to multiply.
Preventing Abscesses and Cysts in Dogs
Some types of cysts in dogs might be genetic, but there are things you can do to lower the chances your dog gets a follicular or sebaceous cyst.
There are preventive measures you can take to protect your dog from developing a painful abscess.
Sebaceous Cyst Prevention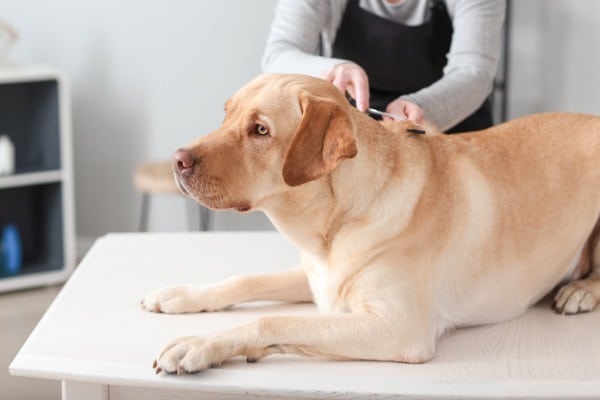 A sebaceous cyst begins when the oils produced by the sebaceous gland – otherwise known as sebum – cannot escape to the surface of the skin.
The gland becomes clogged, and thus the cyst is born.
Healthy grooming habits are the number one weapon against sebaceous cysts.
Too little, and in some cases, too much grooming is a significant contributor to cysts.
Remember:
Sebum is natural and good for maintaining a healthy coat and skin on your dog.
The key is getting that sebum onto the skin and not letting it clutter up your dog's sebaceous gland.
Bathing is also important, but overbathing can be just as bad as not enough baths.
Drying a dog's skin with too many baths can send sebum production into overdrive in an attempt to compensate.
Each dog is different.
Genetics, as well as lifestyle, dictate how often it is appropriate to bathe your dog.
For example, short-haired breeds can develop skin issues or suffer from a greasy coat more easily than long-haired dogs.
You might find a chihuahua needs a bath twice a month to keep their sebum in check, while a husky only needs baths every other month.
Essential fatty acids in your dog's diet also play a big role in normal sebum production. A dog overproducing sebum is more likely to develop a cyst.
A dog eating dry food only may be at risk for overproduction of sebum due to a lack of sufficient fatty acids.
Supplementing with coconut or krill oil can help restore the balance of omega 3s in your dog's diet and return their skin to a normal state.
Abscess Prevention
An abscess is almost always caused by some sort of injury on your dog's body.
It is often due to a bite from another animal or wounds in the mouth from chewing something.
Keep an eye out for any changes, including if you observe a pattern of your dog scratching at its mouth regularly.
Anal gland build-up can also lead to anal gland abscesses.
Keeping wounds clean and using a disinfectant on them is the best thing you can do to prevent wound-based abscesses.
Even if your dog has a wound that does not require vet treatment, that doesn't mean they should be expected to heal all on their own.
Bacteria introduced into an open wound can lead to an abscess.
Clean the area with antibacterial soap and apply an antibacterial ointment.
It's not required to keep the wound covered constantly.
The area will need some air to dry and heal properly and to discourage the growth of bacteria.
For wounds in the mouth, you can't do much but wait and see if an abscess develops.
You can, however, only give your dog heavy-duty dog toys to chew on.
The less likely they are to break or splinter, the less opportunity for the toy to injure your dog
So power-chewers should not be given things like sticks to gnaw on.
As for anal gland abscesses?
A word of warning:
If you see your dog trying to scoot a lot, it could be the beginning of some anal sac issues.
Have a vet check it out before it evolves into an abscess.
This is perhaps one of the least pleasant types of abscess for everyone involved.
To prevent a build-up of anal gland fluid, have your dog's glands regularly expressed by the vet or a trained groomer.
Cysts – A Bumpy Ride
It can be a literal pain for your dog and a figurative pain for you if they develop a cyst.
An abscess is an even bigger to-do requiring serious medications and treatments by a vet.
However, if your dog does develop an abscess or cyst, don't panic.
These issues are rarely a life-threatening problem and can be solved without any lasting damage to your dog.
What if a dog's abscess popped before you knew it was there at all?
It's still not a huge cause for alarm.
Particularly now you know how to clean a ruptured abscess on a dog properly.
The immediate concern is infection and discomfort for your dog, both of which can be taken care of at the vet's office.
Remember not to squeeze any unknown bump on your dog, tempted as though you might be.
It's not worth it:
There are risks for your dog and the possibility you'll end up with smelly pus all over yourself – both are more than enough reasons to leave it to the professionals to handle.