There's no substitute for the great outdoors, which is why many of us see the words 'dog treadmill' and immediately think, why on earth would my dog need one?
But let's face it, many of us live very busy lives, and while it's absolutely essential that dogs are given the right amount of exercise for their breed, sometimes very energetic dogs need more than just one or two walks a day, and we can't always give them that. This is especially true if you live alone and don't have another family member to help you with walking your dog.
Dog treadmills are also great for those days when the weather is anything but inviting, particularly if you live in a state with an unstable climate. Sometimes our pooches can be even less motivated than us to brave the cold and rain, which is another reason why dog treadmills can be great as a second exercise option for your dog.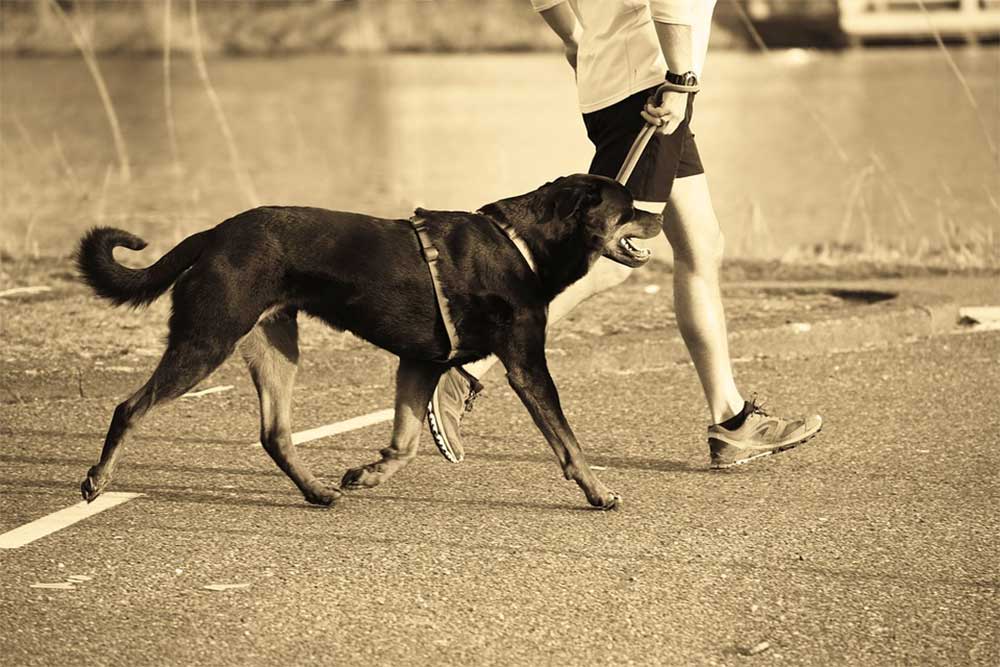 However, if you're slightly intrigued by a dog treadmill, you probably now have a bunch of questions relating to the size, price, and of course, the different speed and safety controls.
That's why I decided to scour the internet for the top 5 treadmills for dogs. I've also put together a handy Buyer's Guide and FAQ section to cover everything else you need to consider before your purchase.
So, let's get started.
5 of the Best Treadmills for Dogs
Best for Dogs up to 180 lbs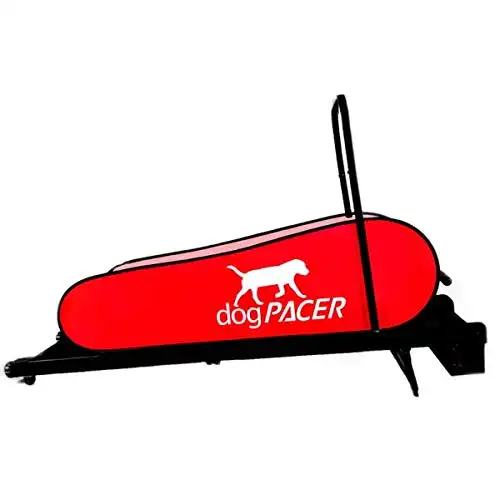 The patented folding design of this dog treadmill is convenient for smaller spaces and allows you to pack away the treadmill after each use. It's also versatile in that it can accommodate any dog up to 180 lbs.
I really like the whisper-quiet motor of this treadmill, as it's ideal for dogs who are timid and get scared easily by loud noises – plus, it's less disruptive for you if you're working or relaxing. The DogPacer's onboard computer has built-in pre-set exercise programs for your dog, but you can create your own programs to suit your pet's training needs.
This treadmill comes with varying speed settings, from 0.5 to 7.5 MPH, as well as collapsible sides to help your dog walk/run straight. Oh, and there's a mini dogPACER for dogs that weigh up to 55 lbs.
Pros
A collapsible, foldable design is convenient and saves space

Suitable for any dog up to 180lbs

The quiet motor won't scare your dog

Pre-set exercise programs or the option to create your own

Adjustable speed settings
Cons
There's a manual incline, so the machine needs to be off to change this
---
Best for Small & Medium-Sized Dogs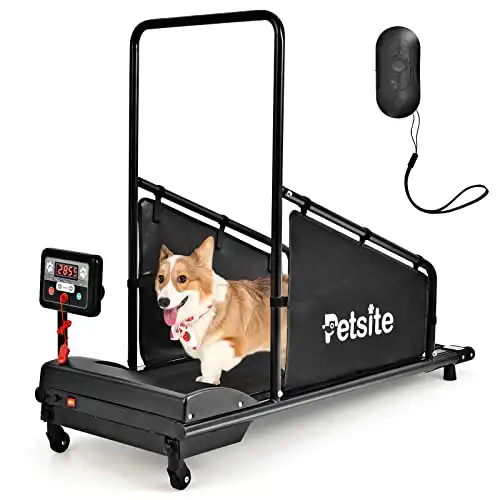 This treadmill is made from premium ABS and iron pipe, giving it a solid construction capable of bearing 200 lbs. The two side panels block out your pet's surroundings and are made from durable 600D waterproof and detachable oxford cloth.
It's also built with your dog's safety in mind. It has a double safety mechanism to protect your pooch, including a safety key on the console that can be pulled out to stop the treadmill at any time and a remote control with an "OFF" button which will stop the treadmill immediately when pressed.
The remote control is also handy for conveniently controlling the 12 modes to change speed and time settings on the treadmill, and it has a 1.4-inch LCD display that clearly shows speed, time, distance, and the number of calories burned.
With three adjustable heights, you can adapt the treadmill to mimic different terrains: from flat ground to slope-climbing and long-distance running.
Pros
12 modes to choose from

3 adjustable heights

1.4-inch LCD display

Remote control

Durable construction holds up to 200lbs

Side panels to block out distractions
Cons
A little difficult to assemble
---
Best for Small/Medium Sized Dogs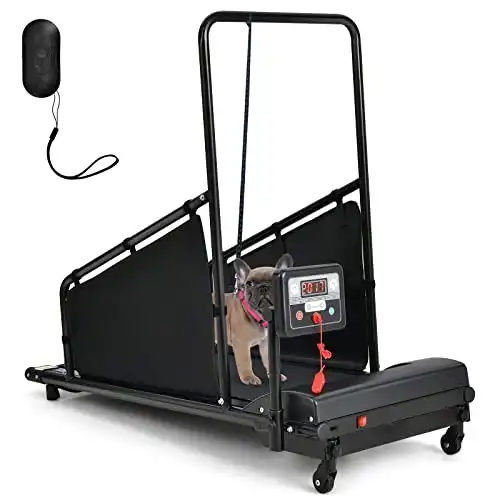 The GoPlus dog treadmill is ideal for small/medium-sized dogs and is pretty similar to the PetSite treadmill in its design and features. It can be controlled wirelessly via a remote control which is extremely convenient, and has 12 modes to adjust speed and timing functions. The 1.4" LCD screen lets you track your dog's speed, time, distance, and burned calories.
It has a crossbar that you can attach your dog's leash to, which will help them exercise better, while the safety key allows you to stop the treadmill if you need to immediately. This treadmill has a high-quality and durable construction of ABS and iron pipe and has 600D oxford cloth panels on the side to protect your pet from sliding off the treadmill.
The adjustable height allows you to alter the incline to suit your pooch, and the four swiveling wheels enable you to easily and effortlessly move the treadmill from room to room or store it when not in use.
Pros
12 modes to alter speed and time

Crossbar to attach your dog's leash

Safety key to stop the treadmill immediately

Durable construction

Adjustable height

Swiveling wheels for easy transportation
Cons
Some people had issues with the remote for this one
---
Best for Small Dogs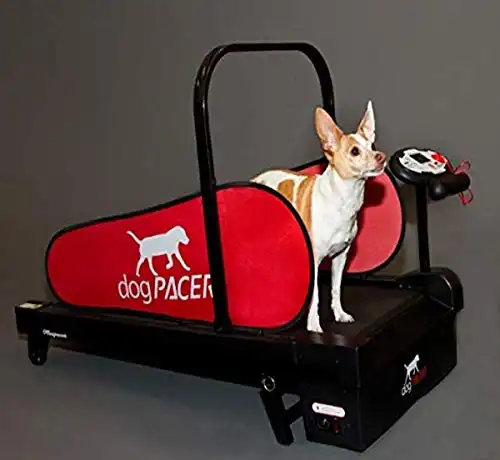 For small and miniature breeds, you'll love the MiniPACER – the miniature version of the dogPACER. It has a running area of 38″L x 16″ W to accommodate small pooches and a speed range of 0.5 MPH to 7.5 MPH, which can be adjusted in .1 MPH increments.
The MiniPACER has a built-in computer with pre-set fitness programs for your pet, or you can adjust the settings yourself. While this treadmill has been optimized for small dogs and small spaces, it has an impressively sturdy design made from carbon steel and can support dogs up to 55 lbs.
Pros
Perfect for small spaces and small dogs

Adjustable speed range

Carbon steel design for durability

Pre-set fitness programs

Portable design

Side panels to keep your dogs focused
Cons
The incline isn't adjustable
---
Best for Dogs up to 132 lbs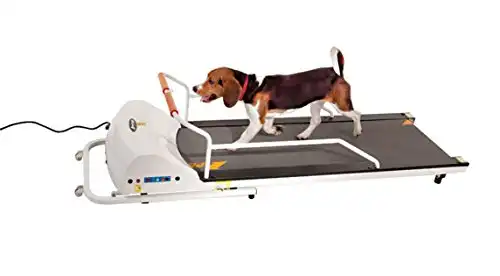 The great thing about the GoPet PetRun is that it's super easy to use. The dolly wheels allow the treadmill to be easily moved from room to room, while the low platform makes it accessible for smaller dogs. There are also metal eyelets on the crossbar, which you can attach a toy to as a motivator for your pooch.
The silent driving system allows for a very quiet operation when the treadmill is in use, and the remote or manual control allows you to adjust the speed from 0.6-7.5 MPH, and you can also adjust the incline to suit your pet's needs.
With a safety lock system and emergency stop button, you can keep your dog safe while they exercise. The only drawback of this treadmill is that it doesn't have side panels, which could be an issue if your dog is easily distracted.
Pros
For dogs up to 132 pounds

Silent motor won't scare off timid dogs

Adjustable speed from 0.6-7.5 MPH

Attach toys or your dog's leash

Safety lock and emergency stop

Dolly wheels to easily move the treadmill
Cons
No side panels – so not ideal if your dog is easily distracted
---
Buyer's Guide
Still uncertain whether or not a treadmill is for you and your dog?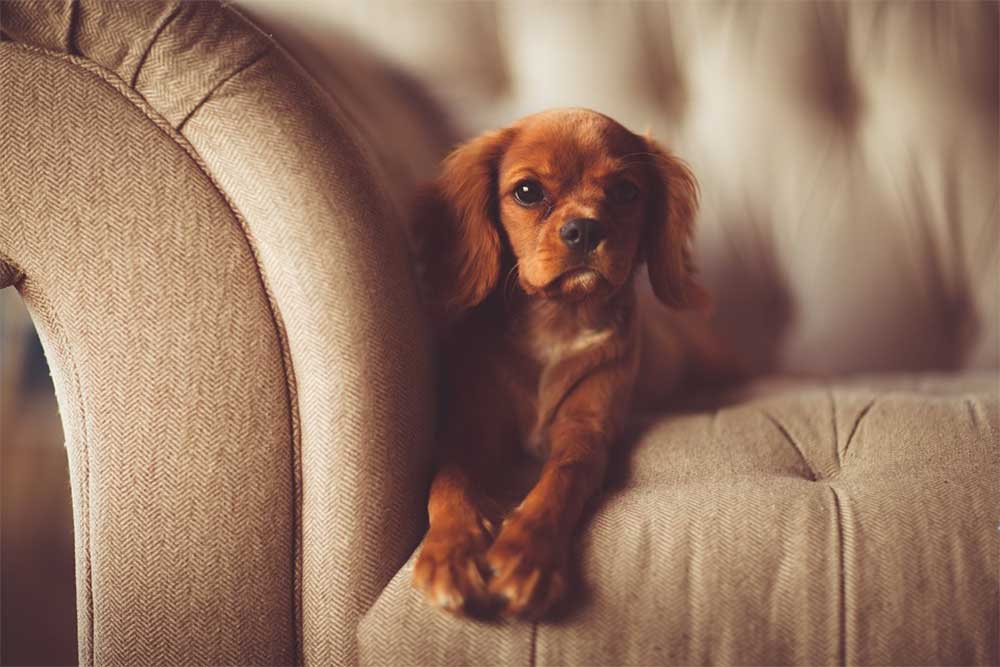 There are many benefits to a dog treadmill:
Exercise
A dog treadmill is ideal for dogs who need extra exercise. This might be because they have excess energy that needs burning off or if they're overweight.
Exercise is essential for keeping your dog happy and healthy. Keeping your dog fit will keep them lean and strong, will minimize their risk of acquiring health issues, and will reduce the risk of them becoming depressed or bored.
By keeping your dog a healthy weight, you reduce the likelihood of them becoming obese, and obese dogs are prone to the following:
Arthritis:

this is due to extra strain on the joints.

Heart and respiratory problems:

just like in humans, weight gain can cause heart disease and high blood pressure in dogs. It's also linked to breathing problems.

Tumors:

obesity can increase your dog's risk of certain tumors,

such as benign fatty tumors (lipomas)

and also breast and bladder cancer

Skin diseases:

overweight dogs are prone to extra skin folds, which can cause discomfort and irritation and can also lead to infections.

ACL:

obese dogs are at risk of tearing the ACL (anterior cruciate ligament) in the knee, and this requires surgery to fix.

Quality of life/reduced life expectancy:

obesity can literally shorten your dog's life, taking up to 2 years off their life expectancy. Their quality of life is also lower, as carrying extra weight makes moving around harder and means they get tired quickly and, as a result, are less likely to play or exercise. This could also lead to emotional issues such as depression.
Avoid bad weather
Whether it's blistering snow or sweltering heat, extreme weather is less than ideal for your dog walk – it can make walking less enjoyable for you and your dog and can often mean you walk for less time than you usually would.
While a treadmill shouldn't be a substitute for walking your dog outdoors, it can be ideal for those days when the weather is just too bad to go outdoors or if it's dark and you don't want to walk alone at night with your dog.
Burn off extra energy
Some dog breeds are extremely active and need lots of activity throughout the day to use it up. These include Border Collies, Huskies, and even smaller breeds like Jack Russels.
On those days when your dog just can't seem to sit still, and you don't have time to walk them for the duration they need, a dog treadmill can be a great way to use up that energy and tire them out.
Things to Consider
Design
Dog treadmills can differ in design. While many are similar, some have fabric or caged panels on the sides, while others don't have any side panels. Panels are ideal for keeping your dog focused as they block out surrounding distractions, and they also offer additional safety and help your dog run straight.
Portability
Some treadmills are collapsible or foldable, while others have dolly wheels on the bottom so they can be easily maneuvered. If you have a small space to work with, you might want to look for a collapsible design with wheels on the bottom or lightweight to carry. This way, you can easily pack it away after each use.
Adjustability
Just like a human treadmill, you may wish to adjust the pace, incline, or time settings on your dog's treadmill. If this is important to you, check each treadmill's speed range and ensure that the speed is easily adjustable.
Some dog treadmills allow you to adjust the height or incline, but this isn't a feature that all will have. Some also have LCD screens so you can keep track of how long your dog has been running and the pace at which they're running, and a remote control can be handy for wirelessly adjusting the settings of the treadmill.
Durability
Durability is important, especially if you want your dog to get a lot of use out of their new treadmill. You'll want a high-quality construction made out of a sturdy material such as steel, and ensure the side panels are strong too.
Dog treadmills are designed to hold up to a particular weight, so make sure you get one to accommodate your dog's size. If your dog is too heavy or big for the treadmill, they could break it.
Safety
Check that the treadmill has safety features so that you can easily stop the machine if your dog is in danger.
Most will come with multiple ways to stop the machine, including a safety key or an 'off button' on the remote control, but you want to ensure these are easy to access and that the treadmill can be turned off imminently if needed.
You should also never leave your dog unsupervised on a treadmill – stay in the room and keep a close eye on them.
Frequently Asked Questions
Can dogs use human treadmills?
Yes, you can use a human treadmill to exercise your dog, as long as they're not a large breed.
For small dogs, a treadmill is great for offering indoor exercise for your dog, and can be used for warm-ups or to burn off extra energy.
Just bear in mind that some treadmills may be noisy and dogs will need to be gradually introduced to the treadmill.
Start by ensuring your dog is comfortable getting up on the treadmill and allow them to get used to the sound of the fan and motor, but don't turn the motion on yet.
Throughout the process, look for signs of stress and make sure your dog is completely comfortable before you turn the belt on.
Are treadmills bad for dogs?
Treadmills aren't bad for dogs if used correctly, and most dogs can be trained to use one. Some will find the noise unsettling though, so it's important to get your dog gradually used to the treadmill and to increase speed incrementally.
Treadmills should never be a substitute for outdoor walks with your dog, and you should also never leave your dog alone on a treadmill. You should always be in the same room as them when they're using the treadmill so that you can supervise them and stop the machine if necessary.
How long should a dog be on a treadmill?
Dogs shouldn't be on the treadmill for more than 30 mins of a walk, and it might be a good idea to break this time down to two sessions a day, especially when you first introduce your dog to a treadmill.
At the very beginning, you can start out with small bursts to get them used to the treadmill – lasting 30 seconds to 1 minute. Some veterinarians say dogs shouldn't run on a treadmill, but you can always check with yours to see whether they think this is a good idea for your pooch. Though you never want your dog to be running for long periods of time on a treadmill regardless.