Do you own a mastiff dog? This is actually one of the world's most ancient dog breeds and dates back five millennia to the molossus. It might be surprising that the ancient war dog has evolved into today's friendly pooch.
Some popular Mastiff breeds include American, English, French, Brazilian, and Bullmastiff.
Having enough space to accommodate this huge dog is one thing, but knowing what the best dog food for mastiffs is may still be a burning question.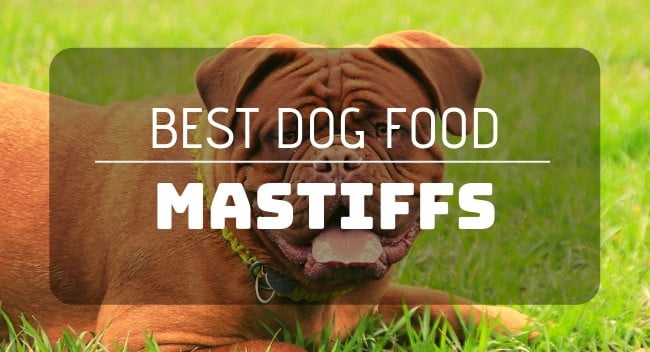 We'll help you achieve that goal. That includes the key features and downsides of food for adult, puppy, and senior Mastiffs.
You'll also need to know what to look for in your Mastiff dog food, including must-have ingredients and ones you should avoid.
You'll also need some basic info about how to feed the giant dog breed.
What are their nutritional requirements? How much should you feed the dogs? How often should you feed them?
The answer to these questions will help to ensure your Mastiff is getting the right type and quantity of food at the right time.
Best Dog Food for Adult Mastiffs
1. All Life Stages Dog Dry Food by CANIDAE
Summary
All Life Stages is ideal for dogs of all breeds, sizes, and ages. You can use one food for all your household's dogs, so there's less switching/guessing.
The best dog food for English Mastiffs includes protein from various sources like turkey, chicken, fish, and lamb. It's loaded with vitamins/minerals, antioxidants, fatty acids, and omega 6/3.
The food also contains grains from various sources like brown/white rice, oatmeal, rice bran, and flaxseed meal. This provides vitamins/minerals, and fiber from various grain sources.
All Life Stages also doesn't contain soy, wheat, and corn, which often cause food allergies.
Pros
Quality protein
All dog ages, sizes, and breeds
No soy, wheat, and corn
No soy, wheat, and corn
One food for all dogs
Cons
Bad/expired food
Quality varies with different bags
Might cause digestion problems
2. Natural Dry Dog Food Large Breed by WELLNESS CORE
Summary
This natural dry dog food is for large breeds. It provides completed/balanced nutrition.
It's all-natural, protein-focused, and grain-free, with protein sources like chicken and turkey and 80% more meat vs. traditional dog foods. It also contains chondroitin and glucosamine.
This dog food contains vitamins/minerals, antioxidants, probiotics, and omega 3/6 also contains no fillers like corn, wheat, and soy. It also has no artificial flavors/colors/preservatives, or meat by-products.
Pros
All-natural
No corn, soy, wheat, etc.
Grain-free
Includes guarantee
Large breed food
Cons
Might cause digestion problems
3. Now Fresh Grain-Free Large Breed Adult Recipe Dry Dog Food
Summary
This dog food is from Now! It contains balanced proteins/fats to support your Mastiff's lifestyle. The protein sources are from turkey, duck, and salmon.
It also has omega 3/6 oils from coconuts and canola for skin/coat and antioxidants for a better immune system.
Fresh dog food also is free of wheat, grains, corn, and soy. It also contains no beef, meat by-products, gluten, or artificial preservatives.
Pros
Balance proteins/fats
No artificial preservatives
No fillers
Antioxidants for a better immune system
Omega 3/6
Cons
High price point
Some dogs don't like turkey
Small bag
Best Dog Food for Mastiff Puppies
1. Natural Dry Dog Food (Large Breed, Chicken/Pork) by Eagle Pack
Summary
This best food for an English mastiff puppy is a dry dog food that's all-natural and well-balanced for large dog breeds.
It's a large kibble that's complete/balanced. It includes high-quality ingredients like chicken and port to meet the nutritional needs of mastiffs.
This dog food only contains all-natural ingredients. There are no fillers like wheat or corn, and no meat by-products or artificial colors/flavors/preservatives.
The Eagle Pack dog food also includes the company's in-house guarantee.
Pros
Big kibble
Balanced diet
Made in the USA
High-quality ingredients
Large breed formula
Cons
Some dogs don't like it
Food doesn't smell good
Price hike
2. Puppy Chow Large Breed Formula (32 lbs.) by Purina
Summary
The best food for mastiff puppies is from Purina. It's formulated for puppies less than one-year-old. It contains all essential ingredients and high protein content of 27%.
The Purina puppy chow also contains other important ingredients. They include DHA for brain development and calcium with vitamins/minerals that provide healthy teeth/bones.
Pros
Balanced puppy chow
Formulated for large breeds
More meat vs. other puppy food
DHA for brain development
Calcium vitamins/minerals
Cons
High price point
Only for puppies
Not for pregnant dogs
3. Large Breed Dry Dog Food by Hill's Science Diet
Summary
This Hill's Science Diet dog food is for large breeds. It includes high-quality meats, grains, and calcium. The ingredients are easy to digest and antioxidants that contain Vitamins C & E.
Science Diet only includes natural ingredients with vitamins, minerals, enzymes, and amino acids. There are also no artificial colors/flavors/preservatives for nutritious/delicious meals.
The ingredients include chondroitin and glucosamine for healthy joints/cartilage. There are also omega-6 fatty acids and vitamin E for healthy skin/coat.
Hill also offers a 100% satisfaction guarantee. The company will provide a full refund if you're not 100% happy with the purchase so you can buy the dog food risk-free.
Pros
Formulated for large breed puppies
Includes natural/healthy ingredients
Optimum calcium level
Antioxidants w/ vitamins C/|E
Contains chicken/oats
Cons
Some batches bad
Large kibble
Might cause stomach problems
Best Dog Food for Senior Mastiffs
1. Max Natural Dry Dog Food by Nutro
Summary
This best dog food for English mastiffs is formulated for large dog breeds. It's made with fresh chicken and whole grains, so it's a good protein source.
It contains all-natural ingredients with no artificial colors/flavors/preservatives, or GMOs. It also has no fillers like corn, soy, wheat, and meat by-products. It's grain-free, so safe for dogs with food allergies.
The product is made in the US in the company's in-house facilities.
Pros
No GMOs
Formulated for large breeds
No artificial colors/flavors/preservatives
Made in in-house US facilities
Real meat protein
Cons
Could make dogs sick
Some dogs don't like food
Decrease in quality
Best Dog Food for Mastiffs with Medical/Sensitivity Issues
1. Natural Balance Limited Ingredient Large Breed Adult Dry Dog Food
Summary
This Natural Balance product is a 28-lb. bag of limited-ingredient dry dog food. It encourages large breeds to eat slower and chew properly to promote clean teeth/healthy gums.
This best puppy food for mastiffs is a natural dog food with ingredients like:
Lamb
Brown rice
Canola oil
Tomatoes
Yeast
It contains no artificial colors/flavors/preservatives. It includes min. 21% protein and omega 3, fat, calcium, and phosphorus.
Pros
Natural ingredients
Good for clean teeth/healthy gums
Omega-3 fatty acids and antioxidants
High-quality protein
No artificial colors/flavors
Cons
Might include a bad batch
Formula changed
Might cause digestion problems
Buying Guide
When picking mastiff dog food, there are some features to consider, and below are the following: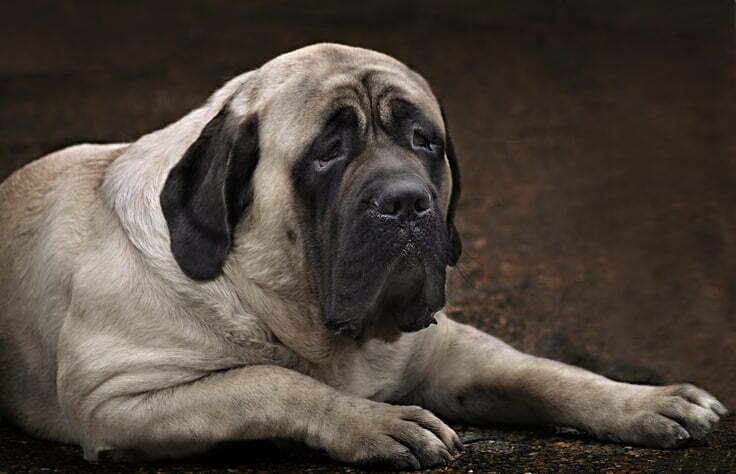 Protein
This is the most important nutrient when picking dog food. Make sure it includes a high percentage of meat protein. It's also best if the protein is from fresh meat vs. by-products, for example.
Various protein sources are available, including chicken, beef, fish, lamb, and duck. In general, you should look for 2+ protein sources since this will provide a wider range of amino acids.
Nutrients
Your Mastiff's dog food should be well-balanced so it provides your puppy, adult, or senior dog with all the nutrients required. Here are some of the main ones to look for:
Vitamins/Minerals
Enzymes
Protein
Probiotics
Antioxidants
Omega-3/6 fatty acids
When the food's ingredients are natural/fresh, they're more likely to be nutrient-rich. Meanwhile, if you pick dog foods with highly-processed ingredients, the opposite will be true.
Age-specific
Some dog foods are specifically designed for puppies, adults, or senior dogs. This is important because dogs of different ages have different nutritional needs.
For example, puppies and seniors need a high-protein diet for different reasons.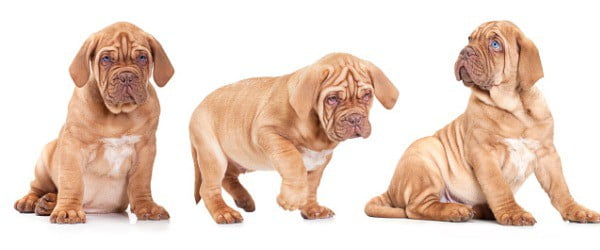 Other dog foods are OK for dogs of all ages. If you want to avoid switching to different products, this is a good option since it will provide more convenience.
Brand
In general, you should go with well-established companies like Purina because these companies provide better overall quality.
If you select an off/generic brand, a.k.a. cheap dog food, you're more likely to experience issues in terms of quality and service.
Size
Mastiffs are considered a Large/Giant breed, so even puppies can have a hearty appetite. This is something to consider since a 25-lb. bag won't last long when your 100-lb. dog eats 3 meals/per day.
If you want to save money, you should spend more on larger bags of dog food. This will save you money in the long run.
Guarantee
Sometimes satisfaction guarantees are available for dog foods. This is a good option if you're trying out a new food since there's a chance your Mastiff might not like the new food for whatever reason.
If that's the case, you'll likely have the option to return the unused food for a full refund.
Price
The best dog food for mastiffs will likely be more expensive. Price tags are related to factors like the brand, quality, and ingredients.
Limited-ingredient
If your dog has any food-related health issues, then you should consider a limited-ingredient product. This will help to minimize health issues since the number of ingredients is limited.
How limited are these dog foods?
They usually have one protein source and one-grain source. They also contain ingredients that help to avoid common food allergies among dogs.
This helps to minimize the chance of your dog getting sick after eating the food.
The problem with "cheap" dog food is it's also made from cheaper ingredients.
This includes low-quality meat, meat by-products, plant-based fillers, artificial colors/flavors, etc.
While you can save money, it can cause potential problems for your dog's health.
Mastiffs Diet & Nutrition Requirements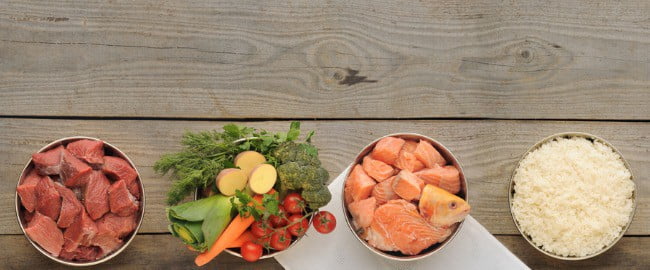 When picking a dog food for mastiffs, make sure to consider the diet and nutrition requirements.
Canine have survived for eons on fresh whole foods. In fact, dogs like mastiffs have even survived on table scraps.
The problem is modern pooches are often fed highly-processed dog food that can cause a variety of conditions and diseases due to malnutrition.
It's interesting that dogs in the wild eat their prey's bellies first. This provides them with the grains, fruits, and veggies they need.
Mastiffs and other dog breeds need a diet of quality protein/meat, but their diets should contain quality whole grains, with the exception of food allergies.
It's important to choose wisely when selecting dog food for mastiffs.
Many conglomerates have bought up small companies that produce natural/whole foods, so it's critical to pick brands/products carefully.
It's also important to pick dog foods that are specially formulated for large breeds so they provide all the nutritional requirements of Mastiffs.
You should also pick a dog food that's OK for adults or puppies to make sure it's ideal for your canine.
When selecting dog food, keep an eye on the nutrients.
A puppy needs up to 25% to 27% protein and 12% to 15% fat. They'll need more protein than adults due to muscle growth.
Adults need 21% to 25% protein and 8% to 10% fat. When feeding senior dogs, make sure to avoid feeding them 21%+ protein since this can cause problems like renal/hepatic failure.
Keep in mind Mastiffs should also receive Vitamin C supplements to prevent risks of hip dysplasia.
You should also avoid giving extra calcium since it can cause skeleton disorders and electrolyte imbalance.
Mastiff puppies have special nutritional needs, including milk/calcium. So it's important that nearly all their food consists of commercial food.
It's important to minimize treats, including healthy ones, so it doesn't affect the puppy's alkalinity.
How to Properly Feed Mastiffs
It's important to provide your Mastiff with feedings that include an ideal amount/frequency. Puppies should be fed 3-4 times/day and about ¾ cups to 1 cup of food.
Slowly boost your puppy's food based on its appetite/appearance.
You can also add some warm water to the kibble to increase moisture and allow the food to expand.
It's safe for your Mastiff puppy to be slightly lean, but make sure to prevent over-feeding, which can cause various health issues.
It's important to minimize treats/table scraps for puppies. It can cause them to become picky eaters and prevent them from getting the nutrients provided by wet/dry commercial food.
You should also avoid letting your exercise for 1-2 hrs. after eating. This will help to improve digestion.
Young adult Mastiffs eat up to 12-14 cups/per day until they become fully mature.
When that happens, you could switch to a high-protein food that's 25% protein and 15% fat, for example. This will reduce food intake, so they have less food to process.
Adult males will require about 7-10 cups/day, and females need 6-8 cups/day. Senior dogs need about 5-6 cups/per day.
When feeding puppy/senior Mastiffs, make sure not to drop the food's protein content but instead reduce the quantity of food. This can help to keep your dog healthy.
Common Health Issues of Mastiffs
When picking the best dry dog food for English mastiffs, you should be aware of some common health problems faced by Mastiffs. Here are some of them: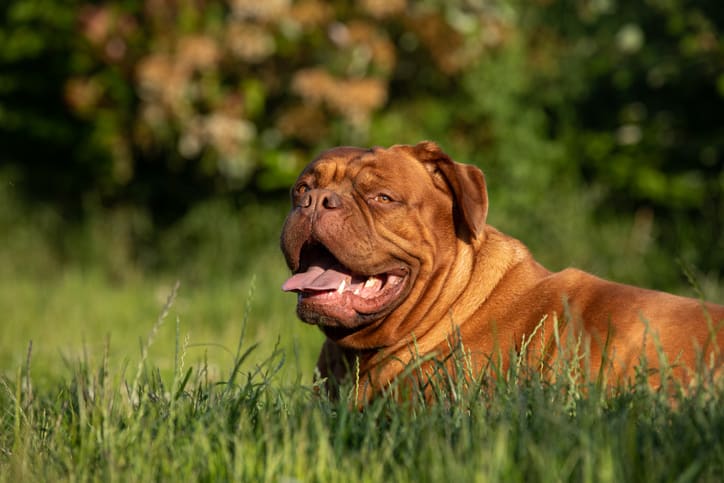 Hip/Elbow Dysplasia
Elbow/hip dysplasia is common among Mastiffs. Canine Hip Dysplasia (CHD) is a condition that starts in older dogs and causes a loose/unstable hip joint. This can result in more serious problems like arthritis.
A malformed elbow joint can cause problems like osteoarthritis and joint inflammation. It's important to make sure your dog is getting proper nutrition to prevent problems like elbow/hip dysplasia.
Lifespan
The Mastiff isn't long-lived like other giant breeds, and its average lifespan is 9-10 years.
This is in part due to the Mastiff's large size/weight, which can put a strain on the joints. It can also suffer from other problems related to ligaments, the cervical spine, and the neck.
Eye Diseases
The gentle giants can suffer from various types of eye diseases. These include:
Eyelid issues
Corneal dystrophy
Retinal dysplasia
Cherry eye
Progressive retinal atrophy
Other Problems
Mastiffs are prone to other health issues common among canines, including:
Skin conditions (around face/neck)
Urinary tract infections
Epilepsy
Urinary diseases
It's important to note that just because you own a Mastiff doesn't mean they'll acquire all of the above-mentioned conditions.
In fact, you can reduce their risks by making sure they eat a healthy diet and exercise regularly. This is especially important among senior dogs since they're more prone to health issues.
Must-have Ingredients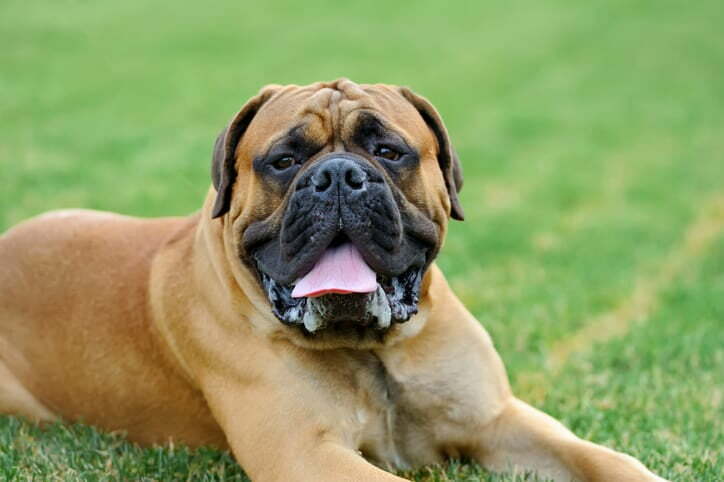 When picking the best dog food for Bullmastiff, it's critical to make sure to check for certain ingredients. They include:
Protein
Protein and fat are highly important for Mastiff dogs and especially for puppies/seniors. It's important to reduce the dog's quantity of food before its protein content.
Another issue is it's important to pick the 'right" sources of protein and fat.
For example, make sure the protein sources are high-quality and fresh. Chicken, turkey, beef, salmon, lamb, and duck are some of the common protein sources.
It's better to look for dog food with 2-3 protein sources.
This is because different protein sources have different amino acids, so you'll dog will get more nutrients from multiple types of protein.
Watch out for ingredients like meat by-products. This is basically "mystery meat" and can cause a lot of health issues for your dog.
Fat
It's best when the fat is from healthy sources like chicken fat or fish oil since these are "good" fats and includes nutrients like omega-3 fatty acids for healthy skin/coat.
This can help to maintain good eye/brain health.
Senior dogs seem to benefit from medium-chain fatty acids (MCFAs). They're typically made from a combination of various oils like coconut oil.
Grains
Many no-grain dog foods are on the market, but there's some debate about whether or not you should automatically pick such products.
If your dog has any allergies to grains, then you should definitely avoid products with those ingredients.
That said, it's natural for dogs to eat grains and fruits/veggies before meat. What's important is the quality of the grains.
Sources like brown rice and oatmeal are good options because these are minimally processed options.
Make sure to avoid foods that have grain fillers.
These tend to be highly-processed grains that are just used to reduce the food's manufacturing costs.
Fruits/Vegetables
This should be a relatively small amount of your dog's diet, but they still can get a wide range of vitamins/minerals/enzymes from fruits and veggies.
As with other ingredients, make sure to avoid foods that contain ones your Mastiff is allergic to.
Ingredients and Brands to Avoid in Mastiff Dog Food
These are some of the most important ingredients to avoid when picking dog food for Mastiffs:
Fillers
This includes ones like corn, wheat, and soy. It's not that these ingredients are unhealthy for your giant dog per se.
The problem is they're highly processed to cut costs and significantly reduce the overall nutritional value of dog foods.
Corn Syrup
This is a sugar that's used to add sweetness to dog food. Just like its effect on humans eating too much sugar can cause your dog to experience health issues like weight gain and diabetes.
In fact, high sugar intake can also cause problems related to your dog's behavior, like hyperactivity.
It can also affect your canine's mental behavior, so this is another reason to avoid corn syrup.
By-Products
These are from different meat sources like chicken, fish, beef, turkey, and lamb. These are the internal remains of an animal and don't include muscle meat.
These ingredients are cheaper but are also significantly less healthy than real meat.
Artificial Colors/Flavors/Preservatives
Unfortunately, many dog food manufacturers add these items to their dog foods to cut costs, and yes, they pass on the savings to you.
However, these ingredients can cause problems for your dog's health.
The results and be short and long-term.
For example, certain ingredients could cause digestion problems like stomach aches or loose bowel movement (LBM).
Certain ingredients can also cause long-term health problems. In some cases, researchers don't yet fully understand how certain artificial ingredients affect dogs' health.
In conclusion, stick to the best dog food for Mastiffs recommended above, and you and your lovable "big guy" will be in the best shape.
This video offers a little extra insight into these gentle giants.