Turtles are endearing and fascinating creatures. They make popular pets for people who enjoy aquatic life and keep a domestic aquarium.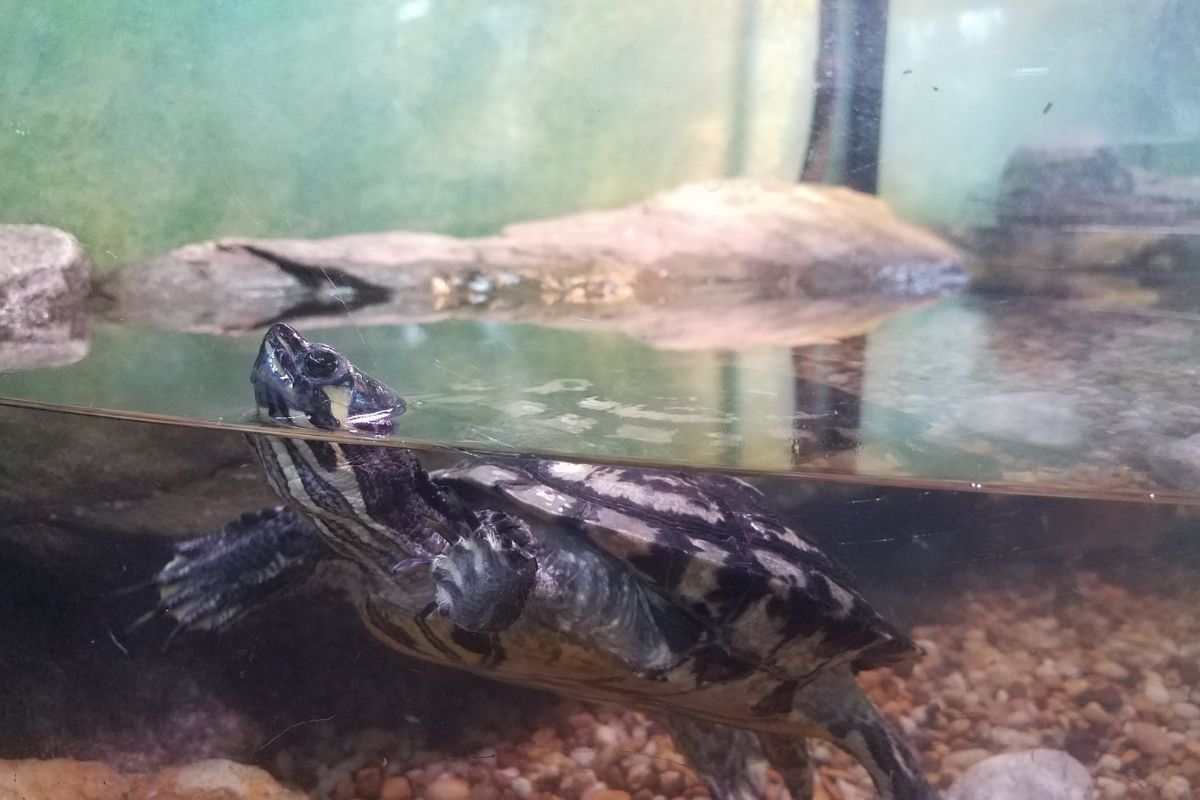 Most species of turtles are semiaquatic, not to be confused with their mostly land-dwelling lookalikes – tortoises!
If you are interested in keeping turtles then you will need to make sure that you have all the correct equipment, so you can set up their tank correctly.
Providing the correct living conditions for turtles can help to prolong their lifespan and give them a much better quality of life.
One of the most important pieces of equipment you will need is a good quality tank filter.
Choosing the right tank filter for your turtle tank can be a challenge, but we have made it easier for you by putting together this guide.
We will take you through the ideal tank conditions for your turtle, review the best tank filters on the market, and provide you with some excellent advice on how to narrow down your selection.
We have also answered some commonly asked questions about turtles and their tanks.
Keep reading to find out more about turtle care and which tank filter you should buy.
Ideal Tank Conditions For Turtles
There are lots of different species of turtles, but most types of turtles that are kept as pets are semiaquatic.
This means that they need plenty of space to swim, but they also need an entirely dry area for them to relax, lounge in the warmth and heat their bodies. These are the ideal tank conditions for a pet turtle.
The Tank
The tank should be made from glass or acrylic and needs to have an open-top or a screen top so that the turtles can bask in the light.
If you are using an open-top tank, make sure the sides are high enough to prevent the turtle from escaping.
And what about tank size? Turtle tanks tend to be between 55 and 100 gallons in size, but this depends on the species of turtle.
A good rule of thumb is to allow for 10 gallons of space for every inch of your turtle's shell length- or how long their shell will be when they are fully grown.
Turtles like to swim and will use as much space as you are prepared to give them, so it is better to have a tank that is too large than too small.
Turtles tend to prefer to be kept alone, but if you are going to keep more than one turtle in a tank then you will need to allow for more space.
Add one square foot of space for every turtle that is added to the tank. Turtles kept in a group should be all-female to avoid territorial displays of aggression or unwanted mating.
The Lighting
There are two types of lighting that you will need for your turtle tank – a UVB light and a basking light.
The UVB light provides your turtle with a source of vitamin D. This helps them to absorb more calcium which will give them a stronger shell that is less vulnerable to infections and disease.
The baking bulb provides a warm light for the turtle to relax under when they are on land. These bulbs are high-powered and enable the turtle to get their body temperature up to 82 degrees Fahrenheit.
The basking bulb should be positioned directly above an area of dry land, like a floating island.
These islands need to be large enough for the turtle to fit their whole body on, so they are entirely out of the water while they are basking.
Water Temperature
The basking bulb will heat up the air, but not the water. You will need an aquarium filter to keep the water at the right temperature, which is between 78 and 82 degrees Fahrenheit.
Water Conditions
The conditions of the water are very important for the health of the turtle. They need water that has a PH of 7.4 to 8.0.
They produce a lot of waste, so you will need a good quality filter to keep the water clean and the ammonia levels low. If the ammonia levels get too high this can be toxic for your turtle.
The water filter will also keep the water flowing around the tank. Turtles like water with a gentle, calm flow, but they do not like stagnant water.
The Best Filter For Turtle Tank Reviews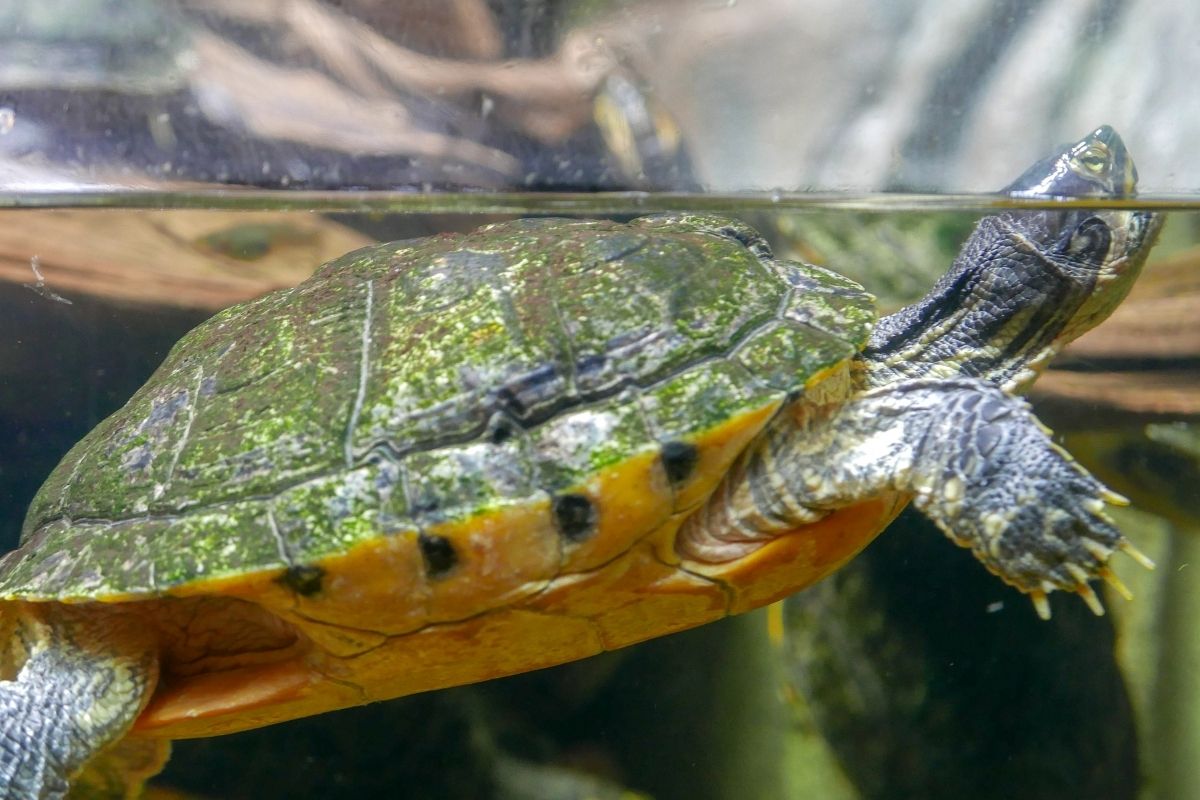 Now that you know the conditions that a turtle needs to stay healthy, you can see how essential it is to get a good quality water filter for the tank.
We have reviewed some of the best water filters on the market to help you decide which one will be best for your turtle.
This filter is fully submersible and helps to keep the water in the tank clean. It is suitable for tanks from 40 gallons in size all the way up to 150 gallons, so it would be ideal for a turtle tank.
The black biochemical sponges are reusable – all you need to do is wash them. This will save you money as you don't have to keep buying filter replacements, and it is better for the environment.
The filters also help to reduce odors in the fish tank as well as cleaning yellow water and remove waste.
One of the great things about this filter is that it works very quietly when fully submerged in water. The filter has an internal suction cup with silicone cushioning to help make it nice and quiet.
The level of sound emitted from the filter is less than 40 decibels, so it won't disturb your turtles whilst they are swimming or basking.
Not only does this filter control the cleanliness of the water, it also enables you to manage the flow.
You can create calm, gentle currents to keep the water moving around the tank to create a pleasant environment for your turtles.
With all of these great features, this filter is still very affordable, and it comes with a one-year warranty.
Pros
Fully Submersible – The filter can be fully submersed in water
150 gallon capacity – It is suitable for use in tanks up to 150 gallons in size
Reusable filters – The filters can be washed and re-used
Cons
Not silent – It operates quietly but is not silent
Warranty – The warranty is only for one year
Also Available At EBay
TARARIUM Aquarium Filter for 40-150 Gal. Tank Crystal 300GPH Biochemical Filtration Powerful Pump Submersible Internal Fish Tank Filters Large Tank Pond Clear Wavemaker Air Supply 4 in 1
🐟【Crystal Clear】 Reducing the number of times the fish tank needs to be changed. Aquarium air pump, filtration, water pump, and water waves making all in one multi-functional underwater aquarium filter.
🐟【Double Deep Filtration】 Black biochemical filter sponge can reduce the odor and yellow water in the fish tank. decomposing the excrement and forage leftover. Wash regularly, can be reused after rinsing, durable.
🐟【Quiet Working】The sound level is less than 40 DB when the fish tank working This silent fish tank filter is internal noise reduction, external silicone cushioning suction cup, reduces noise, and lets the family enjoy a quiet life.
🐟【Perfect for Large Tank】The filter has a strong power to make the waves bigger, increase the water surface fluidity, insert the oxygen tube can oxygen supply, so that the whole fish tank to form a water cycle, suitable for 40-150 Gallon large fish tank.
💌【1 Year Warranty】 If any questions or problems with this aquarium filter, please contact the service email box on the package, we will solve them and reply in 48 hours. Holiday or rest days will be delayed a little time.
This filter is specifically designed for reptile tanks and can be used on tanks up to 30 gallons in size.
It uses both activated carbon filters and filter sponges to ensure maximum performance, so you can rest assured that your turtles will have a pleasant clean tank to swim in.
The dual intake ports help to prevent blockages to keep the filter running smoothly. This filter is fully submersible and is perfect for smaller turtle tanks, or you can use two filters on a larger tank.
Pros
Dual Ports – Help to prevent blockages
Fully submersible – It can be submerged completely underwater
Cons
Capacity – It is only suitable on tanks up to 30 gallons
Also Available At Chewy
This aquarium filter comes in two sizes – one that is suitable for tanks of 10 to 40 gallons and one that is suitable for tanks of 40 to 70 gallons. The motor is fully sealed, so the filter is submersible into the water.
This filter is designed to have excellent filtration with three different sponge blocks – coarse sponge, fine sponge, and carbonized sponge.
The coarse sponge removes the larger pollutants from the water such as uneaten food and excrement.
The carbonized sponge removes finer particles like chlorine and odors. The fine sponge is the final stage in which the water is polished before it is released into the tank.
This filter also releases oxygen into the water, so it is ideal for aeration as well as filtration. It doesn't take up too much space in the tank as it measures 8.5 inches by 3.86 inches.
It has a power rate of 3.5 watts and a flow rate of 130 gallons per hour. This is a very reasonably priced filter for your turtle tank.
Pros
Two size options – Gives you more options
Sealed motor – allows you to fully submerge the filter
Three sponge blocks – Provides thorough filtration
Cons
Size – even with two size options it may not be big enough for a large tank
Filters – The filter sponges are not re-usable
Also Available At Ebay
Sale
Kulife Aquarium Filters – 3-Stage Aquarium Filter in-Tank Filter Internal Filter Fish Tank Filter Turtle Filter for 10-40 Gallon Fish Tanks with Dual Water Outlet and Aeration
PERFORMANCE – Max. Flow 130GPH (500L/H), Max lift 2ft (0.6m), Power 3.5W. For tank size of 10-40 gallons.REMINDER: Choose the right filter for your tank. A filter can't cover tanks of big differences in capacity (as claimed by some products online)! Follow our recommendations for your tank.
SAFETY – The pump is fully submersible with epoxy sealed motor. Each product has been submerged in water and tested with super high voltage to ensure the safety.
3-STAGE FILTRATION – 3 sponge blocks – coarse sponge, carbonized sponge and fine sponge provide 3-stage filtration. COARSE SPONGE filters out large size impurities such as food residue, fish excrements, plant leaves etc.; CARBONIZED SPONGE removes odor, chlorine and fine particles; FINE SPONGE polishes water before it goes back to tank. PLUS the transparent box makes it easy to observe the filtering material when they get dirty. Search code "B09KXZXCQV" for the replacement sponges
AERATING WATER- Oxygenation is very important to your fish. Different from most of the filters in the market, this filter also provides an air venturi and air tubing to increase oxygen supply in your fish tank.
KIND REMINDER – If your tank is very large, choose 2 filters! Place a filter at both the left and right corners at the back side. You will get full filtration and great water circulation in your tank! PLUS this filter is with dual water outlet to ensure even water distribution in your fish tank!
This submersible filter is made by Tetra, a well-respected brand when comes to aquarium products.
It is called the 'Whisper' because it is designed to be very quiet, so it won't be annoying for you in your house, and it won't make your turtles stressed.
It has a flow rate of 170 gallons per hour and the space-saving design allows it to fit snugly in the tank with only one inch of space between the filter and the panel.
There are some impressive features to this filter. It has a three stage filtration system – chemical filtration, biological filtration, and mechanical filtration.
This ensures that it does a thorough job of cleaning the water.
The bio scrubber ensures the even flow of water over the bristles which are laden with healthy bacteria, helping to keep a correct balance within the tank.
This filter also benefits from a bio-bag mesh with two sides which is ideal for catching waste and debris.
The activated carbon in the bio-bag absorbs odors from the water as well as prevents discoloration – you don't want a turtle tank full of murky, yellow water!
This filter is easy to maintain as it has an anti-clog design. It comes in three different sizes so you can choose the one that is best suited to your tank- 5 to 10 gallons, 10 to 30 gallons, and 20 to 40 gallons.
Pros
Quiet – Whisper technology makes very little noise
Flow rate – impressive flow rate of 170 gallons per hour
Bioscubber – Additional water balancing properties
Bio-Bags – collect waste and help to keep the tank clean
Cons
Size – The biggest available size is only 40 gallons
Filters – The filters are not re-usable
Also Available At Chewy
Tetra Whisper In-Tank Filter 40i with BioScrubber - 20-40 gallon (25818), Black
UNIVERSAL DESIGN: Tetra Whisper 40i Internal Filter is an all-in-one air pump and water filter system.
INTERNAL FILTER: Mounts on the inside of your aquarium with clip (included).
CATCHES DEBRIS: Dense, dual-sided mesh filters debris and fish waste.
AERATES WATER: Air-driven design filters up to 170 GPH while oxygenating water.
CONVENIENT DESIGN: Uses large easy to change Bio-Bag cartridges; filter mounts inside aquarium, making it possible to place tank flush against the wall.
This effective tank filter comes in various sizes- 2 to 5 gallons, 5 to 10, 10 to 20, and 20 to 40.
If you have a tank that is larger than 40 gallons in size then you can use more than one filter to clean the water.
This filter uses both chemical filtration and biological filtration to create the perfect water environment for the turtles.
This filter has an activated carbon filter and a fine filter foam, which when combined are very effective at catching debris and waste that is in the water, so it can be filtered out.
The air regulator is adjustable, so you can change the flow to suit your turtles, ensuring that it is gentle enough for them but also creating a nice flow around the tank.
This filter can also produce plenty of air bubbles, so the water has plenty of oxygen, creating a healthy environment for the turtles to swim.
It can be used in both freshwater and saltwater tanks and is very easy to assemble and disassemble. It comes with suction cups to make it very easy to attach to the side of the tank.
Pros
Filtration – Two types of filtration
Adjustable air regulator – Allows you to control the water flow
Easy to use – Assembly and disassembly is easy
Cons
Size – The largest size is only suitable for a 40 gallon tank
Filters – the filters are not re-usable
Also Available At Ebay
NICREW Aquarium Internal Filter, Submersible Power Filter with Multiple Function, Aeration System with Sponge Filter for Fish Tanks 10-20 Gallon, 100 GPH, 7W
Provides effective and thorough biological and chemical filtration, creating superior aquarium water environment
Activated carbon and fine filter foam trap debris and fish waste, absorb odors
Enable to generate abundant air bubbles and water flow, optimal for oxygen supplement and water circulation of aquarium
Equipped with adjustable air regulator that distributes a gentle flow of water, making it safe for delicate fish or shrimp
Quickly assembles and disassembles, comes with four suction cups for secure in-tank installation, suitable for both freshwater and saltwater tanks
This is another filter in the Whisper range from Tetra, but it is more of a premium model. That being said, it is still an affordable option.
You don't need to worry about assembly with this filter- it is ready to use as soon as you take it out of the box. It is very simple to use so is great for beginner aquarium enthusiasts.
There is an indicator which tells you when you need to change your filter, so it is easy for you to stay on top of tank maintenance. You can use this as a guide for when to deep clean as well.
The filter is designed to maximize water flow and keep the tank oxygenated, so the fresh water is continuously circulated around the tank.
One of the best-selling points of the Whisper EX is that it is silent. It makes next to no noise as it operates, so if you want a nice quiet filter then this is the perfect product for you.
Pros
Easy to use – it doesn't require assembly
Filter indicator – Makes it easy to see when the filter needs changing
Quiet – Benefits from Whisper technology
Cons
Price – More expensive than other models
Filters – The filters are not re-usable
Also Available At Chewy
Tetra Whisper EX 70 Filter For 45 To 70 Gallon aquariums, Silent Multi-Stage Filtration
WHISPER QUIET The Tetra Whisper EX Power Filter provides silent multi-stage filtration for clear clean water
FAST SETUP Sets up easily right out of the box – no priming required
CONTINUOUS FLOW Moves water continuously to prevent debris buildup
NO-MESS FILTER CARTRIDGE CHANGES Design minimizes dripping to make cartridge changes easy
SIZE This filter fits 45 to 70 gallon aquariums
This is a budget option that is ideal for people with one, smaller species of turtle in a relatively modest tank, or for turtle breeders who have a small tank for the baby turtles.
It is only suitable for tanks up to 3 gallons in size with a maximum flow rate of 24 gallons per hour.
The activated carbon filter removes odors, discoloration, and waste from the water and the waterfall feature keeps fresh water flowing into the tank.
It also helps to oxygenate the water to create the right environment for the turtles.
Pros
Price – Suitable for low budgets
Carbon filter – Removes odors as well as waste
Cons
Size – It is only suitable for small tanks
Filtration – Only offers one type of filtration
Also Available At Walmart
This filter comes in two sizes- 20 gallons or 40 gallons.
The larger size has a flow rate of 60 gallons per hour but cleans and filters 290 gallons of water per hour, so it gets the job done but provides a nice gentle flow of clean water which is ideal for turtles.
The removable carbon cartridge is perfect for removing waste from the water as well as odors and discoloration. Your turtle won't be able to injure themselves on the filter or get themselves stuck as it has a protective grate over it.
This filter attaches to the side of the tank using suction cups, which is very easy to install. It will do an excellent job of creating a safe and hygienic environment for your turtle in their tank.
Pros
Protective grate – Prevents your turtle from getting into the filter
Suction Cups – Easy to install the filter to the side of the tank
Cons
Filter – The filters are not reusable
Size – The largest size is only 40 gallons
Also Available At Chewy
This filter has been designed for use with frogs, newts, and turtles. It is a water filter that also doubles as a decorative item for the tank, as it has the appearance of a natural stone waterfall.
It blends in really well with other decorative stone objects in the tank. The lid of the filter can also be used as a basking platform for your turtle.
This filter is very easy to use, clean, and maintain. It works best in shallow water, so it would be great if you have a tank with a gradient- a deep end and a shallow end.
Whilst the look of this product might be the most exciting feature, it is by no means 'style over substance'. It has a three stage filtration system that guarantees a flow of fresh, clean water around the tank.
This filter benefits from the Tetra Whisper technology which means it operates very quietly, and the dual-sided Bio bags which catch waste.
It is priced very reasonably considering the appealing design. It is suitable for use in tanks up to 55 gallons in size.
Pros
Reptiles – Designed specifically for reptile and amphibian tanks
Appearance – Natural stone appearance with waterfall
Basking surface – create extra space for your turtles to bask out of water
Cons
Water level – Works best in shallow water
Size – It will take up a lot of space in the tank
Also Available At Chewy
Tetra Decorative ReptoFilter, Terrarium Filtration, Keeps Water Clear
COMBINATION FILTER AND WATERFALL: Uses 3-stage Tetra filtration technology to keep water clear and remove odors in turtle, newt and frog terrariums, and creates an instant waterfall.
DRAMATIC FOCAL POINT: Realistic natural stone appearance – blends in beautifully with other rocks and vegetation.
DUAL-FUNCTION LID: Keeps reptiles out and doubles as a basking platform for your small aquatic animals.
CONVENIENT: Easy to set up and simple to clean.
LIMITED : This UL Listed product comes with a 2-year limited (see product label for details).
This is one of the more expensive items on the list, but there is a good reason. This water filter is perfect for creating a realistic environment for your turtles.
It has three basking areas on the top with ramps for safe access, a river bed extension for clean water, and a waterfall feature.
It creates a wonderful focal point for the tank and is a source of entertainment for the turtles as well as having a practical use.
This filter also benefits from the Tetra Whisper technology, so it will run very quietly, creating a serene space for the turtles.
There is an option to add a fogger which is sold separately, which can be a good option if you want a moist atmosphere above the water.
This filter can be used in tanks that are between 20 and 55 gallons in size and works best when it is partially submerged. This makes it more versatile than the other decorative filter mentioned above.
With a three stage filtration system and a good flow rate, you will not be disappointed with the performance of this attractive-looking water filter.
It might be more expensive, but it certainly adds something special to the tank that your turtles will enjoy.
Pros
Basking – three separate basking areas with easy access
Water features – A waterfall and a riverbed to create an exciting environment
Quiet – Benefits from Whisper Technology
Filtration – Three stage filtration
Cons
Size – You will need a large tank to fit this in
Submerged – It needs to be partially submerged, so the water cannot be too deep
Also Available At Etsy
TetraFauna Viqaquarium, All-In-One Terrarium And aquarium, Ideal For Aquatic Reptiles And Amphibians
TERRARIUM & aquarium Unique all-in-one land and water environment ideal for aquatic turtles amphibians and fish
REALISTIC FEATURES Includes cascading waterfall basking areas and easy-to-climb ramps so critters can climb easily from water onto land
KEEPS WATER CLEAR Uses 3-stage Tetra Whisper filtration system with two medium-size filter cartridges
ADAPTABLE Set up on either the left or right side of your aquarium
EASY TO SET UP Fits inside most 20 to 55 gallon aquariums
Buyer's Guide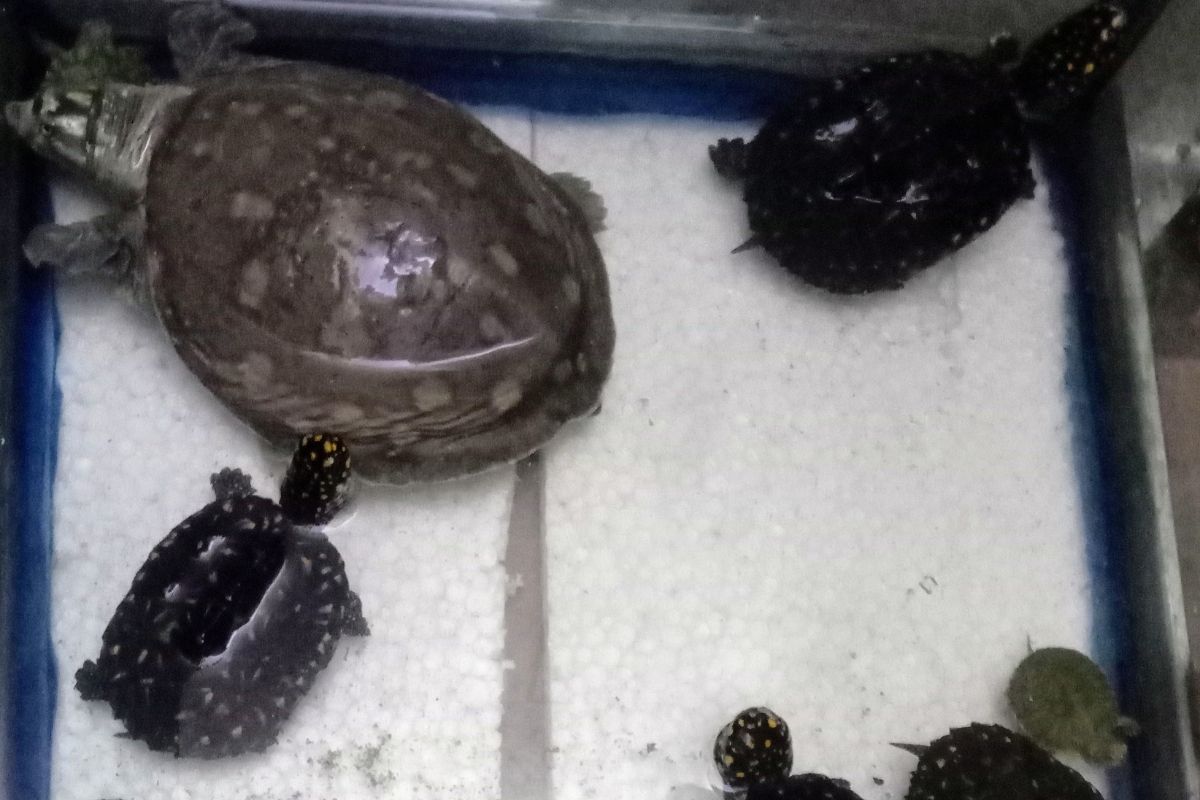 Now that we have reviewed the best water filters on the market for your turtle tank, it is time to narrow down your selection.
This can be quite a difficult task as there is so much choice, and each product has something different to offer. We have put together this useful advice to help you make your decision.
Price
The first thing you need to do is think about your budget.
When you are setting up the turtle tank, there are lots of different things you will need to put money aside for – the tank itself, the water filter, the UVB light, the basking light, the tank heater, the water conditioner, the tank decorations and the floating islands or basking areas.
You will also need to factor in the cost of the turtle food, any products you will need to clean the tank with (a small net will come in handy for removing uneaten food and large bits of waste).
Once you have created your budget, you will know how much money you are able to spend on the water filter.
Filter Size
The next thing is to figure out what size filter you need. You need to first select the right size tank for your turtle, as we mentioned in the section on tank conditions.
If you have the space to get a bigger tank than the minimum requirements then your turtle will probably be very grateful for the extra swimming space.
Once you have your tank size, you can see what size filter you need and make sure that you choose one with the right capacity. Remember, you can use two smaller filters if you prefer.
Filtration Method
Water filters have different methods of filtration. Whoever filter you choose, it is best to go for one with more than one type of filtration.
For example, several types of filter sponges to pick up different pollutants in the water, or a three stage filtration system. This will ensure that the quality of the water is good.
Noise
You might be concerned about the noise that the filter is going to make. This is especially important if you are going to keep the tank in your bedroom as it could keep you up at night.
Some filters are quieter than others, with the quietest being the Tetra Whisper range.
It also benefits your turtle if the filter is quiet, as it will provide a relaxing and peaceful environment for them to live in.
Filter Design
Finally, think about the design of the filter. Some filters have a very simple design and don't take up much room, leaving plenty of space for swimming.
Others are a form of decoration or even have basking areas which makes them a focal point of the tank.
Frequently Asked Questions
Should You Cycle The Water In The Tank?
Tank cycling is an essential part of keeping the tank clean. It can be done in several ways.
By tank cycling, you are encouraging a balance of bacteria in the water which will turn the ammonia into nitrites and then into nitrates, helping to keep the tank clean and the water at the right levels.
You will still need to use a water filter and periodically deep clean the tank.
How Often Should You Carry Out A Water Change?
If you replace all the water in the tank at once, you will need to start the cycling process from the beginning. Instead, perform weekly water changes.
This is when you replace 25 percent of the water in the tank with freshwater. Remember to treat the fresh water first with whatever water conditioner or treatment is suitable for your turtle.
When you are carrying out your weekly water change, this is a great opportunity to check the levels of nitrates and ammonia in the water.
How Often Should You Clean Your Tank?
Even with a good quality water filter, you will still need to deep clean the tank about once a month. This will provide a sanitary and healthy environment for your turtle.
As part of the deep clean, you should clean any objects inside the tank like floating islands, toys, and decorations. You should also change the pump filter.
What Daily Maintenance Should You Carry Out?
To keep the tank clean on a daily basis, you should always remove any uneaten food. As the food breaks down it will make the water dirty and cloudy and could encourage the growth of bacteria.
You should also remove any visible waste from the water every day, as this will keep the ammonia levels down.