Looking after your pet red-eared slider is about more than watching them and feeding them. It's about providing the perfect habitat that gives them the environmental conditions they need to truly thrive.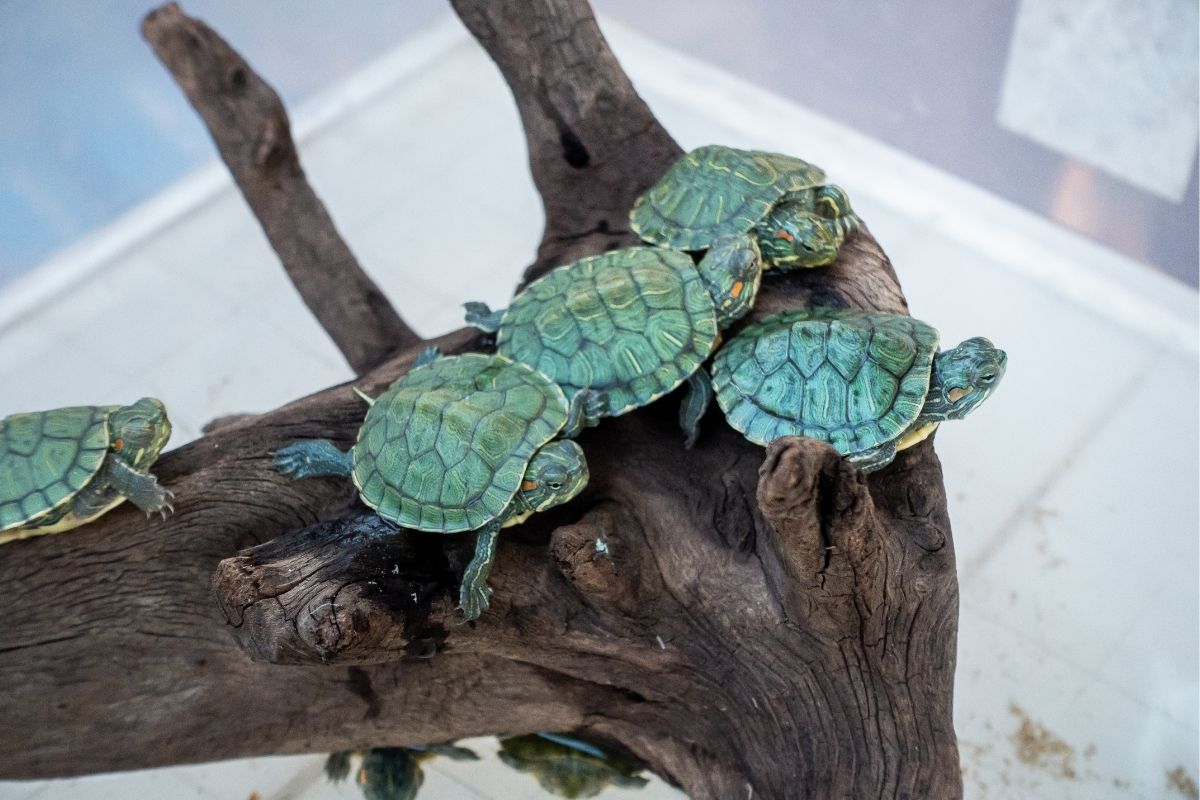 This setup will include both a large tank and a nice basking area. So, in this article, I'm going to explain the different types of red-eared slider tanks and why I prefer glass tanks.
And I'll also be giving you specific product recommendations to get your home all set up for your pet.
By the end of the article, you're going to know exactly what items you want for your red-eared slider and why, and you'll see where you can get them from.
But I know you're eager to get all the things you need so you can have your new homie move in with you ASAP, so I'm going to start off with my product recommendations and save the other details for later!
(Please go ahead and skip to whatever section you want to.)
Aquarium Recommendations
I'll kick things off with my aquarium recommendations. I'll put them in size order for ease of reference.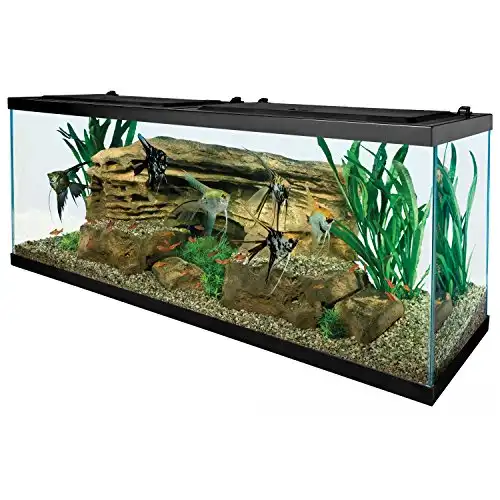 Tetra 55 Gallon Aquarium Kit with Fish Tank, Fish Net, Fish Food, Filter, Heater and Water Conditioners
LARGE ENVIRONMENT: Larger environments can house more fish or a greater variety of fish. Maintains water temperature. Essential for tropical fishkeeping
KIT INCLUDES: one 55 gallon tank, EasyBalance Plus, TetraMin, AquaSafe, 6" fish net, 200W heater, WPF 60 Filter, Stick on digital thermometer, 24" Tetra hinged hood x 2, 2 plant multipacks and a boxwood plant, TetraCare brochure and instruction sheet
LED LIGHTING: Included lighting adds the natural daylight effect to your aquarium, giving you illuminated viewing of the entire space
ACTUAL TANK DIMENSIONS: 48.25" L x 12.80" W x 20.90" H
WEIGHT: This aquarium tank weighs approximately 79 lb by itself. With water, total tank weight can reach 521 lb.
COMPLETE YOUR COMBO WITH THE MAJESTY STAND: The Perfecto Majesty Stand (ASIN: B00BUFU77U) properly supports the weight of this tank, while also providing storage for supplies.
Buy from Amazon
We earn a commission if you make a purchase, at no additional cost to you.
Now, while this tank may be smaller in capacity than the one I showed you earlier and may seem a little cramped, it does have some great advantages. (So long as you only have one red-eared slider.)
It is wide and shallow rather than deep, so you don't have to worry about your red-eared slider drowning in the water. And you should still have room for an ornament (possibly more).
What's more, it comes with many accessories in the box, such as an LED low-profile hood, a submersible heater, a flow power filter, a water conditioner, a thermometer, a boxwood plant, and more.
It's super affordable and very reliable.
---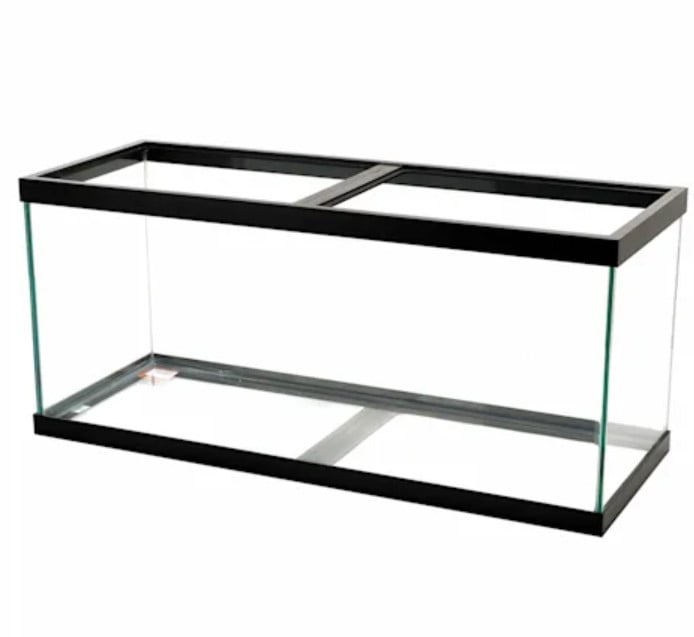 The key thing to think about for the tank is that it needs to be big and have plenty of space for water (I'll explain why later).
And this tank is about just right for a red-eared slider, at 75 gallons, and it doesn't break the bank.
I also like that it has a high-quality glass construction, so you get to check out your red-eared slider in all its glory.
It's available from Petco, and you can either pick it up at the store or have it delivered.
Also available to buy at: Pets Warehouse and
---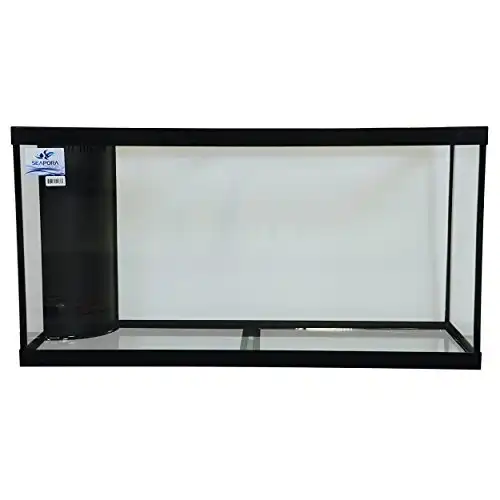 Seapora Reef Ready Aquarium
This product is easy to use
This product adds a great Value
This product is Manufactured in United States
The Package Weight Of The Product Is 4.31 Pounds
Buy from Amazon
We earn a commission if you make a purchase, at no additional cost to you.
If you want a tank that's bigger than the 75-gallon one we showed you earlier (and who would blame you), but you just don't have the budget for the 120-gallon SC Aquarium I showed you earlier, then this would be right up your alley.
It features a super-efficient overflow system, out of the way in the corner, that will maximize water flow through the filter system and, at the same time, minimize noise.
Also available to buy at: Elmer's Aquarium and Whitlyn Aquatics
---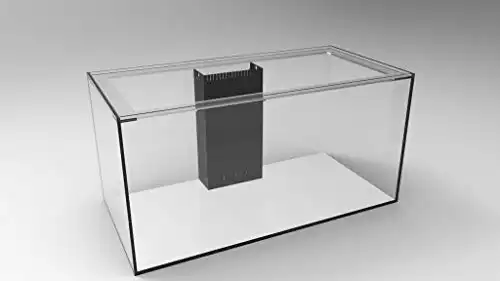 SC Aquariums 120 Gallon Starfire Glass Aquarium
Size: 120 Gallon Aquariums 48x24x24" 12mm Eurobraced
Starfire (Low Iron) glass on front 3 Sides
Black Background, Black Silicone
built-in Overflow Box, max flow 1500 GPH (3 holes drilled inside all fit SCH40 1" bulkhead)
SCH40 Plumbing Kit included
Buy from Amazon
We earn a commission if you make a purchase, at no additional cost to you.
09/21/2023 03:52 pm GMT
If, however, you aren't overly concerned about your budget and have plenty of money to spend, then this tank may be more up your alley. It's huge at 120 gallons, giving you all the water space you could want for your red-eared slider.
What's more, it's made from Starfire glass, which does a far superior job of controlling the temperature in your tank than regular ordinary glass would.
And it has a built-in center overflow box. Plus, there's even a plumbing kit included in the price.
Also available to buy at: SC Aquariums
---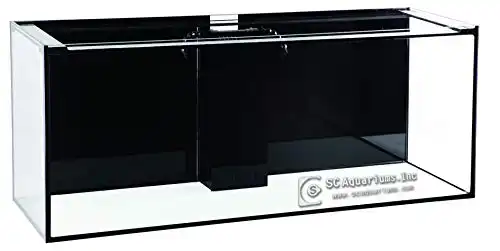 More is more, as they say. And this certainly applies to red-eared slider tanks because they just love having room to move around.
This tank is absolutely huge at a whopping 150 gallons, almost 3 times the size of some of the others on my shortlist.
It has that amazing Starfire glass that I mentioned in an earlier review and a convenient center overflow box.
It is very pricey, admittedly, but customers seem to think it's worth the money, given that most customers who bought through Amazon gave it a full 5-star rating.
Also available to buy at: SC Aquariums
---
Basking Area
Now, let's move on to products for the all-important basking area.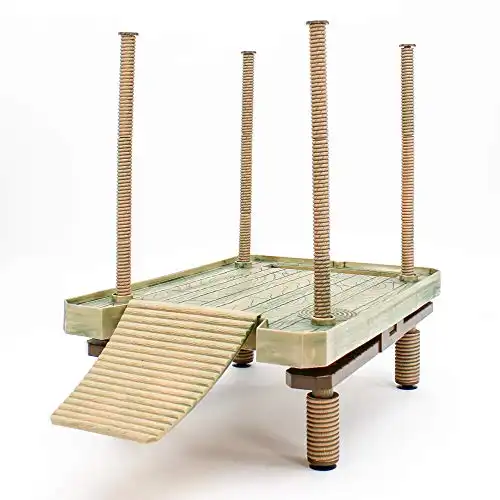 Penn-Plax Reptology Floating Turtle Pier and Basking Platform – Decorative, Functional, and Naturally Inspired – Large Size (Model Number: REP603)
INNOVATIVE & UNIQUE: The Reptology Floating Turtle Pier doubles as a Basking Platform, and floats slightly above the waterline inside your tank. This feature allows your pet to rest and eat outside of the water. In addition to providing a better view, the pier also allows for more interaction between you and your favorite friend!
SECURE SUPPORTS: The pier's platform rests upon 4 pylon supports that are attached with suction cups that connect to the bottom surface of a tank. For a strong and secure bond, please clean and wash the suction cups with water before placing inside tank, as well as the contact areas at the bottom of the tank. The cleaner they are, the stronger the bond!
EASY ACCESS FOR PETS: The docking ramp allows your pet to easily climb onto the upper level of the pier. Furthermore, the pier's platform has a built-in gravel bin that's used to counterbalance the weight of your pet as they enter the ramp. *Gravel sold separately.
DECORATIVE & NATURALLY INSPIRED: In addition to serving as a basking platform that allows your pet to dry off and regulate temperature, the Reptology Floating Turtle Pier also satisfies their natural instinct to hide and rest underneath. This piece is great for terrariums and other reptile habitats that don't have water.
ADDITIONAL INFO: The Reptology Floating Turtle Pier is designed for tanks that are 20 gallons or larger. The Basking Platform measures 16" (D) x 11" (W) x 1.25 (H), the ramp extends the total length to 20.5".In addition, the pylon supports are adjustable in height, from as low as 3" for setups without water, and up to 16" with water.
Check Price on Amazon
We earn a commission if you make a purchase, at no additional cost to you.
09/22/2023 01:57 am GMT
This quaint little wood-like floating pier is both decorative and functional. And if you buy through Amazon, you may be able to catch one of their occasional deals.
Also available to buy at: Painted Reptile and Tractor Supply Company
---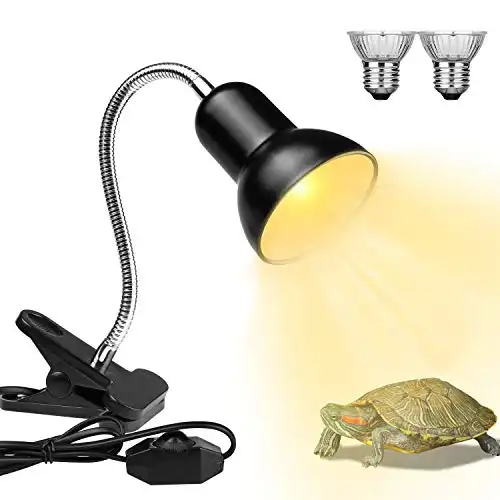 Reptile Heat Lamps, Turtle Lamp UVA/UVB Turtle Aquarium Tank Heating Lamps with Clamp, 360° Rotatable Basking Lamp for Lizard Turtle Snake Aquarium Aquatic Plants with 2 Heat Bulbs (E27,110V)
REPTILE HEAT LAMP: UV lamps can effectively provide high penetration and easier absorption to promote the healthy development of reptile bones. and make your pet reptile's enclosure more homely and comfortable with the use of heat lamps with clamp for reptiles.
ADJUSTABLE TEMPERATURE&DIMMING: Switches of this basking Lamp can adjust the brightness and temperature, you can also adjust the heat lamp head distance to meet the needs of reptile at different times.
2 PCS 25W/50W UV Bulbs: Turtle Lamp with 2 UVA UVB bulb, simulate sunlight to provide daily UV intake for your reptile, UVA (visual) light, UVB (vitamin production) light. The Ceramic socket which can withstand constant high heat. Suitable for incandescent, fluorescent, UV bulbs, and ceramic heat emitter
FLEXIBLE AND CONVENIENCE DESIGNED: 360° clamp rotatable clip adjustable arm, it can be adjusted to suitable for most aquariums, you can position it exactly the way you want, and the flexible tube is stronger and more durable than ordinary. And the tension of the clip is 5cm / 2in.
SAFE & WARRANTY - Safe materials and CE certification, the turtle light's cable length is 1.0m, which is convenient to connect to the socket. 1-year warranty provided, If you have any query or product problem, please contact us for a replacement or refund.
Check Price on Amazon
We earn a commission if you make a purchase, at no additional cost to you.
09/22/2023 03:33 am GMT
Turtles such as red-eared sliders need both UVA and UVB rays in order to stay healthy, which is exactly what this basking light provides.
What's more, you can adjust the height and overall position of the lamp thanks to the 360-degree rotatable clip and flexible arm, which is super convenient.
And you can adjust both the temperature and the brightness as you see fit.
And, even more conveniently, it comes complete with not one but two replacement bulbs.
---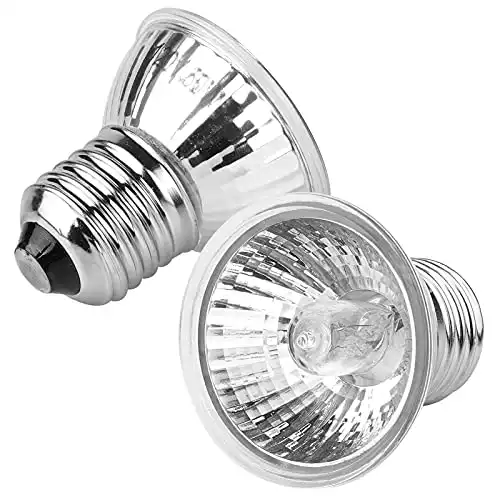 2PCS 25W / 50W Reptile Heat Lamp Dallfoll Turtle Heat Lamp Basking Lamp Heater Light Replacement Bulbs…
2 PCS 25W/50W UV Bulbs: Turtle Lamp with 2 UVA UVB bulb, simulate sunlight to provide daily UV intake for your reptile, UVA stimulate appetite and UVB promote vitamin D3 synthesis, fully absorb calcium.
The basking bulb is Made of high-quality glass, durable wick avoid anti-aging and three-dimensional reflection, which is to strengthen the ultraviolet spectrum.
This heat lamp's output voltage is AC 110-120V, power is 25 watts and 50 watts, full size is diameter 2.0 inch x height 2.0 inch, standard E27 screw base.
Reptile lamp could be used for reptiles and amphibians, including turtles, lizards, bearded dragons, snakes, frogs, iguanas, tortoises, chuckwallas, etc.
Note: Please turn on >4 hours per day, please do not use your hand to test the temperature when working, also please adjust the distance between the heat lamp and the pets.
Check Price on Amazon
We earn a commission if you make a purchase, at no additional cost to you.
09/21/2023 11:49 pm GMT
Once you've chosen your preferred heat lamps, it's important that you know where you can get replacement bulbs that are compatible with your particular heat lamp.
This pack of two replacement bulbs is compatible with the Dallfoll Reptile Heat Lamp I showed you earlier. You get one at 25 watts and one at 50 watts.
Anyway, that's all of my recommendations covered. Now for the details and guidance, I promised you earlier.
---
Types Of Potential Red-Eared Slider Tanks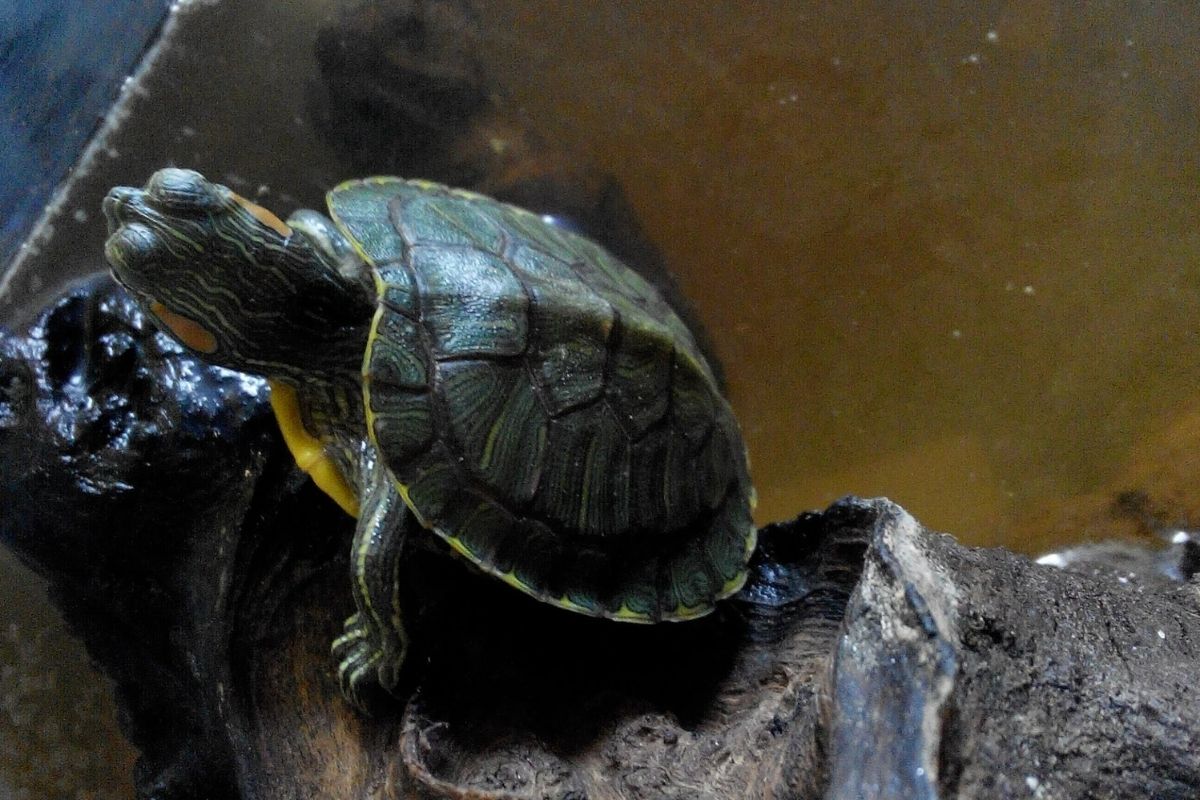 There are two main types of tanks that you can use for red-eared sliders. The first is the classic plain glass tank, and the second is stock tanks.
(For those of you who don't already know, stock tanks aren't like regular glass tanks intended for use by fish or reptiles. They're actually intended as troughs of water for large animals like cattle to drink out of. This makes them very large, and crucially, large enough to home a red-eared slider in.)
Both types of tanks have advantages and disadvantages, and I'll break them down for you.
Plain Glass Tank Advantages
Plain glass tanks come in a wide range of sizes with different dimensions, starting from as little as one gallon (which is way too small) and going all the way up to a whopping 400 gallons or more.
This means that you have plenty of options available to you.
And they are entirely see-through, which means that you don't have to be leaning over the tank to see your pet; instead, you can watch them from every angle.
Moreover, because they are transparent, you can use them to form all kinds of different themes, with a few carefully chosen ornaments and decorating. I know of one Red-eared slider enthusiast who made a Star Wars aquarium!
They are also more readily available, both at pet stores and online.
And what's more, they frequently come complete with lots of useful accessories such as water heaters, water filters, thermometers, and so on, since many of these tanks are built and sold with such an end in mind.
Plain Glass Tank Disadvantages
As I'll explain later, the bigger your tank for your red-eared slider, the better.
But unfortunately, the bigger your glass tank, the higher the price tag. Especially if you go for something fancy with all the trimmings, like the SC Aquariums Starfire Glass Aquariums I showed you earlier.
And if you were to invest in an entire turtle set-up kit, you can expect to pay more money than if you were just buying the tank alone.
That said, you can get some good ones without having to break the bank, or alternatively, there's no harm in looking into buying a second-hand one if that doesn't trouble you.
You will also have to think about shipping as well if you decide to buy online. Glass can be quite heavy, which may push up shipping costs.
And if you go for regular glass rather than Starfire glass, you could risk your tank getting damaged during shipping.
Stock Tank Advantages
For the purposes of this article, I'm just going to concentrate on stock tanks made by Rubbermaid because I know they produce the best stock tanks for red-eared sliders.
Rubbermaid stock tanks are available in a wide range of sizes, starting at 50 gallons and going all the way up to 300 gallons.
They are of excellent quality, and are far more durable and long-lasting than glass tanks because they cannot smash like glass sometimes can. (They're practically indestructible!)
They are both deep and wide, so they will give your red-eared slider plenty of room to move around and swim, which they love.
And when the water gets too dirty and needs an old-fashioned water change, it's super easy to drain the water out of them. And what's more, they have a conveniently placed oversized drain plug for super quick drainage.
And in my experience, they're easier to clean than traditional glass tanks, which really show up all the dirt.
Stock Tank Disadvantages
You know what? Stock tanks are nowhere near as easy on the eye as glass tanks are.
They don't show off your beautiful red eared slider in all its glory, and many people see them more as an eye-sore rather than something to be admired.
In fact, those who do have a stock tank for their turtle tend to keep them where guests won't see them, such as in a basement.
And secondly, stock tanks really aren't designed with turtles like the red-eared slider in mind – they are intended as water troughs for livestock, after all.
And as such, they won't come with all the accessories you might be able to get if you were to invest in a glass tank, with all its commonly included items such as an LED lid, a thermometer, some kind of filtration or overflow system, and so on.
Sure, you could still kit the tank with all the bits and pieces you need, but that's a lot of legwork on your part – especially if you've never cared for a red-eared slider before. I know not everybody likes the idea of making a basking area by hand.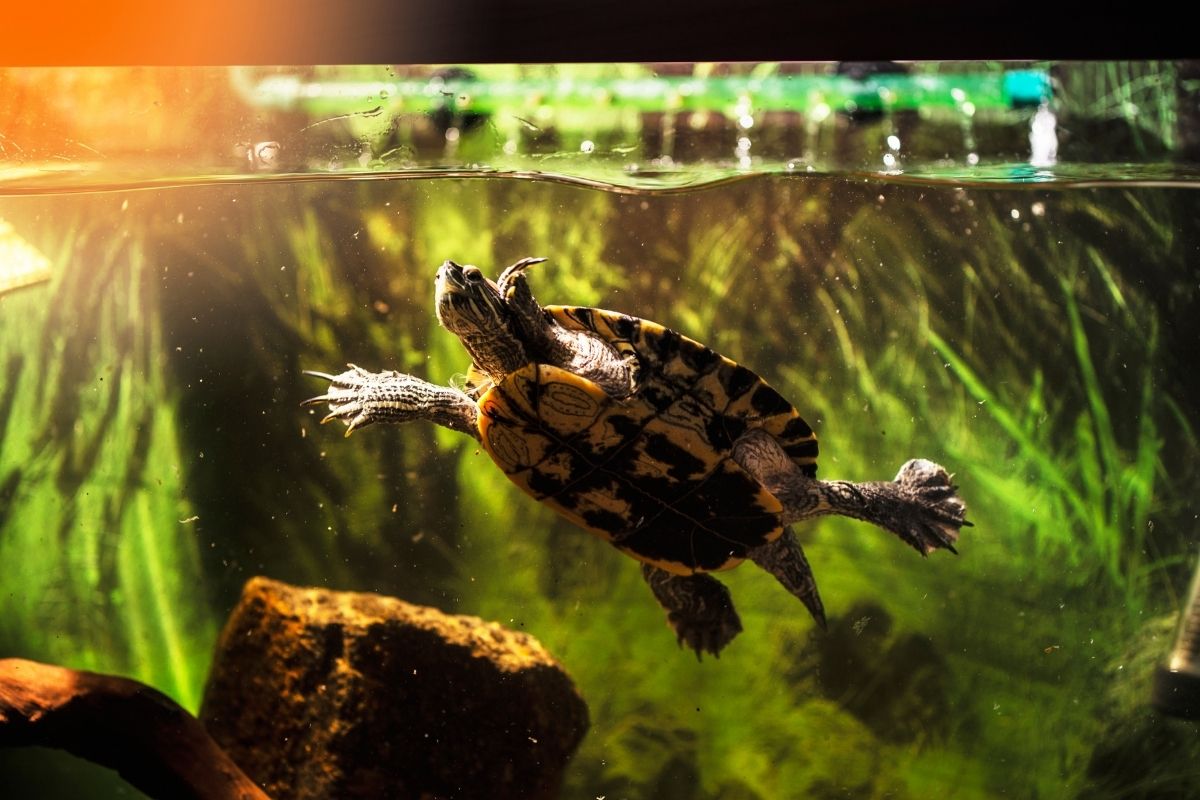 Frequently Asked Questions
Now, let's tackle your most pressing questions.
What Size Tank Do I Need?
Now, this is a very important question to answer because it basically means the difference between your red-eared slider living a long and happy life or having it cut short due to factors beyond its control, as I shall explain. (That's why I'm starting with this question first.)
But first, the golden rule: For every inch of shell length, you should have at least 10 gallons of water.
So, for example, if your red-eared slider has a shell that is 6 inches in length, then you should ensure that their tank can hold at least 60 gallons of water at the very minimum.
And I can assure you that this is not just some made-up rule put forward to convince you to buy a bigger tank than necessary – there's a good reason behind it…
As you probably already know, red-eared sliders love to swim around in the water.
However, they can only swim face down and not face up, so it is absolutely crucial to ensure that they have sufficient water in their tank so that if they do decide to go for a little swim, they have deep enough water to be able to turn around a full 360 degrees.
This way, if they do manage to topple upside down, they are easily able to turn themselves around again without any pesky ornaments or plants getting in their way.
And remember, even if your red-eared slider is just a baby when you first buy, it won't remain a hatchling for very long and will soon achieve its full-grown size.
I would recommend that you look at tanks at least 80 to 100 gallons in size ideally, and you should certainly never drop below 55 gallons.
How Should a Red-eared Slider Tank Be Set Up?
We've already covered how red-eared sliders like to be in and around water and have a good swim, but it's also very important to have enough light coming through.
We did make mention of this earlier, but it bears repeating here. Turtles such as red-eared sliders need UVA and UVB rays to stay healthy.
You can achieve this by placing a lid over the tank, which features an LED light emitting both UVA and UVB rays.
Alternatively, and preferably, you could arrange for your red-eared slider to have their own special little basking area. They can emerge from their tank's water onto a dry area, which features a dedicated basking lamp, like the one I showed you earlier.
You will also need a thermostatic heater to help the turtle regulate its body temperature. The water temperature should be kept between 75 °F and 85 °F, and the basking area temperature should be about 85 °F to 95 °F.
Final Thoughts
So, as I've said, the important thing to remember is that your tank needs to be large enough for your turtle to be able to turn 360 degrees in the water.
I recommend glass tanks, but you could go for a stock tank if you prefer.
Peace out!