Do you own a Corgis canine? This is one of the most popular dog breeds in the world. Corgis are also one of the smartest breeds, the smallest herding breed at one-foot tall, and have been part of the British Royal Family for 70+ years. Whether you have a Pembroke or Cardigan Corgis, picking the best dog food for corgis is essential.
---
How to Choose Good Dog Food for Corgis
When picking a dog food for your Corgis, it's important to pick one that meets the nutritional needs of the breed or any of its mixes. This will help to ensure your dog gets all the vitamins, minerals, enzymes, antioxidants, etc. it needs.
Must-Have Ingredients
Protein
Corgis are active dogs and make excellent watchdogs. Due to their activity, it's important for their food to contain high-quality protein. This could be from various sources like beef, chicken, fish, lamb, venison, etc.
It's better if a Corgi dog food contains 2 or 3 meat proteins. The sources could be either whole meats or meat meals since both provide critical nutrients your canine needs. This helps ensure your pet gets a wide variety of nutrients and amino acids.
Some pet owners don't like to feed their dogs meat meals. What's the problem? It's just a concentrated form of the meats minus the moisture they contain. The main benefit of these proteins is they contain many times more protein than whole meat. This is often one of the primary protein sources of dog foods and is often added to high-quality dog foods.
Fat
It's also important for the best dog food for Corgis to have a healthy source of fat like chicken fat. Another source of "good" fat is fish oil, which provides omega-3 fatty acids to keep your pet's skin/coat healthy.
Puppies, in particular, can benefit from docosahexaenoic acid (DHA). This particular type of omega-3 fatty acid improves the development of the brain/eye.
In addition, older dogs can benefit from medium-chain fatty acids (MCFAs). Studies show they can help older dogs to feel/act younger. MCFA-containing medium-chain triglycerides often contain a blend of oils like coconut oils.
Grains
You might want your Corgi to avoid grains like corn, soy, and wheat. Your dog might be able to eat grains/cereals like rice, oats, or barely. Another option is to feed them grain-free dog food with carb sources like sweet potatoes.  Speaking of carbs, it's wise to keep the percentage of carbs low/moderate.
Calories
The calorie intake for a 25-pound adult Corgi should be about 780 calories. Dogs that are sprayed/neutered/senior might require a slightly lower number. Meanwhile, puppies are more active, so need relatively more calories. A 20-pound Corgi puppy requires about 730 calories/per day.
Ingredients to Avoid in Food for Corgis
When picking dog foods for your Corgis, make sure to keep in mind some types of foods that are known to cause the most allergic issues among dogs. They include:
Beef
Chicken
Dairy
Egg
Fish
Lamb
Pork
Rabbit
Soy
Wheat 
If you suspect your Corgis might be allergic to 1+ of these ingredients or others, you should take your pooch to the animal clinic to get tested. This will help to determine if your canine has signs of a food allergy. They'll likely recommend options like commercial limited-ingredient and hypoallergenic dog foods on the market. 
---
Best Dog Food for Corgis
Here are some of the best dog foods for Corgis: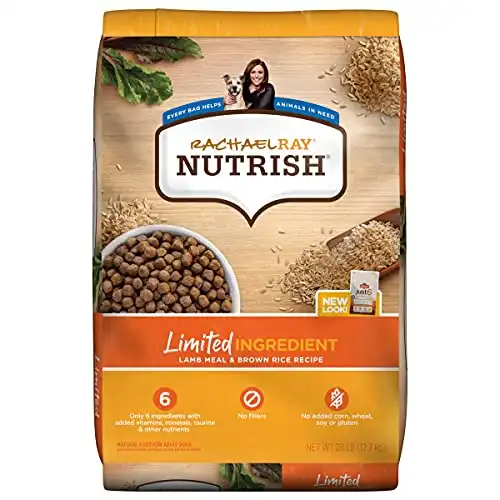 Rachael Ray is a TV personality and celebrity chef who offers several product lines, including dog food. She's featured on three Food Network series as well as other programs. Ray has also written many cookbooks and won three Emmy Awards.
Nutrish products are made with basic/wholesome ingredients. They include high-quality proteins like beef, chicken, and seafood. The meats are combined with vegetables and vitamins/minerals. It includes no wheat, corn, or soy. The top ingredient is lamb sourced from Australia/New Zealand. The meat is easy to digest and provides amino acids and B vitamins dogs need. This helps to keep their muscles, organs, and joints healthy.
This dog food also includes other healthy ingredients. There's brown rice, which is an excellent source of cabs for B vitamins and fiber. Ground rice provides quick energy for Corgis dogs. Then there's beetroot, which is a natural fiber source that provides probiotics for healthier skin/coat and digestion. A percentage of Just 6 Dry Dog Food sales goes to the Rachael Ray Foundation, which helps out animals in need. This provides things like food and medicine.
Features
Limited ingredient diet to prevent food allergies
No poultry byproducts or artificial flavors/preservatives
Lamb is #1 ingredient
Natural dog food with vitamins and minerals
No wheat, corn, gluten, soy, or fillers
Pros
Limited ingredients dog food
Dogs like the food
Can clear up skin issues
Cons
Hard to chew kibble
Some bad batches
Some dogs don't like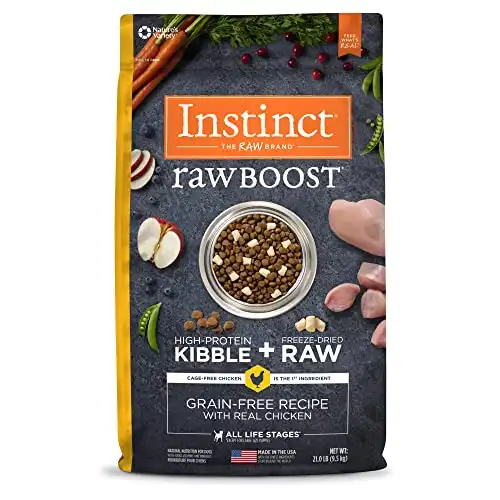 Nature's Variety is a private US company headquartered in the St. Louis, Missouri (USA). The company produces natural/holistic pet food for dogs/cats. Nature's Variety's products include canned, kibble, grain-free, and raw products. 
Instinct's goal is to offer the nutrition of raw food into more bowls of dog food. It believes this unlocks dogs' ability to live healthier lives. It offers various types of products for dogs of different
sizes/ages/breeds.
Raw Boost Natural Dog food combines high-protein and grain-free kibble with freeze-dried raw ingredients in one bag. This dog food begins with real meat products like chicken, beef, and lamb.  This food provides many kinds of nutrients to dogs including probiotics/antioxidants to improve skin/coat, digestion, and immune system.
Raw Boost is also all-natural and includes minimal processing. The dog food's ingredients include high-protein real meat and non-genetically modified organisms (GMOs) fruits/vegetables.  This provides important nutrients to the food for your pet dog.  
Features
Raw cage-free chicken
Grain-free dog food
Freeze-fried raw pieces
Contains whole food ingredients
Made in the US using high-end ingredients
Pros
Excellent brand
Doesn't include many additives
Dogs/puppies enjoy the food
Cons
Might be bad batch
New formula
Might make dogs sick
---
Best Food for Corgi Puppy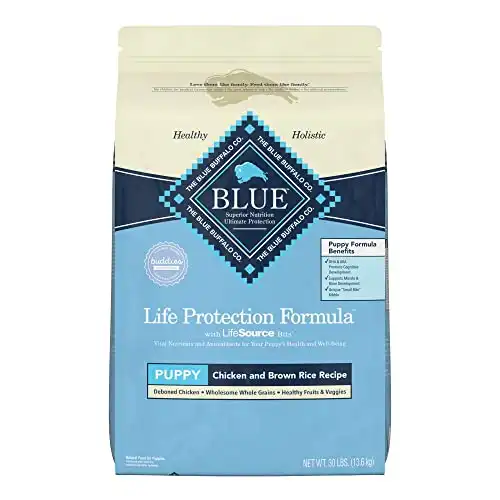 Blue Life Protection Dog Food is a brand of Blue Buffalo, which is owned by General Mills. The US company was founded 160+ years ago in 1856 and is headquartered in the US state Minnesota. General Mills includes about 90 US brands throughout the world including Blue Buffalo. The company was founded by Robert Smith.
This best dog food for corgis includes a 2-part food that includes natural ingredients with vitamins/minerals and antioxidant-full kibble known as LifeSource Bits. The nutrients are processed at a low temperature vs. the other ingredients.
Blue Life offers more natural dog foods that are breed/condition-specific. The company's products offer healthy and tasty dog food for puppy/adult/senior dogs. They include ingredients like DHA for cognitive development and minerals for joint/mobility support. The company's dog foods also include ingredients inspired by local cuisine throughout the US. That includes ingredients like seafood, chicken, and lamb that's sourced from different US regions.
Blue Life is named for a family pet named Blue. This resulted in the owners developing a bet food to help improve Blue when he became ill. That included quality/natural ingredients that included real meat.
Features
Real meat is always the first ingredient of Blue Life products and is chicken in this product
Natural ingredients include chicken meal, egg, whole grains, veggies, and fruit
No chicken byproduct meals, wheat, corn, soy, artificial flavors/preservatives.
Food is enhanced with vitamins/minerals and blend of antioxidants called LifeSource Bits. These provide nutrients needed for various functions like immune system.
Fatty acids like arachidonic acid (ARA) and DHA from mother's milk, and choline for cognitive development
Pros
Good for puppies
Excellent value
Shipping/packaging 
Cons
Might cause digestion problems
New formula
Dog might get sick
---
Best Dog Food for Adult Corgis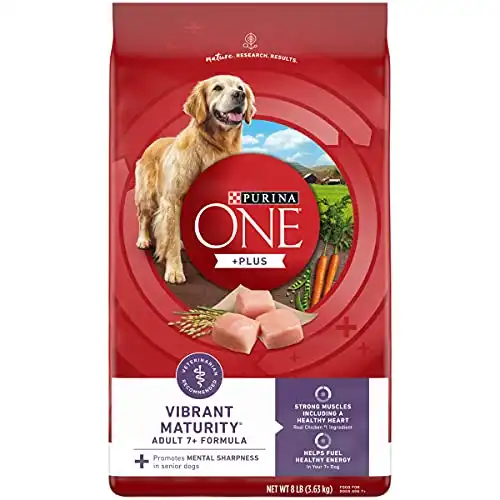 Nestle Purina is a subsidiary of Nestle. The company produces pet foods, treats, and cat litter. Nestle Purina was founded in 2001. It was previously known as Ralston Purina and founded 120+ years ago in 1894. Nestle Purina is headquartered in St. Louis, Missouri (USA).
Purina One is dedicated to offer holistic health for dogs. The company has created a 28-day challenge so dog owners throughout the US can see health improvements in their pets' health. The Vibrant Maturity Adult 7+ Formula features high-quality chicken as the top ingredient. This product includes no fillers while each ingredient has a nutritional function. They include botanical oils for brain function and glucosamine for healthy joints.
This senior dog foo includes a formula that's easy to digest. This helps the nutrition to work effectively in the dog's body. The combo of real meat and crunch kibble offers a complete nutrition for old dogs. This is a good solution for your senior dog's feeding routine.
Features
Heart/muscle support
High-quality protein
Boosts energy/mental sharpness
Real meat and crunch kibble
Veterinarian recommended
Pros
Good customer service
Dogs like food
Not small kibble
Cons
Sometimes makes dogs sick
No expiration date
Shipping/packaging
---
Best Dog Food for Corgis with Health Issues
Here are some of the most common health issues affected by a dog's nutrition:
Obesity
This epidemic affects half of US dogs. It makes the canines more prone to other conditions including high blood pressure, diabetes, arthritis, and cancer. An interesting study showed that among obese pets 90% of owners wrongly thought their pets were within a normal weight range.
Bladder Stones
Bladder stones contain various kinds of substances like minerals. Bladder stones might be small at first. However, over time they can grow and cause various problems urinary tract-related issues.
Pancreatitis
This occurs when the pancreas gets inflamed, which causes digestive enzymes to be released in the dog's stomach region. When this happens the digestive enzymes start to break down fat/proteins in other organs and the pancreas.
Diarrhea
This digestive problem is relatively common among dogs. However, there are two main types: small/large bowel. A diet higher in soluble/insoluble fiber can help to deal with this condition. In other cases a diet that's bland, low-fat, and easy to digest can help to treat loose bowel
movement (LBM) effectively.
Heart Disease
This condition is more common among dogs that don't have a well-balanced diet. A big factor is the canine's sodium intake. This causes the blood vessels to retain water and higher blood pressure. This causes the heart to work overtime to pump blood from ventricles.
Here is the best dog food for your Corgi if they have health issues:
Diamond Pet Foods is a private company that's become one of the top makers of pet food in the US. It offers a full range of products that are produced in safety-certified factories throughout the US. The company is dedicated to developing quality pet foods for consumers. Diamond has one of the most complete food safety programs in the US.
Diamond Naturals includes probiotics with 80 million bacteria per pound. This helps to improve your pet's digestion/immune system. Naturals include superfoods like chia seed, kale, blueberries, pumpkin, etc. These are excellent sources of vitamins, minerals, proteins, fatty acids, and antioxidants. This dog food also includes powerful antioxidants in superfoods like spinach, carrots, oranges, and blueberries.
DHA is also offered through salmon oil. This omega-3 fatty acid is important for vision/brain development in puppies and nursing dogs. Other sources of omega-3 include coconut, flaxseed, chia seed, etc. This helps to keep your dog's skin/coat shiny.
Naturals also offer digestive support through fibers from ingredients like pumpkin, chia seed, coconut, and dried kelp. When combined with prebiotic fiber from chicory root, this helps your dog maintain a healthy digestive system, which is essential.
Features
Probiotics to improve the digestive system
No wheat, corn, filler, or artificial colors/flavors/preservatives
Company is family owned/operated
Quality ingredients with vitamins/minerals, fruits/veggies with antioxidants and fatty acids
High-quality protein from real beef. It includes amino acids to produce lean/strong muscles
Pros
Good quality
Good for sick dogs
Alternative to premium food
Cons
Might cause digestion problems
Some bad batches
Some dogs don't like
---
Corgis Diet & Nutrition Requirements
Like other dog breeds, it's critical for your Corgis dog to get all its diet/nutritional requirements in order to maintain optimal health. For example, it's essential to consider that the Corgis breed
originates from Southern Wales.
So when picking ingredients/foods for your dog, it's important to keep it as close to the regional diet as possible. Due to evolution, it will be easier for the dog's digestive system to handle the food.
The two main types of Corgis are Welsh and Pembroke. Welsh Corgis were initially used mostly as herding/watchdogs.
Much like a cattle dog in Australia, their task was to drive/scatter cattle throughout fields in South Wales.
When the Welsh Corgis worked as herding dogs, they ate local meats like beef and rabbit since they were native to the hunt/herding regions. Other items in their diets included fish, potatoes, carrots, and cabbage. These are all items you should definitely consider adding to your Corgis' diet.
Another critical factor in terms of Corgis's dietary needs is to ensure they get the right balance of proteins, carbs, and vitamins/minerals. Some guidelines to consider are: 50-75% protein, 15-18% fat, and 25% carbs.
Whether you feed your dog commercial or homemade food, it's important for your canine to be eating lots of healthy/natural ingredients. If you combine this with regular exercise, it can help to extend the lifespan of you dog.
How to Properly Feed a Corgi
Here are some helpful tips for feeding your Corgi:
1. Add regional diet
This includes foods the Corgi originally ate in Wales. They include:
Beef
Cabbage
Carrots
Fish
Potatoes
Rabbit
These are foods the dogs originally ate in the UK, so their digestive system has evolved to digest such foods easier. These aren't just tasty foods but are ones the dog breed has been eating for eons. So there's some science involved with the situation.
2. Build all meals around protein
Meat-based protein should be the foundation of every meal for your Corgi. Veggies should be in second place. Grains are okay, but make sure your dog/pup has no food allergies that would make it tough to digest them.
3. Feed puppies properly
Here are some feeding guidelines for different ages:
Feed pups 4-12 weeks old 4 bowls/daily
Feed pups 3-6 months old 3x daily
Feed puppies 6 months to 1 year 2 meals/24 hours
Feed 1 year old 1 bowl/day
Feed adult Corgi 2 light meals if necessary
You should consider offering these foods to your puppy:
Broth
Cooked eggs
Fruits/veggies
Cottage cheese
Here are some other tips. If you're going to feed your Corgi puppy commercial food make sure it's high-quality. Limit table food because it can cause problems like vitamin deficiency and unhealthy
bones/teeth. You should also make sure your pet pooch always has fresh water.
4. Add regional diet gradually
You could add these ingredients like beef and potatoes to kibble to provide outstanding taste and texture to your Corgi's diet. However, if your dog isn't used to homemade food only add 10 to 25% to his/her dog bowl each week. It will give your pouch's digestive system some time to adjust to the new items.
5. Make calories count
A 25-pound corgi needs about 870 calories/day. Corgis are quite active so it's critical to make sure they're getting enough calories for their active lifestyle.  Corgis are natural herders so they need more juice than less active breeds.
---
Common Health Issues of Corgis
Back/Joint Problems
This is especially common among older corgis. So if you own a senior dog there's a greater chance it will have such issues vs. other dog breeds. If you sense that your canine is developing joint/back problems make sure to schedule an appointment with a veterinarian to have it checked out.
Hip Dysplasia
This is due to the body structure of corgis. Some signs of this condition include problems rising/jumping/running, joint looseness, narrow stance, and decreased range motion. If your dog shows such symptoms they might be suffering from this condition.
Ruptured Disks
This is another common health condition that's common among corgis due to their structures. It's related to problems with a disk between the individual bones in the spine. This condition is also known as herniated/slipped disk. It involves soft "jelly" getting pushed out via a tear
in the tough exterior.
Skin Problems
This is due to the dog's double coat. It can be triggered through issues like food allergies, pests, and parasites. So it's critical to make sure to watch your Corgi's diet and have it groomed regularly.
---
Key Takeaways
Owning a Corgi can be quite rewarding. This active breed can trace its roots to Southern Wales when it worked as a herding dog. Corgis can still be a joy to own today so make sure to provide them with the right care including the best dog food for Corgis.