The Goldendoodle is a 'crossbreed' of a Golden Retriever and a Poodle, two dogs that are highly regarded for their smarts.
They were first bred in the 1990s in North America and Australia and are often called Golden Poos, Groodles, and Goldie Poos.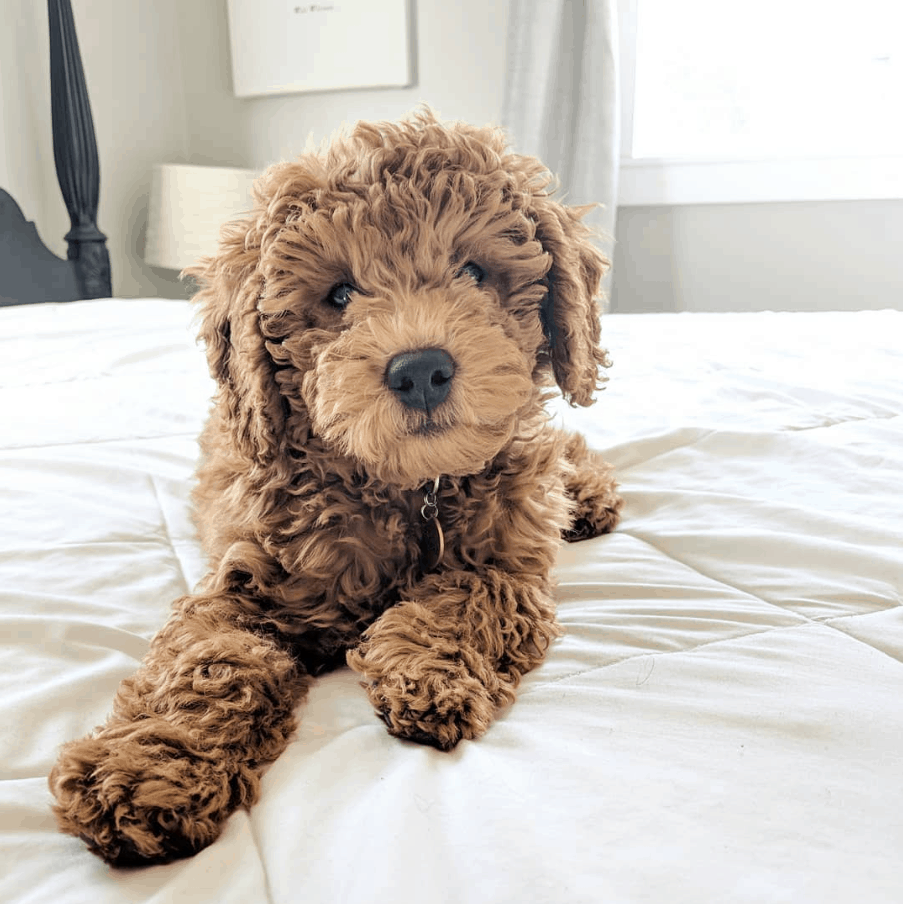 Goldendoodles are friendly, highly intelligent, active, and make great family pets.
Because Goldendoodles can be a cross with either a miniature poodle or a standard poodle, they vary in size and weight:
A miniature Goldendoodle may weigh from 15 to 30 pounds, a medium generally weighs from 30 to 45 pounds, and a standard-sized Goldendoodle weighs upwards of 45 to 100 pounds!
With these varying sizes, purchasing the best dog food for your Goldendoodle is important.
They will have food needs similar to their predecessors, the Golden Retriever and the Poodle, but with their energy level and particular size, choosing dog food like kibble means learning the best combination for a Goldendoodle's needs.
We have read and researched the kind of quality dog food that allows your Goldendoodle to lead a healthy, active life and to ensure they grow into their older years, still feeling like they were young!
Read the reviews and learn about the choices for dog food for your Goldendoodle.
Learning About the Goldendoodle
Goldendoodles are gaining popularity, and you will often see people walking them around neighborhoods and playing with them in parks.
They're considered a 'hybrid' or 'designer' dog that is not registered with the American Kennel Club but are loved and embraced by those who discover their amazing characteristics.
Goldendoodles are affectionate and even-tempered dogs that love their family and enjoy socializing. Being they are overly friendly, they are not typically considered for use as a guard dog.
Home Life
Apartment living may not suit a Goldendoodle like a home with a fenced yard because of their spunky disposition and need for daily exercise.
Apartment owners who can walk their dog several times a day, bring them to a dog park on a regular basis, or have a nearby park, can make the living environment of an apartment work, but it takes time and energy.
Goldendoodles do well in the city or a suburban area as long as they have space to run and can be brought inside at night.
Goldendoodles are not adaptable to living outside full-time or being kept in a kennel. They thrive in a family environment enjoying time with their people! Games of catch, a jump in the kiddy pool, or a hose fight are all appealing activities for a Goldendoodle.
Allergies
For people with allergies, Goldendoodles are more suited because the Poodle side of them is hypoallergenic, but some people have allergies from dander, not the dog's actual fur.
Dander is the buildup of dead skin cells that are shed by all types of dogs, including Poodles.
No dog can be guaranteed to be totally hypoallergenic, but breeds that shed less are more accommodating to people with mild allergies.
Training
Goldendoodles are eager to please their owner, family, and anyone they are with.
This personality trait makes it easy to train these lovable dogs.
They are fast to learn and respond well to positive reinforcement when being taught a new command or trick.
They possess high intelligence and are patient with new requirements and obedience lessons.
Because of their trainability, Goldendoodles are often trained and used as guide dogs and service dogs.
Temperament
With the background of two highly intelligent and friendly dogs, Goldendoodles are naturally friendly and mild-tempered.
They do well around children and often love to be part of the family and join in on games and sports.
Goldendoodles are fine with strangers and are happy when they are with people.
One of their best qualities is their loyalty to their owner and family. You'll almost never find a Goldendoodle growling at a child or other dog.
Health
When two pedigree dogs are bred to create a 'crossbreed' dog, the result is a much healthier dog.
Goldendoodles live longer and remain healthier than their Golden Retriever and Poodle relatives.
A few genetic health issues that may be found in Golden Retrievers or Poodles could be a problem, but it is rare in this resilient crossbreed.
There are typical health concerns to be aware of, as with any breed of dog, so always follow your veterinarian's advice and checkup schedule.
The dog food you choose is a big part of your Goldendoodle's health.
Here are some guidelines to remember when preparing to choose a proper kibble for your Goldendoodle.
Choosing Dog Food for Your Goldendoodle
Kibble is a relatively common dog food and is considered a standard diet for most dogs.
Wet foods can be used but have risks of going wrong and causing food poisoning.
They can contain allergens your dog may have sensitivity to and are more expensive than kibble.
The right kibble will offer specific essential characteristics, so your Goldendoodle gets a whole diet of well-rounded nutrients and ingredients.
And the right food will foster good health and long life for your dog.
Poor nutrition from inferior dog food will open your dog to illnesses a healthy dog can easily fight off.
Our furry friends, our lovable dogs, come from a long line of natural hunters.
Dogs are modern-day, domesticated wolves and remain carnivorous. The digestive systems of wolves included very short intestinal tracts because the food these predators ate was typically raw.
And today's dogs have the same digestive system as their ancestors.
When choosing kibble for your Goldendoodle, keep in mind the energy level of this crossbreed.
They do need daily exercise and love to play like their Golden Retriever and Poodle roots.
Strong muscle needs high-quality proteins and good fats to sustain their energy level.
Calcium, magnesium, and other essential minerals come from minimally processed fruits and vegetables that also help boost their immune systems and provide antioxidants for intestinal health.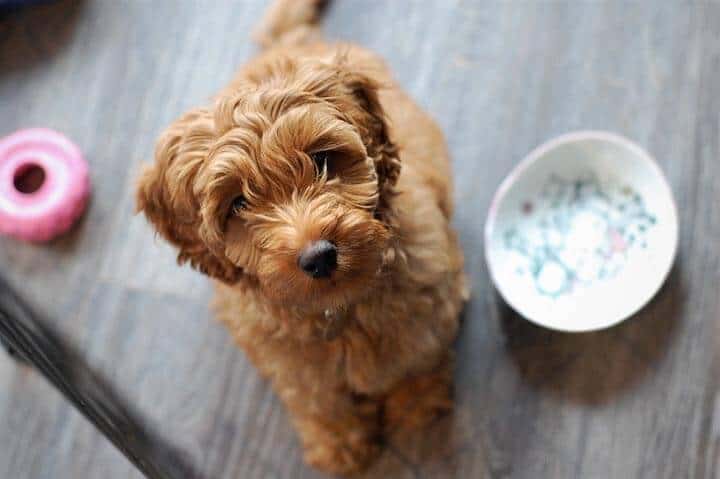 Their curly, thick coat requires good oils in omega fatty acids derived from several different sources. How Much to Feed Your GoldendoodleWhen you first welcome home your Goldendoodle, you may not know what amounts and times to feed your puppy.
As your new family member grows, food amounts and times will change.
How much you feed your dog depends on size, age, build, metabolism, current weight, and activity level.
The recommended daily amount of dry kibble for an adult Goldendoodle is 1 to 4 cups. It's also suggested the total amount of food is distributed in several meals.
This is a handy calculator for your Goldendoodle's profile to figure out the amount of food: Goldendoodle Feeding Calculator
Activity Level
An active dog that gets outside play time and walks several times a day will need more food than a couch potato who prefers to lounge around the house.
It's safe to say no Goldendoodle would choose to be a couch potato as long as they are given ample opportunity to get outside! Be aware of your dog's activity level and increase the time they have to run outside and play.
A Goldendoodle left alone for long periods without being able to have regular activity could become destructive in your home.
Quality of Dog Food
Another factor in feeding your Goldendoodle is the quality of the dog food you purchase.
It's not worth buying cheaper commercial brands if they do not have the proper ingredients.
Whatever meat choice the food is labeled as needs to be the first ingredient listed or, at the very least, the second or third.
The first 5 ingredients are the most important and are listed by quantity.
We reviewed the foods in the article to assist you in choosing the proper food for your dog and the highest quality.
Better quality dog food kibble will go much further than cheaper food for proper nourishment.
The quality of dog food you buy also makes a difference — the better the dog food, the further it will go toward nourishing your dog, and the less of it you'll need to shake into your dog's bowl.
If your dog's bowel movements are quite large, this could be a sign the food you're giving him is a lower quality and not being utilized by his system.
Smaller bowel movements indicate a higher quality food his body is able to absorb and make use of readily.
Feeding ScheduleIt's common for Goldendoodle owners to measure their food in two feedings instead of leaving the food out all day.
Goldendoodles can be prone to gastric torsion or bloat, which makes feeding them several meals a day less likely to aggravate their intestinal system.
This is a trait that can be passed on to their offspring.
Gauge what works best for your dog, and try to stick to the same feeding schedule, even if you're traveling.
Checking if Your Goldendoodle is Overweight
If you're not sure if your dog is overweight, try these two tests.
While you're standing and your dog is standing, look down at him.
You should be able to see his waist and not see fur bulging out from his body frame.
Next, place both your hands on his back right behind his neck. Run your thumbs along his spine with your fingers pointing downward.
You should be able to feel his rib cage even though you can't see it.
If you don't feel his ribs or his stomach bulging from their body frame, he may need to be fed less food.
Caloric Intake
An adult Goldendoodle who is active has the chance to run, play, and go on frequent walks and weighs an average of 45 pounds, and would need at least 1300 calories daily.
Dogs that are older and have been neutered require fewer calories, and still, a young Goldendoodle puppy needs fewer calories, but this would depend on your puppy's activity level.
Remember to use this handy feeding calculator made specifically for Goldendoodles.
Goldendoodle Feeding Calculator
Below are the best brands of dog food we found that meet the needs of a Goldendoodle.
We also specified the flavors most likely to work best for your dog.
Top 5 Dog Food for Your Goldendoodle
Taste of the Wild is a popular dog food with uniquely chosen protein sources, natural vegetables and fruits, and complete nutrition ingredients like complex carbohydrates from legumes and sweet potatoes.
Taste of the Wild ensures that the proteins they include in their kibble are easily digested and high in fiber.
This particular mix of Venison & Bison gives your Goldendoodle the proper protein for strong muscles and provides good oils to help keep their coat smooth and shiny.
Taste of Wild includes fruits and vegetables that add the right amount of antioxidants to promote healthy skin and organs.
Your dog will love the flavors of bison and venison, flavors that take them back to their ancestral roots!
PROS
Real meat roasted bison is the #1 ingredient
A natural kibble with added vitamins & minerals
Made with no grain, corn, wheat, or filler.
No artificial flavors, colors, or preservatives
Made with the most scientifically advanced food safety protocols
CONS
Check the bottom of the bag. Several customers had a problem with mold in the bad from moisture.
---
BLUE is a family-owned business inspired by the family dog's health issues requiring better dog food.
They only use real meat and never add by-products.
This Chicken and Brown Rice recipe is appealing for your Goldendoodle, who may not like the stronger flavors of venison or bison.
This Life Protection Formula includes BLUE'S exclusive LifeSource Bits, a special mixture of additional vitamins, minerals, and antioxidants.
These LifeSource Bits are cooked separately at a lower temperature to preserve their potency and added to the other natural ingredients in all BLUE dog foods.
Your dog will love this high-quality dog food's fresh, natural flavors.
PROS
Made with delicious, protein-rich, deboned Chicken
Contains wholesome whole grains, garden veggies, and fruit
Contains BLUE's exclusive LifeSource Bits
No corn, wheat, soy, or chicken by-products
No artificial colors, flavors, or preservatives
CONS
Check the bad for possible bug infestation reported by several customers.
---
Diamond Naturals makes all their dog food with a combination of complete, holistic nutrition ingredients.
They include Superfoods and kale, chia seed, pumpkin, and blueberries.
These fresh ingredients are sources of antioxidants, vitamins, minerals, fatty acids, and proteins needed to keep your Goldendoodle happy and healthy.
This beef flavor dog food is made with real, natural beef meal and enhanced with egg, rice, and flaxseed.
The beef flavor entices your dog to eat and enjoy this natural, healthy formula!
PROS
Made with real PASTURE RAISED beef
Includes natural antioxidants; fatty acid blend for healthy skin and coat
No corn, wheat, or fillers
Contains no artificial flavors, colors, or preservatives
Made with the most scientifically advanced food safety protocols
CONS
Some customers dog's got runny diarrhea from this food
---
The Wellness Core Natural Grain Free Dog Food is a protein powerhouse made with 80% more meat than other traditional kibbles that contain grain.
They never add animal by-products to their food, and there are no artificial ingredients.
Natural ingredients like fresh fruits and vegetables, including spinach, apples, broccoli, carrots, and blueberries, and high-quality carbohydrates supply your Goldendoodle with hours of energy and stamina.
CORE also creates the perfect recipe, so each bite is a nutrient-dense morsel throughout your dog's entire meal.
Omega fatty acids and antioxidants keep skin and fur healthy and disease free.
Your Goldendoodle will love this prairie animal mixture, reminiscent of their natural hunter ancestors.
PROS
100% grain-free
Premium proteins, including duck, lamb, turkey, wild boar, and rabbit
No meat by-products, artificial colors, flavors, or preservatives.
Live active probiotics, prebiotics, and fiber promote healthy digestion
Nutrient-dense formula
CONS
Check the bottom of the bag. Several customers had a problem with mold in the bag from moisture.
---
Merrick Grain Free Dry Dog Foods are 'cooked' in their own kitchens, not manufactured, and they have been doing this for over 25 years to create the best dog food for your furry friend.
Your Goldendoodle will enjoy the real duck and sweet potato mixture made with real, whole foods sourced from local farmers in the Amarillo, Texas, area.
Merrick's pet foods are grain free and made with high-quality protein as the number one ingredient.
They include farm-fresh fruits and vegetables like sweet potatoes, blueberries, peas, and more for well-balanced recipes.
Your Goldendoodle should appreciate the fresh duck flavor of this high-quality food.
This dog kibble contains a majority of duck to help build healthy muscle and maintain healthy skin.
Omega fatty acids and glucosamine support joint health and a shiny coat.
PROS
#1 ingredient is real deboned duck
Grain-free
Omega 6 and Omega 3 fatty acids aid in healthy skin and coat
Contains glucosamine and chondroitin for healthy hips and joints
Cooked in Merrick's own organically certified kitchens
CONS
Dog owners noticed foul-smelling gas from their pets.
---
Feeding and Caring for Your Goldendoodle For a Long Life Together
Goldendoodles make the perfect family dog.
They are low-shedders, fun-loving dogs. Their personality includes the clever, silly antics of a poodle with the loyal, calm, loving characteristics of the Golden Retriever.
Their well-rounded personality makes them a favorite with families and single owners alike.
The list of good points a Goldendoodle posses include getting along with cats, getting along with other dogs, being good with children, and friendly to strangers, they're adaptable, easy to train, love cuddling and affection, and even make good guide dogs.
The Goldendoodle enjoys good health and is easy to take care of. They make an excellent choice for the new dog owner who may be anxious about owning a furry friend.
A Goldendoodle will follow its owner and family anywhere and love to please. They do not have any special food requirements except for you to purchase the best dog food for your Goldendoodle to promote good health and a long life.
The food options for Goldendoodles are endless, and you can even dig further into organic choices and homemade meal preps.
Be aware of what you feed your new family member, avoiding table scraps or excessive dog treats.
Remember to keep track of your Goldendoodle's weight and activity level, looking for weight loss or weight gain.
There's nothing quite like the loyalty of a family pet or a dog with one owner who enjoys the company of a doting dog.
If you choose to buy a Goldendoodle and fall in love with their personality, you've made a great choice!