Wondering what you should feed your English Bulldog?
Well, don't worry! I've got you covered.
Today I'll be discussing Bulldog nutrition and the best dog food for English Bulldogs available on the market.
You should always ensure that you take good care of your furry buddy's diet so your dog can live a long, happy, and healthy life.
Let's get started.
The Food Review: The Yays and Nays
Below is a list of the best dog food for English Bulldogs.
We will review each of these in greater detail later in the article.
A Quick Background about Your English Bulldog!
So, before we get into those dog foods and their reviews, let's talk about your English Bulldog first!
Let's talk Bulldog bodies and basic nutrition!
An average English Bulldog grows up to be between 40 to 50 pounds. But, mind you…
The dog isn't fat! He's muscular, meaty, and very dense. Your Bulldog should consume roughly 30 to 40 calories for each pound of weight.
So if your Bulldog weighs 40 pounds, it'll need at least 1200 calories daily.
Be watchful of your dog's diet. Some dog owners might get away with overfeeding if their dog is active and lean.
But due to their big build, Bulldogs can put on weight quickly. They are genetically predisposed to weight gain through no fault of their own.
Because of this, some English Bulldog owners prefer leaner foods or foods with more protein and fiber and less fat content.
Other things to watch out for on the food label are carbohydrates. Carbs are hidden packets of sugar.
Once digested in the body, carbs turn into glucose. And if glucose is not used for energy immediately, it is stored.
Most folks associate Bulldogs with the lazy dog, lying around all day with its head on its paw and only lifting their eyelids to peek around.
This is a common misconception. Bulldogs are far from lazy creatures. Bulldogs wisely reserve their energy and are packed with power!
It is also good to routinely observe your dog's health, skin, fur, and overall condition.
The sad thing is certain types of food can cause allergies and give your little friend digestive issues. Food can affect even the most minor things.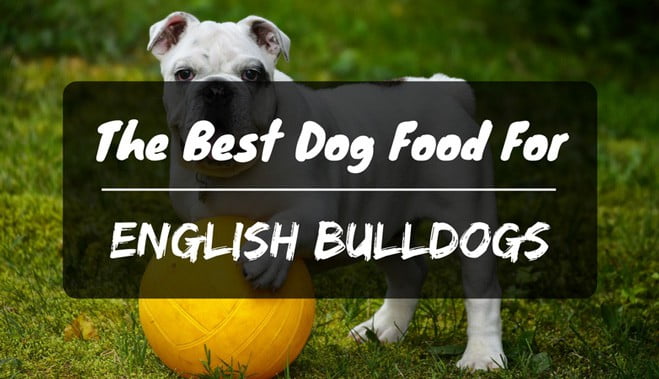 Keep an eye on your dog's food, and you'll be better off.
What Should You Feed Your English Bulldog?
I'll help you out with this one!
According to the National Research Council, adult English Bulldogs with an active lifestyle need about 1300 calories daily.
And, if your Bulldog is younger, they should take in at least 1500 calories to sustain proper growth.
But there's more.
We also need to talk about macronutrients.
Your adult English Bulldog needs at least 18% protein in his diet, and a puppy needs more of that goodness, so you should aim to feed him about 22% protein.
Keep in mind protein is fundamental to your pup.
When it comes to fat, it should be between 5-8% of your English Bulldog's diet. 5% is ideal for younger puppies, while 8% is good for adult dogs.
And now we come to the carbs! You should aim to feed your dog roughly 60-70% of carbohydrates.
Let's dive deeper into the various food options.
The Best Dog Food for English Bulldogs: Detailed Reviews
I know you love your dog more than anything, so I have the best dog food for English Bulldogs summed up for you.
Now, let's talk about all these dog foods in detail.
---
The Canine formula Taste of Wild dog food has gotten a lot of amazing reviews from English Bulldog owners from all across the globe.
And for a good reason!
Here are the features and notable points.
This is a grain-free formula and contains high-quality ingredients like sweet potatoes and peas
The ingredients are highly digestible for active dogs, and the food also contains real vegetables and fruit
This dog food is made of real roasted meat, and your dog will surely love the taste of this!
This food contains 370 kcal per cup
This dog food has superior quality ingredients like beef, potato protein, and supplements like biotin and sodium selenite that will make your dog really happy and healthy!
A good option, indeed.
So, let's dig into the pros and cons.
Pros:
Grain-free formula
Highly digestible by English bulldogs
Good-quality ingredients
Cons:
May cause an upset stomach
---
The Wellness Core Natural grain food is also one of the best choices when looking for the best quality dog foods for your English Bulldog!
What I like about the Wellness Low Fat Dog Food is that it's all-natural.
A lot of dog owners have trusted this brand, and for a good reason as well. Let's explore why.
The following are the highlights:
This is a grain-free meal that will ensure that your dog friend won't get his stomach irritated!
This meal is a protein-focused one that has rich and premium sources of protein like Turkey and Chicken
The thing that I really appreciate about this dog food is that this is an all-natural food which also contains some and premium ingredients which are bound to make your dog friend just love this food!
A pretty good product all around, with lots of happy dog owners!
Let's weigh the pros against the cons.
Pros:
All-natural premium quality ingredients
Grain-free
Protein-focused meal
Cons:
May cause an upset stomach
This is a good option for English Bulldogs having higher protein and less fat. I feel that this one deserves a spot on my list of the best dog food for English Bulldogs!
On to the next one!
---
I feel that Royal Canin is one of the most trusted brands when it comes to dog food.
The company has been around for a long time and makes a wide variety of foods that are breed specific.
This dog food is made of good-quality ingredients that are great for your dog's health, making it one of the best dog food for English Bulldogs!
Let's look at the features real quick.
The food contains fibers that help with a sensitive digestive system that some English Bulldogs tend to have
The good thing about this dog food is that it contains only good quality ingredients so that you know that your dog is getting the best of the best!
This food also contains ingredients that help in protecting the joints and helps with inflammation
This food also contains strengtheners for the dog's skin!
You really cannot go wrong with Royal Canin!
Now, let's talk about the pros and cons.
Pros:
Ingredients help with a sensitive digestive system
Good quality ingredients
Helps protect the skin barrier
Cons:
---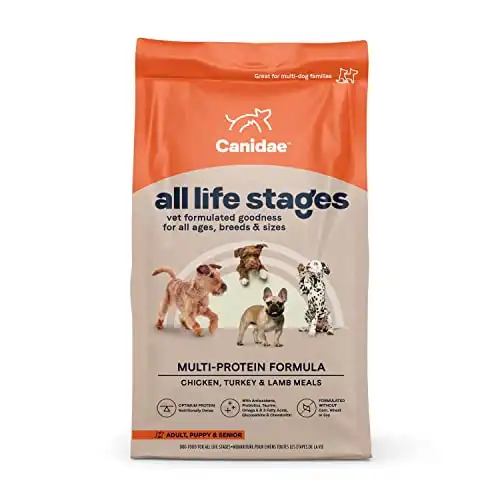 The Canidae Life Stages dry dog food is a great one for Bulldogs mainly because it is made with premium ingredients and contains an optimum amount of protein.
The balance of meat from multiple protein sources makes this a great choice!
Let's talk about the key features.
The food contains a variety of meats like turkey, chicken, and lamb, as well as fish which are all dense in nutrition and really good for your dog!
This dog food only has premium ingredients and no added wheat, corn, or soy
This food provides balanced nutrition to your English Bulldog and takes care of all his needs!
You should really try this one for your English Bulldog. They'll absolutely love it!
Now, let's weigh the pros against the cons.
Pros:
Contains a variety of good-quality meats
No 'filler' ingredients
Only premium-quality ingredients
Cons:
Can cause an upset stomach
Overall a pretty good choice.
Okay, on to the final one!
---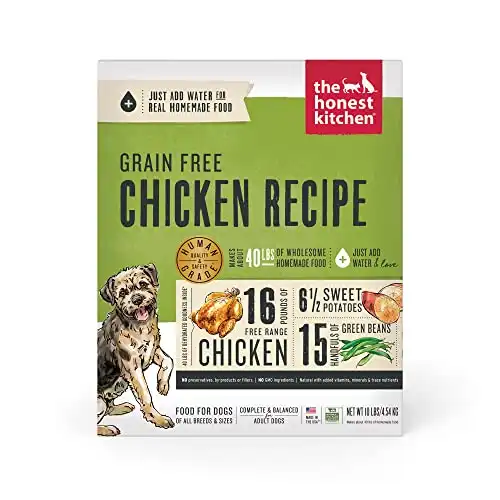 This is an amazing food for your dog! What I like about this brand is that it is minimally processed and made with good-quality ingredients.
The clean ingredients and grain-free recipe make this one of the best dog food for English Bulldogs.
This is a very good choice if your pup is exhibiting allergies because of the simple and minimal process and no additives.
Let's look at the features in detail.
This one is a grain-free dog food made with superior-quality free-range chicken
Moderate calories, which is a plus point for your dog
Minimally processed meats which are made with dehydrated whole-food ingredients
This is also made with 100% human-grade meat
And this is all-natural dog food!
Pros:
All-natural dog food
Human grade meat
Grain-free
Minimally processed
Cons:
Quick to expire
May cause loose stool
Sounds pretty good, right?
Some Important Things That You Should Know About Your English Bulldog!
So, before you jump in and buy your English Bulldog a ton of good food, here are a few things you should know.
And I'm sure you'll be surprised!
A problem that the Orthopedic Foundation for Animals warns English Bulldog owners about is that the dog tends to be prone to a condition called hip dysplasia.
So, you need to take better care of your dog and feed him foods only from good healthy dog food brands.
Focus on proteins and ingredients good for joints, like turmeric and astaxanthin.
Now let's talk about a few other facts that I'm sure are not as commonplace.
Slow Growers
English Bulldogs tend to develop and grow at a slow pace.
In fact, they reach full physical maturity a lot later than the average dog – at about 2 to 2.5 years of age.
Less Active?
English Bulldogs might not be consistently active. Though they tend to lay around the house, owners should walk them regularly.
Short Nose Issues
The breed is short-nosed, and like other short-nosed dogs, this leads to issues.
Exercising in hot or humid weather may be very problematic for their nasal path and lead to sinus problems.
Bulldog Health Issues to Look Out For
Short-nosed dogs like the pug, boxer, shih tzu, and the bulldog have to deal with potential breathing issues.
The flat-faced breeds can experience partial or full blockage of the upper airway from which their nose breathes.
Narrower nostrils and a longer, softer palate can lead to shortness of breath.
Some symptoms to look out for include short and quick breaths, panting, snoring, gagging, abnormal swallowing, and failure to exert any physical energy.
Although calming down and resting might alleviate your pup temporarily, any of these symptoms should prompt professional advice.
Dogs are much like humans; some individuals experience more severe allergies than others.
Some pups exhibit skin allergies and eczema, while others may have extra dry and flaky skin.
Either way, best to keep an eye on your dog's diet and how they respond to changes in food and ingredients.
Although our list of the best dog food for English Bulldogs is highly recommended, we also implore owners to check out other options, including homemade dog meals and organic dog food.
If your pup has sensitive skin, we recommend Focus Sensitive Skin/Stomach Dog Food by Purina Pro Plan.
Focus is a Purina Pro Plan product for dogs with sensitive skin and stomachs and is a great option for Bulldogs experiencing skin issues.
Here is a list of the best dog food for English Bulldogs with skin allergies.
The Best Dog Food For English Bulldogs: A Quick Recap!
There are a lot of food brands available in the market, but not all of them are the best for Bulldog nutrition and needs.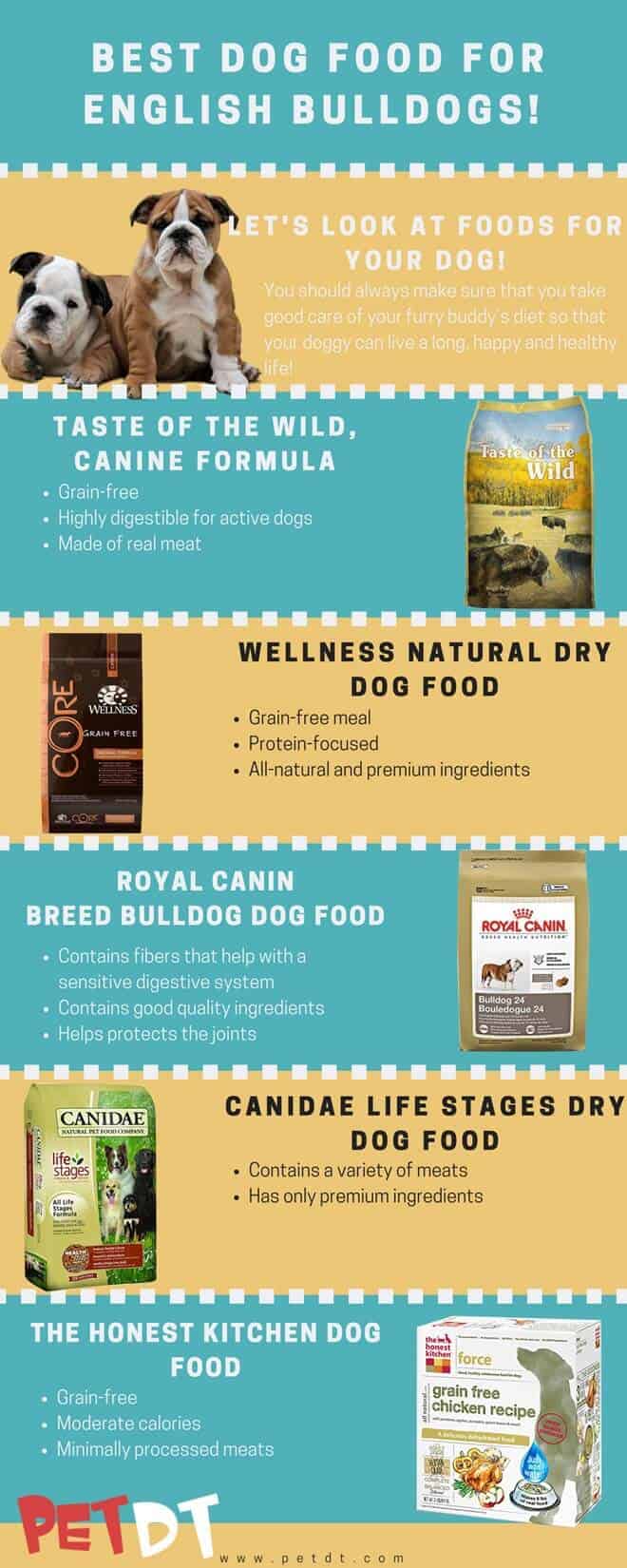 Why?
Well, your dog is a unique breed, and he needs nutrients in his food that are of very good quality and help address the medical concerns of your furry friend.
So, that leaves us with a handful of foods we can call the best dog food for English Bulldogs.
Best Dog Food Brands for English Bulldogs
Let's talk about all the brands quickly.
You now know five of the best dog food for English Bulldogs. It is up to you to decide which one is best for your dog.
Each and every dog is different, and you'll need to tweak their nutrition accordingly!
Thank you for reading. We hope you've found this helpful!