Do you really know where the dog food you buy actually comes from?
The truth is that we don't really know what is present in the bag of food that we buy for your furry friends!
Premade dog food consists of a lot of unhealthy things that are bad for your dog's body, like, preservatives, sodium, pesticides, etc.
And we really don't know where these ingredients come from
Homemade dog food is indeed more nutritious and healthy for your dog.
And it is not really hard for you to make dog food at home!
In this blog post, I'll go through a few reasons why you should make dog food at home and will teach you 13 easy (and yummy) recipes that your dog will love.
So, let's get started!
Why Should You Make Homemade Dog Food
Since the day that I got my puppy, I've only been feeding him home-cooked meals. And my dog doesn't even like dog food at this point!
In this section of the article, I'd like to go through a few reasons why you should be immediately switching to homemade dog food.
So, let's look at a few of these reasons, shall we?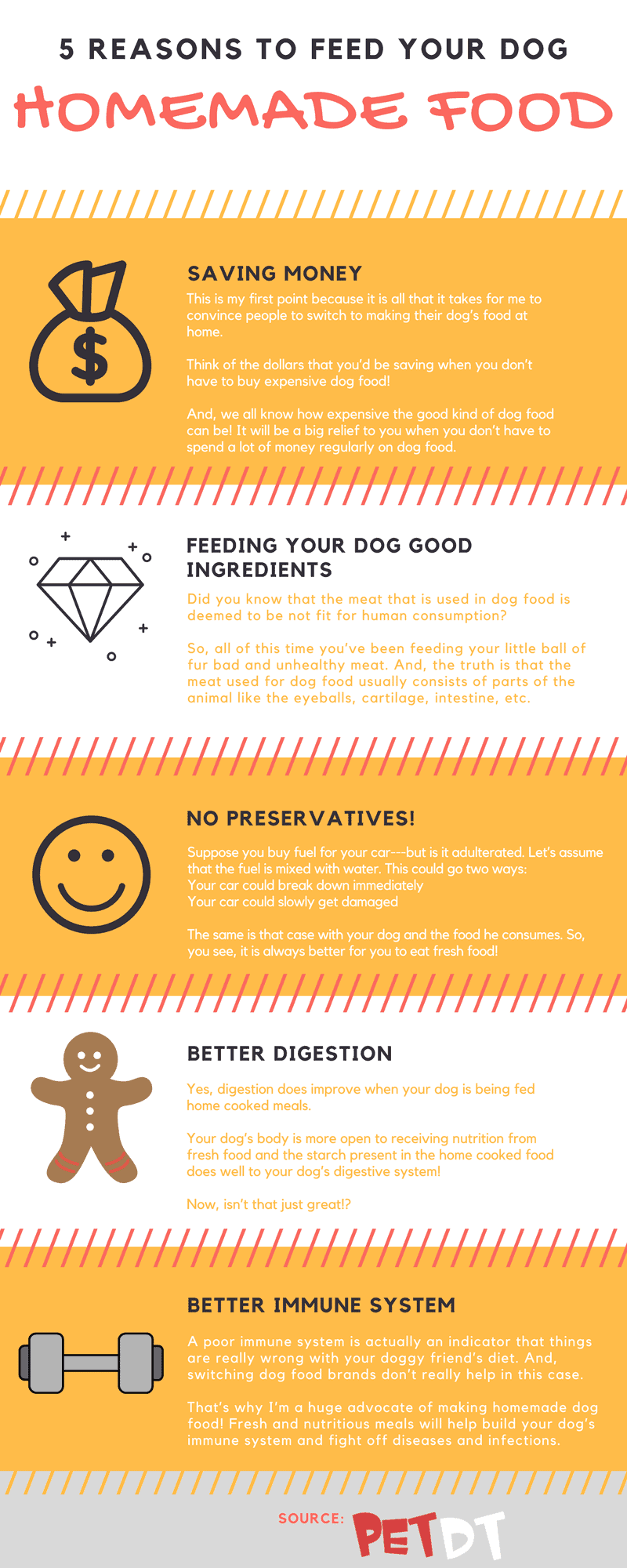 Saving Money
This is my first point because it is all that it takes for me to convince people to switch to making their dog's food at home.
Think of the dollars you'd save when you didn't have to buy expensive dog food!
And we all know how expensive the good kind of dog food can be! It will be a big relief to you when you don't have to spend a lot of money regularly on dog food.
Moving on…
Feeding Your Dog Good Ingredients
Did you know that the meat that is used in dog food is deemed to be not fit for human consumption?
It's true!
So, all this time, you've been feeding your little ball of fur bad and unhealthy meat.
And the truth is that the meat used for dog food usually consists of parts of the animal like the eyeballs, cartilage, intestine, etc.
Isn't that just cringe-worthy?
Now, if you make your own dog food at home, you know exactly what you're putting in it: legumes, meat, dairy, etc.
So, you don't need to do a lot of guesswork or worry a lot about the ingredients of the dog food!
No Preservatives
Any and every type of processed food has preservatives in it.
Yes, including the Greek yogurt pack you bought from the grocery store!
So, it is always best if you cook your food (and your dog's food) yourself to know that the food you're consuming is:
Fresh
Free of any filler ingredients
Now, let's take the example of a car.
Suppose you buy fuel for your car—but is it altered. Let's assume that the fuel is mixed with water. This could go two ways:
Your car could break down immediately
Your car could slowly get damaged
The same is the case with your dog and the food he consumes.
So, you see, it is always better for you to eat fresh food!
Better Digestion
Yes, digestion does improve when your dog is fed home-cooked meals.
Your dog's body is more open to receiving nutrition from fresh food, and the starch present in home-cooked food does well for your dog's digestive system!
Now, isn't that just great!?
Better Immune System
Is your dog prone to infection and disease?
A poor immune system is actually an indicator that things are really wrong with your dog's diet.
And switching dog food brands doesn't really help in this case.
That's why I'm a huge advocate of making homemade dog food!
Fresh and nutritious meals will help build your dog's immune system and fight off diseases and infections.
Talking to Your Vet Before Making The Switch!
You should always consult your vet before changing or switching your dog's food.
The thing is that your vet knows much more about your dog's nutritional needs than you do, and it's always a good idea to take advice from someone who's a professional.
After all, you don't want to hurt your dog unintentionally, right?
So, if you get a green light from your doctor, you're all set to make a switch!
But make sure to introduce the homemade dog food to your dog slowly…
I have also written about a few good dog foods available in the market, which you can read about here.
13 Easy And Healthy Recipes You Need To Try Out!
Do you think it is hard to make dog food at home?
Well, to be fair, cooking for your dog twice a day could be hard for working folks—after all, in this day and age, we don't even cook for ourselves very often!
But, in this section, I'll make it extremely easy for you to make some awesome food for your dog in your kitchen.
And remember that most of the recipes I'll be sharing with you can be batch-made on the weekend, and you can simply freeze them for the week to come!
Isn't that just amazing!?
So, let's look at the recipes!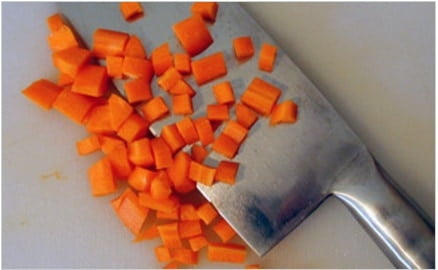 Beef Stew

This one is a healthy alternative to canned food and this recipe can be stored in your fridge for 5 days and is rich in vitamins and minerals.
Ingredients Required
1 pound beef meat
1 sweet potato
1/2 cup diced carrots
1/2 cup diced green beans
1/2 cup flour
1/2 cup water or vegetable oil
(For approximately 4 cups)
Directions
Cook sweet potato in a microwave oven for 5 – 8 minutes until it is firm yet tender. Set aside.
Slice stew pieces into small nickel-sized chunks.
Cook the stew in vegetable oil over medium heat until well done.
Remove the beef from the pan while reserving the drippings.
Dice the sweet potato.
Heat the reserved drippings over medium heat and add water and flour slowly to the dripping while you whisk it to make a thick gravy.
Add the carrots, sweet potato, meat, and green beans to the gravy and stir.
Cook the gravy until the carrots are tender and serve.
You can store the remaining stew in the fridge for five days.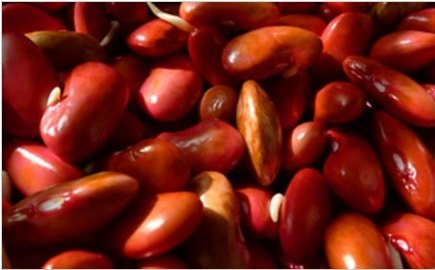 Easy Crockpot Beef & Rice Meal

This recipe is easy to cook and perfect for beginners. You can make 11 cups of food following these directions!
Also, the meat content on this one if off the charts!
Ingredients
2 ½ lbs ground beef
1 can of drained and rinsed kidney beans
1 ½ cup brown rice
1 ½ cup carrots (chopped)
1 ½ cup butternut squash (chopped)
½ cup frozen peas
4 cups water
Total: Makes approx 11 cups
Directions
Add all of the ingredients in a crockpot with 4 cups of water and stir.
Cover the crockpot and cook the food for about 5 or 6 hours on low heat or for 2 to 3 hours on high heat
Stir when needed and let it cool to room temperature.
That's it!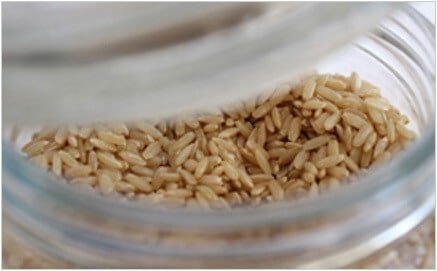 Turkey, Rice and Veggie Mix

This recipe contains lean meat and good fiber that'll help your dog keep the weight off. You can also store this easy homemade dog food recipe for up to five days in the fridge!
Ingredients
6 cups of water
1/2 packet frozen carrots, broccoli, and cauliflower
2 cups of brown rice
1 pound of ground turkey
1 tsp dried rosemary
Total: Makes approximately 12 cups of dog food.
Directions
Place ground turkey, water, rosemary and rice into a Dutch oven.
Stir until the turkey is broken up and is distributed evenly throughout the mixture.
Bring the mixture to a boil over high heat and then switch to low heat.
Let it simmer for about 20 minutes.
Add in the frozen vegetables, and cook the mix for an 5 more minutes.
Remove the dish from heat and let it cool. Alternatively, you can refrigerate the meal until it is ready to be served.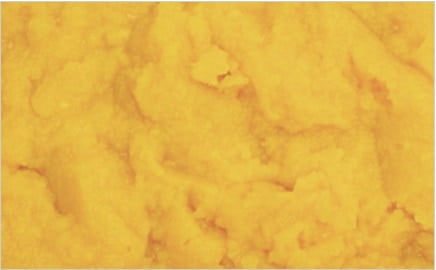 Pumpkin Dog Biscuits

With this recipe, I wanted to help you make some awesome and yummy treats for your dogs that are also great for his tummy!
Ingredients
2/3 cups of pumpkin puree
1/3 cup of extremely cold water
1 large egg (optional)
2 cups of brown rice flour
2 1/2 tablespoons of flaxseed or olive oil
Total: Makes approximately 24 balls
Directions
Preheat the oven to 320 – 350 degrees and use two baking sheets or baking paper to help you avoid sticking.
Mix the lightly beaten egg with pumpkin in a container until it is smooth. Alternatively, you can also smooth the pumpkin puree if you do not wish to use eggs or of your dog is allergic to eggs.
In a large bowl, combine brown rice flour and flaxseed oil.
Whilst constantly stirring the mixture, add the pumpkin to the rice and then slowly add some water. Make sure you also leave some rice to use as toppings for the cookies.
Thoroughly mix the ingredients with your hands.
Use the two pieces of waxed or baking paper, roll out the dough to a thickness you desire.
Remove the baking paper on the top.
Pour the rice flour evenly onto the top of the dough and press it lightly to the baking paper.
Cut the cookies in a size you desire and remove the paper.
Place them in the oven until their top is dry completely or for about 35 to 40 minutes.
Let the cookies cool and store them in a dry glass or plastic container until your dog is ready to eat them.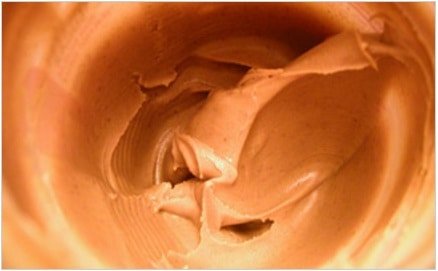 Frozen Banana Treats

This recipe is simple and is something that your dog would love a LOT after long walks on a beach on a sunny day or after obedience training. It only requires three basic ingredients.
Ingredients
4 cups of plain yogurt
2 tablespoons of peanut butter
3 peeled, ripe, & mashed bananas
Total: Makes approx 8 treats
Directions
Blend all of the ingredients together to a puree.
Pour the puree into 4 oz ice trays or plastic cups (whichever you personally prefer)
Freeze them overnight or until firm.
You can keep these in the freezer for up to two weeks!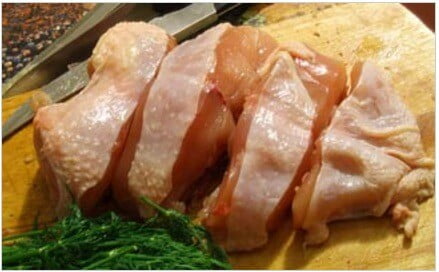 Chicken Jerky Strips

Dogs love jerky stripes but the truth is that store bought ones contain a LOT of added preservatives and other non-healthy stuff. This recipe is a perfect replacement for the store bought kind.
Ingredients
2 or 4 skinless, boneless chicken breasts
Total: Makes approximately 10-20
Directions
Preheat the oven to about 200 degrees
Trim out all of the excess fat from the chicken breasts
With the help of a paring knife, cut the chicken breasts into ⅛ inch thick stripes
Bake the strips for about 2 hours on a baking sheet until the strips dry out and become hard
But, don't serve these to your dog fresh out of the oven! Let them cool completely.
Peanut Butter Cookies
We all love peanut butter, right!?
This is one of my dog's favorite recipes and mine, too because it I sneak in some fish oil which is amazing for my dog's coat and skin. After all, we all want our dogs to have a luscious and shiny coat!
Ingredients
2 cups flour
1/3 cup smooth peanut butter
1 tablespoon honey
1 cup rolled oats
1 1/2 cups of water
1/2 tablespoon of fish oil
Directions
Start by preheating the oven to 350 degrees.
Mix the oats and flour together in a big mixing bowl. Pour in a cup of water and blend it until it is smooth.
Add the peanut butter in along with fish oil, and honey and mix it until all the ingredients are blended.
Keep adding water in until the mixture has a doughy and thick consistency.
Flour your cooking surface lightly and roll the cookie dough onto the surface area to create a thick sheet of dough.
Using a cookie cutter, create some shapes your dog may like
Place cookies onto a baking sheet and start baking for 40 minutes.
Allow the cookies to cool completely before serving them to your dog!
The Old Standard
Ingredients
2 carrots, shredded
1 1/2 cups brown rice
1 tablespoon olive oil
3 pounds ground turkey
1 shredded zucchini
1/2 cup canned or frozen peas
3 cups of chopped baby spinach
Directions
Add 3 cups of water in a large saucepan and cook rice as per package instructions and put them aside for later
In a Dutch oven or a large stockpot, heat some olive oil in a large over medium heat. Add the ground turkey as you cook it until it is browned, (for about 3-5 minutes) and make sure to crumble the turkey as you cook it.
Stir in the carrots, spinach, peas, zucchini, and brown rice until the spinach wilts. Make sure that the food is heated through for about 3-5 minutes. Let it cool completely before serving it to your dog!
Scooby's Stew
An easy winner for the best homemade dog food for you and your dog as it is yummy as well as easy to make!
Ingredients
1 1/2 cups of brown rice
2 shredded carrots
1 tablespoons of olive oil
1 shredded zucchini
3 lbs of ground turkey
1/2 cup peas
3 cups chopped baby spinach
Directions
Place the ingredients in a slow cooker so that the chicken is covered completely with the veggies
Slow cook 5 hours if you are cooking on high heat or for 8 hours if you are cooking on low heat
Remove the stew from the slow cooker, shred the chicken and stir it into the rice and vegetable mixture until everything is distributed evenly
You can cover the stew and store it in the fridge for up to three days or you can even freeze the single servings as needed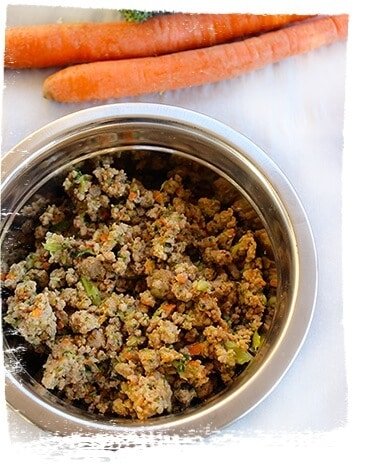 Chicken & Veggies in the Slow Cooker

Dog loves chicken and veggies are rich in micro nutrients! So, together they make a yummy and filling homemade dog food!
Ingredients
2 -3 pounds of skinless boneless chicken breasts and thighs
2 c. of frozen peas
1 cubed sweet potato
2 seeded, cubed medium apples
2 sliced carrots
1 can of drained and rinsed kidney beans
2 c. green beans (frozen)
2 tbsp olive oil
Directions
Place the meat into the crockpot as you add some water into it so that it covers the chicken.
Add the carrots, potato, green beans, kidney beans, and apple to the cooker as well.
Cook the food on low heat for about 8-9 hours and add the frozen peas when you feel that it is about done, and cook for another 30 minutes.
When finished cooking, drain the excess liquid off, add some olive oil, and stir to mash!
Let the mixture cool and scoop out daily servings into Ziploc bags to freeze.
You can remove one Ziplock bag and keep it in the fridge to defrost it overnight.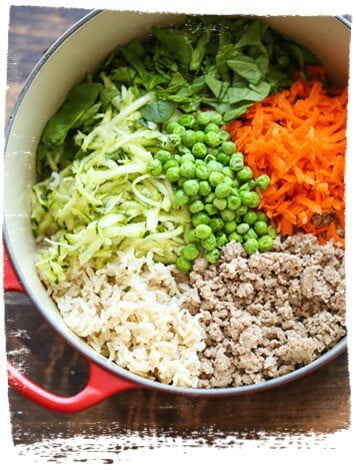 Turkey & Veggie Mash

Turkey is amazing for the dogs who want to lose a bit weight and veggies are full of fiber and super nutrients!
Ingredients
2 lbs lean ground turkey
1 cup cauliflower
2 tablespoons diced or pureed raw chicken or turkey liver
1/2 sliced zucchini
2 coarsely chopped medium carrots
2 tablespoons of olive oil
1 cup broccoli
Directions
Add some water to a double boiler and place the carrots in a steam basket over the pot and cover it.
Heat until the water starts boiling and then, reduce the heat to a low boil and steam until the carrots start to tender, for about 10 minutes.
Next, add the turkey to a large skillet and cook it over medium-high heat until it is done and you see no more of the pink color. Drain the fat off and discard.
Add the cauliflower, broccoli, and zucchini, and continue to steam for 6-8 minutes until all of the vegetables are tender. Let the vegetables cool slightly and then chop them using a knife or in a food processor.
Add the chopped vegetables to the turkey and stir them to combine.
Add olive oil and toss it in the turkey & veggie mixture. Allow it to cool before freezing it!
Chili
Everyone enjoys chili, and your dog isn't an exception! This is an extremely fast and easy recipe!
Ingredients
4 Carrots
1 can tomato pastes
2 Tbsp Butter
No salt Beef broth
1 lb Ground Beef
Can of Corn (Optional)
Directions
Boil the macaroni beforehand and then cook the beef in a frying pan.
Add butter, corn, carrots, and the tomato paste to the beef and cook it for 5 minutes.
Next, add the beef mixture to your casserole dish and also add your beef broth.
Finally, put the food in an oven at 350 degrees and cook it for30 minutes. After letting it cool, refrigerate it!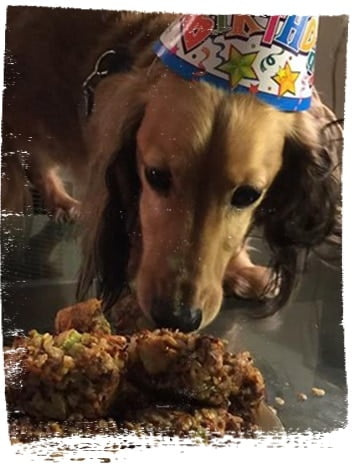 Meat Cakes

Meat cakes are always a nutritious and healthy choice for your dog. Trust me, your dog will not be able to say no to these easy and simple meat cakes!
Ingredients
1 1/2 cups brown rice
1 lab pack of Ground Beef
3 cups of water
8 eggs
2 large grated potatoes
1 dash of salt
4 large grated carrots
1/4 cup of olive oil
2 large chopped celery stalks
1 1/2 cups rolled oats
Directions
Preheat the oven to 400 degrees F and grease 36 cups of muffin tins with butter.
Combine the rice with water in a medium saucepan and bring them to a boil over high heat and cook it for 10 minutes.
Reduce heat to low and simmer for about 20 minutes. Remove it from heat, let it cool several minutes and later fluff it using a fork and set aside.
In a large bowl, combine the carrots, potatoes, ground beef, celery, and eggs. Mix these ingredients using your hands. Also add rolled oats, olive oil, salt, and rice and mix well.
Fill the muffin cups with the meat mixture and pat it down to make it firm. Bake the cakes 45 minutes and let it cool for 10 minutes.
Treat time!
Did you know that there are certain ingredients in your kitchen that are healthy for dogs and can make great treats?
My dog likes to eat the following foods:
But make sure that you don't feed your furry friend these before reading about them!
There are certain precautions that you'll need to follow in order to reap the health benefits of these!
A Quick Recap!
Switching from processed and packaged dog food to homemade dog food can save you a lot of money and positively affect your dog's health in the long run!
But you should always make it a point to consult your vet before making any changes to your dog's food.
After all, the vet knows an awful lot more about your dog than you do.
I really hope you found the recipes that I shared with you easy and helpful! Please leave comments if you would like me to add more recipes!