The Papillon is a small dog with very large distinct-shaped ears. The breed is named after the French word "papillon," meaning "butterfly" for their butterfly winged ears.
Papillons are petite and measure 8-11 inches at the shoulder. Although Paps are seldom picky with their food, we have reviewed the best dog food for Papillons available on the market to give you plenty to choose from.
Below is a quick overview of the top 5 dog food for Papillons. We will provide a more in-depth review of each food below.
Description:

Ideal for any age

Quality ingredients from trusted sources



No corn, wheat, or soy

Description:

Real meat is the primary ingredient

Packed with amino acids and proteins

Contains vitamins and minerals

Description:

High-quality protein source



Contains good quality ingredients

Description:

Specifically designed for small breeds

First ingredient is real meat

Packed with nutrition

Description:

All-natural ingredients

Premium protein source

Easy to digest
But first, a little more on the breed!
Papillons have a plumed tail and a silky coat. Their fur is typically a variant of white with other colors fused in.
Being a smaller dog, most generally weigh 5-10 pounds with a life expectancy ranging from 14-16 years.
Paps are happy in warm and cool climates and thrive in rural and urban settings.
They are energetic, youthful, and always ready to play. Paps are excellent family dogs for these reasons. They are also a favorite choice at dog shows, with an advantage in anything involving agility.
This makes Papillons very well-rounded dogs who provide excellent companionship.
Below, we've gone over a ton of the best dog food for Papillons and matched the best ones to their nutritional needs and dietary restrictions.
We also have tips on grooming, exercising, training, and caring for your Papillon.
Let's jump in.
Importance of Nutrition for your Papillon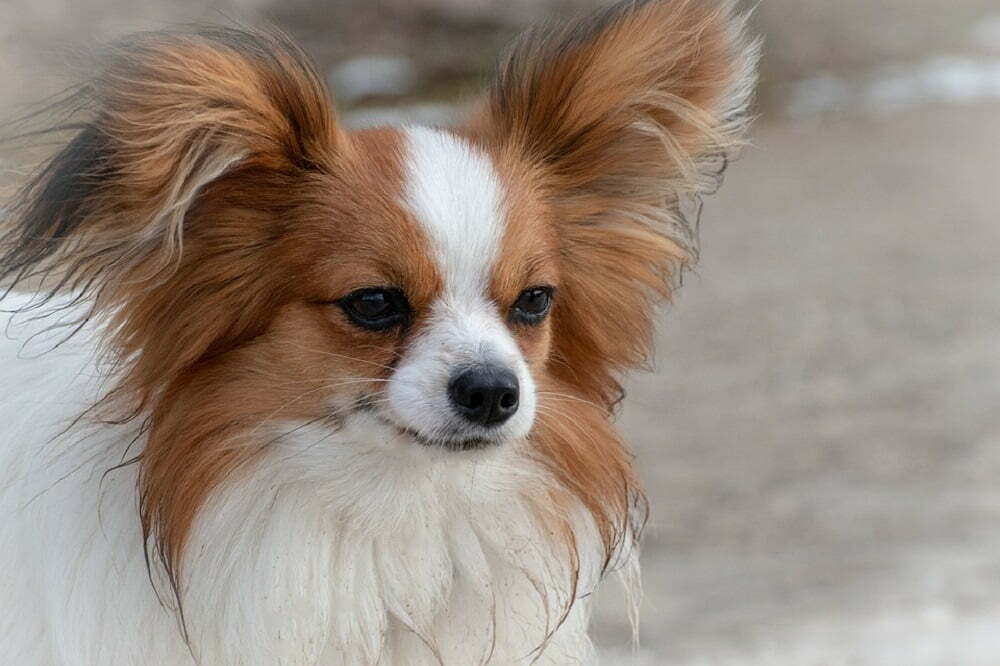 Paps will enjoy almost any high-quality dog food. They are not picky eaters.
You can either purchase the best dog food for Papillons, go organic, or prepare your own at home.
If you decide to prepare your own food, you should always consult a vet to ensure you are providing a complete and balanced meal with all the vitamins and nutrients your dog needs.
Your dog's diet will change from a puppy to a senior, so you should adjust the food you use as they age.
Obesity has become a huge problem in the canine world, and it's a problem best solved by early prevention.
You should be responsible when feeding your dog and give them the correct portions to avoid overfeeding them. This can cause major health problems down the road.
You should consult a vet to see what your dog's appropriate calorie consumption is and what the ideal weight is.
You should also be cautious when feeding your dog human food because some are unsafe for them.
Knowing this information is part of being a responsible dog owner, and if you want to keep your companion safe, be sure to familiarize yourself.
Finally, you should keep fresh, clean water out and available for your Papillon so they can stay hydrated and healthy.
Best Dog Food For Papillons
A huge part of taking care of your Papillon is ensuring proper nutrition. By doing this, you'll be able to raise a happy, healthy Pap. You can avoid dozens of potential health problems in the future by feeding your dog safe and nutritious food now. Because we want you to be able to provide your dog with the best food possible, we've put together a list of the five best dog foods for Papillons. Any of these high-quality options will provide the appropriate diet and quality ingredients that we know your best friend deserves.
---
This high-quality dry dog food is suitable for dogs of all ages, sizes, and breeds and will work wonderfully for your Papillon.
This is especially appealing if you have multiple dogs. By using Canidae All Life Stages, you can avoid having to buy multiple bags of food to accommodate each of your dogs and instead buy one type that will satisfy the nutritional requirements for all of them.
Even if you have just one pet, Canidae dog food makes things easier by providing one food for your pet. You won't have to switch based on your dog's weight or age. This food uses premium, quality ingredients full of nutrients and doesn't include corn, wheat, or soy.
Pros:
Can be used at any age
Can be used for multiple dogs
No corn, wheat, or soy
Cons:
Some customers report damaged packaging; please check yours!
---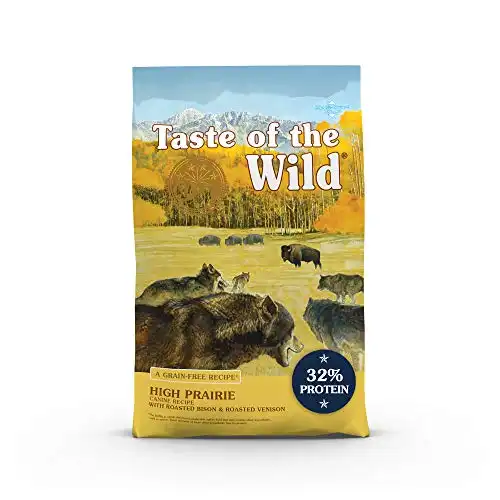 Taste of the Wild uses roasted, real meat in their food to provide a natural, healthy experience for your Papillon.
Real meat is the first ingredient; the rest is packed with optimal amino acids and proteins that help build muscle and maintain a healthy weight. Taste of the Wild also includes vitamins, minerals, fruits, and vegetables, along with a fatty acid blend to help build strong skin and a healthy coat.
They boast quality ingredients from trusted and sustainable sources that contain no grain, corn, wheat, fillers, artificial flavors, colors, or preservatives. Their food is full of nutrients and easy to digest. Taste of the Wild is family owned and maintains an impeccable reputation. They stress safety, and they create some of the best food on the market.
Pros:
Real meat is the primary ingredient
Packed with amino acids and proteins
Contains vitamins and minerals
Quality ingredients from trusted sources
Options for puppies as well
No grain, corn, wheat, fillers, artificial flavors, colors, or preservatives
Cons:
Some dogs do not like the taste, but very uncommon
---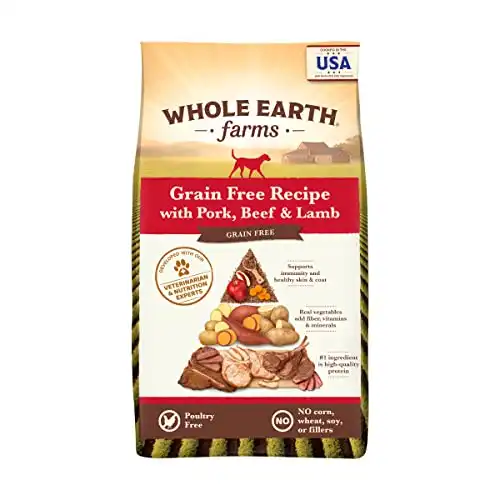 This food by Whole Earth comes in pork, beef, or lamb flavor and is some of the highest quality protein-based dog food that money can buy for your Papillon.
Whole Earth Farms food is grain-free to promote easy digestion and long-term internal health for your dog. This food will also promote a healthy, shiny coat, less shedding, and better skin.
They also offer poultry-free foods for dogs that have sensitivity to poultry. The first five ingredients are Pork Meal, Dried Potatoes, Peas, Sweet Potatoes, and Pork Fat.
Pros:
High-quality protein source
Easy to digest
Cons:
---
This Merrick recipe is specifically designed for small breeds, which makes it a great option for your Papillon. It comes in Beef, Chicken, or Salmon and a variety of sizes.
The first ingredient is real chicken and it is grain-free. Merrick food is packed with nutrition and contains no gluten ingredients for easy digestion.
It also includes fruits and vegetables like apples, potatoes, blueberries, and peas. The kibbles are small and crunchy, which is good for your dog's dental health.
This food also contains omega fatty acids to promote healthy skin and fur. It is recommended that you feed your Papillon 1/3 of a cup for every 3 pounds of body weight each day.
Pros:
Specifically designed for small breeds
First ingredient is real meat
Packed with nutrition
Contains no gluten
Includes fruits and vegetables
Cons:
Not all dogs like all the flavors, be selective!
---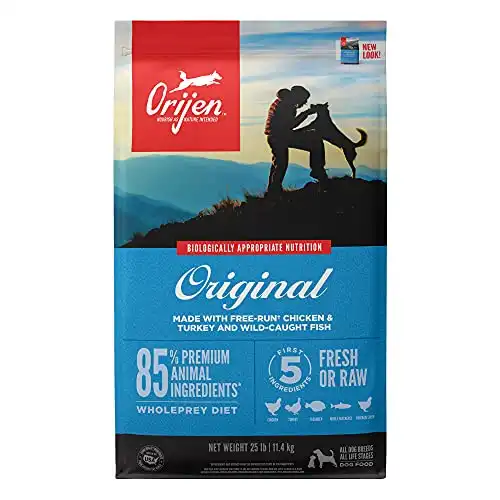 This reputable dog food comes in Chicken, Fish, and Turkey and has a natural and nutritional ingredients list.
Along with a premium protein of your choice, this food contains whole eggs, liver, peas, navy beans, lentils, kidneys, pinto beans, and chickpeas.
Orijen taps into the primal instinct of your animal's desire for fresh, protein-packed meat. This food is suitable for dogs of all life stages and has easy-to-digest ingredients to improve digestive health.
Pros:
All-natural ingredients
Premium protein source
Easy to digest
Cons:
Orijen has issued a recall in the past on their food products
---
About Your Papillon Breed
Grooming
Though the Papillon has an impressive coat with long hair, they don't have an undercoat.
This means that they don't need to be groomed all that frequently. You should plan on grooming your Papillon about once a month.
Your Pap will benefit from brushing often. Papillons only need to bathe 3 to 4 times a year or as needed. If they get muddy or dirty often, the frequency of baths will increase.
Papillons will also need to have their nails trimmed regularly, as they grow quickly, and if you're not careful, the dewclaw can injure the animal if not clipped. You will experience seasonal Papillon coat shedding, so be prepared!
Exercise
Papillons are primarily indoor dogs, but they still need exercise here and there, just like any other dog. Papillons are energetic and will benefit from playing outdoor games like fetch.
They are fast learners and quite intelligent, so you shouldn't have any trouble teaching them to play. Paps love the outdoors and will chase anything they find to be interesting.
They also tend to behave larger than they are, so you should supervise your Papillon closely if you are not in an enclosed area and other animals are around.
Papillons will need regular exercise to remain happy and healthy, and you should be prepared to ensure your Pap gets a daily dose of physical activity.
Training
As you may already know, Paps are a very intelligent breed that learns fast and loves to make their human partners happy.
It is common for smaller breeds of dogs to make house training a pain, but Papillons buck this trend. House training your Pap should be relatively straightforward and easy compared to more troublesome smaller breeds.
As with all dogs, socializing your pup from a small age will be important to ensure that human interactions are less stressful going forward.
You should give your Pap a variety of experiences and interactions with new people so that it doesn't see them as a threat and is comfortable being petted by strangers and passersby.
You may want to consider bringing your dog to obedience classes to learn from a potential. AKC has published this article on finding the right classes for your dog.
Obedience classes can be just as beneficial for the owner as it is for the dog, and you can learn how to interact and control your dog without accidentally reinforcing bad behavior that may affect their ability to interact with others.
One thing to avoid if you want a well-behaved Papillon is leaving them in isolation or letting them stay home alone for extended periods of time. Paps are very social creatures and are happiest when they have companionship.
This can be humans or other pets. Overall, Papillons are outgoing, obedient, and love to make their owners happy. These are the perfect ingredients for dog training.
Health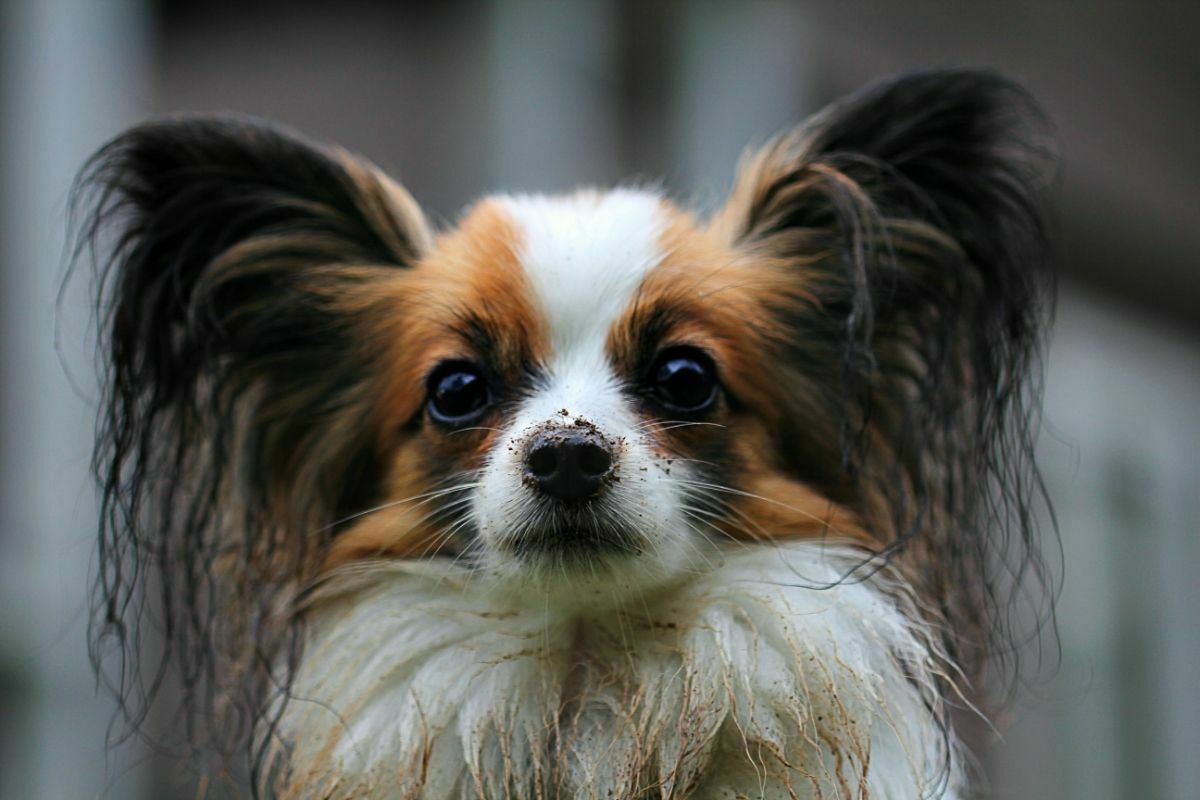 Although Papillons are not picky eaters, some individuals may exhibit allergies. If you think your Pap has allergies, consider a change in diet.
Papillons have a big personalities, but due to their small physical size, you need to be careful around your dog so as not to injure them by accidentally stepping on them or kicking them.
Other hazards include stairs, furniture, children, and other pets. These should especially be considered when they are puppies and are most vulnerable to injury.
Children should be taught to be careful when handling their new puppies, and you should make sure that they know how to respect the animal when interacting with it.
This is best for the safety of both the child and the dog.
Any good breeder will examine their puppies for certain health conditions to ensure no unnecessary risk is taken. The Papillon Club of America recommends the following health tests for all Papillons:
Ophthalmologist Evaluation
Patella Evaluation
Cardiac Exam
For a link to the official statement from the Papillon Club of America, click here.
Summary
When it comes to your dog's health, food is an important factor. Your Papillon needs food that is easy to digest promotes a healthy coat and skin, and is full of the nutrients they need for healthy growth and energy.
All of the options we've reviewed today offer those qualities.
You may want to try each food and decide for yourself which one yields the best results and the best reaction from your dog.
Beyond nutrition, you'll also want a dog food that is safe and doesn't make you worry about the quality. Each of the companies that make these foods are reputable and are popular within the Papillon community.
Trust may be the ultimate compass in your search for food. We hope this guide to the best dog food for Papillons is helpful to you.