A loyal, hard-working, and even-tempered breed, the Pointer is the ultimate choice for an owner looking for power and grace in their dogs.
As their namesake suggests, Pointers are bread to point out game birds for hunters. This high-energy breed is great for active owners who love to play with their dogs.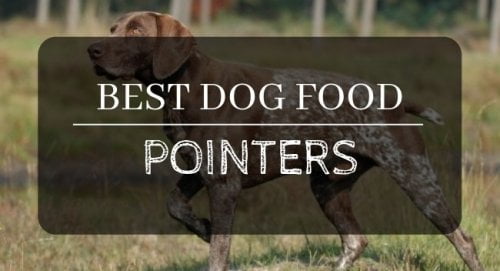 If you're a runner or hiker, the Pointer is probably the right choice for you.
They are medium-sized dogs who stand about 28 inches tall and weigh about 75 pounds, making them a great fit for any size family, house, or apartment.
Just like any dog, however, Pointers take special care to meet the demands of their dominant characteristics.
This includes feeding them the best dog food for Pointers, along with understanding Pointer's unique issues and quirks.
This article is going to break down some of the best things you can do for your Pointer, what to feed them, and what health issues you might have to look out for.
Let's get started!
Best Dog Food for Adult Pointers
Pointers are a very active, energetic dog breed. So they need dog food that has enough for the important proteins, vitamins, minerals, and ingredients to keep your dog at the top of their game.
All the foods on this part of the list are free from corn, wheat, and soy, which can cause dogs like Pointers to suffer digestive issues and allergies.
Here are some foods that have the right mix of proper ingredients, vitamins, and minerals your Pointer needs to live its best life at any stage of growth.
1. Victor Yukon River Salmon & Sweet Potato Grain-Free Dry Dog Food
Summary
This formula is first on our list because it's a premium dog food created specifically to provide the important nutrients your dog needs for all stages of their life.
From young pups to grown active dogs and soon-to-be mothers, this food is a fit for every healthy Pointer out there.
Packed with 32% protein, 15% fats, and 34% carbohydrates, this food is packed with Omega 3 fatty acids found most commonly in fish to promote healthy, happy pups with shiny, gorgeous coats.
Both grain and gluten-free, this is a great choice for owners who suspect their dogs might have allergy issues as well.
Pros
76% of the food's protein comes from fish
Gives your dog the essential Omega-3s needed for healthy skin and coats
Great for dogs with allergy issues
Super digestible for active dogs
Cons
Dogs with fish allergies won't enjoy this food
Your dog might not love the flavors
Sweet potatoes, chickpeas, and high fiber in excess could be problematic for some dogs
2. Merrick's Grain-Free Real Bison, Beef and Sweet Potato Recipe Food
Summary
There are few things more primal and natural than dogs eating real bison meat. Packs of wolves and dogs have hunted down prey for thousands of years.
You should pick food that appeals to those deep-seated primal urges.
A kibble made from deboned bison, sweet potato, beef, apples, peas, and the essential vitamins and minerals the dog needs for a balanced, healthy diet.
Along with the Omega-3's for healthy skin and hair, this food comes along with high doses of glucosamine and chondroitin for added mobility.
Great for dogs who might have allergy issues, this grain-free wet food is one of the best dog foods for Pointers you'll find available.
Pros
Great balance of protein, carbs, and veggies
Added glucosamine and chondroitin
Grain and gluten-free recipe with no added colors, flavors, or preservatives
Packed with important omega-3 fatty acids for healthy skin
Available in 4, 12, 22, and 50-pound bags
Cons
Contains some copper; some dogs might be sensitive to it
Can cause some loose stool issues
3. Taste of the Wild Wetlands Dog Food
Summary
The value pick on this list, Taste of the Wild, is a grain-free dog food that is a fantastic choice for your Pointer.
Crafted from high-quality ingredients like smoked fowl for protein, alongside veggies like peas and sweet potatoes. this food gives your dog the cleanest, highest-quality energy possible.
Then add to this fruits, veggies, essential minerals, and probiotic-rich ingredients to facilitate easy digestion and maximum benefits for your dog.
Great for dogs with allergies, this food has no grains, wheat, corn, fillers, artificial colors, or preservatives.
Along with being made in the USA by a family-owned and run company, this is a great option for you if you want a well-fed, well-nourished Pointer.
Pros
Great for Pointers with allergies
Made in the USA with premium ingredients
Packed with Omega-3 fatty acids
Made with protein-rich real ingredients like duck and chicken
Its lower price point makes this the best value dog food for Pointers on our list
Best Dog Food for Pointer Puppies
Just like any living, growing thing, Pointer puppies need the proper mix of vitamins and nutrients to grow up big, strong, and healthy.
An important part of that is the puppy food they're provided. They should be brought up on the highest quality food possible. Feeding should be done four times each day.
Along with great food, during puppy training, Pointer pups must get outside and enjoy the fresh air and sun. Give them lots of exercise, affection, and naps (of course!), and you'll have one balanced dog.
Let's have a look at some of the best puppy foods on the market for your Pointer.
1. Fromm Family Foods Gold Puppy Food
Summary
Made from high-quality ingredients for your growing pup, this moderate protein and fat food are specially decided to give your dog the nutrients it needs.
Notably, this food has the right amounts of ingredients like calcium, DHA-rich salmon oil, and phosphorus to give your dog what it needs.
Packed with 27 percent protein from high-quality duck and chicken, along with oatmeal, pearled barley, and chicken meal, you can trust the ingredients in this food for your growing pup.
The USDA-approved individual ingredients in this food arrive at the facility fresh every morning before they're made in the food.
Pros
Fresh, quality ingredients
Packed with 27 percent protein and 18 percent fat for your growing pup
Packed with important vitamins and minerals
No corn, wheat, or soy
Helps medium-large breeds grow slowly and properly
Cons
Contains rice, which would be a problem for some dogs with allergies
Could cause soft stool issues in some dogs
Limited sizing options, only offering 33 pounds at most
2. Annamaet Ultra Formula
Summary
Specially designed for performance and show dogs, Annamaet Ultra Formula food is a great option for smaller breeds.
Made from only the highest-quality antibiotic and hormone-free chicken, fish, and rice, this is a food packed to the brim with nutrients. This is a hugely energy-dense product featuring the highest protein and fat levels of any other Annamaet brand food.
Uniquely, this food also contains algae as an ingredient, providing your puppy with the essential Omega-3 fatty acids that are so important for skin and coat health.
Along with important vitamins and minerals like L-Carnitine for lean muscle development and cognitive function and DHA for brain development, this food is perfect for your growing young dog.
Aso containing no corn, wheat, or soy, this is a great product for dogs with allergies.
Pros
Made with the highest quality ingredients
Important vitamins and minerals for skin, brain, and muscle health
Great for any size dog
High-quality option for elite show and performance dogs
An ultra-dense energy food
Cons
The most expensive food in this section
Only available in a 40-pound bag at the largest
Can cause particularly stinky stool when first introduced
3. Taste of the Wild High Prairie Puppy Food
Summary
For the value pick in this section of the article, let's have a look at Taste of the Wild High Prarie Puppy food.
For only about $50, you'll get your pup a food packed to the brim with special, natural ingredients like bison, buffalo, sweet potato, and peas to give your dog a highly-digestible option.
Also containing fruits, veggies, and dried chicory root for additional anti-oxidant support and probiotic boosts, this is a food made with your growing puppy's health in mind.
Packed with vitamins, minerals, and amino acids for optimum nutrient absorption and retention, this food gives you complete and balanced nutrition for an affordable price.
Pros
Made with high-quality ingredients
No grains, corn, wheat, fillers, artificial flavors, colors, or preservatives
Packed with vitamins, minerals, probiotics, and nutrients perfect for growing dogs
Made in the USA by a family-owned company
Great value for the price
Cons
Doesn't contain glucosamine for joint health
Only available in 5, 14 and 28-pound bags at most
Doesn't contain much fiber at only 5 percent max
Best Dog Foods For Senior Pointers
Being a smart and relatively healthy dog, it's not uncommon to see a Pointer age into its teen years.
And, of course, when you have an older dog, you'll want to get dog food specialized to give that older dog the important stuff it needs.
You'll want a lower calorie food as your older dog gets a little less active than in its younger days, and you'll want to keep their protein intake high to protect those aging muscles.
Let's have a look at a dog food specially formulated to be perfect for your dog's golden years, Orijen Senior Dog formula!
1. Orijen Senior Dog
Summary
When it comes to giving your older dog the essential vitamins, minerals, and nutrients it needs, there's no finer option on the market than Orijen.
Balanced to be an excellent source of essential proteins your senior pup needs, along with keeping its blood pressure steady and regulated with its low-carb formula, this is a fantastic option.
In fact, packed with 38 percent protein, this is a powerhouse food for your dog as it begins to slow down a bit.
Made from high-quality deboned chicken, turkey, fish, and whole eggs, you know you're giving your dog the proper ingredients to maximize their healthy years.
Filled with natural sources of glucosamine and chondroitin for joint health, you know your older dog is covered on all bases with Orijen foods.
This is a great option for dogs in their senior years.
Pros
Designed with your senior dog's health in mind
Formulated for joint health
Packed with protein to protect those muscles
Made from the highest quality ingredients
Low carb to regulate your dog's blood sugar
Cons
Can be a bit pricey
Relatively low fiber at only 8 percent
Best Dog Food for Pointers with Medical/Sensitivity Issues
For dogs with health issues, it can be a challenge to find the right food for them, especially when it comes to dogs with sensitive stomachs.
Thankfully, we have an option that's perfect for any pup with sensitivity issues.
If your dog is having specific issues, such as food allergies, you should always consult with your vet about changes you can make to your pet's diet to help them live better, happier lives.
1. Hill's Science Diet Adult Sensitive Stomach & Skin Dog Food
Summary
There's no better pick on the market for dogs with stomach and skin issues than Hill's Science. They're the best around when it comes to pups with sensitivity issues.
Their expertly assembled formula is a blend of natural, healthy ingredients specially assembled to give your dog the protein and nutrients it needs while keeping its health in mind.
Made with easily digestible ingredients like brewers rice and chicken meal, this food is gentle on your dog's stomach and gives them a boost in the vitamins and nutrients that help keep their skin and coat healthy and glowing.
Along with other natural, healthy ingredients like peas, apples, carrots, broccoli, and cranberries, this is food free of artificial flavors, coloring, and preservatives, giving your dog the best, highest-quality ingredients.
Made in the USA with ingredients from all over the world, this cutting-edge food is a fantastic option for dogs with any kind of health struggles.
Pros
Great for dogs with sensitivity issues
Made in the USA
High-quality ingredients
No artificial flavors, colors, or preservatives added
Great for your dog's skin and coat health
Cons
Only available in 4, 15, 15.5, and 30-pound bags
Not much fiber at only 4 percent
Lower protein content than most dog food at only 19.2 percent
Buying Guide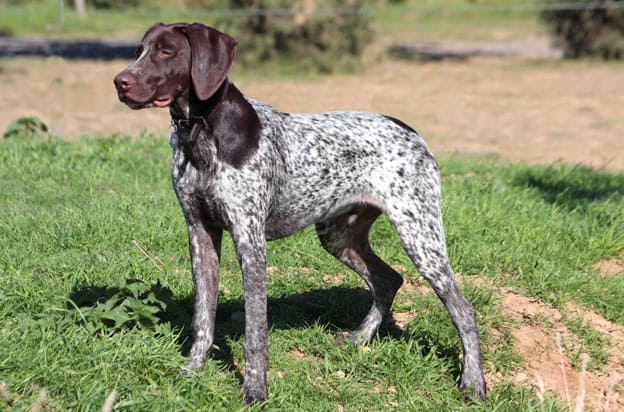 When it comes to buying the right food for your dog, it can be overwhelming.
There are so many options available when you go into the dog food aisle; it can be a challenge to find the right one for your Pointer.
This section is going to give you the full scoop of what to look for in your dog's food, how to properly feed them, some common health issues your Pointer might deal with, and what ingredients you should avoid.
Let's get started, shall we?
Diet and Nutrition for Pointers
When it comes to Pointers, you'll want to make sure they get the right balance of protein and nutrition. They're very active dogs, so high-energy foods are a must.
In fact, it's not uncommon for medium-breed puppies, like Pointers, to suffer from malnutrition issues due to how on the go they are.
You'll want to focus on high-protein whole foods, like chicken, turkey, and bison, as well as natural sources of fiber, like fruits and vegetables. The more natural and even organic you can get, the better.
How to Properly Feed Your Pointer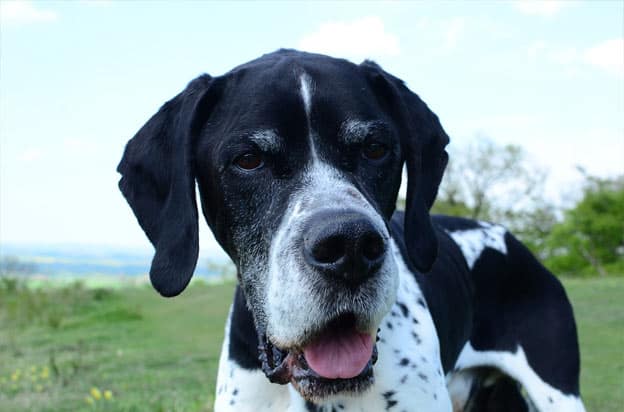 When it comes to feeding your Pointer, you need to take into consideration how high-quality the food you have for the dog is.
If you have lower quality, less nutrient-dense foods, you might need to give them 4 to 5 cups per day to give them what they need.
If you have higher quality, nutrient-rich foods, like the ones detailed in this article, you'll only need to give that same Pointer about 2 cups to give them enough for the day.
While that might sound like a lot, keep in mind that Pointers are a moderate-sized breed with high energy levels, to keep that big body working properly, they need lots of food.
Of course, each dog has its own special needs, so make sure you consult with your personal veterinarian before making any big decisions or changes when it comes to your dog's portion sizes.
Common Health Issues for Pointers
Pointers have a very long average life span for the size of their breed, from 12 to 14 years, so you'll want to make sure you keep an eye out for any potential health issues that might pop up.
Some minor health problems your Pointer might deal with are gastric torsion, hypothyroidism, hip dysplasia, and Willebrand's disease. Other issues that might arise include cardiomyopathy, ectropion, and vision issues.
Must-Have Ingredients
Because of the high level of activity when it comes to Pointers, natural, high-protein foods are a must. They need to have the muscle strength to match all of that energy to be active and happy.
Being a short-haired breed, you'll need supplements for your dog's skin and coat health with Omega-3's. Those are most commonly found in fish products, like many of the foods on this list.
Ingredients to Avoid
You'll want to avoid as many added preservatives, fillers, colors, and flavors as possible. All of them are unnecessary and will only do annoying stuff for you and your dog.
A lot of the less expensive dog foods contain these ingredients. There are some better cheap dog foods to consider if you must but…
The golden rule?
Basically, if you can't find that thing in nature, something a wolf wouldn't eat, you probably shouldn't give it to your dog.
The more natural ingredients you can get into your dog's food, the better.
Conclusion
In the end, Pointers are an active, high-energy breed that needs natural, high-energy nutrition.
They're a sporting dogs built for activity, so you'll need to provide the proper care and nutrients.
This includes providing them with the best dog food for Pointers starting from puppyhood and beyond.
Check out the video above to see some more background and this fun dog's personality and skills in action.