Best Dog Food for Staffies: Ultimate Guide for 2019
Do you own a Bull Terrier? While the staffy isn't for everyone, they can be a wonderful dog breed to own. They're very active dogs whether they're playing, exercising, or eating. Staffies are stubborn yet intelligent and can be man's best friend when trained well with best dog food for staffies.
We'll be reviewing some of the top staffies dog food on the market. That includes ones for adults, puppies, and seniors. You can then pick the right food for your pet pooch.
---
Best Dog Food for Adult Staffies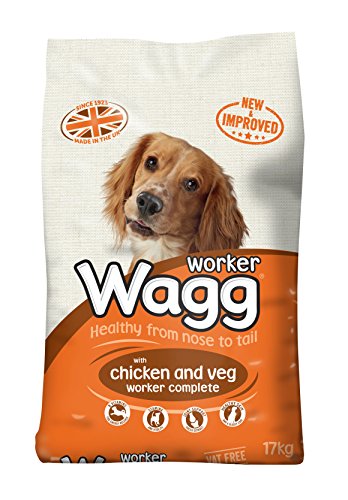 This staffies dog food is from Wagg. It was founded 25+ years ago in 1990 in the UK. Complete Worker is a dry dog food with no added sugar, colors, or flavors. It can provide several benefits for your canine's teeth, digestion, immune system, etc. It contains Vitamins A/C/E and citrus abstracts to offer your dog the best health possible. The crunchy kibbles are
good for your dog's teeth
to help them stay healthy. Your mutt will also enjoy the texture. The skin's health is improved with ingredients like omega 3/6 and zinc. They help the dog's skin/coat to be healthy and shiny. This dry dog food also includes Vitamins A, E, and C to boost the immune system. Meanwhile, digestion is improved through a quality fiber and a prebiotic.
Features
Boosts immune system
Improves teeth/digestion
No added sugar
No artificial colors/flavors
Increases the dog's overall health
Pros
Boosts teeth/digestion
Improves the immune system
Dogs like the flavor
Cons
High price range
Dry kibble
Some dogs have chicken allergies
Click here to see reviews and prices for the Complete Worker Dry Mix Dog Food on Amazon.com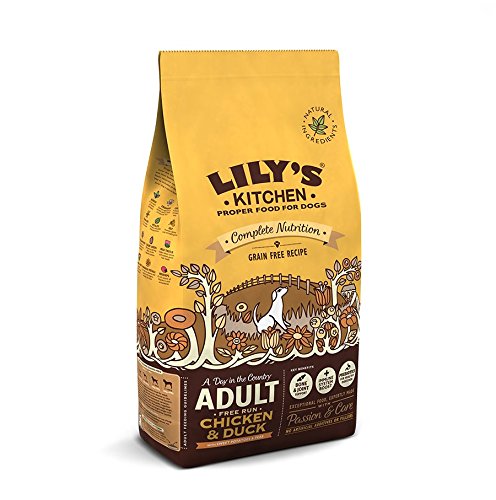 Lily's Kitchen was named after a border terrier named Lily. The owner decided to make her own dog food using natural ingredients. Today the company produces various
cat and dog
foods. Lily's Kitchen was founded in 2007 and is headquartered in London.
This is a complete dry food that includes a large amount of prepared chicken. It's a natural/balanced and hypoallergenic recipe. So the dry dog food is a good option if your canine has digestion problems, food allergies, etc. It's made of chicken (31%), duck (8%), and sweet potatoes (30%).
The product also includes other veggies and botanical herbs. This adds nutrition/wellness that your dog can't get from standard meats, grains, and herbs. In fact, the company teams up with an herbalist who's an expert at adding herbs/plant-based nutrients in food including:
Alfalfa
Aniseed
Burdock Root
Celery Seeds
Chamomile Flowers
Chickweed
Chicory Root
Cleavers
Dandelion Root
Golden Rod
Kelp
One of the main benefits of this dog food is it's made from fresh meat instead of dried meat/meat meals. Another plus is it doesn't include any artificial additives or fillers. The dry dog food is 100% natural. Lily Kitchen's kibble is different from regular ones. That's because it's not greasy like other products on the market. It only includes essential fats/oils to improve your dog's health. Another critical ingredient is salmon oil. This is a good source of omega-3/6, which provides various benefits including coat, joints, heart, and brain.
The Lily's Kitchen Complete dog food is also good for all dog breed sizes including big, medium, and small. This makes it a good option for staffies. This food is popular with the company's namesake Lily. She gets excited every time she sees a bag of Lily's Kitchen. The company explains this makes the dry dog food highly recommended.
Features
Good for big, medium, small breeds
Good for joints, bones, and immune system
Hypoallergenic recipe
Fresh chicken, duck, and sweet potatoes
Complete dry food
Pros
Better than other commercial food
High-quality food
Improves teeth, coat, muscles, etc.
Cons
Some dogs don't like
Some bad batches
Shipping/packaging
Click here to see reviews and prices for the Adult Complete Dry Dog Food on Amazon.com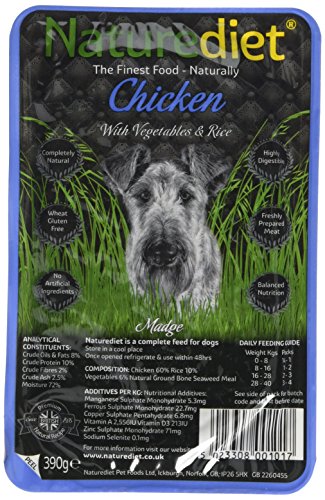 Naturediet is the original manufacturer of natural wet food. It was founded 40+ years ago in 1976. The founder wanted to produce natural dog food that was high-quality with limited additives. Naturediet was made from real ingredients like meat. This Naturediet product is 100% natural, hypo-allergenic, and holistic. It contains 60%+ real meat instead of dried meat, meat by-products, etc. This item includes fresh/quality chicken, which helps to reduce the chance of allergic reactions. It also contains brown rice, veggies, herbs, and other healthy/natural ingredients.
The food is free of artificial ingredients/preservatives, and other strong chemicals. It also doesn't contain wheat gluten, which benefits dogs with gluten allergies. This food is a good option for dogs with food allergies or a picky appetite.
Features
Natural ingredients
Contains real meat
Hypo-allergenic
100% natural
Based on holistic ideas
Pros
High-quality food many dogs like
Vacuum sealed for freshness
Good value for the price
Cons
Formula changed
Some batches spoiled
Some dogs don't like turkey flavor
Click here to see reviews and prices for Dog Food Tray on Amazon.com
---
Best Dog Food for Staffy Puppies
Staffy puppies require extra special care when being fed. Here is the best recommended dog food for your puppy.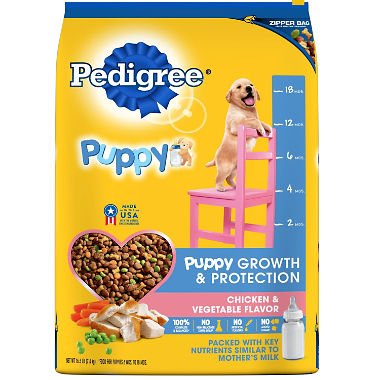 This best dog food for staffies is from Pedigree Petfoods. It's under the umbrella company Mars founded 105+ years ago in 1911. Pedigree specializes in pet food. It was established 60+ years ago in England and is headquartered in the US state Virginia. This chicken & milk puppy chow is a healthy/balanced food from Pedigree. It contains one-quarter crude protein as well as some crude fat/fiber. This provides several benefits including strong muscles.
This puppy food is also ideal for providing an optimum amount of calcium. That's through the phosphorous ratio. It helps provide strong bones/teeth. Pedigree's Dry Dog Food also helps to deliver optimum digestion of the food's nutrients. The dog food also provides other essential nutrients. There are Vitamin E/minerals to boost your pup's immune system. Your puppy can also enjoy healthy skin/coat with a blend of omega fatty acids and zinc. This Pedigree puppy food is good for different breeds including staffies. It's a plus since your dog will be getting high-quality nutrition.
Pedigree guarantees that you'll see various signs of good health within 1.5 months after your dog starts eating this puppy chow. It's been formulated by a center for pet nutrition. Pedigree recommends dog owners give their canine commercial food since certain ingredients can cause problems. They include:
Baby Food
Bones
Chocolate
Home-cooked Food
Onion/Garlic
Raw Egg
It's crucial to follow Pedigree's guidelines about issues like when and how much to feed your puppy. This will help produce the best results as your baby dog grows and matures. You also have many options in terms of factors like different flavors. Another option is to add some Pedigree Gravy for puppy food with more flavor and texture.
Features
Pedigree promises your dogs will show signs of good health in 6 weeks
Wholesome dog food to provide nutrition to puppy
Contains crude protein (24%), crude fat (10%), and crude fiber (5%)
Good for dogs of different ages/breeds
Formulated by research for pet nutrition
Pros
Contains milk for puppies
Many puppies like it
Well-balanced food
Cons
Some puppies don't like later
Price higher than manufacturer's recommended price
Some dogs have chicken allergies
Click here to see reviews and prices for the Pedigree Dry Dog Food on Amazon.com
---
Best Dog Food for Senior Staffies
Eukanuba is a brand of dog/
cat food
and is under the parent company Mars, which also produces other brands like Pedigree. Eukanuba was founded nearly 50 years ago in 1969. It produces 15+ types of dog foods. This best dog food for staffies is from Eukanuba. The food is specially designed for dogs with nutritional sensitivities.  It includes dogs 7+ years old and all breeds. This dog chow provides your mutt with all the macronutrients needed including protein, carbs, and fat. This dog food is an excellent source of protein. It includes up to 86% animal protein to help your dog live an active lifestyle. Protein is essential for dogs of all ages and is the most critical macronutrient for their diet. It helps to build strong/lean muscles.
Dog Food Mature can provide many health benefits for senior canines. It contains several vitamins, minerals, enzymes, etc. There are omega-3 fatty acids to improve the health of the skin/coat. Beetroot provides fiber for healthy digestion. The Eukanuba product provides other vital benefits. Vitamin E and beta-carotene can help to boost your pooch's immune system so it can battle the effects of aging. The dog food's DentalDefense can also help maintain healthy teeth/bones. DentalDefense can also offer other benefits including fresh breath and healthy gums. Another key ingredient is DHA, which is a fatty acid. This provides various benefits regarding your dog's behavior and cognition. It will also make it easier to train your canine.
Another plus of this dog food is it doesn't contain things like artificial colors, flavors, and preservatives. This is important because it helps to prevent various health problems they could cause. Those ingredients can improve the look/taste of dog food yet cause multiple health risks.
Features
Provides daily recommended protein
Good for dogs that are nutritionally-sensitive
All breeds 7+ years old
Can reduce plaque formation
Helps build strong/lean muscles
Pros
Includes DentalDefense for teeth
Healthy skin/coat
Vitamin E and beta-carotene to boost the immune system of aging dogs
Cons
Not designed for puppies/adults
Some dogs don't like lamb
High price range
Click here to see reviews and prices for Dog Food Mature on Amazon.com
---
Best Dog Food for Staffies with Medical Issues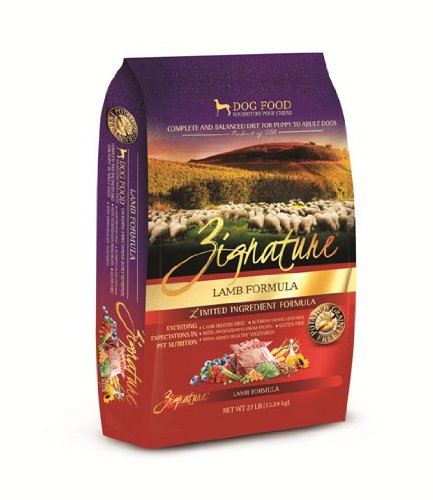 This Limited Ingredients dog food features a formula of New Zealand lamb. This high-quality protein helps to keep your puppy healthy and happy. Lamb is a complete protein and offers several vitamins/minerals. It can boost the health of dogs of different sizes ranging from small to large. This dog food is also grain and chicken-free. So there's no grain filler. Another issue is many dogs have allergic reactions to chicken or grain, so this dog food is a good option to prevent that situation.
Zignature avoids adding many ingredients to its food that often cause food allergies. They include chicken, dairy, corn, wheat, soy, and wheat gluten. The company's dog foods are 100% chicken-free. That includes chicken meat, eggs, and byproducts. This helps to prevent possible food allergies that are often triggered by a chicken. This is one of Zignature's Limited Ingredients dog foods. That's because it includes a small number of natural ingredients. This provides various benefits including better digestion and fewer reactions due to food allergies. This includes low-glycemic carbs. Dogs need carbs, but it's important for them to be the "right" kind. The company uses low-glycemic ones including legumes like chickpeas. This helps to provide dietary fiber and maintain balanced blood sugar.
Features
Provides dog with quality/balanced diet
Hypo-allergenic food for dogs with food allergies
Grain-free formula, so it contains no fillers
Good for different dog ages and breeds
Lamb formula w/ limited ingredients
Pros
Makes dogs energetic
Good for food allergies
Cons
No returns for opened bags
Not fresh
Can cause skin outbreaks
Click here to see reviews and prices for Limited Ingredient Dry Dog Food on Amazon.com
When picking a commercial dog food for your Staffordshire Bull Terrier make sure real meat is the first ingredient listed. Carbs like grains/potatoes and good fat like fish/flaxseed oil are also important but less so.
---
Staffies Diet & Nutrition Requirements
Protein: 30%+
Crude fat: 20%+
Fiber: up to 4%
How to Properly Feed Staffies
You could feed staffies dog food 2x/day after your dog turns 1.5-2 years old, but most owners feed them once/day. It depends on your particular pet. Adult staffies should have a basic meat/biscuit diet. Make sure your dog's eyes are bright, and the coat is shiny.
Common Health Issues of Staffies
This is an important issue when picking staffies dog food. Here are some of the most common health issues that staffies often have:
Canine Hip Dysplasia
Canine Hip Dysplasia (CHD) is a joint problem that affects the functioning of a dog's hip joint. This results in the top of the dog's leg having a malformation and one also appearing in the hips' socket.
Since the joint's ball/socket don't line up correctly, it can cause rubbing/grinding in the joint. Over time this can result in the joint not functioning properly.
Follicular Dysplasia
This is a condition that affects the dog's coat. It results in the dog's hair follicles having an abnormal structure. Experts believe all forms of this condition are genetic.
The condition is mostly an aesthetic one and doesn't cause the canine discomfort. It would only cause problems if bald spots on the dog's coat resulted in sunburn or infections.
Cataracts
Studies show that 8% of Staffordshire Bull Terriers have the gene that can result in hereditary cataracts. This happens when both parents of a pup have the gene.
The condition typically shows up about eight weeks after birth. Cataracts are a progressive disorder. So if the cataracts aren't treated the dog usually goes blind during the next 2-4 years. This highlights the importance of having your dog's vision checked if you suspect there's a problem.
L-2HGA
L-2-Hydroxyglutaric Aciduria (L-2HGA) is a neuro-metabolic disorder that affects the dog's nervous system. When breeding this disorder exists if both parents have it.
It seems staffies are more likely to experience seasonal dysplasia. This happens during different times of the year and results in the hair-thinning being easier to see.
Seasonal dysplasia usually starts near early spring. It typically results in the hair thinning on the canine's flanks. The hair typically starts regrowing about 6 months later. However, studies show that melanin treatments seem to boost regrowth.
L-2HGA can cause various symptoms including tremors, muscle stiffness, and seizures during exercise or when the dog is excited/stimulated. Dogs usually start showing these symptoms between 6 months up to 1 year. However, they sometimes appear later.
Persistent Hyperplastic Primary Vitreous (PHPV)
This is a condition that can be passed on from a puppy's parents. Staffies seem to be more likely to have this condition.
There's some good news. The condition isn't progressive so that it won't become worse as your canine ages. That said, it can cause a lot of discomfort in your dog's daily life based on how severe the case is.
Must-Have Ingredients in Dog Food
Protein
This is the most important macronutrient for dogs. It provides various benefits like healthy hair, nails, skin, bones, and muscles. Make sure your staffy's dog food contains a high percentage of protein. Carbs and fats are also important but much less so than protein.
Besides a dog food having a protein source make sure it's a good one. They include beef, chicken, fish, duck, venison, etc. when your dog is getting high-quality fresh meat it results in better quality amino acids.
Carbs
Some sources in dog food include wheat and sweet potatoes. When picking a dog food look for low-glycemic carbs like sweet potatoes. They raise the dog's blood sugar levels more slowly and offer more nutritional value.
Vitamins
Like humans, dogs also need different vitamins like A, Bs, C, D, E, and K. When you select a natural/organic dog food it will be higher in vitamin content than ones with lots of processing/additives. Another good option is limited-ingredient dog foods. They usually include one main protein like chicken or duck and carb sources like wheat or sweet potatoes. There also might be some herbs added.
Minerals
These are inorganic compounds that the dog's body needs for certain metabolic functions. It must get these minerals from food since it can't create them. Some examples include:
Calcium
Iodine
Iron
Magnesium
Phosphorous
Potassium
Zinc
Make sure your staffy's dog food offers a wide range of different minerals.
Fat
Make sure the dog food contains healthy fats. They include sources like salmon, sunflower/flaxseed oil, etc. Fat provides 2x more calories than carbs/protein. Look for ingredients with omega-3/6 fatty acids.
Ingredients to Avoid in Your Staffies' Dog Food
Allergy Triggers
If you're looking for the top dog food for staffies, certain ingredients are more likely to trigger food allergies. They include chicken and wheat. Some dogs have allergies to other ingredients like corn, soy, or gluten.
You should also avoid non-fresh meat sources. They include dried meat and meat byproducts. Remember that "fresh is best" when selecting a dog food for your Bull Terrier.
Artificial Additives
Other types of ingredients you should generally avoid include artificial colors, flavors, and preservatives. These often trigger allergic reactions in pets. Some examples include preservatives like Butylated Hydroxytoluene (BHT), Butylated Hydroxyanisole (BHA, and Ethoxyquin. These are super-strong ingredients that can cause a lot of potential health problems for your pet pooch.
An irony is such chemicals are sometimes banned in human food but allowed in pet foods. You want the best for your dog/puppy staffy so make sure you don't feed it anything you wouldn't eat yourself. When in doubt about a particular ingredient listed on the label make sure to research exactly what it is.
If a product includes these additives, it's better if they're natural ones. This can improve your dog's eating experience without increasing the chance of side-effects.
Food Dyes
Certain additives like Red 40, Blue 2, and Yellow 5/6 have been linked to problems like allergic reactions, and behavioral problems. Another one to watch out for is caramel color. An irony is artificial coloring appeals to pet owners instead of the pets themselves.
Rendered Fat
This is a flavor enhancement that's often added to kibble since dry food tends to be less flavorful than wet food. The problem is it's usually a source of things like toxins, microorganisms, etc.  Dry dog food can contain bacteria when moisture gets inside the bag.
---
Key Takeaways
Owning a Staffordshire Bull Terrier can be rewarding if you train and feed your pet pooch effectively. Searching for the best dog food for staffies is a critical step to make sure they're getting all the nutrients they need. Get the good stuff for your staffy!