The Siberian Husky is a medium-sized dog with great strength and endurance. They're loyal and friendly and carry a mischievous disposition!
You have to take this into consideration when evaluating the best harness for a Siberian Husky at any age. Below are the top 5 harnesses for Siberian Huskies that we are going to cover in this article.
Now don't let their love for fun fool you; Huskies are named the 'Friendly Hero' because of their ability to run for hours on end, even in sub-zero temperatures.
They will endlessly search for a person or owner and never seem to tire.
Huskies love to be active, and to keep up with your dog; you'll need the best harness for the Siberian Husky.
The Husky is athletic and a working breed, meaning they are happiest when they have a job.
Your Husky will play a game of fetch all day and will wear you out! With this in mind, owning a Husky means plenty of daily exercise.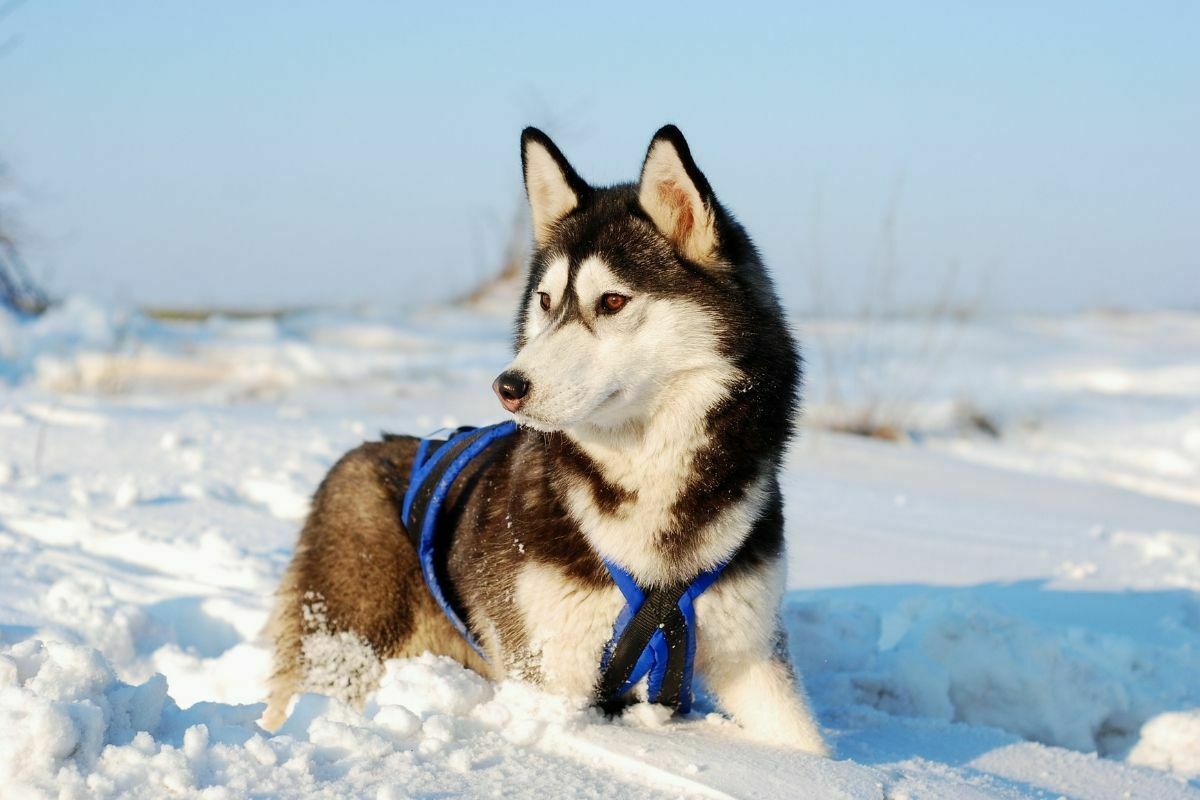 This dog was bred to run, so the instinct is built into their persona, and they will run every chance they get.
Huskies are typically seen as sled dogs, and their physical strength, longevity, and thick, full coat make them ideally suited for this job.
They work well in packs and can pull a sleigh over icy tundra for long periods of time.
These dogs are dignified and energetic and have beautiful multi-colored coats.
They either have brown eyes or blue or sometimes one blue eye and one brown eye, one of their most distinctive traits.
The decision you make on what kind of harness to buy for your Husky will depend on how you want to train them and what you feel safest with.
Old-fashion training methods are debatable, drawing concern about the safety and health of your dog from too much force and strain.
Being that the Husky is a strong dog, experts suggest owners of this breed be extra selective in choosing the best harness for the Siberian Husky.
To assist owners with making their decision, we have researched the best harness for the Siberian Husky available in the market.
These products will help you along the journey to train and learn with your best friend.
---
The Siberian Husky as a Family Member
Choosing a Husky for your family pet can't go wrong.
They do well in an urban living environment or out in the country. But beware, they do love to run!
A fence in area is necessary and will allow your Husky to get the most exercise.
But these strong and athletic dogs can go anywhere you take them and handle any physical challenge they are presented with.
A Friendly Temperament
A Husky will love their family with all their heart and anyone who visits their home—so they do not make a good guard dog.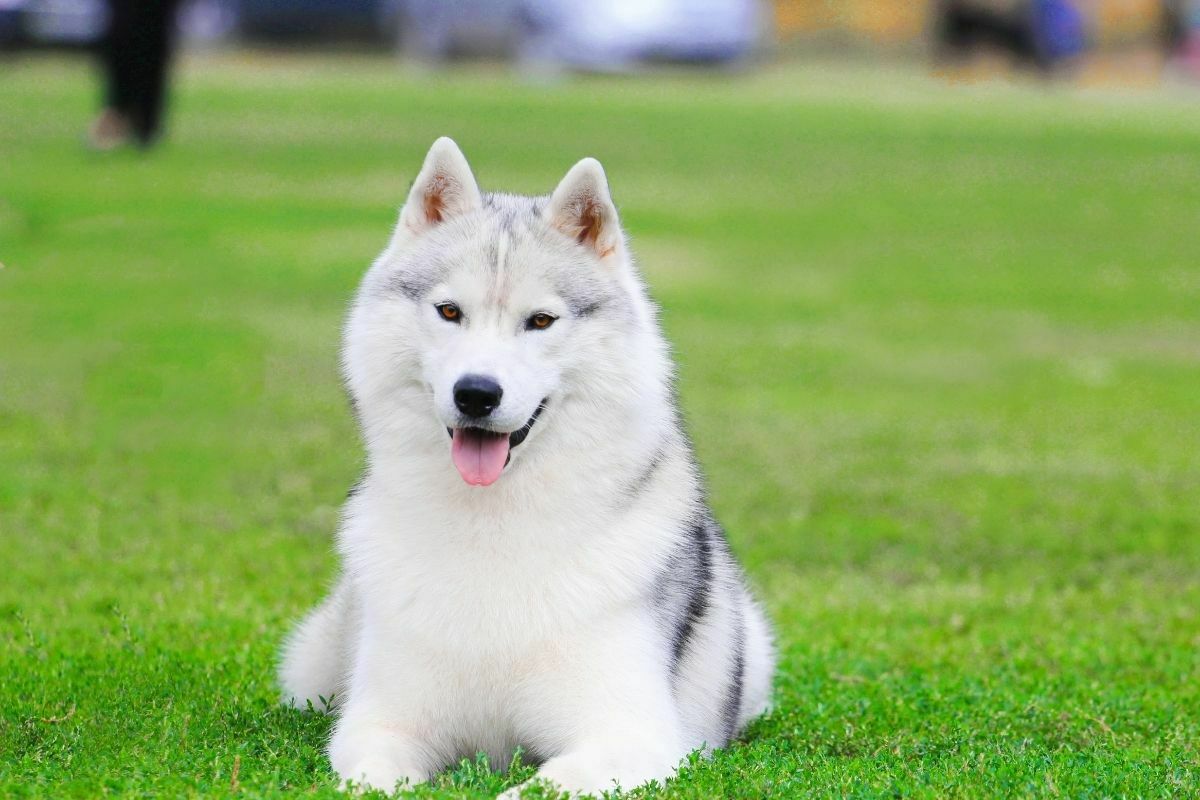 But their friendly countenance is contagious, and they love to cuddle and spend time with their owners.
Being highly sociable dogs, Huskies don't like being alone. If you travel or will be gone for a long period, your Husky will fare better staying with friends or family.
They adapt well to new people and new places. You'll always be greeted with the love of a Husky when you return home after being gone.
The Husky and Other Pets
With a friendly disposition and a sweet temperament, the Husky gets along well with other family pets. Especially when raised from a puppy, they will readily accept other animals.
Be careful with smaller pets like cats or rabbits, as the Husky can play too hard and may be too rough for their smaller companions!
Exercise Requirements
By now, you've realized the Husky is an active dog who loves to run and conquer!
They tend to be escape artists if not given enough exercise on a daily basis.
Proper harnesses are best for a Husky versus a collar because they can run and jog with you without choking or hurting their throat and larynx.
A Husky must exercise every day. If you live in the city or in an apartment, several walks a day are a must.
Look for dog parks and dog play groups with other dog owners. Huskies will go anywhere for an adventure – the best Siberian Husky harness will repel water, and it's a great idea.
The Mighty Paw Sport Harness, No-pull Front Range Dog Harness makes a great Husky harness and is weatherproof, so it won't hold moisture and cause foul smells and dampness.
Don't forget; with all the energy your Husky exerts, diet matters just as much as exercise.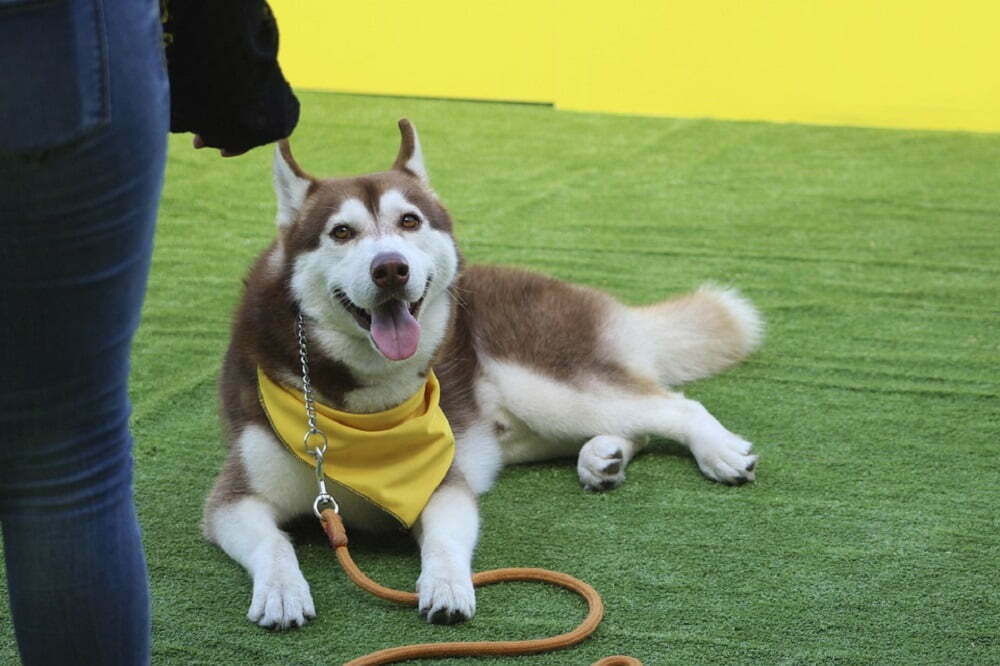 ---
Choosing the Best Harness for the Siberian Husky
Loving your Siberian Husky means taking them on those long walks or mountain hikes.
They are fascinating and elegant to watch as they run with long, graceful strides. But a regular collar may not work well for your active Husky.
Too much pulling and yanking can cause your dog to have respiratory problems, or worse, a collar can lead to the risk of a severe injury like a collapsed trachea.
A good harness will protect your dog from these injuries.
The best harness for the Siberian Husky will go above and beyond, also offering comfort and security.
Pressure Relief
When you're walking, hiking, running, or if you have your Husky out for a boat ride, and they pull on the harness, it needs to have an excellent pressure-relieving design.
The pressure needs to be spread out so there is not one area that will take the brunt of it, possibly causing a throat injury.
Good no-pull harness manufacturers will explain their pressure-relieving system and why it will keep your dog safe from injury.
The My Pets America Dog Harness for all Breeds is made by a family-owned business with a dog's safety in mind.
They were spurred on by an injury their own dog suffered from their collar, causing a collapsed trachea.
They wanted to develop a harness that would take the pressure and dissipate it, protecting the dog's throat and neck.
Adjustable Straps
A good harness will be adjustable beyond the specific size.
A medium may fit your dog, but too snug means it needs to be adjusted so you can fit two fingers between the harness and the dog's body.
That includes the thick fur Huskies are famous for.
Some harnesses or vests, like the OneTigris Tactical Service Dog Vest have multiple places to adjust the fit to accommodate different body types and sizes.
They even have a bellyband, much like a cinch for a horse. Although it is manufactured as a 'tactical vest', we love the numerous adjustments and ability to pack light items on the harness for a long outing.
Remember to check if the harness you purchase has adjustable straps.
Padding
No matter how good the fit is, any harness can cause discomfort, chaffing, sores, or other irritations if the material is too thin or rough.
Nylon, polyester, cotton, and other soft materials are best, and many manufacturers add padding to their products.
Padding gives way to pressure while also preventing tightness or pinching, keeping your dog happy as you take them out for walks or other events.
Padding will also reduce the edges of the harness off of your dog's coat, so there will be less of a chance for chaffing and irritations.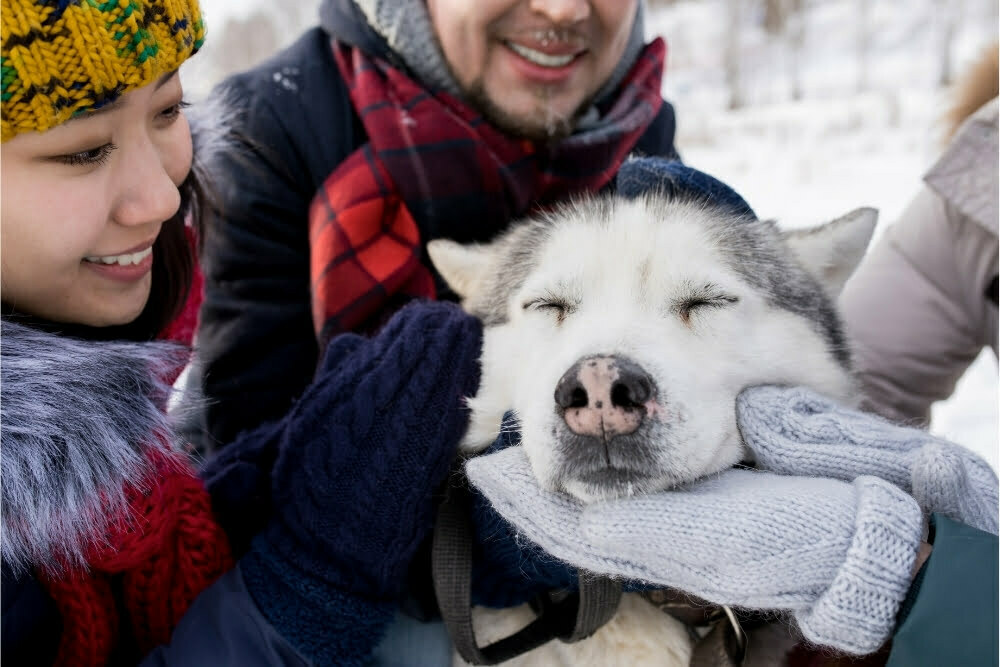 Clasps, Hooks, and Loops
A well-made harness will have several hooks, clasps, or other hardware for attaching a leash.
They should be made without any hard edges which could irritate or cut your dog's skin, and they need to be placed in several areas of the harness so you can choose which to use.
While training your Husky, having flexibility as to where you hook up your leash allows you to pull the harness in certain ways to communicate with your dog.
A front hook can aid in slowing your dog down by gently pulling up on the harness or can prevent lunging by pulling your dog to the side to get their attention.
The more attachments you have for the leash, the better the control will be.
We've researched and read about different harnesses for your Siberian Husky and have provided our reviews here.
We want to help you decide on the best harness for the Siberian Husky so you can enjoy those fun-filled days with your loyal friend.
---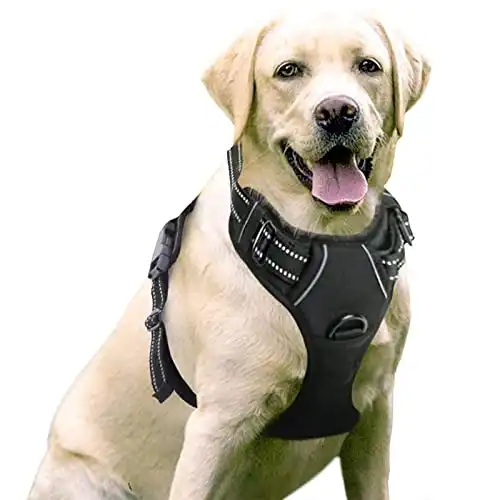 The Rabbitgoo Dog Harness is a great option, and many owners claim it to be the best harness for the Siberian Husky.
This harness adjusts easily to make it snug, so your dog doesn't slip out but can run and play freely without chafing.
Rabbitgoo designed this comfortable harness with high-quality material and a 'pulling pressure' design so if your Husky pulls you, the tug won't be so hard, and your dog won't choke.
The adjustable slide straps ensure the perfect fit.
Soft material and plush padding make it perfect for the Husky's thick fur.
Safety is important as Huskies tend to bolt after things of interest. Walk your dog knowing they won't be able to slip out of this harness.
A medium will fit most Siberian Huskies but always remember to measure your dog per the manufacturer's size chart since this product does run a bit small.
Pros:
Constructed out of two thick layers of blue jeans & red nylon
Metal hardware is highly resistant to wear and rust
No hard edges or buckles
2 adjustable straps
Handsome orange contrast stitching
Cons:
Some dog owners complained their dogs were able to chew through the leash
---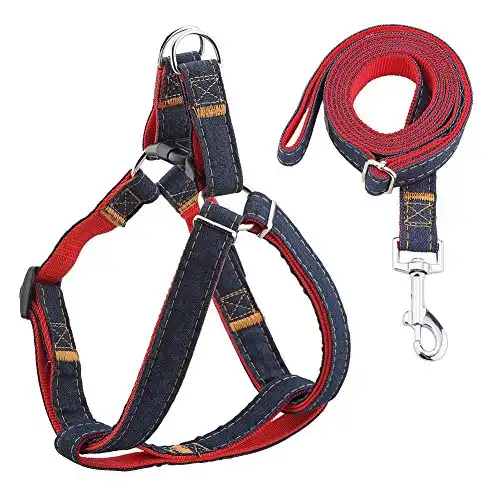 Looking for a dog harness to harness your Husky's energy?
The URPOWER Harness provides all the essentials to enjoy your walk or run with your furry friend.
A walk or training session with your dog creates an intimate bond, and you want them to enjoy the walk as much as you do.
This harness is made from two layers of high-quality denim and red nylon for comfort. Orange nylon stitching provides durability and adds an attractive design.
If you worry about fasteners, the harness is made with heavy-duty clasps and hooks which do not rust and wear.
There are two adjustable straps, but always measure your dog per the manufacturer's instructions to ensure a good.
The soft material and contoured fit eliminate chafing, and the buckles have no hard edges.
When ordering for your Husky, the medium size should be enough for either a male or female.
Pros:
Easy On, Easy Off Design
Pulling Pressure Prevents Pulling and Choking
2 Sturdy Metal Leash Attachment Points
Adjustable Slide Straps
3M Reflective Strap
Comes with a leash
Cons:
Customers had dogs over 40 pounds be able to rip the metal ring for the leash off the harness
---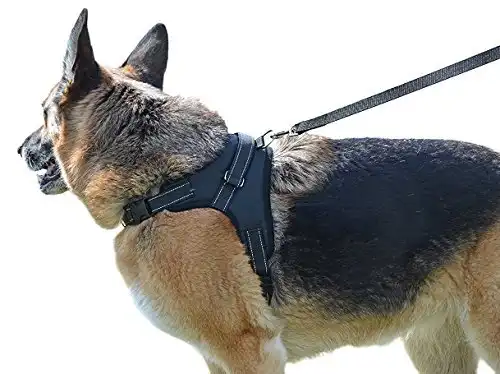 If you live an active lifestyle and walk, jog, run, and often hike with your Husky, the My Pets America Harness is made for you.
The anti-pull design reduces the stress on your dog's neck while also improving your stability by preventing your dog from yanking you too hard if they chase after something.
The My Pets America harness gives you a high level of control during your outing without being uncomfortable for your dog.
It makes training your Husky easier and allows you to communicate easily with your dog as you can pull the harness in different directions to indicate specific commands.
The harness also comes with a 'pull back' handle, which is seatbelt ready for car rides.
Don't forget; orders come with a FREE Training Book and a matching 78-inch leash.
Be sure to measure your dog before ordering and choose the size per the manufacturer's chart.
Pros:
Anti-pull design prevents choking
Reflective accents
Safe for car rides by slipping the seat belt through the handle
Sponge filling keeps your dog comfortable
Stylish 78-inch dog leash included
Comes with a Free Training Book
Cons:
Customers had dogs over 35 pounds be able to rip the metal ring for the leash off the harness
---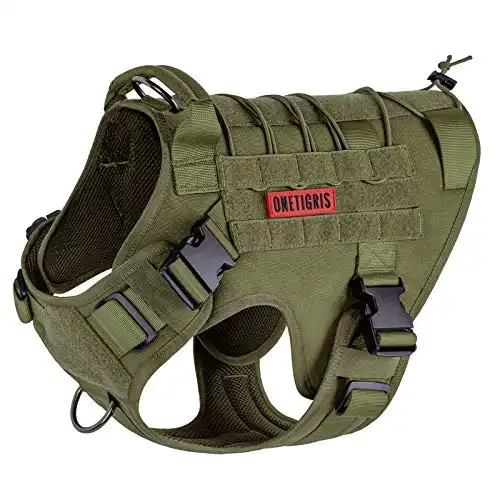 Originally designed as a tactical, military-grade harness, the One Tigris Dog Vest also makes for a practical and functional harness.
The design includes a belly band, top handle, and adjustable straps for better control of your dog. Plenty of soft padding improves comfort and reduces chaffing and rubbing.
The hardware on this harness includes a Modular Lightweight Load-carrying Equipment, and a system of hooks used by military patrols.
The 1000D nylon material is soft and water-resistant, making it an excellent choice for hikes and water sports like boating and kayaking.
The buckle system makes this harness easy to put on and remove with a Velcro system and pouches for 'personalized patches.'
The attached bungee cords can hold a water bottle or small supplies for your adventure.
Although the harness is very adjustable, and most Huskys fit a medium, please measure your dog and follow the suggested sizes from the manufacturer.
Pros:
Durable Material & Soft Padding made with 1000D nylon
4 quick-release buckles for easy off and on
Each side features two MOLLE straps
One full-length strip of 9″ long 2″ wide heavy-duty loop panel on the top for ID badges
One 3.5″ long 2″ wide loop panel on the neck strap
Cons:
Dog owners found the sizes were larger than expected. Measure your Husky to match the chart provided
---
Dog owners love taking their pets on walks and adventures, especially with an active dog like the Husky.
The Mighty Paw Sports Harness keeps things simple with two clips for attaching a leash, front and back.
If your Husky pulls when you're walking or hiking, the front clip will limit how much they pull.
If your furry friend is tagging along on a car ride, use the back attachment for the leash.
The material is weather-proof and has a mesh lining with soft spongy padding, perfect for the outdoors.
To accommodate your dog's movement, the chest piece design is supportive but won't restrict the shoulder movement when your dog is walking or running.
The harness is lined with reflective stitching for nighttime visibility.
A medium should fit your Husky, but be sure to take measurements and choose the size based on the manufacturer's recommendation.
Pros:
Front and back clips for leash attachment
Weather-proof with mesh lining and soft sponge padding
Adjustable straps
The harness is supportive of the chest area without chafing
Reflective material along the entire length of the harness
Cons:
Some dog owners found the front loop hook fell off even on first use
---
Loving Life With Your Husky
Whether you have one Husky or your own pack, these whimsical and playful dogs will delight you for years to come.
Spending time with your dog should be enjoyable for you both and takes some time through training and familiarity.
As your dog grows and becomes a family member, you'll want to take them everywhere you travel.
The Husky does well with any group of people and will join in on any activity presented.
Their mission-oriented goals are to work for a reward. This drive makes them long for purpose, even if it's a game of fetch with a ball or a stick.
Throw it out, and they will chase it, bringing it back for you to toss again.
The Husky is a delightful and handsome dog, honored for its strength and stamina.
This is one of the reasons the proper Husky dog harness is always a worthy investment for your dog.
Most dog owners are using harnesses over collars, and many 'pinch' collars or 'tightening' collars are frowned on—especially for an active dog like a Husky.
The benefits of a harness outweigh a regular collar when it comes to training and living with your Husky. They love to run and play, making it easier for them to slip out of a collar.
Once they free themselves, they will likely run until you stop them!
The best harness for the Siberian Husky ensures there is much less of a chance your dog will slip out.
Collars can also become caught in the teeth of another dog who may be playing with your Husky and cause your dog to be choked or injured.
Too often, tragic accidents happen when dogs are left to play or are unsupervised. Having a harness gives you peace of mind.
We hope you enjoyed this look at the majestic yet witty Siberian Husky and can now shop for the best harness for your Husky using the information and reviews we provided!