If you and your canine companion spend a lot of time swimming or boating, we highly recommend investing in a high-quality dog ramp designed for pools and boats.
Many dogs enjoy splashing about in pools or the ocean, and some breeds are even very proficient swimmers. However, our furry friends can sometimes struggle when it comes to getting in and out of the water, especially when elevated surfaces like pool edges and boat decks are involved.
These surfaces can be steep, slippery, and generally difficult to navigate. A ramp will provide a non-slip, easy-to-climb surface to help your dog safely begin and end their swimming sessions.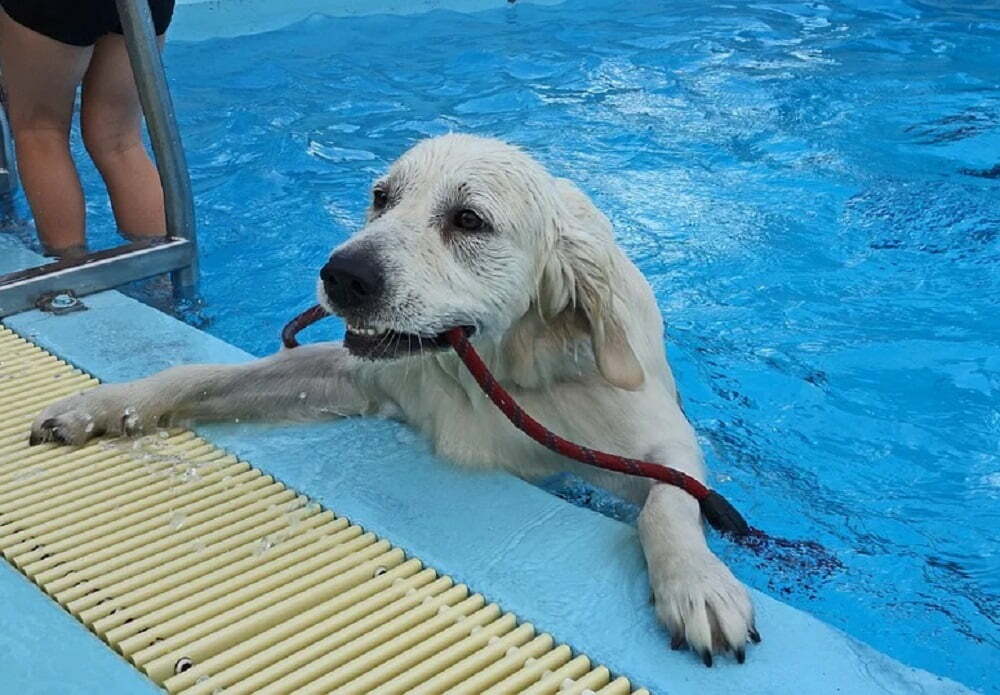 Without a pool or boat ramp, your dog might injure themselves trying to climb out of the water, which could lead to an extremely dangerous situation.
Luckily, we have put together a compilation of the 7 top-rated dog ramps for pools and boats, so you will no longer have to worry about your dog's safety in this respect.
7 Most Highly-Rated Dog Ramps for Pools and Boats
Best Overall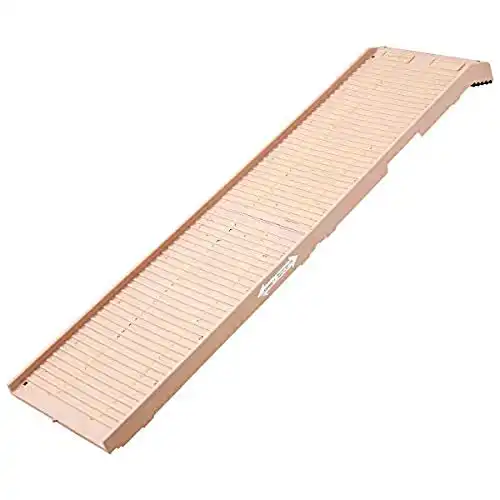 Our best overall choice for top-rated pool and boat dog ramps is the PetSTEP Original Folding Pet Ramp.
This ramp scores very highly in all the areas that are important in a dog ramp, from durability to portability.
The PetStep Original Folding Pet Ramp is made of composite plastic, which means that it is resistant to water (and corrosion) as well as chemical substances. The composite plastic also makes this ramp very strong, with a maximum weight load of 500 lbs. This ensures that the ramp is suitable for even very large and heavy dog breeds.
PetSTEP's Original Folding Pet Ramp features a rubberized surface with ridges that make it non-slip, even in wet conditions. Unlike some other ramps, which use sandpaper to provide traction, the PetSTEP ramp is comfortable for dogs to use.
Something else that helps this ramp to stand out is the fact that the grip, which helps it to latch onto pool edges, vehicles, or boats, is universal, which means that it can be used to attach to any kind of surface.
At 18.5 lbs, the ramp has a good weight to it, indicating strength and quality construction, but it's still lightweight enough to be transported easily. This portability is enhanced further by the folding mechanism, which allows for the ramp to be folded in half for easy storage and maneuverability.
A word of caution about the folding mechanism, though: it can trap and pinch skin as it opens and closes, so be careful not to position your fingers near the hinge when operating.
Pros
Composite plastic build –

Strong and durable

Rubberized surface –

Non-slip

Universal grip –

Compatible with all surfaces

18.5 lbs –

Lightweight and portable

Foldable –

Easy storage
Cons
Folding mechanism can trap skin –

Handle with care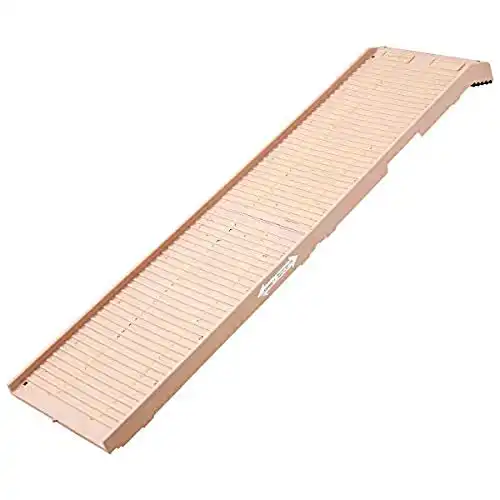 Petstep Original Folding Pet Ramp
Unique soft non-slip rubberized walking surface feels natural on paws and provides Superior Traction in all weather conditions.
No rough sandpaper or dirt-harboring carpet. Will not rust or corrode and can be cleaned with soap and water, Environment: Indoors and Outdoors
Universal non-slip grip fits all vehicles and edges while folding in half for easy storage and portability.
Unique industry-leading dimensions avoid harsh inclines and promote pet safety.
Durable composite plastic construction is long-lasting and holds up to 500 lbs (animal use only)
Proven to prevent and reduce arthritis & dysplasia pain in pets.
Buy from Amazon
Buy from Chewy
We earn a commission if you make a purchase, at no additional cost to you.
09/22/2023 12:19 pm GMT
---
Second Place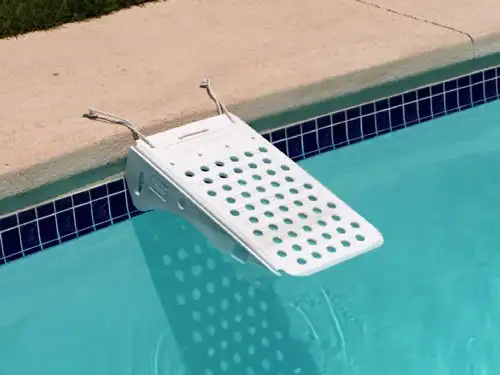 zz
In the second place, our choice of dog ramp is the Skamper Ramp Escape Ramp.
This ramp is made of polyethylene, which is a highly impact-resistant and waterproof material. The material is strong enough to support over 200 lbs of weight, so most dogs will be able to use it safely.
You will notice that the surface of the ramp is perforated with holes. These holes not only allow water to drain through the ramp, keeping the surface non-slip, but they also allow for easy claw purchase.
The Skamper Ramp is available to purchase in 2 sizes: large and regular. So, depending on the size of your dog and the size of the structure you plan to attach the ramp to, you can tailor your purchase for perfect compatibility.
This dog ramp is treated for UV resistance, which prevents it from being discolored by the sun's rays.
Plus, all the hardware you need to assemble and mount the ramp to your chosen surface is included with the purchase of the ramp. Along with the ramp, you'll receive the necessary nuts and bolts as well as lengths of nylon rope for anchoring purposes.
Please note, however, that this ramp is not designed for use on soft or temporary structures, so it should only be used with support from a permanent, durable surface.
Pros
Polyethylene construction –

Waterproof and impact-resistant

Perforated surface –

Easy purchase

2 sizes available –

Choose large or regular

UV-resistant –

Resists discoloration

Assembly and mounting hardware included –

No need for separate purchases
Cons
Not for use on temporary surfaces –

Only suited to permanent structures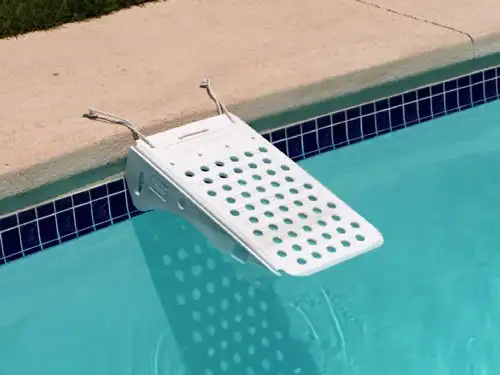 Skamper Ramp Escape Ramp
SCAMPER RAMP: This pet ramp for small dogs (under 20 lbs) helps pups enter exit the pool, especially if they fall in Simply attach to the side of the pool with included rope hardware so the ramp stays atop of the water
RAMP FOR THE POOL: The UV-resistant pet ramp for dogs include ramp, nylon rope, nuts, bolts, wing strips easy-to-follow installing instructions Not recommended for soft vinyl non-permanent structures
PET SAFETY: Keep pets safe while enjoying the outdoors with a variety of steel braided tie-out cables stakes for leashes Best for homes without a fence We also provide pet stairs for small senior animals, ramps for swimming pools more
GAMMA2 PET SAFETY: Gamma2 provides the Scamper Ramp to keep your small dogs safe while poolside If your pet falls into the pool, they can use the Scamper Ramp for an easy exit
JUST FOR PETS: Petmate makes a variety of pet products for dogs, cats, chickens other small furry friends Check out our brands such as Aspen Pet, Arm Hammer, Booda, Chuckit, Jackson Galaxy more
Buy from Amazon
We earn a commission if you make a purchase, at no additional cost to you.
---
Runner-Up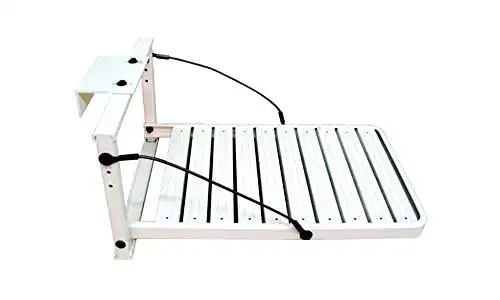 Our runner-up pick is the Great Day Load-A-Pip Pet Loading Platform, which ticks all the right boxes for a marine dog ramp.
Made of aircraft-grade aluminum, this ramp manages to be strong enough to bear heavy loads while weighing just 7 lbs. This makes the Great Day Load-A-Pup ramp one of the most simultaneously lightweight and durable choices on our list.
The ramp is finished with an enamel powder coating, which not only gives it an attractive off-white finish but also protects against corrosion.
Thanks to the ridges built into the surface, your dog will be able to use this ramp safely without slipping.
As an added bonus, the ramp is foldable, so it can be easily stored and maneuvered from location to location without too much effort.
The one downside to this dog ramp is that, while it is designed to fit the majority of boat boarding ladders, there is no information to state which ladders are not compatible with the attachment.
This means that there is some guesswork involved in working out whether the platform will fit your marine vessel, and if not, you may need to invest in the adapter kit, sold separately.
Pros
Aircraft-grade aluminum –

Strong and lightweight

Powder coating –

Protects against corrosion

Built-in ridges –

Non-slip grip

Foldable –

Convenient for storage

Fits most boarding ladders –

Widely compatible
Cons
Not compatible with all boats –

Separate adapter kit may be needed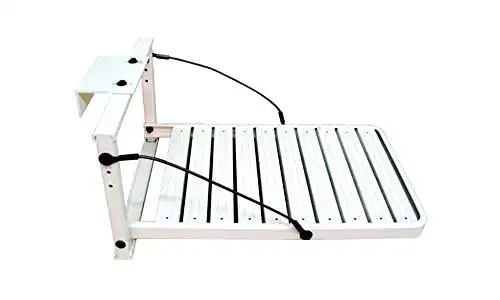 Great Day Load-A-Pup 14x20in Pet-Loading Platform
With The Load-A-Pup, You And Your Dog Can Enjoy All The Fun Associated With Recreational Boating
Simply Hook The Load-A-Pup To Your Boat's Boarding Ladder And You Are Ready For Action. Your Dog Can Leave And Re-Enter The Boat At Will
The Load-A-Pup Platform Is Constructed Of Light-Weight, Aircraft Aluminum And Includes Gripping Ridges To Insure Solid, Safe Footing As Your Dog Climbs Back Into The Boat After A Swim
Fits Any Boat That Has A Boarding Ladder
Buy from Amazon
We earn a commission if you make a purchase, at no additional cost to you.
09/22/2023 12:40 pm GMT
---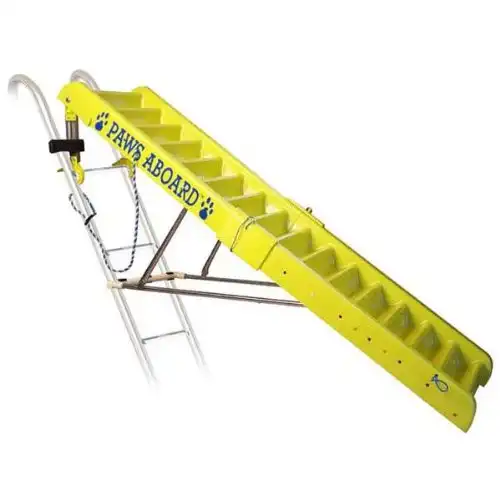 Next up, the Paws Aboard Doggy Boat Ladder and Ramp is an excellent choice for boat outings.
The ribber platform minimizes the risk of slipping, providing a safe entrance and exit to the water for your dog.
This ramp is resistant to corrosion as well as UV rays, so neither the saltwater nor the sun will discolor or otherwise damage the structure of the ramp.
The Paws Aboard ramp also benefits from a folding design, which allows it to be easily stored away when not in use, and carried practically between locations.
Even better, the universal grip at the end of the ramp ensures that it will fit the majority of boat ladders for easy and quick attachment.
One thing to bear in mind about the attachment, however, is that a small gap will be left between the first step and the ladder. This could present a tripping or falling hazard for some dogs, so while it's an effective ramp for the most part, we would always recommend being present to assist your dog if necessary while using the ramp.
Pros
Ribbed platform –

Sturdy and non-slip

Corrosion-resistant –

Durable in water

UV-resistant –

Protected against discoloration

Folding design –

Compact for storage

Universal grip –

Widely compatible with boat decks
Cons
Leaves a gap between boat and ramp –

Supervision and guidance may be required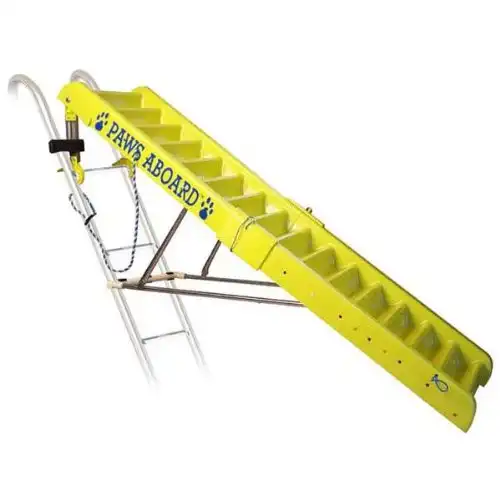 Paws Aboard Doggy Boat Ladder and Ramp
The Doggy Boat Ladder is an excellent choice for use with arthritic, older, or overweight pets
Portable, lightweight and durable
Making boating fun and safe for you and your pet
Buy from Amazon
We earn a commission if you make a purchase, at no additional cost to you.
---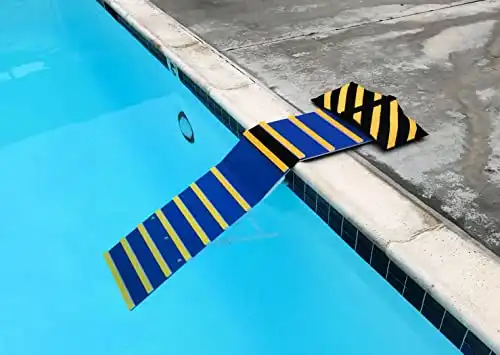 The KHTS6310 Dog Pool Exit Ramp is an innovative and highly practical choice of dog ramp for use in pools.
Consisting of a PVC frame with built-in ridges and a non-slip coating, the Dog Pool Exit Ramp makes a safe and stable surface for small breed dogs to make their way in and out of the pool.
The bright yellow and blue colors chosen in the manufacturing of this ramp are perfect for the color range of canine vision, ensuring that your pup can always easily see the ramp if and when they need it.
This KHTS6310 ramp is easy to fold when needed, so you can store it in a compact way when it's not in use.
Included with the ramp is a pair of waterproof weight bags to enhance the product's stability, as well as hardware for assembly. This hardware comprises steel screws, plastic attachment clips, and rubber feet for added grip.
However, please be aware that this ramp is only designed to support dogs weighing under 65 lbs. Dogs heavier than this will need to use a different ramp for proper support.
Pros
PVC frame –

Tough and waterproof

High-traction coating –

Non-slip surface

Yellow and blue color scheme –

Ideal for canine vision

Easy folding –

Practical for transport and storage

Weight bags and hardware included –

Comprehensive purchase
Cons
Only supports up to 65 lbs –

Not for heavier dogs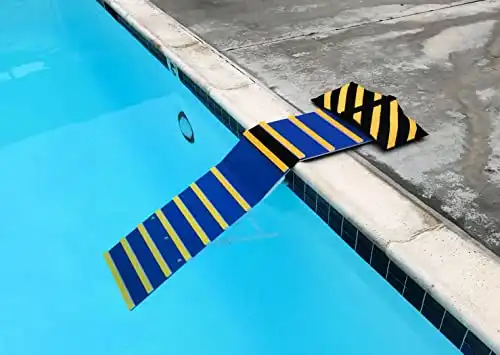 KHTS6310 ® The Original Made in USA Dog Pool Exit Ramp
INOVATIVE CONSTRUCTION – No damage to your pool deck, Light weight, stable & strong. Portable; easy deployment & storage. Blue & yellow ramp colors - best for dog & cat vision. All waterproof materials - PVC framework. non skid coating, durable plastic sheets with raised cross ribs, and stainless steel screws. Waterproof weight bags are included. Assembled & ready to go – just add sand to the weight bags & snap the support struts open.
WE LISTEN! This re-designed ramp incorporates customer input with remarkable success. The ramp will support small to medium breeds. For larger breeds see our listing for Large Dog Pool Exit Ramp.
2 Year 100% $ BACK GUARANTEE - If not completely satisfied you may return the product for a complete refund 2 years from date of purchase.
Fast & Free Shipping to USA
MADE BY USN VIETNAM VET IN USA - This product is US Veteran designed & assembled in San Diego, California. We are a small business selling a very simple effective product for your pet.
Buy from Amazon
We earn a commission if you make a purchase, at no additional cost to you.
09/22/2023 12:58 pm GMT
---
If you're looking for a highly versatile ramp that you can use to help your dog in and out of the water as well as for unloading cargo, we recommend the Extreme Max Heavy-Duty Aluminum Pontoon Boat Ramp.
Because the ramp is made from aluminum, it's both highly durable and resistant to corrosion. The strength of the construction allows the ramp to support up to 600 lbs in weight, so there's absolutely no question that this multi-purpose ramp will be able to safely support your dog.
The platform measures about 70 inches by 21 inches. This is quite a large surface area, which means that your dog won't have to balance precariously on a narrow ramp. With that being said, however, the ramp is quite steep, so senior dogs or dogs with mobility issues might struggle to use it.
The Extreme Max ramp is designed to fit the vast majority of pontoon boats on a universal basis, and thanks to the under-deck sleeve that comes with it, you can slide the ramp securely under the boat when it's not in use. No transport or storage space is needed.
Pros
Aluminum construction –

Durable and rust-resistant

Ribbed with raised edges –

Prevents slips and falls

70 x 21 inches –

Large surface for added security

Universal fit –

Widely compatible

Slides under boat –

Easy storage
Cons
Relatively steep –

Not the best choice for senior dogs
Extreme Max 3005.3849 Heavy-Duty Aluminum Pontoon Boat Ramp - 70" x 21", 600 lbs. Capacity
Simplify loading and unloading your pontoon on docks and shores, versatile ramp is perfect for rolling coolers, strollers, and other bulky cargo
Non-slip surface and raised edges provide safe, sure footing in any weather condition and provide a great boarding experience for kids, pets, and those with limited mobility
Ramp slides easily into an under-deck sleeve when not in use, keeping it secure and out of sight
Constructed of durable aluminum and boasts a 600 lbs. weight capacity
Extended Ramp Dimensions: 70-7/8" long x 21-1/8" wide
Buy from Amazon
We earn a commission if you make a purchase, at no additional cost to you.
09/22/2023 01:13 pm GMT
---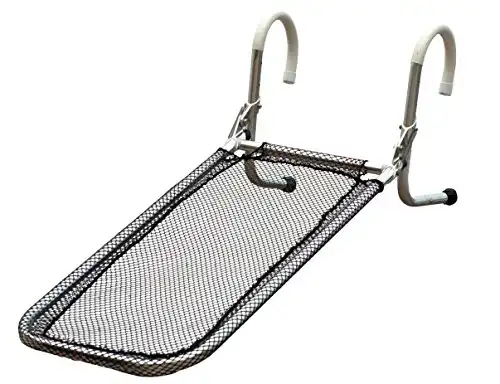 The Drifter Marine Dog Boat Boarding Ladder is our final product for today, and it's a great one to end with because, once again, it truly does meet all the requirements for a safe and practical dog ramp.
The frame of this ramp is made from anodized aluminum, which is aluminum that has been heat-treated to increase its hardness and, by extension, its strength. This additional strength allows the Drifter ramp to support loads up to 125 lbs, so it should be sturdy enough for the majority of dogs to use. Additionally, the aluminum is corrosion-resistant, so water exposure won't be a problem.
Thanks to the mesh platform, any water that splashes onto the ramp will drain through instead of puddling and presenting a slipping hazard. The holes in the mesh also provide more claw purchase for ease of climbing.
The legs of the ramp are adjustable to help you achieve the perfect fit for your boat, although the ramp is not compatible with boat walls over 6 inches in thickness. The rubber guards on the ends of the legs help to minimize any scratching, keeping your boat as well as your canine companion safe.
Drifter has also made sure that the arms fold down for compactness while in transport and storage.
Pros
Anodized aluminum –

Tough and corrosion-resistant

Mesh platform –

Drains water and provides purchase

Adjustable legs –

Wide fit compatibility

Folding arms –

Becomes compact for storage

Rubber grip guards –

Stops arms from damaging your boat
Cons
Not compatible with boat walls over 6 inches –

Not a universal fit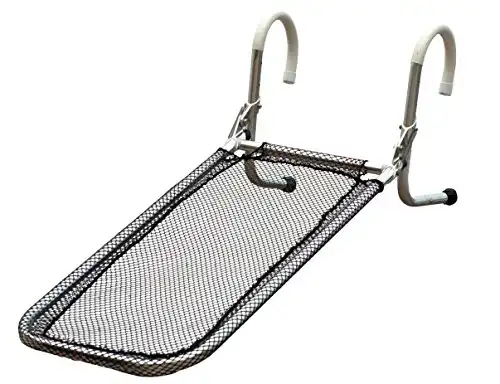 Drifter Marine Dog Boarding Boat Ladder
Ladder hooks designed to fit over boat gunwales up to 6" (Not suitable for docks).
Mesh netting for slip proof surface measures 39" x 16". Rated for dogs up to 125 lbs.
Anodized-aluminum construction, extremely strong.
Arms and climbing platform fold easily for storage.
Made in the USA!
Buy from Amazon
We earn a commission if you make a purchase, at no additional cost to you.
09/22/2023 01:18 pm GMT
---
Buyer's Guide: Choosing the Best Dog Ramp for Pools and Boats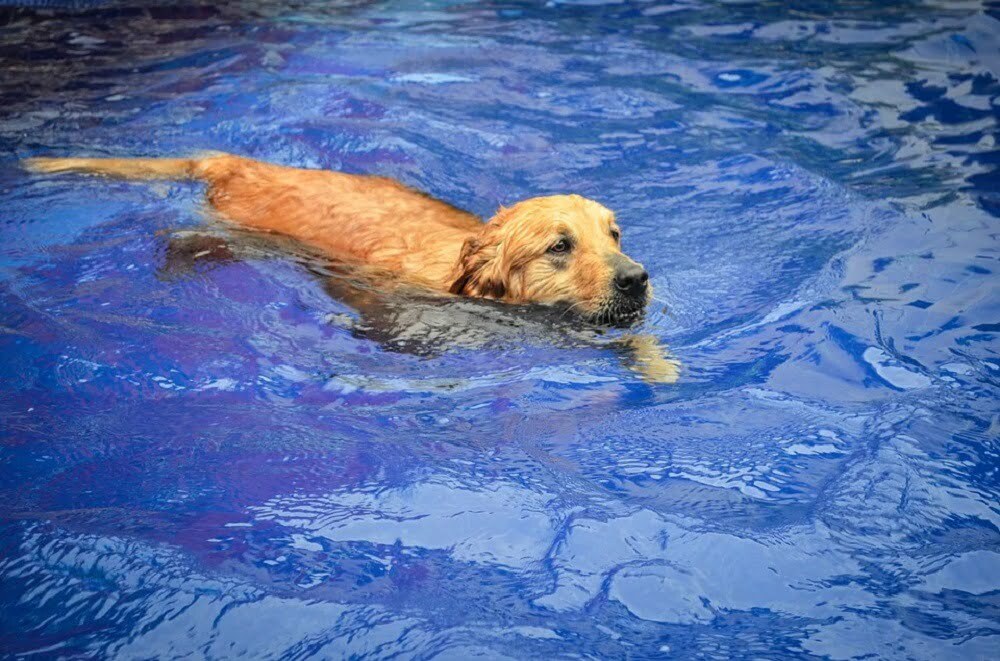 Dog ramps for pools and boats are very important in the sense that they are designed to help keep your dog safe and injury-free in water-based situations. Therefore, we understand that you want to be 100% confident in your choice of dog ramp.
In order to make an informed purchase, you will need to familiarize yourself with the key features for consideration when choosing a dog ramp for pool or boat use. If this is something you feel you need to brush up on, keep reading!
Compatibility
We have included dog ramps for use with pool and boat structures on our list, so before you make any firm decisions, you will need to make sure that your preferred ramp is compatible with the surface you'll be using it in conjunction with.
Part of this process will simply entail deciding whether you need a ramp for your pool, your boat, or even potentially both.
However, you'll also need to consider measurements as well as factors like weight capacity.
Many dog ramps are advertised as 'universal fit,' which means that they are designed to attach to most types of edges and surfaces. Unfortunately, this is not always the case, especially when it comes to boat ramps.
Before adding any ramp to your cart, it's worth checking whether any maximum or minimum measurements are specified in the product information. For example, the manufacturer may have stated that the attachment feature is only compatible with boat edges measuring a certain number of inches in width. In this case, you should double-check the measurements of your boat to be on the safe side.
Additionally, be sure the verify the maximum weight capacity of a ramp before buying. Some dog ramps are incredibly strong and are capable of withstanding weights up to 500 lbs. Others, however, are designed for smaller breeds and can only support up to 65 lbs, for instance. Not adhering to the maximum weight specifications of a dog ramp could put your dog in serious danger, so this is definitely not a point to skip over.
It is also worth bearing in mind any other purpose you might want to use a pool or boat ramp for since it may be possible to kill two birds with one stone, so to speak.
For example, if you frequently need to load heavy items onto your boat, or if you would like to have an easier way of getting your stroller on board, you may wish to look for an extra-sturdy ramp that can be used for loading and unloading as well as pet access.
Material and Construction
One of the most important features to be aware of when choosing a dog ramp for use in and around water is construction material.
Dog ramps can be made of either plastic/plastic composite or metal. Either material can be highly durable with the right kind of construction, and if recommended weight limits are adhered to.
The metal most often used in the construction of pool and boat dog ramps is aluminum. The reason for this is that aluminum is surprisingly lightweight, given its strength and wear resistance. This makes it easy to transport and reposition the ramp without too much fuss and ensures that your ramp will last you for many years to come.
If you want further to enhance the durability of your aluminum dog ramp, we'd recommend choosing a ramp that comes finished with a powder coating. This helps prevent any paint from being stripped off over time and also minimizes the risk of corrosion.
PVC or plastic composite dog ramps can also be exceptionally sturdy, with excellent waterproof and impact-resistant properties.
In terms of the surface of the ramp, this will need to be as non-slip as possible so that the risk of your dog slipping is minimized. After all, the point of a ramp is to make entering and exiting water easier for your dog, not more difficult.
A non-slip surface can be achieved through rubberization and the incorporation of ridges. Holes or perforations in the ramp can also help to allow for better claw purchase. Mesh can work well for this purpose.
Portability and Storage
You have plenty of options when it comes to the storage and portability of your dog ramp.
Most dog ramps for pools and boats have the ability to fold into a more compact shape for transport and storage.
Alternatively, some boat ramps come with a sleeve that fits underneath the boat and can accommodate the ramp when it's not in use.
If you choose a folding ramp for your dog, it's a good idea to test it before use to make sure that it doesn't dip or leave a gap at the hinge point. Also, remember to keep your fingers (and your dog's paws!) as far away from any hinges as possible while folding.
Additional Features
Ideally, any hardware required for the assembly or attachment of your new dog raft should be included in the purchase. This includes any screws, ropes, or even weight bags to hold the raft together or in place.
If you are worried about the attachment on your ramp scratching the sides of your boat or pool, you should prioritize attachments that come with rubberized grip guards. These will provide a layer of rubbery protection between the hard metal or plastic of the raft and your boat or poolside, minimizing the potential for permanent marking.
Another thing to consider if you want to keep your boat or poolside dog raft looking brand new for as long as possible is UV protection. Some dog rafts come pre-treated with UV-resistant technology which will prevent discoloration from the sun's rays.
Frequently Asked Questions
Do I really need a dog ramp?
If your dog is ever likely to have to climb in and out of a pool or boat, it is a very good idea to get a dog ramp.
You might think that your dog is athletic enough to get in and out of a boat or pool without any trouble. Still, you can't always account for factors such as wet weather conditions (which create slippery surfaces) and fatigue, which can easily make it more difficult for a dog to lift themselves out of the water.
Without a ramp, your dog is more likely to sustain injuries or worse. While it's important always to supervise your dog while swimming for this reason, you can help to ensure their safety by investing in a dog ramp.
Can dog ramps be dangerous?
Some dog owners are wary of dog ramps because they worry that their dogs might injure themselves while using the ramp.
As long as the ramp that you choose is well-built using durable material and fully compatible with your boat/pool and your dog's weight range, there will be a very minimal risk of injury.
What can happen with universal-fit ramps, however, is that there might be a gap left between the top of the ramp and the edge of the boat or pool.
This is obviously not ideal, but the danger of your dog falling or getting stuck can be minimized by you being present at all times while they are using the ramp. This will allow you to hold or guide your dog as they step onto the ramp and provide assistance if necessary.
Is a ramp better for dogs than stairs?
Stairs can work well as a water entry or exit aid for many dogs, but some dogs may struggle to climb stairs, especially if they are steep or wet.
If you have a senior dog, it's better to choose a flat ramp than one with stairs.
Older dogs tend to have a more limited range of mobility than younger dogs and are also more likely to develop conditions like arthritis.
Moreover, if you are the owner of a small breed dog, be aware that climbing stairs can be difficult on their joints. This also applies to dogs that have previously sustained joint injuries and breeds that are prone to joint issues such as patella luxation, hip dysplasia, or arthritis.
If you do opt for a ramp with built-in stairs, make sure that it has been designed to be as non-slip as possible, and always supervise your dog while the ramp is in use.