Do you own a Boston Terrier? Looking for the best dog food for Boston Terriers? You've come to the right place.
Also known as the Boston Bull, this terrier is a cross between the English Bulldog and the extinct English White Terrier.
It's one of a small number of dog breeds that originated in the United States.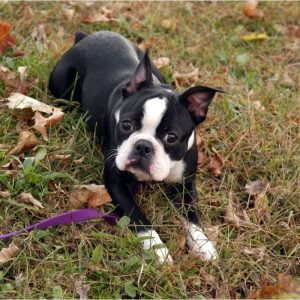 This playful dog is not short of any nicknames and is also called "The American Gentleman."
Are you looking for the best dog food for Boston Terriers? If so, we'll provide all the information you need to choose wisely.
With so many commercial dog food brands on the market, picking the best one for your dog can be tough.
How to Choose Good Dog Food for Boston Terriers
Boston Terriers are a small breed that has a big appetite. Boston Terriers are vulnerable to certain food allergies.
So, it's important to know what to feed them and what not to feed them since certain foods can trigger allergic reactions.
Protein
Many experts believe domesticated dogs evolved from grey wolves; their DNA is very similar.
Dogs are carnivores, and their diets require a high amount of protein.
Adult dog diets should contain about 20% of protein while growing puppies should get 28%.
Grains
Boston Terriers often have sensitive stomachs that don't digest grains well.
So when picking a food for your dog, make sure a small percentage of the food's carbs are from grains.
It's even better if none of the carbohydrates are from grains.
Kibble
Many dog owners tend to recommend wet dog food over kibble for most breeds.
However, one of the few exceptions are Boston Terriers.
The conventional wisdom is that the breed is susceptible to halitosis (bad breath), and canned food is believed to make the condition worse.
If your dog indeed suffers from bad breath, consider swapping out wet food and replacing it with kibble.
Also, ensure your friend is consuming enough water. Some owners even get dog mints as a temporary way to improve bad breath.
If the condition persists, then it'd be best to schedule a checkup at your local animal clinic.
Some dogs, especially as they get older, may have issues with their teeth, just like people!
Allergies
Boston Terriers aren't known to suffer from severe food allergies.
However, you should watch out for symptoms caused by common food items like beef, chicken, fish, grains, dairy, or soy.
If you observe an allergic reaction to your dog's food, then it's important to get your canine tested as soon as possible. Symptoms to watch out for include:
Rashes
Diarrhea
Hair loss
Excessive gas
Vomiting
If tests show your dog has a food allergy, make sure to immediately change to a food that doesn't contain that particular ingredient.
---
Best Dog Food for Boston Terriers
1. Merrick Grain Free Dog Food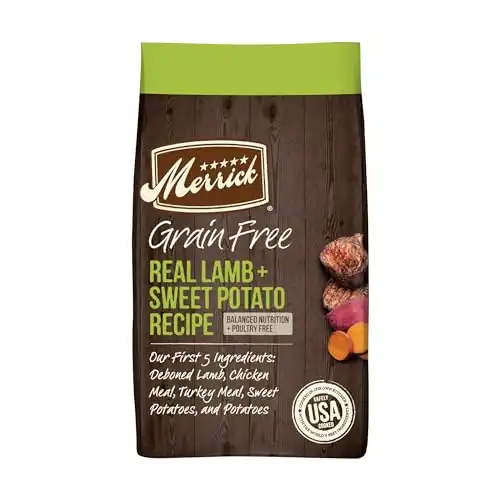 This dry dog food contains high-quality protein and fats, which are both important macronutrients for your doggy.
Local farms produce the item's lamb and sweet potatoes, and it's also grain-free and natural.
This dry dog food is good for all life stages of Boston Terriers thanks to their nutrient-rich ingredients, which prolong health.
The main ingredient is deboned lamb, which, along with fish, makes up over half of the ingredients.
This dog food also contains omega-3 fatty acids that can improve your dog's skin and coat.
Features
Contains omega-3 and 6 fatty acids for healthy skin and coat

Grain and gluten-free for easy digestion
Glucosamine and chondroitin for hips and joints
Poultry-free recipe to prevent food allergies
The top ingredient is boneless lamb
Pros
Dogs like the flavor
Improves teeth and coat
High in protein
Cons
Food might be stale, but the return policy has you covered
Some dogs don't like the flavor; individual preference
2. Nutro Wholesome Essentials Dog Food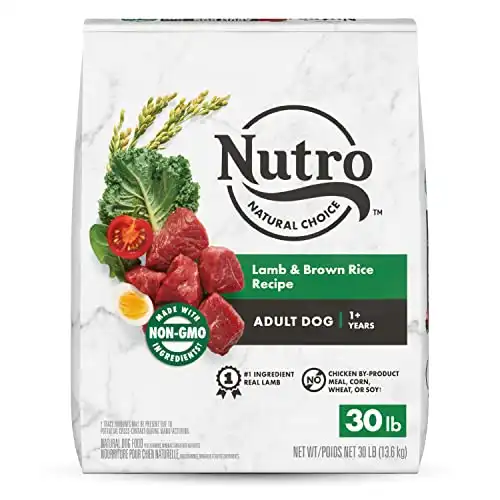 This dog food for Boston Terriers is made from high-end protein sources like lamb, chicken, or venison.
The products are made with real ingredients instead of fillers like chicken byproducts, wheat, corn, or soy.
It also contains no artificial colors, flavors, or preservatives, making this a healthy choice for your dog.
The ingredients are sourced from local farmers and suppliers.
The recipes are also produced using quality ingredients worldwide from the company's in-house facilities.
Features
Non-genetically modified organism (GMO) ingredients
Contains antioxidants like Vitamin E
Small bites for dogs, easy to chew and digest
Grass-fed lamb
Supports strong muscles
Pros
Good for small breeds
Healthy and tasty for dogs
Excellent price and value
Cons
The recipe changed, and some dogs do not like the new recipe
Some reported cases of digestion problems
3. Taste of the Wild Dry Dog Food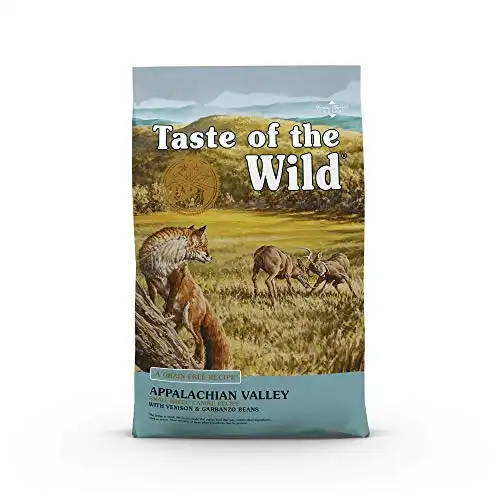 This is a grain-free dog food that includes excellent nutrition for small breeds. It's made from roasted meat and different protein sources.
The dog food includes a hearty formula for a dog's different life stages.
This product offers various types of nutrients from their ingredients, which include amino acids, antioxidants, berries, minerals, omega fatty acids, and tomatoes.
Proteins include a mix of bison and venison.
Features
Contains high-quality protein, including real venison and amino acids
Family-owned US company using advanced protocols for food safety
No artificial ingredients and fillers
Ingredients include fruits, veggies, antioxidants, and fatty acids
Pros
Adult dogs and puppies like the food
Small bites for small dogs
Good price and great value
Cons
Older formula
Some reports of skin issues
---
Best Dog Food for Boston Terrier Puppies
1. Canidae Pure PUPPY Dry Dog Food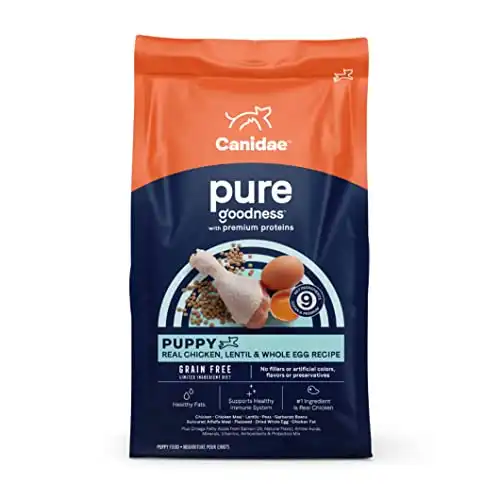 This puppy dog food includes a basic recipe for pets with sensitive stomachs and skin.
The products are made with 10 key ingredients.
This puppy chow is not only nutritious but also delicious.
The food is made with quality protein sources like chicken and fish. It also includes whole ingredients like beans, peas, and potatoes.
There are no filters like corn, wheat, or soy.
Features
Grain-free formula
Good for puppies with sensitive stomachs
Includes peas, lentils, potatoes, and alfalfa
Includes whole foods for easy digestion
Contains real chicken meat
Pros
Dogs like the taste
Improves coat
Cons
Can cause bad breath
Different blends than physical stores
2. Canine Cavia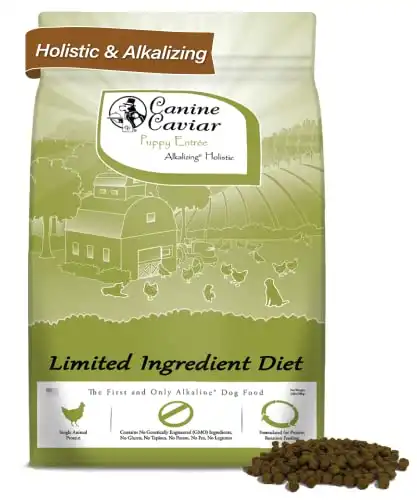 This dog food for Boston Terriers is from Canine Caviar. It includes quality dehydrated chicken and split peas.
This puppy chow is a good option for small-breed puppies, which include Boston Terriers.
It's also a good option for pregnant and nursing dogs.
The dog food is well-balanced with vitamins, minerals, and enzymes.
The company minimizes the number of ingredients in its puppy chow to minimize allergens that can trigger food allergies.
This makes it easier for puppies to digest the food.
In fact, the formulations are close to what a wolf would eat in the wild. This is the ideal alkaline diet for dogs.
Features
One protein (chicken) & complex carbs (brown rice)
No byproducts
No wheat, gluten, or GMOs
Good for dogs with food allergies and sensitive stomachs
Protein rotation formulation
Pros
Easy to digest
Improves coat
Puppies enjoy eating
Cons
Hard to find
Bad for dogs prone to struvite stones (minerals in urinary tract stones)
---
Best Dog Food for Senior Boston Terriers
1) ORIJEN Senior Dry Dog Food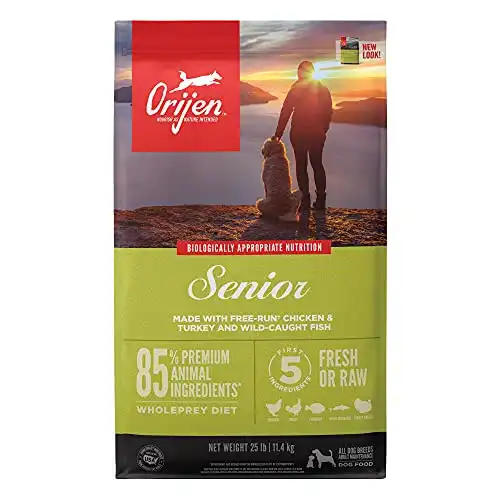 Boston Terriers have an average lifespan of 13-15 years.
If your dog is nearing that age, it's time to consider senior dog food like Senior Dry Dog Food from Orijen.
This will help your dog to live as healthy as possible during their twilight years.
This is a grain-free dog food with limited ingredients and one source of protein.
This is an excellent option if you wish to keep your older dog healthy and happy.
The product is freeze-dried to lock in the nutrients and keep the dog food fresh.
This product offers all the nutritional benefits of raw diets while keeping your dog well-nourished.
Features
Healthy and nutritious
Limited ingredients, only 1 protein source
Grain-free dog food
Formulated for senior dogs
Freeze-dried
Pros
Dogs like the food
Excellent quality
Formulated for senior dogs
Cons
Older formula
Might cause digestion problems
---
Best Dog Food for Boston Terriers with Allergies
Like other dog breeds, Boston Terriers can suffer from various food allergies.
Here are some of the most common ones:
Beef
Chicken
Lamb
Fish
Eggs
Corn
Soy
It's important to recognize various symptoms of food allergies. They include:
Hair loss
Ear or skin infections
Hot spots
Limb chewing
Face or belly itching
If you suspect your Boston Terrier has a food allergy, use the process of elimination to determine which ingredients are causing the symptoms.
Use an elimination diet that includes brand-new ingredients for 3 months.
This typically includes more exotic ingredients not found in commercial dog food.
Then start to reintroduce dog food ingredients, one per week.
After figuring out which ingredients your Boston Terrier is allergic to, look for hypoallergenic dog foods or even consider making homemade food for your dog.
We have compiled a list of the best dog foods for Boston Terriers with allergies that will help you decide below:
1. Natural Balance L.I.D. Limited Ingredient Diets Dry Dog Food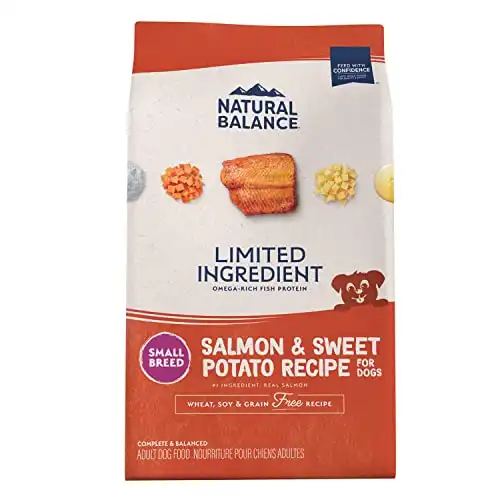 This is hands down the best dog food for Boston Terriers with allergies.
The limited-ingredient formulation includes high-quality protein and carb sources.
This hypoallergenic formula helps to prevent side effects caused among dogs with food allergies.
The dog food contains no grains and is well-balanced for puppies, adults, and seniors.
It maintains good digestive health and supports healthy skin and coat.
This product is designed for adult dogs. It includes basic ingredients that include quality protein, potassium, and energy-boosting nutrients.
The company also conducts 9 safety tests for each batch of dog food. This helps to ensure all products maintain high-end quality ingredients.
Professional microbiologists and chemists conduct these tests.
The results are then posted on the website so pet owners can verify their pet pooches are getting quality food.
Features
Protein (21% min), fiber (5% max), omega-3 (5% min.), calcium, phosphorus
Balanced nutrition
Limited ingredients
Grain-free
No artificial colors, flavors, or preservatives
Pros
Fish is good for food allergies
Better digestion
Dogs are more likely to eat
Cons
Formula changed
Can cause dogs to smell
---
Boston Terrier Diet & Nutrition Requirements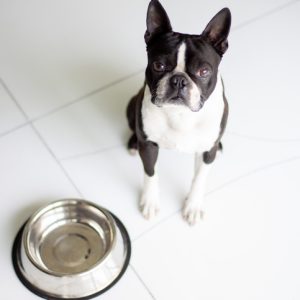 When choosing your Boston Terrier's food, it's important to know the basic requirements for your dog breed in terms of diet and nutrition.
Here are some important guidelines to keep in mind:
Calories
Typical adult Boston Terriers require 530 calories per day.
Active Bosties need about 850 calories, and senior dogs require about 450 calories.
Keep in mind these figures are rough guidelines but can help to pick the right food for your pup.
The longer you own your pet, the easier it will be to determine which dog food brands are right for them.
One issue to remember is that your dog might overeat if they have the chance, and it's more common among Bosties.
So it's critical to make sure to feed your canine a healthy amount of food so they have enough energy and nutrients for the day but not a ton of excess calories.
Macronutrients and Ingredients
It's also important to watch the types and amounts of macronutrients and ingredients your Boston Terrier is getting. Here are some guidelines:
Protein
This should be the main ingredient in your canine's diet. Some options include beef, chicken, lamb, fish, and more.
When picking a commercial dog food, make sure 2-3 of the ingredients are the first ones listed on the label.
What about plant protein? This is a good option if you'd like your dog to get more veggies.
However, it's tougher for dogs to digest plant-based proteins than meat-based ones.
So make sure the dog food contains a higher percentage of meat protein.
Carbohydrates
Dogs can digest carbs which can be an effective energy source.
An excellent option is sweet potatoes because they have a low glycemic figure.
Fat
This is another macronutrient that can provide your Boston Terrier with energy.
Some good options are omega-3 fatty acids to improve skin and coat health and DHA for brain and eye health.
Fruits and Vegetables
These aren't required for dogs' health. However, they do contain vitamins, minerals, antioxidants, and other nutrients that can improve your pet Bostie's overall health.
---
How to Properly Feed a Boston Terrier
It's important not only to know what to feed your Boston Terrier but also how to feed them.
Here are some important topics:
Specific Foods
With so many dog food brands on the market, it can be tough to determine if you should select a certain one you found.
Make sure to pick a dog food that meets the particular health and nutritional requirements for your particular Bostie.
A veterinarian can help guide you if you have any questions or concerns.
Feeding a Boston Terrier Puppie
Boston Terrier mothers usually wean their puppies between 5-6 weeks of age.
However, experts recommend they remain in the litter until 9 weeks old.
This boosts their socialization, which is important for the baby dog's development.
By the time Boston Terrier puppies reach 10 weeks old, they're usually between 4-5 pounds.
This is when it's critical to feed your pup a nutrient-rich and healthy diet.
The puppy needs around 190 calories daily to get enough energy.
If your dog is active, they might need 300+ calories depending on the situation.
It's always important to avoid over-feeding your Boston Terrier pup.
Remember that this breed tends to overeat if they have the opportunity to do that, so make sure to count calories for your little pet pooch.
Daily Feedings
A good guideline to follow is to feed your dog about ½ cup of dog food per 10 kg of body weight.
This is a guideline for small breeds since they require 15% to 25% more calories per pound than big breeds.
Other factors to consider include the following:
Activity level
Current and target weight
Calories from table foods and treats
Environmental factors
Foods' calorie content
Here are some guidelines for how often you should feed your dogs:
Puppies (small meals)
< 3 months: 5 meals
3 months: 4 meals
6 months: 3 meals
Adults (1+ years): Small breeds should be fed 2 times since they eat a small amount at mealtime.
Feeding Tips
Avoid feeding your dog from your plate since it can encourage begging and unwanted barking.
Avoid suddenly changing your dog's diet. If you make changes, ensure it's done gradually over a couple of days up to one week.
Always provide your dog with fresh water.
If your dog doesn't eat all of their food in one sitting, you might be feeding too much.
Don't disturb an eating dog since it can cause anxiety and result in your canine getting aggressive. If you need to "test" if your dog is okay with you approaching them during mealtimes, add a little food to its bowl during chow time.
Don't feed your dog before traveling in a vehicle since it can cause car sickness.
Don't feed your dog 1 hour before or after exercise since it can cause severe digestion problems.
Pick quality dog food that's complete and balanced instead of adding more supplements. The exception is if your dog's doctor instructs the use of supplements for deficiencies.
---
Common Health Issues of Boston Terriers
Patellar Luxation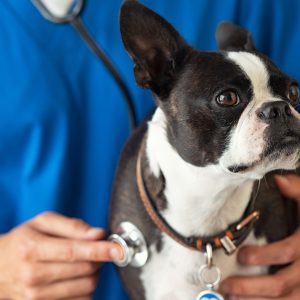 This condition is also called "slipped stifles" and is actually somewhat common among small breeds.
This involves the kneecap dislocating or moving from the normal position.
One treatment for this condition is to ensure your dog is getting enough omega-3 fatty acids and glucosamine.
This will help to support their joints and also help to keep their health condition under control.
Heart Murmurs
This condition is defined as causing a "whooshing sound" when the veterinarian listens to the canine's heart.
If your dog has this condition, it's possible for them to live a happy life, but it's still a heart condition, so it should be monitored.
Your dog's diet can effectively help treat heart-rated issues like heart murmurs.
That includes a high-quality natural and organic diet with at least 25% protein.
Deafness
The rate of deafness among Bosties is quite high, especially among those with a high amount of white in their coat.
Make sure to have your puppy's brain-stem auditory evoked response (BAER) tested to see if they suffer from hearing problems.
If your dog is hearing-impaired, you can help them deal with the situation better by ensuring they eat a healthy diet.
That includes dog chow that's high in vitamins, minerals, amino acids, antioxidants, and other nutrients.
Even if your dog is deaf, they can still live a happy, healthy, full life with your help.
---
Key Takeaways
Boston Terriers can be an excellent dog breed to own since they're quite charismatic and playful.
In order to provide the best for them, make sure you're providing them with a natural and well-balanced diet.