Strong and powerful, yet a loving and social, The Alaskan Malamute is an active companion that simply makes everyone around them be filled with joy.
Their family-oriented and open demeanor towards people makes this breed a lot of fun for families and owners who love to play and venture off into large, open spaces.
If you want your lovable work-hard play-hard canine to keep up their infectious joy and stay healthy, you need to provide them with good food that is made for the specific needs of this amazing breed.
In this article, we break down the factors you'll need to evaluate when selecting the best dog food for Malamutes along with some of the nutrition requirements and this dog's unique health considerations.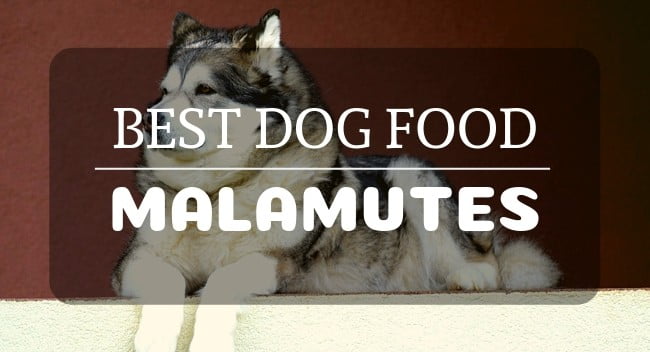 We provide in-depth reviews of dry dog food for Alaskan Malamutes, including Alaskan puppies, seniors, adults, and dogs with medical issues.
See our quick picks here for healthy adult Malamutes, or keep reading for our more detailed reviews for all types.
Quick Picks: Best Dog Food for Malamutes
Malamutes Diet & Nutrition Requirements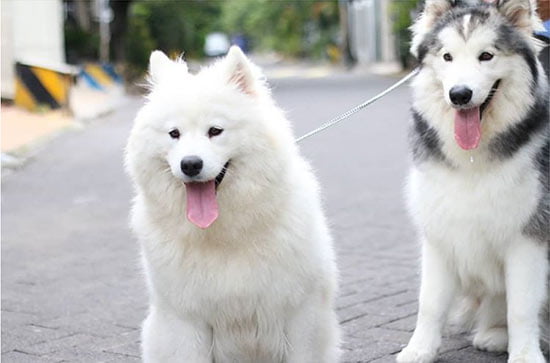 To keep Alaskan Malamutes in the best health, maintain their athletic charm and stop them from putting on weight it is important not to overfeed them.
Malamutes are considered a breed of dog that is always hungry. So hey, like a lot of us, they love to eat!
But again, do not overfeed them as excessive feeding may cause them to suffer from diarrhea and other conditions you just simply don't want for your pup.
The Importance of Good Nutrition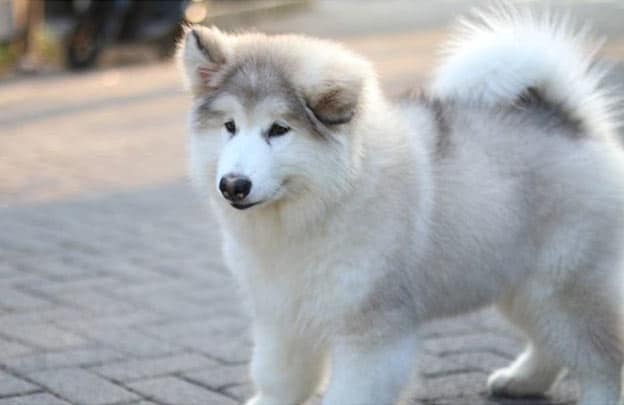 The best food for these gorgeous looking dogs is one full of protein and containing premium ingredients.
A high protein diet can help increase bone density and significantly improve strength as well as lighten the skin tone.
Alaskan Malamutes also require small amounts of quality carbohydrates, the correct proportions of fatty acids to help them keep maintaining a healthy coat and skin tone and moderate amounts of vitamin rich vegetable.
The Alaskan Malamute is a sensitive breed and without the correct diet, they easily fall sick.
How To Properly Feed Malamutes
With the varying sizes of Alaskan Malamutes, their diets can vary accordingly.
The best approach would be to consult your vet for determining the proper amounts and feeding times for your dog.
According to their sizes, an adult Alaskan malamute can reach a height up to 27 inches and can weigh around 100 pounds.
The sex of your dog can also influence the correct amount of food required as females consume less than the male.
How much food at once?
Normally, your adult malamutes can be fed up to four cups at a time as long as it will consume it all in one sitting. Don't go above this amount to make sure if the dog can digest it properly.
Feed Puppies Often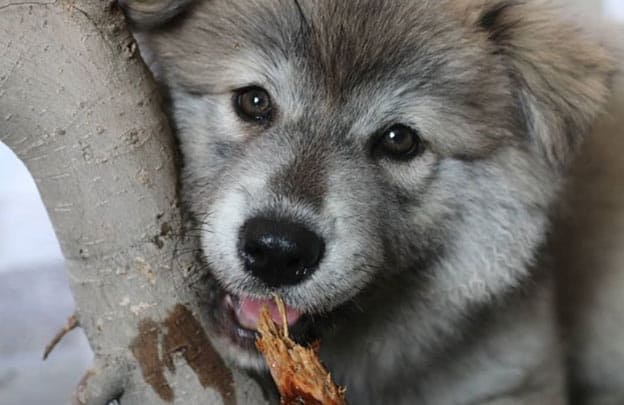 Puppies are usually fed a small amount every 2 to 3 hours until they attain maturity.
Not being able to feed your malamute puppy frequently can interfere with their growth and affect their eventual maturity.
Senior dogs can be fussy eaters, the average diet for a senior malamute is similar to that of a young Malamute, but if your dogs gain or lose weight, you will need to immediately contact your vet.
Best Dog Food for Adult Malamutes
SUMMARY
A USDA certified healthy food for adult food by NomNomNow is a balanced combination of ingredients mixed to make adult malamutes crave for more.
The ingredients involved in making this food are focused on keeping your adult malamute healthy and athletic, without providing anything in excess.
A well-recognized brand of dog food considered to be one of the favorite choices among young and adult malamutes.
But, the content of carbohydrates and fatty acids provided in this food is specifically for adults and it is easily digested.
Chicken jerky is strongly recommended for healthy adult dogs, as the fat content is k less than 8%. It should be given as a treat in pieces, and not all at once.
INGREDIENTS
Protein – 78%
No Added Preservatives
Contains Additives
Human Grade Ingredients
PROS
It contains 100% pure jerky chicken/beef
Thoroughly dehydrated for improved digestion
Ingredients recommended by expert veterinary
Can be offered to adult as well as young malamutes
Soft to chew treats
CONS
Despite being of high quality, it is expensive for the amount provided
NOTE
Always make sure to feed your dog with this treat in pieces, and allow it to finish before giving the next piece
SUMMARY
The best part about Nutro dog food is the quality of the ingredients. It's made using freshly raised chickens in farms ensuring a good flavor and provide muscle strength.
The dehydrated food is specially produced for adult malamutes with healthy digestion.
It has a high protein content to support the growth of an adult Malamute and provide a strong athletic body.
A globally recognized brand, Nutro Wholesome imports the ingredients directly from the farmers, and trusted partners.
The Wholesome Essential helps with growth and strength while promoting healthy and fresh skin tones.
INGREDIENTS
Available With Omega 3 & 6 Fatty Acids
Produced With Substance Rich In Vitamin E
High-Quality Protein
Rich In Natural Fiber
Blended With Fruit, Vegetables, And Whole Grains
PROS
Promotes healthy and soft skin
Contains products that offer healthy digestion and immune system
Produce antioxidants to develop a healthy immune system
Easily digestible
CONS
Presence of genetically modified material in meat due to potential cross during production
Due to small pieces, the kibbles may stick in the teeth
NOTE
Maintain regularity and offer several moderate meals instead of fewer larger meals.
SUMMARY
Stella & Chewy's dog food is a quality food produced primarily from beef that helps to provide increased strength to the bones and muscles of your young adult malamute.
This is another quality dog food made in the USA, which ensures better growth of your adult dog.
The ingredients in this freeze-dried dog food, focus on providing better health of your dog and strengthens your dog's appetite and digestion.
This product helps to relieve allergies, and ensure a strong immune system while looking after your dog's skin, coat and keeps their teeth healthy.
The grain-free raw nutrients directly improve the mood of your adult Malamute, and help with muscle strength for improved endurance.
INGREDIENTS
Contains Fine Beef
Organic Fruits And Vegetables
Meat, Rich In Protein
Grain Free Material
PROS
Increase appetite and digestion
Healthy teeth and gums due to the softness of kibble
Stronger immune system
Allergy reliever
Enlighten skin and coat
CONS
Some patties may be found to be hard
NOTE
Do not try to soak it in water, but use the dehydrated kibble directly.
Best Dog Food for Malamute Puppies
SUMMARY
Since grain consumption for puppies may result in causing several types of sickness, Wellness Core is made grain free.
A product manufactured in the USA it's trusted for its quality, and balanced ingredients.
This is produced is a natural food, free from added preservatives, but is high in healthy fatty acids.
It contains all essential vitamins required for the growth of a puppy while maintaining the correct balance to prevent your puppy from any excessive weight gain.
This food has a high percentage of meat to attract even the fussiest dog and contains antioxidants and all other essential nutrients your puppy needs.
INGREDIENTS
100% Grain Free Product
Offer Probiotics
Omega Fatty ACids
Vegetable Antioxidants
PROS
Contains Around 80% More Meat
Contains All Essential Nutrients For Growth
Offering Omega 3 And 6
High-Quality Carbohydrates
CONS
Contains High Carbohydrates
Not for other breeds
NOTE
Feed the puppy not more than a few times in a day
SUMMARY
Hill's Science food for malamute puppies is a combination of ingredients that are easily digestible by puppies under one year of age.
It contains a soft mixture of oats and finely prepared chicken meat that puppies really like.
The ingredients involved in preparing this product are all natural and of the highest quality to ensure your puppy's health.
The easy-to-digest ingredients are very rich in vitamins and other essential minerals required for puppy growth and development.
Additionally, all Hill's Science products are completely free of added preservative and additives that could severely affect a puppy's health.
The nutrients present in this food treat help to ensure healthy joints and cartilages of your malamute puppy.
INGREDIENTS
Natural Source of Glucosamine
Combined with Oats and Meat
Rich in vitamins
PROS
Clinically Proven for Blended Minerals
Contains soft kibble
Ideal for puppies
Enhances coat and skin
CONS
NOTE
Overfeeding may result in illness for a puppy
SUMMARY
Acana's grain free meal for puppies contains nutrients that will help your puppy grow faster.
All the essential nutrients are combined together to form a quality and balanced diet that your puppy will definitely enjoy.
This grain free puppy food contains up to 60% free-range chicken and turkey to help your puppy gain stronger bone density while growing up faster.
The ingredients involved in this product are sensitively limited to ensure the soft digestive system of puppies are not getting challenged.
The Acana's grain free product is mainly produced in Kentucky, ensuring fresh, healthy meat components with those key ingredients.
These provide all the carbohydrates and protein necessary for a malamute puppy to stay healthy and stronger throughout their lifetime.
INGREDIENTS
Contain Glucosamine
Produce Omega 3 and 6 Fatty Acids
Blended With Chicken And Turkey
PROS
Rich in protein and meat
Produced with fresh ingredients
Rich in minerals
CONS
Produced ideally for puppies and dogs with sensitivities
NOTE
Due to the richness in minerals, make sure to feed the puppy multiple times in short ratio for proper digestion
Best Dog Food for Senior Malamutes
SUMMARY
As discussed before, senior malamutes are quite picky eaters and they require about the same diet and amounts as younger malamutes.
It is strongly advised to consult your vet before feeding your senior malamute with any new foods as they are sensitive eaters.
Based on what we know about senior Malamutes, this fresh grain-free dry food for senior malamute could be the one that may suit your senior Malamute without any adverse effects.
This item has zero- rendered meat, and does not contain grain at all.
The dry food by Orijen is produced from turkey meat, maintaining an ideal balance between carbohydrates and proteins, and other essential minerals.
Senior Malamutes require a strong immune system to digest food.
For this reason, coconut oil is well blended into this food to help keep the immune system of the senior malamute healthy.
INGREDIENTS
Contains phosphorus and glucosamine
Contains nest-laid eggs
Produce Omega 6 & 3 fatty acids
Offers L-Carnitine
PROS
Rich in Omega 6 fatty acids
Contains L-Carnitine that increases bone density
Rich in Vitamin 3
CONS
NOTE
Avoid feeding your senior malamute in case of sensitivity issues
Best Dog Food for Malamutes with Medical/Sensitivity Issues
SUMMARY
By carefully combined meat and carbohydrates in ideal proportions, this food is the best for malamutes with some medical/sensitivity issues.
While there are several products available on the market claiming better results.
This dog food helps with sensitive issues, ensuring your dog's health by providing all the essential minerals it needs to prevent and recover from sensitivity issues.
This is a specially produced product a blend of duck and other gluten-free nutrients which help to reduce a dog's sensitivity issue.
Normally, dogs are allergic to grains, and thus this product is made free of all allergic ingredients including corn, milk, chicken, and soy.
This makes the product ideal for malamute dogs who have medical/sensitivity issues.
INGREDIENTS
Contains Omega 3 & 6 fatty acids
Produced from potatoes and duck
Rich in minerals
Contain Vitamin D products
PROS
Rich in Omega 3 fatty acids
Free from gluten
Flour or soy free
Does not contain much lamb or chicken
Ideal for the dog with sensitivity issues
CONS
Balanced minerals, specially produced for dogs with sensitivity
NOTE
If your dog does not have any medical/sensitivity issues, avoid feeding this product
More about Malamutes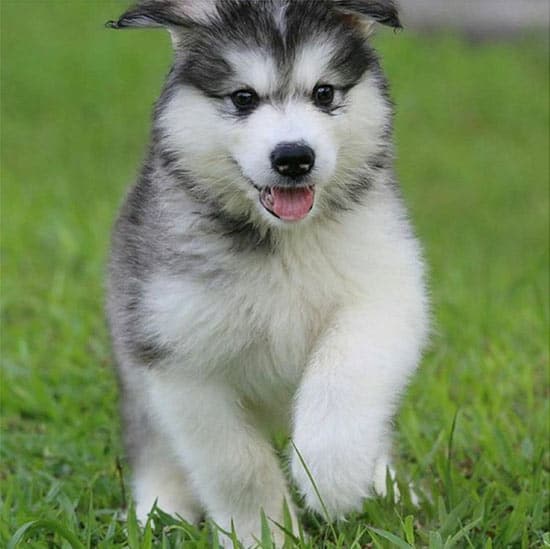 Alaskan Malamutes are regarded as one of the best dog breeds for strength and endurance.
They are very similar to the Siberian Husky, Greenland Dog, and Canadian Eskimo Dog.
Alaskan Malamutes have been human companions for a very long time. They were first domesticated for their hunting skills and ability to work alongside humans.
The average height of the Alaskan female malamute is 24 inches and they weigh around 75-80 pounds.
Whereas, a male Alaskan malamute reaches 26 inches and weighs about 85-90 pounds.
They are still used for work as sled carriers, for hauling freight and for travel purposes while providing companionship to their human friends.
In the U.S., this breed of dogs is mostly kept as a family pet where pulling things is like a fun trick than their actual job.
Due to their weight, they are considered to be a slow long distance runner, but their strength and endurance enable them to carry a considerable weight over long distance.
According to a Kennel Club Survey in 2004, the average lifespan of an Alaskan Malamute is around 11 years.
However, ancestral evidence suggests that Alaskan malamute dogs can live up to 15 years.
Alaskan Malamutes are considered to be one of the friendliest breeds of dogs anywhere.
They are attention seekers and are also very picky about subjects that matter the most to them.
The food preferred by Alaskan Malamutes can vary with their age and their size.
Common Health Issues of Malamutes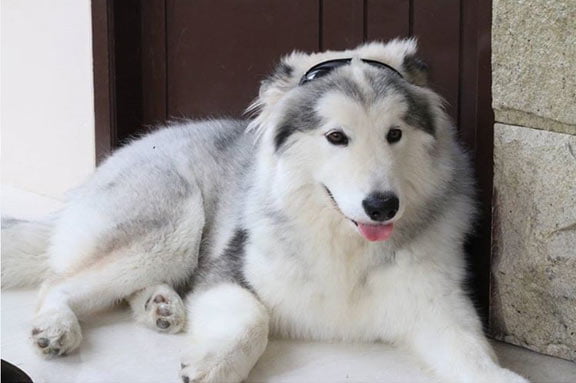 One of the most common health issues that affect Alaskan Malamute is cataracts, often these are hereditary.
The second most common health issues affecting Alaskan Malamutes is cancer. Fortunately, adult Alaskan Malamute have started to develop resistances to these two issues.
There are a few other medical/sensitivity issues that can commonly occur in an Alaskan malamute.
However, these problems can be prevented from happening by taking proper care of their surroundings.
Heart Issues
Even though the Alaskan malamute is known for their endurance level they are known to occasionally be affected by congenital heart problems and epilepsy.
Eye Defects
The eyes of the Alaskan Malamute are very similar to that of a Siberian husky, but Alaskan Malamute is more prone to catch eye related defects.
Progressive retinal atrophy and cataract are considered to be one of the most common eye defects that are seen in Malamutes.
However, it is not clear whether all of these issues found in Alaskan Malamutes are hereditary.
According to the survey conducted in 2004, many of the common problems that are likely to be caught by Alaskan malamutes are caused by genetic mutation.
As with all dogs, if you see any symptoms such as putting their tail between their legs, you should definitely have them checked.
The golden rule should be: Anything short of happy and healthy behavior is just not acceptable!
Must-have Ingredients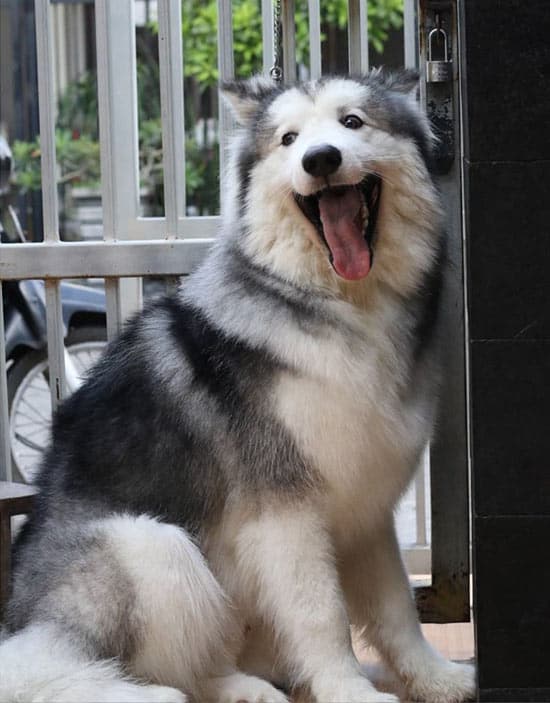 There are a few ingredients that are essential for larger breeds of dogs, especially for the Alaskan Malamute.
Mostly the number of vital nutrients required for better growth and health of malamutes can be determined by their weight, age, medical condition, sex, etc.
Protein, carbohydrates, fatty acids, and other essential nutrients are all required for malamutes of all ages, but because of sensitivity issues, care has to be taken to provide the correct amounts and avoid some because of medical issues.
If you want to see these dogs in action and having fun pulling sleds for their owners, check out this video showcasing their amazing talents:
Often it is necessary to avoid foods with protein enriched minerals commonly found in some chicken, fish, salmon, beef, products for Malamute puppies and malamute seniors.
The malamutes are known to eat anything they get offered, but it is important to consult your vet before feeding them something they are not used to or when considering changing their normal food.
This breed of dog is not always comfortable with change even though they show no sign of discomfort at first.