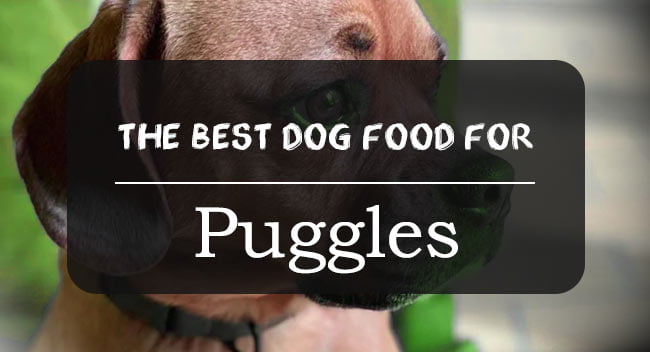 Being in awe of a Puggle's utter cuteness is something we all experience. You can't deny how adorable they are.
What's not always as obvious is understanding just what this special mixed breed needs for proper care and health maintenance.
This includes choosing the best dog food for Puggles and how to feed them depending on their age and specific health conditions.
The good news is we've investigated the top brands for this type of dog and laid out the benefits of each.
Use our guide below to help you make the best choice for you and your Puggle.
Our Top Picks
Here are our top food picks with our more detailed reviews covered below:
A Brief Summary about Your Puggle
A Puggle is a crossbred dog born from a Pug and Beagle.
It's a small breed dog with an average height of 8-15 inches and a weight ranging between 15 and 30 pounds. Average adult Puggle weight is about 25-30 pounds or more.
It's difficult to predict a Puggle height easily because the physical traits of this breed are inherited from both parents.
Puggles come in different colors and patterns, but are mostly black, tan or fawn. They either have a long nose or short face and are usually curious, active and fun to be with when healthy.
They're very popular and have been only been around since the 1990s. Puggles can be active but don't require an over-abundance of exercise and can be easily cuddled when the moment strikes.
The adult Puggle is sometimes known for howling and barking, but the younger Puggles can act as good family dogs.
When it comes to food…
The amount of food needed a Puggle needs should be determined by its body weight, age, metabolism and how active he or she is.
This means that if you have two adult Puggles. they may each require a different amount of food depending on their size and habits.
Adult Puggles that weigh 30 pounds will need to take in almost 900 calories in a day.
Dogs that are neutered usually need fewer calories along with most older dogs, as they tend to be slower and gain weight more easily.
As the dog gets older they start to require more protein to help them maintain a healthy weight. While a fat puggle may still be cute, it's not ideal just like for us humans.
When choosing food for your adult Puggle, you can select a portion of food intended for medium dogs or small breeds of dog food (since Puggle weight is between 20-35 pounds).
Usually, there are no size and feeding labels for medium-sized dogs suggested on the packaging.
Best Dog Food for Puggles
Here are our top picks with our more detailed reviews of each covered below: 
This food is enriched with protein, and is specially formulated for small dogs.
It includes three proteins in its ingredients: turkey meal, chicken meal and deboned chicken.
It does not contain corn, wheat or soy and it's gluten-free.
The presence of glucosamine and chondroitin makes it very good for adult dogs or dogs that are prone to arthritis and IP dysplasia.
It also contains probiotics which aids in a dog's digestion.
The Signature trout and salmon meal is an excellent dog meal for Puggles with allergies.
It is a limited ingredient diet and uses only one source of meat protein in each recipe.
Zignature is also good for dogs without allergies, and it has salmon meal and trout as the primary ingredients.
It comes from the Northwestern U.S and is a great source of fish protein with Omega-3 fatty acids.
Zignature does not have dairy, soy, chicken, corn or wheat. It comes with powerful antioxidants and fibre-rich, low-glycemic carbohydrates.
Each cup of Zignature contains 418k of calories.
This is a favorite dog meal among dogs and their owners. It's a good, affordable meal with no grain.
It's made mainly for small dogs and uses high sources of proteins such as egg, ocean fish meal, duck and lamb to provide enough protein for Puggles.
The meal contains probiotic and prebiotic fiber that aids in a dog's digestion and omega-3 that supports your dog's skin and coat.
It lacks artificial flavors, colors or preservatives, filler, wheat, grain and corn. A cup of this meal contains 370k calories.
Best Dog Food for Puggle Puppies
Just like all puppies, Puggle puppies need more calories and more proteins as they grow.
When picking food for your Puggles puppies, pick foods that have Docosahexaenoic acid (DHA), as this compound is very helpful with your puppy's brain development.
Puggle puppies tend to grow very fast, and so require lots of food, especially during their first few months.
For instance, a Puggle puppy in their first year that weighs about 15 pounds needs up to 600 calories per day.
This is why puppy foods are uniquely formulated to supply enough calories for them, especially before they reach one year old.
Small breed puppy food has tiny kibble pieces to make eating foods easier for small puppies.
To feed your puppy Puggles properly it is best to feed them about four times per day for the first few months. Then gradually reduce this to three meals.
As they age this can be changed to two meals per day when they become adults at about a year old.
Adult Puggles are mostly fed twice per day.
Earthborn Holistic is liked by many owners because it contains more protein than many other puppy foods.
It has DHA for brain development and uses brown rice, oatmeal, sweet potatoes and barley instead of conventional grains.
It doesn't contain corn or soy and contains Omega-3 and Omega-6  to keep your puppy's skin and coat healthy.
Earthborn Holistic also has the correct combinations of calcium and phosphorus, which helps to support the puppy's growing bones.
A cup of this food contains 445k calories.
This dog feed can be eaten by both growing and adult Puggles and is ideal for dogs that have a delicate digestive system.
It's gluten free and doesn't contain wheat, soy or corn.
This food contains lots of protein, using chicken, pork, fish and beef meals as its main sources of proteins.
It also contains sweet potatoes, which are a good source of antioxidants and helps your puppy's digestive health.
With this food, you'll also get DHA for healthy brain development.
A cup of this formula weighs about 397k calories.
Wellness core is a popular formula for puppy feeding.
Chicken meal, deboned chicken and turkey meal are the key ingredients in this food are
It's grain-free, gluten-free and full of protein.
It helps to guarantee there are the correct levels of calcium and phosphorus in your dog's diet.
This food provides Omega-3's to help keep your puppy's skin and coat healthy.
It contains probiotics to aid your dog's digestive health and is free of artificial flavors, meat by-products or preservatives.
The meal contains 417 kcals per cup.
Best Food for Senior Puggles
Feeding your aging dog high-quality dog food is important.
The Puggle is a small dog with energy needs that need to be met, and this should be achieved by choosing a small breed specific formula.
The key ingredients in FirstMate are tomato pomace, chicken fat,  potato and pacific ocean fish meal.
FreshMate is a pet food manufacturer based in Canada, and they offer a wide selection of recipes such as single meat- protein, grain-free, gluten-free.
These formulas are high in proteins and carefully balanced to meet the nutritional needs of both adult and puppy Puggles.
The first mate pacific formula should be considered when you're concerned about your Puggle's weight.
The food contains protein-rich ocean fish meal, its primary source of protein, and potatoes as its main source of digestible carbohydrates.
The chicken fat (preserved with mixed tocopherols) provides concentrated energy and essential fatty acid for your small breed dog.
In total, this formula provides your dog with 18% protein, 8% fat and plenty dietary fiber to keep your dog feeling full without taking in excess calories.
Best Dog Food for Puggles with Medical or Sensitivity Issues
There are many dog feeds on the market today, so it's important you understand and check that you are giving your Puggle the correct foods.
Some foods aren't meant for Puggles with dog allergy or sensitivity issues.
The following food ingredients listed below should be given to your Puggle.
Grain-free Meal
Food that contains grains should be avoided at all costs if your dog has allergy and sensitivity issues.
Grain-free food should be carefully chosen as some of these foods contain ingredients like lentils, peas and other legumes. These can boost the protein percentage of the food.
When these ingredients are consumed in large amounts, they can have similar effects on Puggles as soybeans although in moderation they are usually just fine.
Puggle foods with artificial flavors, preservatives, colors and sweeteners should be avoided as many of these ingredients have been linked with cancer in human studies.
Preservatives such as BHT, BHA and ethoxyquin should also be avoided.
Puggle Food Buying Guide
Puggles Diet and Nutrition Requirements
So here's what to look out for in their food.
There is an essential nutritional requirement to keep in mind for your Puggle.
Puggles are prone to obesity, so their food intake should be monitored and their daily caloric intake, measured.
You don't want a fat puggle, if you want them to live a long and active life.
They are energetic and like to be walked and exercised to keep them fit, happy and healthy.
Puggles with food allergies should be well monitored so you can avoid foods that bother them.
You should take your dog to a veterinarian if switching foods doesn't help when you notice an allergic reaction.
Why?
This is because some allergies aren't food related.
Your dog can also be allergic to something in its environment which is why it is necessary to visit your vet if needed.
Due to their relatively small size, you have lots of options when it comes to Puggle food.
You can decide to feed your Puggle a wet or canned food, fresh and freeze-dried food or kibble.
Feeding Puggles organic food is great if you want to spring for it.
Here are the things to look out for in your Puggle's nutrition.
Protein
Proteins help make enzymes, hormones and other chemicals that the body needs.
It also helps to build and repair tissues. Protein is an important component of cartilage, skin, bones, muscles and blood.
Your Puggle needs a good source of animal protein such as meat, fish and eggs.
Carefully read dog food labels to know the kind of protein in the food.
Foods with two or three animal proteins in the first several ingredients are generally good
Fat
Named fat sources such as salmon oil and other Omega-3 sources from fatty fish and chicken fat are okay for your Puggle.
Foods with generic fats such as animal fat should be avoided. Fat is a source of energy for your pup.
Carbohydrates
Carbohydrates are also another nutritional supplement to look out for in your Puggle's meal.
They shouldn't be a large part of your dog's food, but small to very moderate carbohydrate amounts keep your dog healthy.
Carbohydrates also keep your dog full for a long time, and he will usually not want food in between meals.
Fiber is a good carbohydrate for your dog, and dietary fibers like oats, chicory, barley and beet pulp aid your dog's digestion when taken in a small quantity.
How to Properly Feed Your Puggle
The feeding guidelines on dog food labels can act as a starting point so you can get an idea of how to feed your dog
Remember though, they are only suggested amounts.
You also need to watch how your dog eats and give measured portions as they will quickly overeat and become a fat Puggle!
Being overweight can lead to serious health problems for a Puggle, so these measures should be strictly taken.
The recommended daily amount (RDA) for Puggles is at most 1.5 cups of a top-quality dog food fed divided within two meals.
The size of your dog, age, body mass, activity level and metabolism all determine how much you feed your Puggles.
Also, a dog that is highly active may need to be fed more than one that is largely inactive.
The more nutritious your dog food, the greater the difference it makes on your dog and the less wastage or leftover you will have.
Ideally, Puggles are fed twice a day versus only one big meal in a day.
This, if fed in the right proportions, tends to prevent obesity as you can easily monitor their food intake and also minimize overfeeding or waste.
Common Health Issues of Puggles
Puggles are generally mostly healthy, but are prone to a few health problems.
Their short nose can cause breathing problems sometimes, but keeping your Puggle lean and healthy will help to prevent some of these illnesses.
The few potential health challenges of a Puggle are listed below:
Hypothyroidism
Side effects of hypothyroidism include, but are not limited to, hair loss and excessive shedding, mental dullness, cold tolerance, weight gain, hyperpigmentation of the skin and so on.
A veterinary doctor should always be the one treating this condition, but you can help prevent it if you give your Puggle a high-quality diet rich in Omega fatty acids, vitamins and a mineral.
Stenotic Nares
This disorder is also known as 'pinched nostrils'.
It is a congenital disorder mainly common with dogs that have shorter muzzles. It Causes an inability to breathe well.
One of the best ways of dealing with stenotic nares is to keep your dog lean and healthy. Surgery is occasionally required to help them breathe a little easier…and quieter!
Hip Dysplasia
This is a condition that occurs when the thigh-bone doesn't fit well into the hip joints.
It mostly affects the joint and possible symptoms include discomfort, leg pain, limping, and lameness in one or both rear legs.
Must-have Ingredients
Essential ingredients such as carbohydrates, fats, and protein are needed to promote your Puggle's body functions.
You can also go for a feed that contains only natural ingredients.
This includes raw meats, vegetarian diets or mixtures that contain ingredients such as brown pasta, eggs, meat and vegetables, as you desire.
If you opt for cheaper dog food, just keep this ingredient list in mind as you check out your options.
Ingredients to Avoid
Grains, especially wheat and corn are the most common foods that cause an allergic reaction in dogs and should be avoided in their diet.
Beef and dairy products have also shown to cause allergic issues in some dogs, along with chicken, eggs, as well as artificial additives.
You should definitely check for all these ingredients and always remember to ask the advice of a veterinary doctor should you have doubts about a particular meal to give your Puggle.
Learn More
Want to learn a bit more about the Puggle breed? This video does a great job of covering this cute and amazing doggie:
With all the great attributes and necessary concerns with this breed, it's easy to see why choosing the best dog food for Puggles should be a goal of yours so your pet can lead a long, active and healthy life.