Do you own a Miniature Pinscher, or are you getting ready to? The Min Pin is one fun-loving dog that is best known for its high-stepping, which involves lifting the front legs up and out while bending at the ankles.
This toy breed is an active dog that's curious, so it's important to keep an eye on them, so they don't get into mischief and possible danger.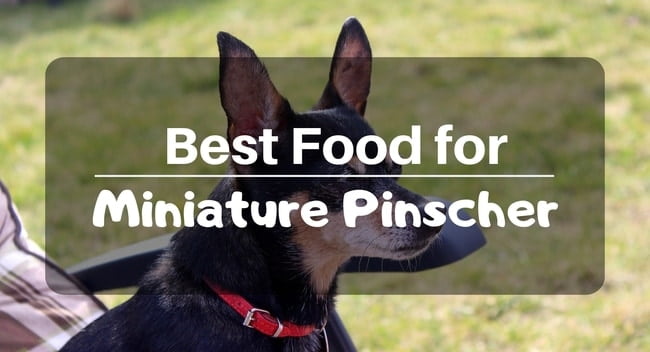 Miniature Pinschers make good family dogs too. They are small canine that uses their loud bark to chase away intruders, often several times their size.
With all these intriguing characteristics, it goes without saying that you'll want to ensure you pick the right food for your very proud and somewhat stubborn Min Pin.
Best Dog Food for Adult Miniature Pinschers
1. SmartBlend Small Breed Dry Dog Food (Adult) by Purina ONE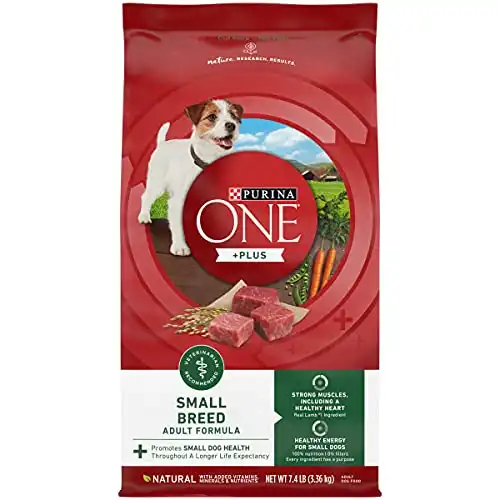 Summary
This Purina ONE SmartBlend adult dry dog food is for small breeds. It comes in a 3.8-lb. bag, although you can also pick up the 7.5-lb. or 15-lb. bags.
Lamb is the first ingredient, which is worth noting because real meat is one of the most important ingredients to look for in dog food.
It also contains other nutrients like crucial vitamins and minerals as well as antioxidants for a better immune system.
This crunchy/meaty kibble contains no fillers and is highly digestible. It's a well-balanced food for strong muscles and a healthy heart.
Pros
Better than the standard version
Kibble is in small pieces
Less sugar than other products
Helps prevent food allergies
Designed for small breeds
Cons
Small bag
Contains poultry by-products
2. Protection Formula Small Breed Dry Dog Food (Adult, Chicken & Brown Rice) by Blue Buffalo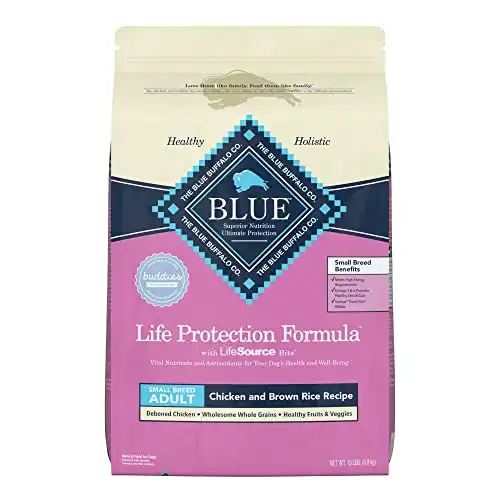 Summary
This Blue Buffalo food is formulated for small breeds like Min Pins and includes extra protein and carbs.
Real meat is the main ingredient of this recipe for benefits like healthy muscles. The food also contains whole grains, veggies, and fruit.
Besides protein, the formula also includes vitamins, minerals, and antioxidants ideal for dogs like Min Pins. All of these nutrients are selected for a healthy immune system and life stage requirements.
The dog food contains no fillers like wheat, corn, or soy. The food is natural, with no artificial flavors or preservatives. Now, that's healthy!
Pros
Formulated for small breeds
Boosts dog's energy levels
Good for skin and coat
Good price and value
Good for the stomach as well as skin issues
Cons
Might cause some sensitive dogs to become ill
May have elevated lead levels
3. Fresh Small Breed Dog Food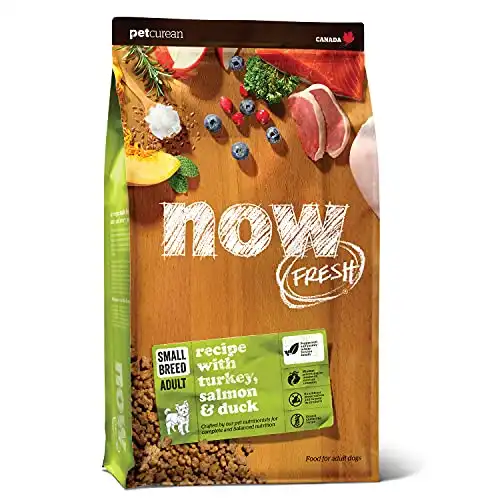 Summary
This Now Fresh Food contains a wide range of nutrients such as protein, fat, omega oils, and antioxidants for an overall well-balanced diet for your canine.
Ideal for small breeds, it includes fresh turkey, duck, and salmon. It also includes canola and coconut oil for omega-3/6 fatty acids. These are the "good" fats that make it one of the best dog food for Miniature Pinschers.
It's also worth noting that Now Fresh also contains no grains or fillers like corn, wheat, or soy. There are also no by-product meals or artificial preservatives, giving you peace of mind.
Pros
Fresh meat
Omega-3/6 oils
No artificial preservatives
No grains or fillers
Antioxidants for the immune system
Cons
Some dogs don't like it
High price for a small bag
Best Dog Food for Miniature Pinscher Puppies
1. Hill's Science Diet Puppy Small & Toy Breed Chicken Meal & Barley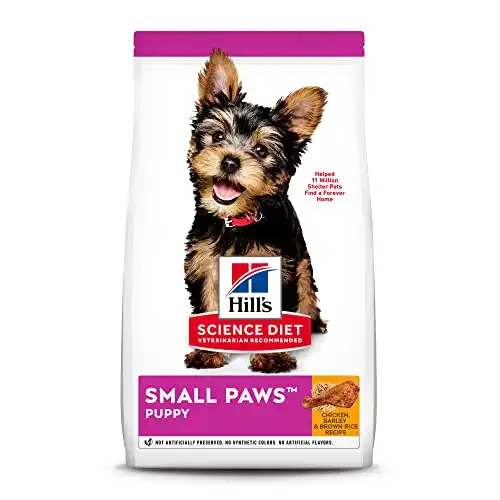 Summary
Hill's Science Diet Puppy is formulated for small-breed puppies and contains fresh regional ingredients, including vitamins, minerals, and essential nutrients.
These offer an ideal balance of protein, fat, and carbs perfect for a Miniature Pinscher puppy.
This puppy food contains quality ingredients like turkey, chicken, and eggs. It also contains ocean-caught fish and no preservatives, antibiotics, or fillers that could affect the pup's digestion or cause food allergies.
This formula for Min Pin puppies contains several ingredients to keep your puppy healthy and strong, including meats, grains, fruits, and veggies.
This helps to simulate the types of food the puppy would eat in the wild.
Pros
Overall good dog food
Makes the coat and skin healthy
Has a short ingredients list
Pricey, but good quality
Helps keep puppies healthy
Cons
Expensive puppy food
Might cause digestion problems in some sensitive puppies
2. Blue Buffalo Life Protection Formula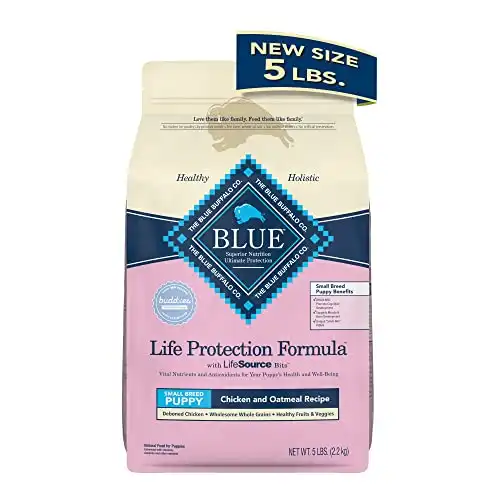 Summary
The Blue Buffalo Life Protection Formula Small Breed Puppy Chicken & Oatmeal Recipe Dry Dog Food includes fresh chicken, turkey, fish, and eggs.
It's also grain-free and doesn't include carbs like rice and potato.
This puppy food is high in meat proteins to boost your puppy's development and conditioning. It also contains smaller amounts of fruits and veggies.
All the ingredients are sourced locally, including fresh flounder. Mmm, a delicious fish for dogs. Now, that's tasty!
Pros
Quality real meats
No fillers
Formulated for puppies
Includes fresh flounder
Ingredients locally sourced
Cons
3. Freedom Small Breed Dry Dog Food (Puppy, Chicken) by Blue Buffalo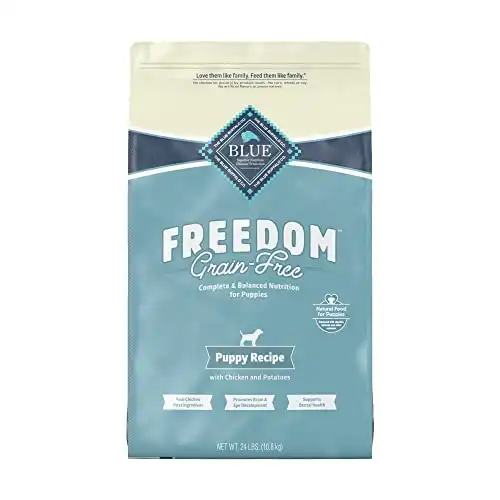 Summary
This is an 11-lb. bag of grain-free puppy chow for small breeds. The first ingredient is meat.
This dry dog food for Miniature Pinschers contains chicken and chicken/turkey.
Contained in this puppy chow are the fatty acids DHA and ARA, the same as in mother's milk. There's also Choline for eye and brain health.
This puppy food contains the company's in-house blend of vitamins, minerals, and antioxidants to help boost your puppy's immune system.
This food is good for helping puppies to develop strong muscles. It's free of grains and gluten, wheat, corn, soy, or chicken by-products.
Pros
Dogs enjoy the taste
Contains no grains
Improves eye health
Good for food allergies
Helps boost the immune system
Cons
Some puppies may take time to get used to it
Shipping/packaging damage has been reported
Best Dog Food for Senior Miniature Pinschers
1. Senior Lamb Meal & Rice Recipe Dry Dog Food by Nature's Recipe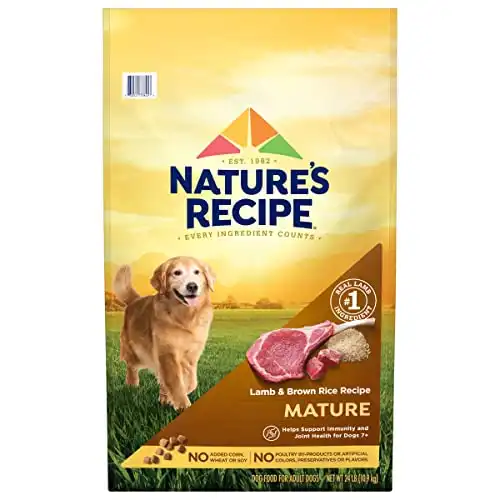 Summary
This is a 30-lb. bag of high-quality dry dog food. The most notable ingredient is lamb meal, which aids in maintaining lean muscle mass in older Miniature Pinschers.
There's also healthy rice that provides carbs for energy. Fiber is supplied through oatmeal and barley.
Formulated for senior dogs, this food helps to avoid over-feeding senior dogs since this can cause various health problems.
This dog food has lamb as its first ingredient is lamb meal, a good protein source. The other ingredients improve factors like the dog's digestion and immune system.
Pros
A good quality dog food
Improves dog's digestion
Helps with kidney issues
Ideal for senior dogs
Many dogs like the food
Cons
Shipped in a large box
The recipe changed recently (just to note in case you've used it in the past with success)
Best Dog Food for Miniature Pinschers with Medical/Sensitivity Issues
1. Basics Limited Ingredient Small Breed Dry Dog Food (Adult, Turkey & Potato) by Blue Buffalo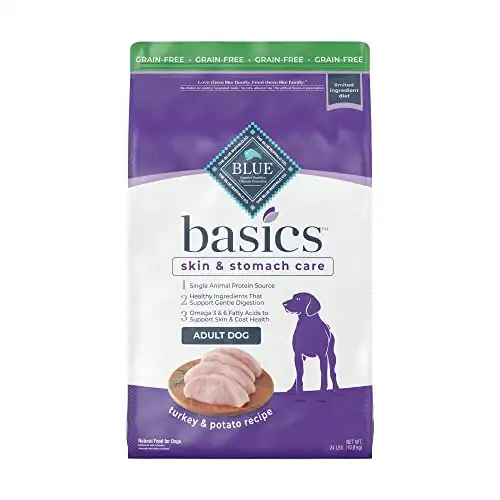 Summary
This limited-ingredient dog food contains deboned turkey as its only animal protein. It also contains easy to digest carbs and pumpkin for digestion.
The food is formulated to meet the energy needs of small breeds like Miniature Pinschers.
The limited-ingredient dog contains important vitamins, minerals, enzymes, antioxidants, etc. you'll find in all good dog food for Miniature Pinschers. These of course, help to maintain a good immune system health.
The food contains:
Eggs
Corn
Soy
Chicken
Wheat
Beef
It is free of artificial ingredients like colors, flavors, and preservatives.
The small-bite kibble helps to improve small dogs' chewing and tartar control. You can't ask for more for your sensitive pup!
Pros
One protein source
More carbs/protein for small breeds
Pumpkin for digestion
Limited ingredients
Improves immune system
No fillers
Cons
Refunds may be an issues with this company
BUYING GUIDE
Diet & Nutrition Requirements for Miniature Pinschers
When picking food for Miniature Pinschers make sure to consider it's a small breed.
These dogs tend to have faster metabolisms than larger breeds. They need less total food, but more food per pound of body weight.
A mini kibble is a good option for their small mouths.
You also shouldn't feed them any food that's bigger than ½-inch in diameter. This will prevent any problems if the pooch swallows the food whole.
Miniature Pinschers also have smaller stomachs than larger breeds.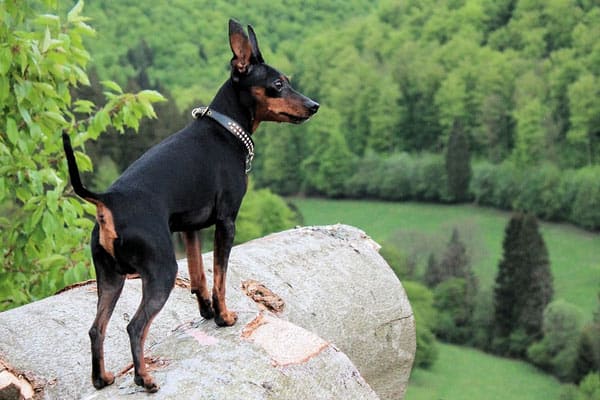 As a result, it's better to feed them more, yet smaller meals per day vs. one or two big meals. This will help to keep the dog's metabolism fueled during the whole day.
Min Pins can eat wet or dry commercial food or home-cooked dog meals. Puppies and seniors, in particular, require slightly higher protein levels to maintain strong muscles.
In the case of puppies, this is due to developing muscles, and with older dogs its due to muscle atrophy.
Grains and carbs?
In terms of carbs look for commercial foods with quality sources like whole grains or potatoes.
Small breeds tend to run around more than larger breeds so they'll need to replace that energy with carbohydrates.
Make sure to avoid carbs like white rice and tapioca since they have a high glycemic index (GI).
When picking a dog food for Miniature Pinschers, it's easiest to select an age-specific food for adults, puppies, seniors, etc.
These foods have been specifically formulated for Min Pins of different age groups.
However, there's some crossover since some dog foods are designed for small breeds of all ages.
Some dog owners like to feed their canine raw food diets. This food is actually closest to what dogs' ancestors, the gray wolf, would eat in the wild.
Go raw?
The problem with raw meat is it's more prone to bacteria.
So if you want to feed your pet pooch the safest food, it's highly recommended to pick commercial food or home-cooked meals.
How to Properly Feed Miniature Pinschers
When determining the amount of food for your Min Pin make sure to consider its age and energy levels.
In terms of the number of calories your dog needs you can find an online calorie calculator that provides an exact figure. The calculation is based on your dog's weight and age.
Your dog's caloric needs can serve as a baseline when feeding them.
This has been made easier since the packaging the food comes in provides information like the number of calories in each serving.
Puppies are more active so you should feed them less than 1 oz. of dry dog food per pound of body weight daily.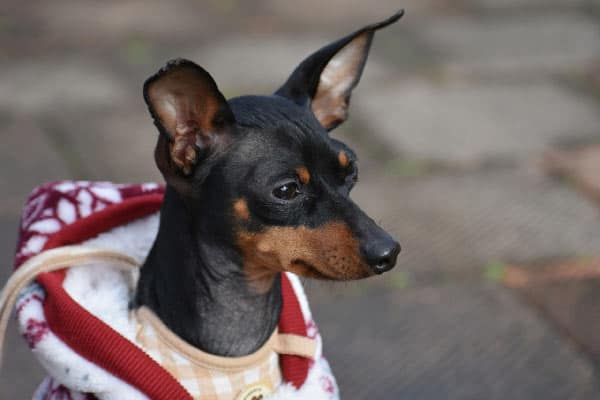 Puppies should get 3-4 meals every day.
Here are some feeding guidelines for feeding Min Pin Puppies:
8 to 12 weeks: 4 bowls/day
3 to 6 months: 3 meals/day
6 months to 1 year: 2 meals/day
1-year-old: 1 bowl/day
On the other hand, Adult Miniature Pinschers only need about half an ounce of food per pound.
They can get all their nutrients in one or two meals every day.
In many cases, it's better to feed them two small bowls instead of one big bowl.
The quality of food you feed your Min Pin is just as important as the quantity. Make sure to pick a commercial brand with natural, fresh, and quality ingredients.
It should also be well-balanced to provide your pet pooch with all the vitamins, minerals, enzymes, probiotics, and antioxidants they need.
How about snacks and treats?
Min Pins love them, but make sure they don't comprise of more than 10% of your canine's total diet.
Otherwise, they might start craving the treats more than their regular meals.
Common Health Issues of Miniature Pinschers
Miniature Pinschers have an average life expectancy of 15+ years. Some common health concerns include:
Cataracts
This is a clouding of the eye lens that affects the dog's vision. Cataracts are related to aging and are relatively common in older dogs. They can occur in either or both eyes.
Chronic superficial keratitis
CSK is a progressive disease that usually appears in both eyes.
It includes chronic inflammation of the cornea. It's common in German Shepherds, but can also appear in other breeds.
The cornea slowly becomes pigmented with blood vessels.
Cystine urolithiasis
This involves stones forming in the dog's kidney, bladder, or urethra.
This condition is related to an increase in components like calcium, and phosphate, or decreased urine volume. The stones can range in size.
Epilepsy
This is a chronic disorder that involves repeating and unprovoked seizures.
If a Miniature Pinscher has 2 unprovoked seizures that weren't caused by other medical conditions like ultra-low blood sugar they're diagnosed with epilepsy.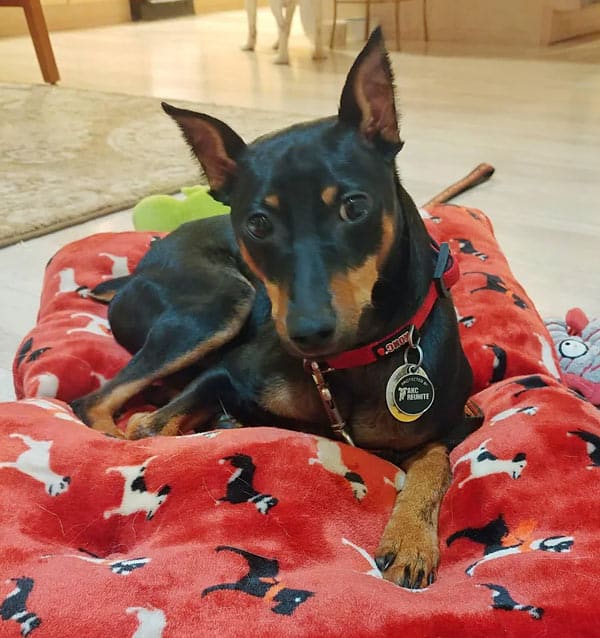 Glaucoma
This is a condition caused by pressure put on the eye, which results in the eye not draining enough fluid.
If the condition isn't treated, it can cause permanent damage to the dog's optic nerve.
Hypothyroidism
Hypothyroidism involves overactive thyroid glands and typically is linked to cancer.
In dogs like Miniature Pinschers, this condition usually results from inflammation or shrinkage of the thyroid gland.
Hypothyroidism is more common in medium to large breeds and middle-aged dogs, it can sometimes result from thyroid cancer.
Intervertebral disk disease
IVDD is a condition in which the cushion discs located between the spinal column vertebrae either bulge or break into the spinal cord area.
The discs then cause pain, nerve damage, or paralysis as they press on the nerves that run through the spinal cord.
Legg-Calve Perthes
LCPD is a hip disorder that's caused by blood flow to the leg being disrupted.
The bone then dies or stops growing due to lack of blood flow.
Healing can happen over time as new blood vessels get into the dead bone, which results in loss of bone mass.
Obesity
It's important for your Min Pin to get enough exercise to help prevent obesity.
This is a small breed, so they need less food than medium to large breeds.
While small breeds tend to be more active, it's still important for your miniature pinscher to get regular exercise.
Patellar luxation
This happens when the dog's kneecap gets dislocated from the groove of the femur (thigh bone).
When this occurs, the kneecap only returns to the normal position when the hind legs' quadriceps muscles relax and lengthen.
This explains why dogs with this condition hold up their hind legs for a couple minutes.
Shoulder luxation
Luxation is the result of a bone getting displaced or separated from the joint due to breakage of soft tissues holding the dog's joint in place.
Subluxation is the condition when the separation is partial.
Dogs' shoulder joints are the most mobile of all its limb joints.
After luxation happens, it must be returned to its normal position and secured so the surrounding casing can heal.
Must-have Ingredients
Protein
While Miniature Pinschers, like all dogs, are omnivores, protein is the most important nutrient they require in their diets.
It's critical, so they can grow strong muscles and bones. It also helps them maintain lean muscle mass.
Animal meat should be the first ingredient listed on any commercial dog food you buy for your pet pooch. The best food for Miniature Pinschers will have this first always!
Make sure it's natural and fresh meat. Avoid meat byproducts since they're from the interior of the animal rather than the flesh.
Some vegan/vegetarian pet owners like to feed their pets only plant-based foods.
Yes, dogs need fruits and veggies, but meat-based protein is biologically more valuable than plant-based proteins.
Keep in mind that dogs evolved from grey wolves and their main food is raw meat.
You could also pick meats with non-byproduct meat meals.
The main benefit is its moisture level has been cooked down to about 10% vs. fresh meat's moisture level of 80%.
Due to the low moisture level, meat meals have a higher concentration of meat protein.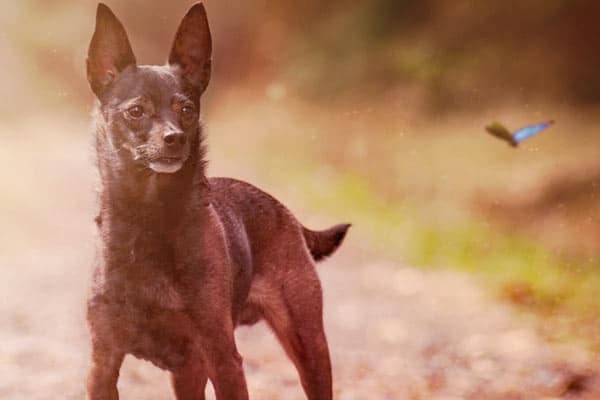 Fats
While fat often has negative connotations keep in mind, there's "good" and "bad" fat.
Make sure to pick a dog food for Miniature Pinschers with fat from sources like fish oil, chicken fat, and canola oil. In general animal-based sources are better than plant-based ones.
Carbohydrates
Small breeds like Miniature Pinschersare quite active, so it's important for them to get enough energy for all the running around they do.
So, it's important to make sure they're getting more carbs per pound of body weight vs. medium/large breeds.
Carbohydrates provide various benefits for dogs.
They include vitamins, minerals, and fiber. Do your Miniature Pinscher a favor ane make sure the carbs are easy to digest.
This includes whole grains like oatmeal and brown rice and sweet potatoes. Your little friend will thank you!
Fruits/Vegetables
Fun Fact: When wolves eat in the wild the first items, they eat from the prey are the whole grains, fruits, and veggies from the gut.
Protein should be the main ingredient in your pooch's dog food, but fruits and veggies are also important.
Some options include:
Apples
Bananas
Carrots
Green beans
Pears
Pumpkin
The key is to make sure your Min Pin is getting a variety of fruits and veggies so they'll be consuming different vitamins, minerals, and enzymes.
Ingredients and Brands to Avoid
Meat By-products
There's nothing wrong with a quality meat "meal" if it's made from fresh meat.
Watch out for meat by-products since they're made from the animal's innards instead of flesh.
This increases the risk of your Miniature Pinscher getting sick due to the nutrient level and safety issues of meat by-products.
Rendered Fat
This is added to kibble for added flavor.
However, it can result in toxins and microorganisms if moisture gets into the bag of dry food.
This can result in a mold or bacteria buildup.
Feed-grade ingredients
This might sound ok for your dog, but it's less healthy than human-grade ingredients.
The main issue is they allow for more toxins like mold-creating mycotoxins.
So, to minimize your Miniature Pinscher's exposure to these toxins make sure to pick human-grade ingredients but be careful not to pick toxic ingredients!
Feed your Miniature Pinscher like a family member!
Food Dyes
Studies show Blue 2, Yellow 5/6, and Red 40 can boost allergic reactions, behavior issues, and even cancer.
Contaminants
This is greatly related to the overall quality of dog food you pick and highlights the need to choose human-grade ingredients vs. feed-grade ones.
High Cooking Temperatures
High temps are often used to prepare kibble and wet food, but the problem is it can also reduce the nutritional value of dog food including vitamins, minerals, and enzymes.
Chemicals/Preservatives
Hydroxytoluene (BHT), Butylated Hydroxyanisole (BHA), and Ethoxyquin are three chemical preservatives you should avoid when picking dog food.
Studies show these chemicals can cause problems like toxins and even cancer.
Ethoxyquin is actually an illegal ingredient for human food.
Fillers
Watch out for fillers like soy, corn, and rice. These are cheap ingredients that are used to reduce the manufacturing costs of dog foods.
The problem is they also reduce the nutritional value of dog food vs. fresh meat, whole grains, etc.
Conclusion
If you want to learn even more about Min Pins, check out this quick-facts video for some interesting tid-bits on this breed:
The Miniature Pinscher is a small dog with a big bark. This breed is famous for its high-stepping but is also at-home with families.
As with other small breeds, it's important to pick the best dog food for Miniature Pinschers including extra protein and healthy carbs.
When picking puppy chow for this small dog breed make sure it's higher in protein and carbs.
The protein is for young dogs while the carbs are for active small breeds.
Due to their small mouths and stomachs make sure to feed smaller kibble and smaller amounts of food.