Does your dog have fleas? Do not worry. These pesky critters have been bothering animals for 250 million years. Fleas have sharp spikes around their heads and mouths, which can bite their victims and draw blood. While fleas are super tiny at 1/8 of an inch, they can make life challenging for their hosts, including your dog.
Robert Goulding Jr invented the first flea collar over half a century ago, in 1964. The original invention was a bag of pesticides animals could rub against to kill parasites. Today dog flea collars are much more complex, but the main goal is to get the tiny bugs off your dog!
How to Choose the Best Flea Collar for Your Dog
How do you pick the best flea collar for your dog? With nearly 90 million dogs in the US alone, a wide variety of flea collars are on the market. Here are some of the most important factors to consider: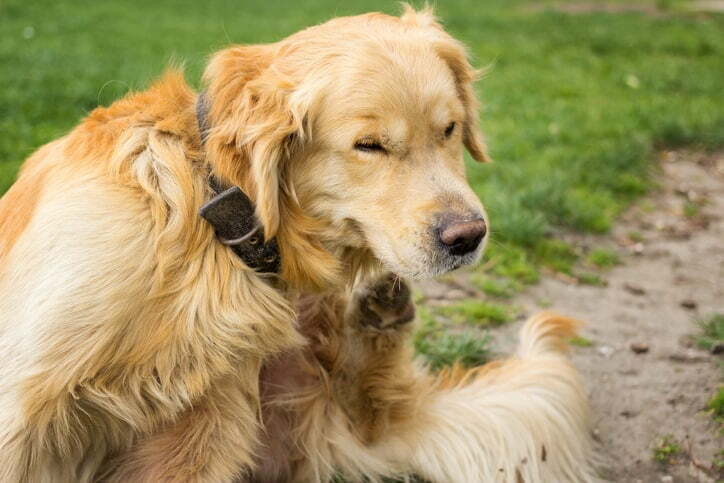 Medication
Different flea collars use different medications. Certain kinds could cause unwanted side effects on dogs with sensitive skin or allergies. Sometimes trial and error is the only way to find whether a flea and tick collar will cause problems to your dog's skin and coat.
You should also watch out for collars that contain toxic chemicals. Even if your dog doesn't have sensitive skin, this could result in health problems for your dog. Often companies add strong chemicals to their flea and tick collars to make them more effective. But too much chemical intake is bad for your dog. Avoid buying such cheap collars. Saving a few dollars now can cost many more dollars down the road.
Another critical feature to look for is flea collars, whose active ingredients are released gradually over time. This is beneficial for the same reason and avoids bombarding your friend with high amounts of chemicals all at once.
Water-resistance
Some dogs love to play outside in the rain, roll in the mud, jump in the bathtub, or take a dip in the pool. If this describes your canine, you should consider a water-resistant collar; even if your dog doesn't like to get wet often, having this feature can put you to ease.
Types
There are two main types of flea collars on the market. The first one is a repelling type that emits a gas that scares off insects. The other is a treating collar which is made with medication. This is absorbed into the dog's skin or spread via the canine's natural skin oils.
What's the difference? The Repelling-type flea collar kills the fleas when they bite your pet. Treating collars kill the fleas and ticks before they bite by emitting active ingredients. Both types of flea collars can be effective, so pick one that best suits your pest-control goals.
Long-lasting Protection
Not only should you pick a flea collar for dogs that provide good protection, but you should also consider how long it protects your dog from parasites. Some units are only made to last one month. Others last several months, making both your life easier and your dog's life better.
Keep in mind long-lasting collars will have a higher price point. However, that might be worthwhile based on your needs as a pet owner and how often you have time to jump on Amazon!
Odorless
While many dog flea collars have strong chemicals, this doesn't mean they have to have a strong scent. You can find some products on the market that are odorless. These collars are a plus for your dog and your home, family, and visitors.
Size
When picking the size of a flea collar, it's essential to get the right size for your dog. The most obvious issue is the measurement of your dog's neck. Make sure the collar can be adjusted to fit your canine comfortably.
Also, consider your dog's overall size. A large dog collar has more chemicals on it since it has a bigger surface area. This is ideal for larger dog breeds but might be over-powering for smaller breeds. This is another reason it's essential to get the right-sized collar.
---
Best Flea Collar for Dogs
This flea and tick collar for dogs is from Bayer. Bayer is a household name known for developing drugs for human consumption. The company produces a wide range of products, including pet care. Bayer's most famous product is a household favorite, aspirin.
Seresto is a flea collar that's odorless, non-greasy, and easy to use. It repels and kills fleas and sticks for 8 consecutive months. The active ingredients are stored inside the collar and slowly released for two-thirds of a year. The collar keeps replenishing the skin and coat with a new supply of the active ingredients. This kills parasites without them needing to bite your canine and prevents the potential for disease.
Features
Functions by contacting fleas and ticks and doesn't require the bugs to bite your pet
Repels ticks so they can't transmit diseases after attaching
No mess or hassles since the collar are non-greasy and doesn't require monthly flea treatments
Can be worn with other leash collars since it doesn't interfere
Continuously releases a low concentration for 8 months
Pros
Lasts for 8 months
Kills fleas effectively
Great value compared to other brands
Cons
Might cause skin irritation
Different packaging and collar
Less effective if bathed frequently
The Hartz UltraGuard Plus Flea & Tick Collar works for dogs and puppies up to 7 months old. The orange collar kills, repels fleas, and ticks and fits on canine necks up to 22 inches. The collar also prevents flea egg hatching for over 6 months, which prevents re-infestation of fleas. The collar has a water-resistant design that even functions after contact with rain and water. The Reflect-X shield reflects light up to 300 ft. for nighttime safety.
Features
Kills and repels fleas and ticks and prevents flea egg hatching for over 6 months
Water-resistant design keeps collar effective even if exposed to rain
Orange collar has a reflective strip that reflects light visible to 300 ft. away
Can be worn with a dog's regular collar
Fits puppies and dogs with necks up to 22 inches
Pros
Comfortable fit for dogs and puppies
Effective and causes no irritation
Cheaper than flea and tick drops
Cons
Dogs do not like the odor
Reportedly ineffective after too much outdoor exposure
---
Best Natural Flea Collar for Dogs
There are various benefits of natural flea collars. They can be more effective in keeping your mutt pest-free and safer for their health. The blend of natural essential oils doesn't contain harsh and toxic chemicals, which helps to prevent allergic reactions. This is especially important with dogs that have sensitive skin and get irritations quickly.
Torrix produces a wide range of flea and tick collars for cats and dogs. The collars are available in a wide range of styles and sizes. This makes it easier to find a product for your pet canine. The company focuses on producing high-quality products with safe and natural ingredients.
This flea collar for dogs offers a flea and tick-repellant method that veterinarians recommend. The collar fits all sizes of dogs ranging from small to large breeds. The collar is easy to use, so you won't have to spend lots of time, effort, and money to rid your dog of fleas.
Users rave about the simplicity of this collar. You just place it around your dog's neck, tweak the fit, install the buckle, and done. The Torrix collar is also waterproof, so it works in wet conditions like a bit of rain or a lot of swimming.
This collar is also designed to last for 8 months, so you save money from ordering a dozen times on this flea mission. It's also made of natural ingredients like Citronella oil. So this unit is safe for most doggies, including ones with sensitive skin. Other benefits of the collar are being entirely odorless, non-greasy, and expert-tested safe.
Features
8 month protection with active ingredients
Lifetime warranty. You can return the collar within 60 days of the purchase date for any reason
No toxic chemicals, so it's safe for dogs with sensitive skin. The ingredients are all-natural, like citronella oil and eucalyptus, so your dog's health will not be negatively affected
Water-resistant so your pet can wear the collar during rain storms, swimming sessions, and baths. This also extends the lifespan.
Adjustable up to 25 inches long, it fits dogs of any size and age. The collar's length is straightforward to adjust, so your dog is as comfy as possible.
Pros
Prove effective for cats and dogs
Lifetime warranty so you can relax
All natural, so great choice for dogs with sensitive skin and allergies
Low-cost and long-lasting protection
Cons
A few users report the return of fleas
The Arava flea and tick collar is a quality unit that helps protect dogs and puppies from fleas and ticks using almost a dozen botanical ingredients. The Slow-Release process allows the collar to last for over 5 months. The benefits are optimized using Micro-Injection tech.
The product also includes a pleasant scent from the essential oils that include:
Cinnamon
Clove
Eucalyptus
Lemongrass
Peppermint
Rosemary
Thyme
This offers your pet the best experience possible. If you're sensitive to essential oils, you can leave the collar outside for 1-2 full days or only use the collar outdoors with your dog.
Features
No harsh chemicals or toxic ingredients, including chemical pesticides
Natural flea and tick prevention with natural herbal ingredients and essential oils
Collar lasts over 5 months with Micro-injection tech
100% money-back guarantee within 30 days of purchase
Adjustable waterproof flea and tick collar
Pros
Scent of essential oils
No strong chemicals
Very effective at getting rid of fleas and ticks
Cons
Dog might have an allergic reaction
---
Best Flea Collar for Puppies
Puppies may require different types of collars due to their size and needs.
This flea and tick collar provides continuous protection. It includes regulators to stop the flea life cycle and prevent insect growth for 6 months. The unit is also water-resistant, so it functions even when it gets a little wet.
Each pack contains 2 collars for a full year of flea and tick protection. The collar's technologies distribute the active ingredients slowly over 6 months. This provides 24/7 flea and tick control even when the unit gets wet. If you don't want to deal with a messy topical cream, this product is a good alternative.
Features
Water-resistant to stay effective after rain exposure and swimming
2 months of protection via 2 one-size-fits-all collar pack
No odor, greasy collar, and monthly treatments
Kill pests for up to 6 months
Insect growth regulator effectively kills fleas and ticks and breaks their life cycle
Pros
Keeps ticks and fleas away
Easy to adjust and put on
No strong odor
Cons
---
Do Flea Collars Actually Work?
The technologies of flea and tick collars have improved drastically over the last few years. Some of them can provide long-lasting protection from fleas and ticks. Choose the right collar to get the best results.
Some collars work by killing bugs when they bite your dog, while others are effective at deterring the nasty pest before even landing. It's also essential for the collar to fit well and be replaced based on the recommended schedule from the manufacturer. Your quick read-up on choosing the best flea collar for dogs is your first step toward a solution.
Questions or comments? Drop us a comment below!